When you are on a keto diet, choosing the foods you eat makes it a little complicated as not all low-carb foods are suitable for your diet type.
A keto diet involves consuming foods with low net carbs but not all 2of these are favorable.
In this article, you will find the best keto snacks and healthy recipes you can consider while on keto.
List of The Finest Keto Snacks
1) Mini frittatas
Also known as egg muffins, this keto snack is easy to prepare and is rich in healthy fats, and has high protein content.
This keto snack is an alternative to hard-boiled eggs.
Like hard-boiled eggs, this recipe can provide up to 320 calories, 14 grams of protein, and 21 grams of fat per serving.
This recipe is usually made with milk but if you want to make it ketogenic-friendly, you can try unsweetened almond or coconut milk instead.
2) Caprese salad skewers
This keto snack is an Italian favorite and per 100 grams of this recipe can provide 139 calories, 7 grams of protein, and 11 grams of fat.
You can add some cheese, fresh basil leaves, and tomatoes as well.
However, take note that tomatoes are rich in carbs so you must limit the tomatoes you put on this keto snack.
3) Cesar salad bites
Having a mini Cesar salad is also a great keto snack. To keep this recipe classic, you can use romaine lettuce.
For a healthier choice, you can go for kale.
Kale is one of the low-carb vegetables that many people following a keto diet choose.
To make this recipe, you can use Parmesan cheese, cream cheese, cheddar cheese, or bleu cheese. Grate any of these and bake until the cheese has become brown.
Instead of croutons, you might want to use roasted pumpkin seeds.
To add a little protein, you can pour some chopped chicken or smoked salmon.
4) Veggie sticks with nut butters
You might want to pair your veggies with peanut butter. This is one of the great keto snacks that you can consider healthy.
In a study from Brazil, it was stated that nuts contain healthy fats that can help you manage a healthy weight and reduce blood sugar levels.
Two tablespoons of peanut butter with coconut oil can provide around 16 grams of fat.
You can dip your raw carrots and celery sticks with this nut butter and enjoy a keto life!
If you wish to purchase your peanut butter, make sure that the one you will buy contains no added sugar.
Remember, added sugar can increase the carbs of the product and this can kick you out of ketosis.
5) Salmon
Salmon are rich in omega fatty acids and vitamin D. When you add salmon to your salad, you surely are making a great keto snack!
You can also combine salmon with mayonnaise, herbs, spices, garlic, or lemon. For an extra nutrient boost, you can serve this salad with fresh celery sticks.
This will surely become one of your favorite delicious keto snacks!
6) Sushi roll
One of the great and easy keto snack ideas also includes sushi rolls.
These are easy keto snacks that can be prepared within 15 minutes.
All you need are nori seaweed sheets, veggies, and some fish for fillings.
You can use smoked fish or some avocados, bell pepper, green pepper, and cucumber instead.
If you want to increase your fat content, you can add cream cheese, cheddar cheese, or blue cheese.
You can also use peanut sauce from macadamia nuts just make sure to not add any sweetener.
7) Collard green sandwiches and wraps
Collard greens are rich in nutrients and vitamins such as folate, calcium, vitamin K, vitamin C, and vitamin A.
Because collard green is a low-carb food, many individuals following a keto diet make this recipe an ideal keto snack that can be consumed any time of the day.
Some of the food you can wrap with a collard green include fresh herbs, avocados, chicken and tuna salad, sliced turkey, roasted veggies, cream cheese, cheddar cheese, or blue cheese.
8) Avocado egg salad
Avocados can also be one of your favorite keto snacks. Avocados are also gluten-free.
They are rich in fibers, vitamins such as vitamin E, minerals, and anti-inflammatory compounds.
According to a study in Texas, this keto-friendly snack can also promote healthy aging. You can use avocados as a substitute for mayonnaise to keep your meals compatible with keto.
9) Bone broth
Bone broth is also one of the best snack ideas. For keto dieters who are craving warm food, this would be a great choice.
Although it does not provide much fat, it provides a large amount of protein. Usually, per serving provides 10 grams of protein.
If you wish to make this keto snack, you can add some coconut oil to increase the fat content.
On the other hand, if you wish to buy this keto snack from the market, make sure that the product you buy is sugar-free and contains less amount of sodium.
10) Keto smoothies
Of course, for those who want to satisfy their sweet tooth, keto sweet snacks will not be on the list.
You can make keto-friendly smoothies using lemon juice, avocados, coconuts, or nut butters. For the low-carb fruits, you can use berries and lime.
If you want to use some veggies for your keto-sweet snack, you can go for spinach, cucumber, or kale.
11) Mixed nuts
Mixed nuts are also low-carb snacks. They do not require any preparations as you only have to buy from your local store.
Nuts are rich in protein, fat, fiber, and plant compounds.
They also contain vitamin E and other antioxidants that can prevent cancer.
Before you purchase any of these easy keto snacks, you have to check the nutrition label of the products.
Some of these mixed nuts include Brazil nuts, walnuts, pecans, sunflower seeds, hemp seeds, and cacao nibs.
12) Fat bombs with a cream cheese base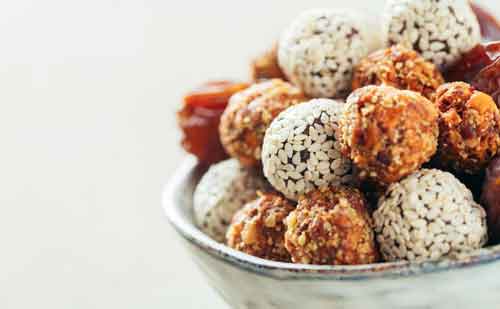 Fat bombs are also one of the delicious keto snacks you can consider.
These are low-carb keto sweet snacks that are often made with cream cheese as a base.
Keep in mind that cream cheese is keto-friendly.
You can combine these keto snacks with dark chocolate or nut butters and have some lemon juice with them.
You can buy these keto snacks from a store or you can make one at home. They are portable and truly delicious!
When you choose to buy them, make sure that the ingredients on the label are all gluten-free.
13) Keto crackers
Crackers can also become keto-friendly as long as the ingredients are low-carb and gluten-free.
If you wish to take some finger food, you can try flax crackers with cheese.
Flax seeds are rich in fiber and omega-3 fats. You can pair them with sour cream or cream cheese.
This keto-friendly snack is very easy to prepare. You can also buy a bag of this snack at your local grocery store. When you buy one, make sure that the product is gluten-free.
You can also try almond flour crackers. One of the best brands recommended is HighKey Almond Flour Crackers.
This company, HighKey, sells many nutritious on-the-go snacks.
14) Chopped bell peppers
Bell pepper is also considered one of the best low-carb keto snacks. Simply chop bell pepper and crunch it away!
One chopped bell pepper contains around 46 calories, 0.4 grams of fat, 9.4 grams of carbohydrates, and 15 grams of protein.
15) Roasted cauliflower
When you roast cauliflower, you are making one of the best keto snacks!
This may be an ordinary vegetable but once you roast it or even air-fry this veggie, you will make an addictive crispy snack!
One cauliflower can provide 177 calories, 14 grams of fat, 7 grams of carbohydrates, and 7 grams of protein.
16) Zucchini-crusted pizza
If you are on a ketogenic diet and you couldn't resist pizza, no need to worry because you can still make a gluten-free one!
This means that you do not have to go on a cheat day just to enjoy a pizza!
Zucchini-crusted pizza is one of the mouthwatering keto snacks you can consider.
Per serving of this recipe can provide up to 219 calories, 12 grams of fat, 95 mg of cholesterol, 6.8 grams of sodium, 10 grams of carbohydrates, and 14 grams of protein.
Since the nutritional values are high, you must consume this recipe in moderation.
17) Sweet potato-crusted chicken nuggets
Nuggets are also low-carb foods. You can deep fry them or air-fry them.
When you choose the former, make sure to use healthy cooking oils.
3 ounces of this keto-sweet snack can provide 308 calories, 17 grams of fat, 56 mg of cholesterol, 690 mg of sodium, 12 grams of carbohydrates, and 28 grams of protein.
If you wish, you can dip these nuggets with cream cheese or sour cream.
18) Full-fat Greek yogurt
Yogurt is a low-carb, gluten-free snack that is widely available in all supermarkets.
But, if you are on a keto and you wish to consider this snack, you should only take the plain, full-fat Greek yogurt.
Per serving of this gluten-free snack include 15.3 grams of protein, 8.5 grams of fat, and 6.77 grams of carbohydrates.
19) Sliced cucumbers
If you want another low-carb veggie for your keto diet, you might want to consider sliced cucumbers.
A cup sliced of these veggies contains 2.57 grams of carbohydrates. This is relatively lower compared to other snacks on this list.
Keto dieters can eat these alone as plain snacks or can add them to their favorite salad.
Cucumbers are also delicious when dipped with cream cheese.
20) Popcorn chicken
If you are going to watch some movies, you might want to skip microwave popcorn and go for popcorn chicken instead.
These are flavorful low-carb snacks that you can share with your loved ones. You can dip them in cream cheese or your favorite low-carb sauce!
What is Keto Diet?
The keto diet mainly focuses on consuming low-carb meals and snacks. This diet also means consuming foods high in fat.
Generally, this diet type is followed by individuals who want to lose weight.
How this diet type works is by keeping the body under ketosis.
This is a process where the body burns fat for energy.
Aside from managing weight, a ketogenic diet is also beneficial for patients with diabetes, cancer, epilepsy, and Alzheimer's Disease.
Types of Ketogenic Diet
There are many types of ketogenic diets. These include the following:
Standard diet
Cyclical diet
Targeted diet
High-protein diet
Among these types, many keto dieters follow the standard diet.
According to a study published in the Indian Journal of Medical Research, this diet is a very low-carb (10%), moderate protein (20%), and high-fat diet (70%).
Final Thoughts
Indeed, keto is one of the best ways for individuals to manage their weight. This diet type is beneficial for patients with obesity and other related conditions.
Furthermore, keto means consuming foods low in carbohydrates. However, although there are many low-carb foods, not all are compatible with keto.
Thus, keto dieters should only pick the foods that can keep their bodies under ketosis.
Even when keto dieters only take these foods, it is still highly recommended to monitor the intake of these foods to achieve the health benefits of this diet type.
Frequently Asked Questions (FAQs)
Is popcorn compatible with keto?
Yes, popcorn is a keto-friendly, low-carb food. This snack can be cooked in different ways such as air-popped, microwaved, or stovetop. Having said this, it is important to mention that the way how popcorn is prepared can change the carbohydrate content of the snacks. If you wish to cook these snacks at home, make sure to use healthy oils.
Is it possible to gain weight on keto?
Yes, it is possible to gain weight on keto. People who consume too many calories may increase their weight. Thus, it is important to monitor your calorie intake as well. Although keto means consuming foods high in fat, keto dieters should still need to monitor the macronutrients they consume to avoid health complications.
How can I lose weight faster while on keto?
Losing weight while on keto may not be that easy. However, you can speed up your weight loss progress by tracking your carbohydrates, tracking your calories, tracking your ketones, prioritizing your sleep, managing your stress, getting enough protein, and doing intermittent fasting.