People from all walks of life need and use protein powder supplements. However, not all protein powders have the same formulation and the reason for this varies.
One of the primary reasons why each brand has its unique formulation is due to its target customers and MusclePharm Combat 100% Whey is no different.
MusclePharm Combat 100% Whey is specifically designed for pro athletes and serious fitness fanatics.
To learn more about its composition, pros, cons, benefits, and what other users have to say about Combat Protein Powder, stick around.
Our Recommendation
After extensive research, we believe Crazy Nutrition INTENSIVE Pre-Train is the best pre-workout on the market.
Here's why:
INTENSIVE Pre-Train is 10x More Effective than other pre-workouts
Gives you explosive energy without stomach upsets or jitters
Trusted & approved by professional athletes worldwide
60-day money-back guarantee if you don't like it
So make sure to check it out. It might just be the best money you'll spend in 2022.
Combat Protein Powder – All You Need to Know
What is MusclePharm Combat Protein Powder?
MusclePharm Combat Protein Powder is a whey protein isolate supplement made from a variety of protein blends that digest at varying rates.
Combat Protein Powder is an award-winning product, as it has received awards for its quality and taste.
Further, it is precision-engineered with whey protein concentrate, hydrolysates and isolates, egg albumin, and micellar casein.
These components are essential and also quite instrumental in creating a muscle-building environment that will extend into longer periods than other brands facilitate.
As such, MusclePharm Combat Protein Powder is hailed for aiding athletes to achieve the results they desire, such as greater muscle building capacity, faster post-workout muscle recovery, and improved athletic performance.
Plus, it can be effortlessly combined into delicious shakes and other recipes. It is also a gluten-free whey protein powder.
Who Designed MusclePharm Combat Protein Powder?
Combat Protein Powder was developed by MusclePharm, which is a scientifically-driven, performance lifestyle company launched in 2006.
MusclePharm designs, manufactures, sells, and distributes branded sports nutrition products and functional energy beverages.
Additionally, the company has a very exhaustive product portfolio. This is what they believe is to be credited for their brand's (MusclePharm and FitMiss) widespread recognition.
By partnering with a number of diversified and industry-leading distribution partners, MusclePharm and its brands are sold and recognized globally in more than 100 countries.
The company has stated that it believes its strong international presence has allowed them to attract a larger and more engaged social audience than its competitive peers.
Why was MusclePharm Combat Protein Powder Formulated?
MusclePharm has a global reach with a massive customer base, which facilitates their achievement of "The MusclePharm Promise," which is to aid professional athletes and everyday fitness fanatics to achieve their goals.
MusclePharm wants to provide these individuals with the most scientifically advanced, safe, and nutritious sports supplementation products possible, and for that reason, the company designed the MusclePharm Combat Protein Powder.
This product's primary purpose is geared toward improving the muscle recovery time for athletes, as well as, helping them get lean muscle growth.
They wanted to make it safe for all athletes to consume regularly or as needed.
To achieve this mission they have set out on, MusclePharm has ensured that the Combat Protein Powder is free of banned substances.
To validate these claims, their whey protein powder has been "banned substance tested" by Informed Choice.
The 5 Protein Sources of MusclePharm Combat Protein Powder
Whey protein hydrolysate
Broken down into faster-absorbing peptides, which then rapidly infuse lean muscle mass essential amino acids.
Whey protein isolate
Digests and absorbs rapidly and is gram-for-gram the highest yield of protein available.
Whey protein concentrate
Closest to whole foods and contains real subfractions.
Egg albumen
Highly bioavailable and is high in arginine and naturally-occurring BCAAs.
Micellar casein
This component is slow-digesting and infuses essential amino acids throughout the course of several hours.
MusclePharm's protein powder also contains natural and artificial flavors and gums, like cocoa powder, xanthan gum, guar gum, cellulose gum, sucralose, and acesulfame potassium.
Both acesulfame potassium and sucralose are sweeteners that are commonly used in protein powders.
Who Should Avoid Using MusclePharm Combat Protein Powder
MusclePharm Combat Protein Powder is not meant for everyone based on its formulation.
So, if you fall within any of these categories below, you should completely avoid the product or speak with your healthcare provider before using the supplement.
Not suitable for anyone with soy lecithin allergies.
Not suitable for anyone with lactose intolerance, as it contains milk.
You may want to take caution if you should not interact with eggs, crustaceans, tree nuts, peanuts, shellfish, wheat, and sesame since it is produced in a facility that handles these products.
Not suitable for pregnant and lactating women.
Not suitable for anyone with an underlying condition or those taking medication.
Not suitable for anyone under the age of 18.
Stop use immediately if you develop an allergic reaction.
The Cons
Here are the not-so-good attributes of MusclePharm Combat Protein Powder that you need to know about:
1) Artificial flavors
Combat Whey Protein contains artificial flavors and artificial sweeteners, like sucralose and acesulfame potassium.
2) Bad taste
Some flavors are better than others and customers often complain about the new taste of the cookies n cream flavor.
3) Potential side effects
With ingredients like sucralose, some users may experience mild abdominal discomfort for a short period.
Combat Protein Powder Reviews from Other Users
After looking at what other users had to say about their experience with MusclePharm Combat Protein Powder, we wanted to share a few of these feedbacks with you.
We took these reviews from the MusclePharm's Combat Protein Powder official website, which has a 4-star rating from a total of over 1500 reviews.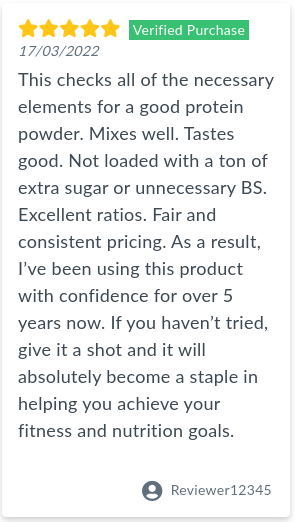 A great protein powder supplement should check a few of your boxes as well, without having to compromise on taste and mixability.
After all, no one wants bad-tasting, lumpy protein powder supplements.
Similarly to this user, Combat Protein Powder may become your favorite after delivering on taste and proper protein utilization.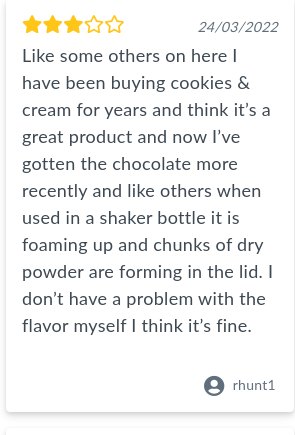 As earlier stated, some customers complain that the taste of cookies n cream flavor has changed to something that they don't like.
However, because the protein blend is so efficient, many have switched to the chocolate milk flavor instead to continue enjoying the product's proven benefits.
It's best to use a shaker bottle for improved mixability.
The Pros
These are a few of the most commonly highlighted features that we notice customers really like about Combat isolate whey powder:
1) Taste and flavor
Although some do not like cookies n cream, there are others who love both it and the chocolate milk flavor, stating that the protein tastes great.
This product literally has an award-winning taste.
2) Whey protein blend
This protein powder has a unique 25g of whey blend from five different sources of protein, including whey protein hydrolysate, whey protein isolate, whey protein concentrate, egg albumen, and casein.
This isolate whey protein powder blend contains fast and slow-digesting proteins to support varying recovery needs.
3) Includes BCAAs and glutamine
Branched-chain amino acids (BCAAs) are a group of three essential amino acids and are important in aiding to build muscle mass, reduce muscle fatigue, protect muscles, and relieving muscle soreness by helping to replenish nutrients lost during your exercise routine.
4) Safe for athletes
This protein powder is banned substance tested and approved, making it one of the safest and best protein powders for athletes.
5) No fillers
Unlike most protein powders, Combat does not contain any artificial dyes, fillers, or colors.
Insider Information
Try mixing this essential whey protein powder with various ingredients in your kitchen, as it mixes well with almond milk, water, milk, fruits, and vegetables.
Get acquainted with the ingredients and how they affect your body before buying this product.
Also, speak with your medical doctor before using this protein powder, particularly if you have an underlying condition.
It's important to note that this is a supplement and in general, protein powders are not meant to replace meals.
They are to be used as an additional protein source to augment your balanced meals.
Try to buy this dietary supplement from the manufacturer's official website, as this will set you up for easier accessibility to the company.
Notwithstanding, you may also get it from Amazon.
Conclusion
MusclePharm's combat protein powder is a whey protein supplement that is geared toward helping primarily athletes achieve their fitness goals and make the most from every training session.
The amount of protein this supplement is formulated with is similar to other protein supplements, however, Combat Protein Powder includes protein from five different sources which is a novel trait.
Additionally, this blend of whey isolate and concentrate contains digestive enzymes to help boost digestion and absorption.
Though it contains sucralose, an artificial sweetener along with some artificial flavors, MusclePharm's combat protein powder is still ideal for athletes or gym-goers who demand optimized recovery.
Overall, we believe that Combat Protein Powder is one of the better options on the market today with its high and unique protein and low sugar contents.