The search for great pre-workouts seems to never stop as brands are always on the lookout for new combinations that will reduce side effects and boost energy.
Bodybuilders are looking for those killer workouts, where it seems like they can never lift enough weight and they never seem to get tired.
Imperial Nutrition Excelsior Pre-workout actually seems to bring with it the long-awaited formulations in the pre-workout category.
In this pre-workout review, we'll take a nosedive into the reasons Excelsior Pre-workout stands tall for many of its users.
We will also look at the downsides to this supplement.
Did they really successfully innovate ingredients to circumvent stimulants band for safe use in the pre-workout industry?
Could this be the strongest pre-workout formula on the market?
Our Recommendation
After extensive research, we believe Crazy Nutrition INTENSIVE Pre-Train is the best pre-workout on the market.
Here's why:
INTENSIVE Pre-Train is 10x More Effective than other pre-workouts
Gives you explosive energy without stomach upsets or jitters
Trusted & approved by professional athletes worldwide
60-day money-back guarantee if you don't like it
So make sure to check it out. It might just be the best money you'll spend in 2022.
Excelsior Pre-Workout – Everything You Need to Know
What is Excelsior Pre-Workout
Excelsior Pre-workout is a nutritional supplement manufactured by Imperial Nutrition.
It is known for having a 5.3-gram proprietary blend that is mysteriously powerful and has even been compared to legendary pre-workout supplements of the past, like Craze and Jack3d.
Excelsior is a high stim pre-workout with incredibly unique effects and it features a massive energy rush and delivers the laser-like focus needed.
After certain ingredients were banned in the pre-workout industry, we witnessed a move into constantly increasing dosing of caffeine.
Caffeine is great, but it can be rather unreliable.
With increasing dosing of caffeine, you'll get a quick bump of energy and then you crash, plus some people are allergic to the ingredient.
Imperial Nutrition Excelsior Pre-workout features a formula that actually claims to offer long-lasting energy and stimulation all day.
Imperial Nutrition says this is the neurocognitive explosion we've all been waiting for.
Who made Excelsior Pre-workout?
Imperial Nutrition was founded in 2009 and was launched based on the brand's desire to provide high-quality products that work for fitness enthusiasts.
Why was Excelsior Pre-workout Created?
Imperial Nutrition Excelsior Pre-workout was formulated to boost lean muscle pumps and increase endurance with citrulline and betaine.
They put together the absolute best ingredients for awesome workouts, and to fuel your day.
The goal is to bring back the old glory days of pre-workouts having all-day energy and relentless focus.
The company's aim was also to provide:
An innovative stimulation complex that contains much more than the typical caffeine-loaded pre-workouts.
A supplement that starts working in just a few minutes after consumption to upgrade your workout performance to higher heights.
A remedy for enhanced protein utilization and fat loss including Citrulline and Trimethylglycine for pumps and endurance.
Excelsior Pre-workout Ingredients
1) Trimethylglycine
Trimethylglycine (Betaine) is like a jack-of-all-trades ingredient, mostly used for muscular endurance and pumps. Yet again, most likely underdosed as the best dosages get up to 2.5g. L-Citrulline
A classic pre-workout ingredient, L-Citrulline is also referred to as a staple ingredient for some nitric oxide boosters and pre-exercise supplements.
L-Citrulline improves blood flow and increases pumping capacity. 6000 mg is a good dosage, however, the exact dosage per capsule is not yet known.
2) Caffeine Anhydrous
The benefits of Caffeine Anhydrous are obvious; it improves concentration and energy. There is a lot of caffeine in Excelsior. It's probably a big sum given its effects.
3) Octopamine
Octopamine is a stimulant commonly found in bitter oranges and other fruits. There is no good evidence of its efficacy.
This is a stimulant that may also have minor fat-burning properties ( Examine ). It is a metabolite of synephrine.
4) Kigelia Africana extract
This is a traditional African extract natives use for a ton of different health-related functions.
Kigelia's stimulant content gears up your central nervous system to boost energy as well as provide a unique sensory feel.
Kigelia Africana extract is sometimes included in pre-workouts as a central nervous system stimulant. It increases the activity of neurotransmitters from the brain to the muscles.
An amped-up CNS makes muscles fire stronger for that powerful mind-muscle connection you've been missing.
It also has a mild analgesic effect, numbing you to the discomfort of continually pushing harder and further.
Extended workouts with more reps translate into more gains and improved athletic performance.
5) Bauhinia Purpurea extract
The purple orchid tree, also known as Bauhinia Purpurea extract, increases metabolic rate.
Bauhinia Purpurea is a fat stripping ingredient. In other words, it functions to reduce body fat.
It improves metabolic rate, increases circulating levels of T3 and T4, and increases lean muscle since an elevated metabolic rate speeds up protein turnover.
6) Hawthorn Extract
Hawthorn extract reduces Monoamine Oxidase (MAO) activity by 50%. Monoamine Oxidase MAO attacks stimulants and reduces their activity in the body.
By reducing Monoamine Oxidase (MAO) we have been able to make Excelsior Pre-workout last all day and work better than anything else.
This is key to improving the feel and duration of stimulants, like Kigelia, Bauhinia, Bitter Orange, and Octopamine.
7) Bitter Orange Extract
This is a minor stimulant frequently seen in pre-workouts.
Bitter orange extract (BOE) contains a few stimulants itself which mimic the actions of neurotransmitters.
But BOE also contains a bunch of constituents that inhibit drug-metabolizing enzymes in the body known as the CYP system.
In other words, like hawthorn, BOE can extend the life of stimulants in the body so their effects are prolonged.
If you're looking for a long-lasting stimulant effect, then this inclusion is for you.
All of these ingredients come together to make the proprietary blend that is Excelsior. Because this is a proprietary blend, we do not see the dosages of each ingredient.
Either way, after taking Excelsior multiple times, I came to believe there is something in here that might not be on the label
Excelsior is more than just mega-dosed caffeine. We have provided absolutely the best ingredients you can find in a pre-workout supplement.
Who Should Avoid Using Excelsior Pre-workout
1) Caffeine-sensitive individuals
Caffeine is a stimulant that, if ingested in excess, can trigger anxiety and panic episodes.
Caffeine sensitivity is caused by the inability of some people's bodies to adequately digest caffeine.
They may have symptoms such as headaches, nausea, dizziness, and even heart palpitations as a result of this.
If you have caffeine sensitivity, avoid any pre-workout supplements that include this component.
2) Those who suffer from high blood pressure
If your blood pressure is already high, you should avoid using caffeine-containing pre-workout supplements.
Caffeine can elevate blood pressure, especially if you consume it on a regular basis.
Caffeine-containing pre-workouts can raise your heart rate, perhaps leading to a stroke or heart attack.
3) Women who are expecting or breastfeeding
Caffeine and caffeine-containing supplements should not be consumed by pregnant women. This is true for a variety of reasons.
To begin with, coffee has been linked to preterm contractions. Caffeine, on the other hand, can cause birth abnormalities in newborns.
Finally, caffeine might dehydrate you and produce low blood sugar. Both the mother and the infant are at risk in these situations.
The Cons
Due to the high stimulant content, this pre-workout might interfere with sleep if taken late in the day.
We'd suggest saving for your most intense, early workouts if you are wary of this!
With a long-lasting stimulant effect, Excelsior is best used at least 4 hrs before you plan to go to bed.
Being stimulant-based it is best to cycle off Excelsior periodically to help maintain optimal intensity.
Excelsior Pre-Workout Reviews From Other Users
There were over ninety-six genuine reviews on 'Imperial Nutrition website, 95% of which were 5-stars. So, this product must be doing something great.
Some of its users have also claimed that there were no side effects, only a pleasant energy boost that allowed them to go longer than usual.
Many fear it is going to be discontinued as it's the best pre-workout on the market.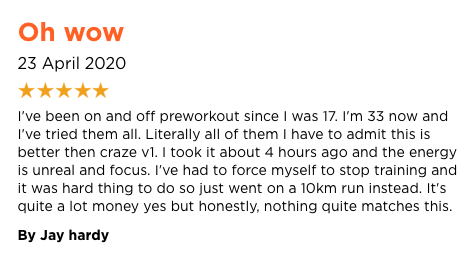 If you are looking for a pre-workout that will drive you for long hours then like Jeff, this supplement may be ideal for you, as it can give you prolonged energy and focus.
Excelsior Pre-workout delivers a boost in energy and muscular endurance with cutting-edge stimulants packed in.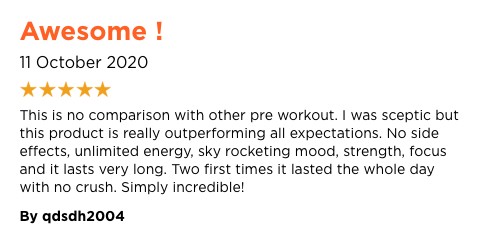 This user, among so many others, experienced the insane pumps that Excelsior has to offer and luckily no side effects as well.
Excelsior is marketed as an effective vintage-like pre-work and it seems to be delivering like one with crazy good energy, mood, and focus improvement.
The Pros
1) No crash
Excelsior Pre-workout has been proven to not cause any kind of crash, unlike most pre-workout supplements that do.
This means that your body can focus on getting stronger instead of crashing after a workout.
2) Helps build muscle mass
When you are looking to put on some serious muscle size, this product can help you do just that.
Excelsior Pre-workout contains ingredients that work together to help increase protein synthesis in the muscles, which leads to increased muscle mass.
3) Increases energy levels
Excelsior Pre-workout is a stim heavy pre-workout. This supplement helps boost your energy levels throughout the day, making it easier to focus on your daily tasks.
You may even find yourself having more motivation to exercise!
Insider Information
It is best to consume this supplement 20-30 minutes before exercise, as this is when it will kick in.
The regular dose is one scoop; however, we recommend that if you are using such a supplement for the very first time, you start out with half a scoop to assess tolerance and then gradually increase to one scoop.
This may not be ideal for beginners because of its high stimulant content, though it is generally well-tolerated.
Before taking any Excelsior Pre-workout supplement you must read the ingredients listed on the package to determine if this product is right for you. This can be useful if you have allergies or an underlying medical condition.
Speak with your doctor if you insist to use this product while on prescription medication or are diagnosed with an illness.
Ensure that you are eating balanced meals to also help fuel your body after morning workout sessions and before and after, afternoon and evening sessions.
Always keep a minimum daily dose of 30 mg per day and follow the manufacturer's directions for use.
You can buy Excelsior Pre-workout from several retailers and the manufacturer – Huge Supplements.
We encourage you to buy from the manufacturer since they are better inclined to deal with your queries and issues.
Also, they offer discounts.
Conclusion
Everyone should understand the benefits of stimulation prior to working out, and the effect this ultimately has on your gains.
Excelsior is one of the strongest pre-workouts available to date that provides an instant hit of energy, giving you skin-tearing pumps and hardcore intensity.
Additionally, Excelsior is one of the best pre-workouts we've come across in a while. In fact, we believe Excelsior will undoubtedly go down as a legend if it ever discontinues.
We certainly recommend this pre-workout as one of the best and once you are following the directions for use, you should see results.
Frequently Asked Questions (FAQs)
Excelsior Pre-workout legal?
On the labels, Excelsior is legally used. The supplement does not have any banned substances, as DMA. I've always thought that Excelsior's Pre-workout ingredients are unique and are just as effective.
How long does Excelsior Pre-workout last?
When you start taking this product for the first time at a full dose, expect to squeeze out a full 12 hours of energy on a single dose. New or sensitive users might even find it lasts a few hours longer. Be careful about taking this pre-workout casually.
Is pre-workout caffeine good for you?
Most supplements contain caffeine before and after training. That is certainly not bad. It is good for your health in a good dose, says Kate Patton. The product stimulates the central nervous system, increases the time to react, and decreases fatigue.
Also Read: The 9 Best DMAA Pre-Workout Alternatives