If you are looking for a good protein powder as a supplement, I assume that you must be an athlete or someone who wants to have lean muscle mass.
Maybe you are looking to change brands or this will be your first time using a protein powder supplement.
Either way, you are at the right place.
In this review, we will be looking at one of the industry's leading supplements; Ghost Whey Protein Powder.
We will cover its pros and cons, why it was developed, who developed it, the people who should not be using it and so much more.
So stay tuned to find out if this is the ideal protein powder for you.
Our Recommendation
After extensive research, we believe Crazy Nutrition INTENSIVE Pre-Train is the best pre-workout on the market.
Here's why:
INTENSIVE Pre-Train is 10x More Effective than other pre-workouts
Gives you explosive energy without stomach upsets or jitters
Trusted & approved by professional athletes worldwide
60-day money-back guarantee if you don't like it
So make sure to check it out. It might just be the best money you'll spend in 2022.
Ghost Protein – All You Need to Know
What is Ghost Whey Protein Powder?
Ghost Protein is a supplement that helps the muscles gain the energy back used in a strenuous workout.
In Ghost Whey Protein, there is high-quality protein content used that is easy to digest.
The quicker the product is absorbed in the body, the quicker it is available for the muscles to regrow and form protein structure.
This protein powder has very unique packaging with art and funky monkeys drawn on the tub.
As a workout supplement, this protein powder has all the beneficial ingredients for energy replenishment.
Further, Ghost protein has a protein mixture composed of whey protein isolate, whey protein hydrolysate, sucralose, and whey protein concentrate.
Each type of whey is beneficial in its own way.
For example, isolate has the most protein, concentrate has more ingredients related to health benefits, and hydrolyzed whey absorbs very easily and rapidly.
This protein powder contains all the essential branched-chain amino acids (BCAAs).
Additionally, the brand is very transparent about its ingredient and content list, it mentions the exact amount of whey used in the protein mix.
So far, this is the only pre-workout protein powder with 25 g of protein and 130 calories per serving, plus it is gluten-free and soy-free.
Who Made Ghost Whey & Why?
This supplement is formulated and owned by GHOST®, whose owners are IFBB Pro turned CMO, Ryan Hughes and Cereal Aficionado, Daniel Lourenco.
They formulated this brand, GHOST®, and its mantra "be seen" from that feeling of being behind the scenes and wanting to be heard, wanting to make an impact; we're all ghosts.
Their whey powder is intentionally made using a simple formulation.
The founders expressed that they wanted to keep GHOST® WHEY as simple as possible, rocking a premium, fully disclosed, 100% whey protein blend, a few natural digestives enzymes that have worked best for them, and out of this world flavors to help rebuild and reenergize you after a workout.
Nutritional Information
In one scoop of ghost whey protein powder, you get.
Calories: 130
Total Fat: 1.5 g
Cholesterol: 40mg
Sodium: 150mg
Total Carbohydrates: 4g
Protein: 25g
Ghost whey protein powder makes up for 10% of the recommended daily uptake of iron and calcium.
The most surprising feature about this protein powder is that it tastes amazing.
If you are a person who is annoyed by the highly rich taste of protein powders that stay on the tongue, then this is your go-to powder mix.
But this taste comes with the compromise of a very high concentration of sodium. sodium is not good for health
Ghost protein comes in so many great flavors like blueberry toaster pastry, cereal milk flavor, chips ahoy, and chocolate.
In the milk chocolate flavor, there are additional natural and artificial flavors and additional salt, cocoa powder, ghost enzymes, cellulose, sucralose, and xanthan gum.
Who Should Not Use Ghost Whey
Ghost Whey is quite beneficial; however, it is only intended for use by healthy adults, and as such, should not be used by everyone, as there may be health and other concerns.
Do not use this product if you:
are under 18 years old
have an underlying medical condition
experience any adverse reaction to this product (stop using immediately)
pregnant and breastfeeding women
The Cons
Here are the downsides to using this supplement:
has a high sodium content
only available in two-pound tub
not very hyped up among competitors
contain sucralose
Ghost Whey Reviews from Users
Many Amazon customers have left feedback on their experience using this supplement. Here are two that stood out to us: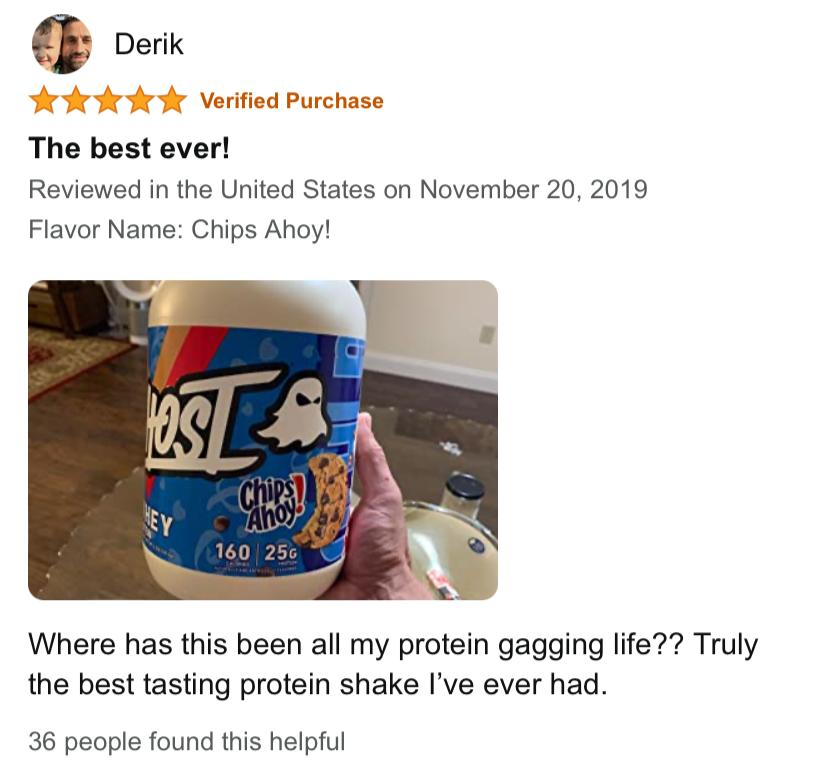 A lot of persons like Derik have been using other brands until they came across Ghost and made a switch they were very pleased with.
This powder seems to be doing everything it promises, including delivering on taste.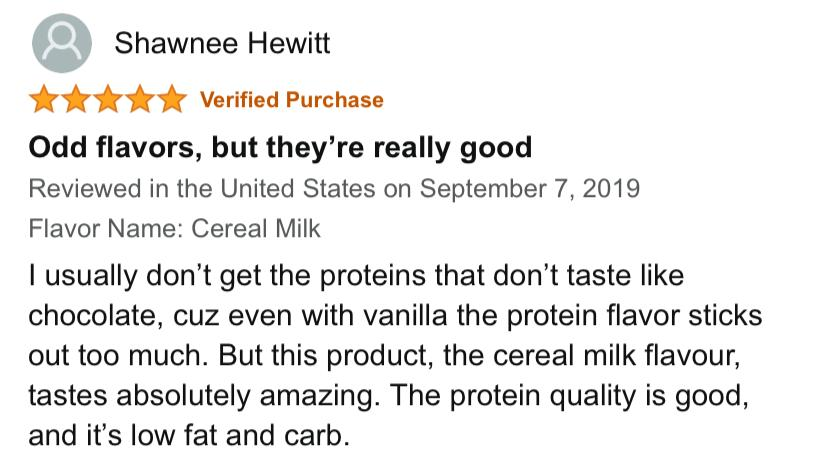 For a lot of users, the taste is just as important as effectiveness, and according to this Ghost Protein review, this supplement hit the jackpot plus it is low carb and low fat.
The Pros
tastes great and has a variety of flavors
no proprietary blend
contain 3 types of whey proteins
has three types of ghost enzymes for rapid digestion
gluten-free and soy-free
transparency in labeling
mixability is great
rapid absorption
very effective in aiding you to build muscle mass
Benefits and Effectiveness of Ghost Protein
After a workout muscles need energy, so rapid absorption is important.
Ghost Protein Powder gives instant energy to the muscles, as it has 100% whey protein amount.
It allows the cells to start the synthesis of protein structure.
Additionally, it is manufactured to not spike insulin levels.
Due to its low carbs and fat content, and having three whey proteins, it's quite a solid go-to protein shake mix that you can have with something else for boosting the post-workout nutrition.
Ghost Whey Protein contains two to four grams of sugar and 2 grams of fat per serving, depending on the flavor.
These figures make this product highly useful for adding to food items that already have sugar such as baked goods.
Furthermore, if you are feeling lazy or just do not want to eat at night, you can have this protein powder with a low-carb meal, such as yogurt without worrying about an energy crash.
This protein powder is a friend for lactose-intolerant persons, as it contains lactase.
The company claims it to be allergen-free, soy, and gluten-free.
Also, this powder mixes easily with water, milk, cereal, and oats pancakes.
Plus, it is formulated with several digestive enzymes to improve digestion and reduce bloating, and also help in post-workout soreness and inflammation.
Unlike most protein powders in the sports nutrition industry, this one comes as a vegan protein also, from high-quality protein sources.
Insider Information
Here is some other need-to-know information we believe you should know before making the purchase.
Ways to use Ghost Protein
This supplement can be taken with almost anything! You can try Ghost Protein with:
Smoothies (Ghost Whey powder in a peanut butter milkshakes to make peanut butter cereal milk)
Oats
Pancakes (to make protein milkshakes).
Cereal (to enhance their flavors and added fruits to make fruity cereal milk with p)
Ice cream to make protein ice cream.
Bakery items
With a whole lot of different flavors, the only limit is your imagination.
Buying Advice
It is important that you know what exactly you will be consuming.
The company is totally transparent about the ingredients and has listed every element with the amount that the product contains. This is ideal as it now allows you to research each ingredient.
Speak to your doctor before using any new supplements.
It is best to make the purchase from the supplement's official website.
Remember to cycle on and off any supplement you may be used in order to prevent yourself from developing a dependency on the product.
Conclusion
Ghost Protein is a uniquely developed supplement that is based on simplicity, effectiveness, and great flavor.
Based on the testimonials, the ingredients, and the brand's transparency, we believe that it is one of the better supplements on the market today.
It has really outshone some of its competitors, particularly in the amount of protein that it actually contains.
Moreover, Ghost Protein is of high quality and is low in carbs, low in fats, and free of allergens, soy, and gluten.
We believe it is worth buying with all the good ingredients and results we have seen.
Frequently Asked Questions (FAQs)
Does Ghost Protein contain BCAA?
Yes! Ghost Whey Protein powder and ghost vegan protein powders contain the BCCA. Natural occurring BCAA are present in both whey protein and pea protein concentrate and used as building blocks of structural protein
Does Ghost Protein come with Creatine in it?
No, it does not come with creatine in it. but its formula is designed to reform muscle protein after a workout. Some people take additional creatine supplements in their protein shakes.
How much protein does ghost whey protein have?
It contains 25 gm protein per serving and has three kinds of whey protein i.e whey protein isolate, hydrolyzed whey protein, and whey protein concentrate, each type with its benefits.
When should I take ghost protein?
It is a pre-workout protein supplement. if you do your workouts in the morning, then take this with breakfast as protein shakes or with your iced coffee. Do not use it in hot foods or beverages, such as hot coffee, as they can reduce the product's efficacy.