Sour cream is one of the best-cultured dairy products from lactic acid bacteria.
The bacteria grow in the cream and this is responsible for the sour taste and thickness of the dairy.
However, many people in the keto community often ask, is sour cream suitable for the keto diet?
Generally, soured cream offers around 7 grams of net carbs per cup. With this moderate amount, it is essential how much of this food should be consumed.
In this article, you will learn if you can consume sour cream on keto, how many carbs are in sour cream, and what low-carbohydrate recipes you can make using soured cream.
If you're looking for good alternatives to keto foods, here's a list of the top keto diet pills that we recommend.
Is Sour Cream Keto-friendly?
How Many Carbs Does Sour Cream Have
When we talk about how many carbohydrates there are in one cup of sour cream, we have to consider the different types of soured creams.
Usually, two tablespoons of regular sour cream provide around 1.3 grams of net carbs.
Other types of soured cream and their carbohydrate content will be discussed below.
Reduced-fat – A reduced-fat sour cream contains less fat but a higher carb count. One tablespoon of reduced-fat gives around 0.8 grams of net carbs, and the fat count is around 1 gram per tablespoon. This keto-friendly sour cream type is also known as low-fat sour cream.
Fat-free sour cream – This type of sour cream is mostly used in the ketogenic diet. A single serving of this sour cream provides around 1.9 grams of net carbs. This value is three times higher than a full-fat sour cream.
Full-fat sour cream – One tablespoon of this sour cream type gives around 0.6 grams of net carbs. Among the sour cream types, the full-fat version is highly advised for those who are on a keto diet.
Non-fat sour cream – In every 2 tablespoons of nonfat sour cream, you can get around 2.2 grams of carbohydrates. This carb count is significantly higher than regular sour cream.
When buying sour cream, you should always check the nutrition labels of these products and other cultured dairy products.
It is also worth mentioning that when the fat content decreases, the carb content increases.
If you are on a keto diet, you might want to maintain your body under ketosis. So, if you eat sour cream in higher amounts, this can prevent you from achieving your body goals.
Fat-Free Vs Full-Fat Sour Cream
Both of these two are the most commonly used in cooking. Thus, it is essential to find out which of these two is better.
In terms of nutrition facts, fat-free sour cream has fewer calories and fat content. This option also allows you to follow USDA dietary guidelines. Aside from these, fat-free ones are rich in nutrients, vitamins, and minerals.
Phosphorus and Calcium
Sour cream is rich in calcium and phosphorus. These elements are used to synthesize new bone tissue. Calcium can also help in regulating blood sugar and supporting nerve cell communication.
If you opt to choose the fat-free ones, ½ cup serving can already provide around 109 mg of phosphorus and 144 mg of calcium. These values are around 14% to 15% of your daily phosphorus and calcium intake, respectively.
Meanwhile, if you opt to use the other one, ½ cup only gives around 7% of phosphorus and 3% of calcium.
Vitamin A and B
If you want to increase your vitamin intake, going for any of these two would surely help you. The vitamins you can get from these soured creams are specifically vitamin A and vitamin B12.
These vitamins are essential for producing new red blood cells to improve healthy blood circulation.
½ cup serving of the fat-free ones can give around 0.34 mcg of vitamin B12 and 293 units of vitamin A.
That is around 14% and 13% of the daily recommended intake for vitamin B12 and vitamin A, respectively.
On the other hand, the full-fat ones can give around 28% of your daily vitamin B12 intake and 32% of vitamin A.
Looking at these data, the full-fat ones are more likely to provide better vitamin A and B content.
Selenium and Riboflavin
These sour cream types can also increase your selenium and riboflavin levels.
These vitamins are needed for your liver to function properly and they are also used to convert food into energy.
Selenium, on the other hand, helps in regulating cell growth, proper cell function, and blood vessel protection.
One serving of the fat-free ones offers around 172 mcg of riboflavin. This is around 16% of your daily recommended intake.
Also, one serving offers 6 mcg of selenium and this is around 11% of your daily intake.
Best Sour Cream Keto-Friendly Recipes
If you would like to incorporate sour cream products into your keto recipes, you might want to check the following low-carb food preparations.
Remember, not all foods that contain sour cream are suitable for the keto diet!
1) French onion dip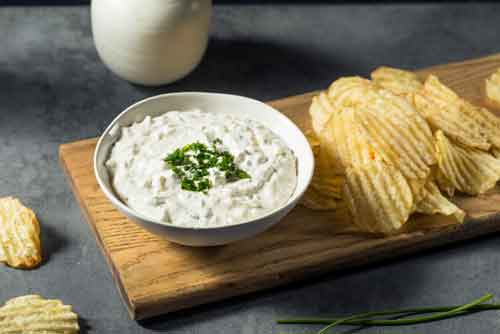 This is a low-carb meal that you can add to your recipe card. Per serving of french onion dip provides less than 1 gram of carbohydrates.
Adding sour cream makes it more keto-friendly!
Other nutrients you can get from this keto recipe include 5 grams of fat, 1 gram of protein, and 50 calories per serving.
Alternative for this french onion dip includes tangy sour cream.
The latter also uses minced onion and curry powder to make a tangy flavor similar to yogurt.
Take note that when you are using soured cream to make a sauce, do not let it come to a full boil to avoid it from separating.
If you want, you can add some chicken stock to thin the sauce. But, watch out for the consistency to achieve a smooth texture.
2) Cheesecake
Cheesecake is one of the ultimate keto desserts and when you add soured cream to this meal, you are helping your body absorb all the healthy fats it needs!
If your cheesecake comes with no topping, you can get around 2 grams of carbs per slice.
One of the main ingredients of cheesecake includes eggs, and, as we all know, these are super ketogenic-friendly!
3) Soured cream biscuits with sausage gravy
You might also want to consider soured cream biscuits but this time, go for the sugar-free ones.
Biscuits contain high sugar levels and this can increase the carb content of the food.
4) Beef, onion, and cheddar pierogies
If you want a strict, low-carb diet, this might be one of the best keto recipes you can consider.
As we all know, beef has zero carbohydrate content, making it very keto when added with soured cream.
5) Spinach salad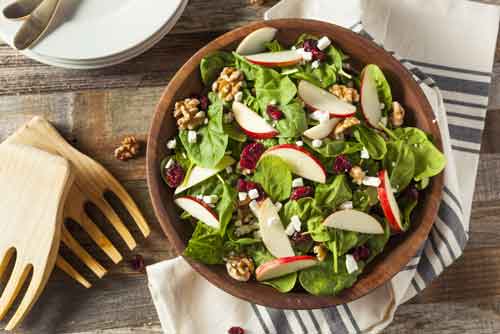 Following a ketogenic lifestyle also means consuming leafy greens such as spinach.
Together with soured cream and this vegetable, you can provide your body with the nutrients it needs while keeping it under ketosis.
You can also add some eggs or chopped pan-fried chicken to this recipe. Drink some lemon juice to make your meal more keto!
6) Avocado cream
For those who are still confused with the question: is sour cream keto?
Here is the gist. Sour cream makes the best dip and when you pair it with avocado? You will get a wow!
Avocados are one of the best keto recipes keto dieters love, and did you know that you can mix soured cream with these fruits?
Avocado cream offers zero carbohydrates, 120 calories, 7 grams of dietary fiber, 2 grams of protein, and 3 grams of sodium per serving.
7) Blackberry-cherry cobbler with whipped cream
If you want to eat some berries while on a keto, this blackberry-cherry cobbler with whipped cream might become one of your favorite recipes!
Per serving of this recipe gives around 8 grams of carbohydrates, 2 grams of protein, and 4 grams of fiber.
What is more exciting is that this recipe is a low-fat one. You will get zero to fewer trans fats while enjoying its savory taste!
8) Wedge salad with blue cheese dressing
If you are on a keto, you can also eat wedge salad with blue cheese dressing as one of your favorite recipes.
This meal offers around 2.3 grams of carbohydrates per serving. Additionally, this recipe is high in healthy fats, potassium, and protein.
How to Buy Sour Cream Products
Answering the question: is sour cream keto? It depends on the product you buy.
The carbs in sour cream products depend on how manufacturers process them.
Thus, the more ingredients included, the higher the chance of consuming more carbs.
When you buy, do not just rely on the "low-carb" label you see.
Check the ingredients carefully.
Other tips you might want to consider on buying soured cream products include the following:
Avoid preservatives and products that contain GMO ingredients
If possible, choose high-quality grass-fed organic soured cream keto products or those that contain healthy fats such as olive oil
Avoid soured cream products that contain artificial sweeteners
Other manufacturers use gums, corn starch, and thickeners to make a similar texture with a low-fat sour cream, and this should also be avoided
Traditional sour cream may be healthy and rich in nutrients, but, when these products contain non-keto ingredients, you might be kicked out of ketosis!
Final Thoughts
Soured cream offers many health benefits, and aside from using it to make recipes more wholesome, these meals allow you to support your low-carb lifestyle.
However, many people still wonder, is sour cream keto?
The answer would be it depends.
There are different types of soured cream and these offer different carbohydrate levels.
Frequently Asked Questions (FAQs)
What other foods can I use aside from soured cream?
Aside from soured cream, you can use other foods such as Greek yogurt, cottage cheese, Crème Fraîche, buttermilk, coconut milk, and cashews. All of these alternatives are suitable for those who are on keto.
What are the benefits of consuming sour cream on keto?
The goal of keto dieters is to lose weight and consuming soured cream can boost this weight loss. Other benefits include gut support, bone and teeth support, and micronutrient deficiency.
Is sour cream keto?
Yes, soured cream is keto as it is a low-carbohydrates product. This dairy product gives around 0-7 grams of carbohydrates. The number of carbs in sour cream depends on the soured cream type.