Maintaining a healthy weight with regular exercise and a balanced diet can be challenging as a working adult.
You may have felt drained, tired, and demotivated to keep up with your health.
This is the reason supplement companies created a pre-workout formula.
They can boost your energy levels and enhance your workout performance, resulting in better results.
Therefore, the market for these products has grown. It is essential to be aware of the characteristics of a good quality supplement.
Transparent Labs Lean is one of the best pre-workout supplements on the market today. It is designed for weight loss and enhancing training sessions.
In this Transparent Labs Lean review, we will help you decide if this supplement is worth its value.
Transparent Labs Lean Pre-Workout: All You Need to Know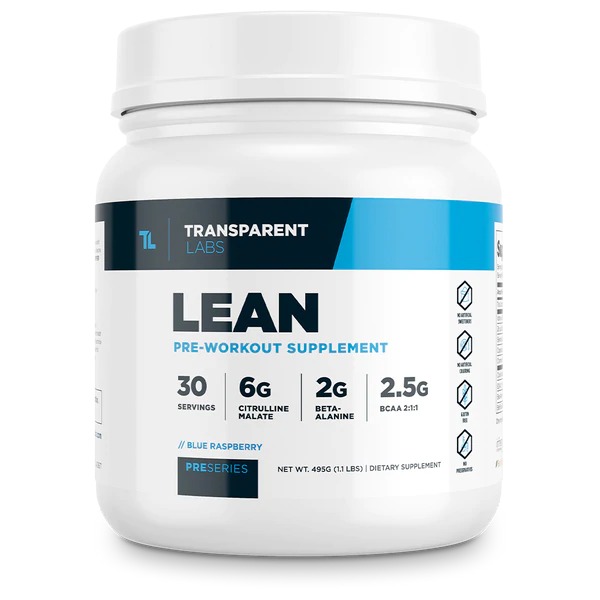 What is Transparent Labs Lean?
Lean Pre-Workout is one of the supplements created by Transparent Labs. It is included in its Preseries product line.
It is targeted at people who are or want to be physically active and fit. Lean Pre-Workout can target stubborn fat while it maximizes your workout performance.
If you go to the gym regularly, work out, or do sports, you will benefit from Transparent Lab Lean.
It is formulated with well-researched ingredients that can prepare you physically and mentally before any strenuous activity.
Moreover, the Lean Pre-Workout supplement influences your results. It is focused on weight loss while maintaining muscle.
Lean Pre-Workout provides you with sustainable energy throughout the day without the crash, jitters, or anxiety.
It has 6 different natural fruit flavors with a completely natural formulation. Lean does not have harmful additives or chemicals.
Transparent Labs products are manufactured in Utah. Its facilities are certified for current good manufacturing practices and registered with the FDA.
Benefits of Transparent Labs Preseries Lean Pre Workout Supplement:
Lean Pre-Workout is perfect for individuals who need to cut down on weight without losing lean muscle mass.
It can help athletes and gym-buffs perform high-level workouts and training sessions.
It can improve anaerobic and aerobic performance.
It can boost strength, endurance, and recovery.
It has a thyroid support complex with micronutrients.
Lean Pre-Workout supports the proper metabolic activity.
It promotes mental focus, drive, and energy using nootropic ingredients.
Transparent Labs Preseries
Lean Pre-Workout belongs to Transparent Labs Preseries. It includes 3 products under this line of pre-workout supplements.
Preseries Bulk
Preseries Bulk is designed for increasing muscle growth. It is formulated for men with the addition of a testosterone support complex.
Preseries Stim-Free
Preseries Stim-Free stands for stimulant-free, meaning it contains zero stimulants. Its formula has added elevATP.
Preseries Lean
The supplement for this review, Preseries Lean, is focused on fat loss and thyroid support. It can target stubborn belly fat while preventing lean muscle loss.
Therefore, Preseries Lean can optimize your body composition without sacrificing performance.
Transparent Labs Preseries Lean Pre-Workout Ingredients
One serving of Lean Pre-Workout contains 14 grams of its optimized formula. It contains thyroid-supporting, fat-burning, and energy-boosting ingredients.
Transparent Lab Lean Pre-Workout is formulated with natural, safe, and potent ingredients.
It has no artificial sweeteners, coloring, or preservatives. Lean Pre-Workout is also gluten-free and non-GMO.
Therefore, Transparent Labs Lean Pre Workout contains clinically effective doses of ingredients with
Athletes can take it without worry because Lean is a clean formula that does not use harmful and illegal substances.
1) Citrulline Malate
Citrulline malate is an amino acid that can enhance athletic aerobic and anaerobic performance and relieve muscle soreness.
It provides excellent absorption and raises nitric oxide in the body, boosting muscle pumps. Nitric oxide in the blood can dilate your blood vessels; this action increases nutrient and oxygen delivery.
Moreover, citrulline malate is associated with enhancing creatinine in the body and the use of branched-chain amino acids during exercise.
2) Beta-Alanine
Beta-alanine is a non-essential amino acid that can trigger muscle endurance and growth.
It reduces acid build-up in your muscles which prevents muscle fatigue and helps you optimize your training session.
When combined with high-intensity interval training, Beta-alanine can improve your muscular performance and body composition.
Ultimately, Beta-alanine will aid in lean muscle mass build-up.
3) Branch Chain Amino Acids (BCAA)
Branch chain amino acids can maintain muscle mass because it makes up muscle protein. BCAA are oxidized in the skeletal muscle, promoting energy metabolism and decreasing muscle damage.
Amino acids included are:
Leucine
Isoleucine
Valine
Leucine can trigger protein synthesis, increasing strength and performance.
Isoleucine aids in metabolism and promotes muscle growth.
Lastly, valine also helps in the effects of isoleucine. Another role of valine is to improve energy levels and endurance during workouts.
4) BetaPure™ Betaine Anhydrous
BetaPure is a trademark product of the amino acid betaine. It can trigger muscle growth by enhancing your power output and reducing fatigue.
It is usually derived from red beets. The ability of betaine to relax your blood vessels results in better muscle pumps and optimized workout sessions.
A study on betaine supplementation improved body composition, arm size, and work capacity.
5) Acetyl L-Carnitine HCL
ALC is studied for its psychological effects. It has the potential to treat depression symptoms.
Some people also use it for regulating blood sugar, cholesterol, and nerve pain.
6) L-Theanine
L-theanine is an amino acid found naturally in green tea leaves. It has the potential to improve cognitive function and mood.
When ingested separately or together, L-theanine and caffeine have been studied to influence behavioral and physiological performance.
In addition, L-theanine can reduce fatigue and stress.
7) Caffeine Anhydrous
Caffeine is among the stimulants and focus-enhancing ingredients in Transparent Labs Preseries Lean.
Caffeine has significant effects on cognitive function or mental performance.
It enhances aerobic exercise, resistance training, and mental effort.
Low doses of caffeine combined with endurance exercises in the heat can enhance endurance performance.
8) Theobromine
It is an alkaloid found in cocoa beans. Theobromine compliments the effects of caffeine.
Similarly, theobromine can influence mood and cognitive function. A 2015 study found that theobromine has high antioxidant effects. It also affects mood and alertness positively.
9) Bioperine®
Black pepper extract or Bioperine is used in numerous supplements to improve the bioavailability of other ingredients in a formulation.
10) Infinergy™
DiCaffeine Malate or Infinergy is a trademarked caffeine salt of malic acid. It is added to Transparent Labs Lean Pre-Workout to prolong the effects of caffeine.
It provides a sustainable supply of energy instead of a short-term boost that eventually causes an energy crash.
11) Iodine Chelate
Iodine is an essential mineral that has a role in thyroid support. The thyroid hormones can influence your metabolic activity, enzymatic activity, and protein synthesis.
12) Chromium Picolinate
Chromium is a mineral that can regulate glucose metabolism and insulin sensitivity. Stubborn fat may be caused by an imbalance in insulin levels.
Therefore, maintaining the balance of insulin and glucose levels can promote fat-burning activity and the body's metabolic rate.
Complete list of ingredients and dosage:
Iodine Chelate 225 mcg
Zinc Chelate 30 mg
L-Selenomethine 50 mcg (Selenium)
Copper AAC 1 mg
Chromium Picolinate 200 mcg
Citrulline malate 6000 mg
BCAA 2500 mg
Beta-Alanine 2000 mg
Betaine Anhydrous 1500 mg
Acetyl L-Carnitine HCL 630 mg
Choline Bitartrate 500 mg
L-Theanine 360 mg
Caffeine Anhydrous 180 mg
Theobromine 50 mg
Dicaffeine Malate 40 mg
Black pepper extract 5 mg
Who this Pre-Workout Supplement is not for…
1) Anyone under 18 years old
Children and anyone under 18 years old should not take workout supplements.
Most of these ingredients are only researched in adults. Preseries Lean is targeted at adults who need pre-workouts for intense workout sessions.
Keep out of reach of children. The caffeine content of this product may cause unwanted effects on children.
2) Pre-existing Conditions
Anyone with a pre-existing condition, pregnant women, or nursing mothers should not take supplements without informing their doctor.
If you have a heart condition or caffeine sensitivity, it is essential to ask your doctor if its dosage is appropriate for you.
Moreover, any change in diet, intake of supplements, or vitamins should be discussed if you are taking prescription medicines.
3) Unrealistic Expectations
Pre-workouts are meant to be taken by the proper diet and workout routine.
If you have unhealthy eating habits or stay sedentary, you will not reap any of its fat-burning or muscle-building benefits.
The Cons
1) Taste
Most of the negative feedback about Transparent Labs Lean is its taste.
Some consumers find it intolerable despite the potent effects.
Fortunately, Transparent Labs continue to develop different flavors.
Nevertheless, if you don't like how the flavor of your Preseries Lean taste, you can get a refund from Transparent Labs.
2) Slightly expensive
Compared to other pre-workout supplements, Preseries Lean may have a higher price.
However, its value justifies its price because of the quality of its formulation.
Transparent Labs Lean Reviews from Consumers
You can find or post your Preseries Lean Pre-Workout Review on Transparent Labs' official website.
Many Preseries Lean consumers have praised this supplement for its muscle-building benefits.
A Lean Pre-Workout review you will often find would state that it is a good pre-workout compared to other pre-workout supplements.
It has a good balance of caffeine and does not cause headaches. Throughout their workouts, Transparent Labs Lean Pre-Workout helped in muscular endurance.
Many pre-workouts in the market contain high stimulant formulas that cause adverse effects. Many consumers were happy to find that Preseries Lean didn't cause those issues but was still effective.
However, there are still a few negative reviews about Preseries Lean.
Like every supplement out there, how an individual reacts to its ingredient will not always be the same.
Some people didn't find any changes after taking Preseries Lean. Nevertheless, customer service quickly responded and gave them a refund.
A few uncontrollable variables are the delivery duration and the preference in taste.
Some consumers had posted reviews stating that their product had not arrived yet.
This complaint can be addressed to customer service for a prompt response.
However, the product's taste may be intolerable for a few people. Some people continue to take it because it effectively provides them with energy.
Fortunately, Transparent Labs continues to develop more flavors for Preseries Lean.
Lean Pre-Workout review from the official website:
From 1555 reviews, 1218 gave Preseries Lean a 5-star rating.
"I've used to not to track my meals but – as a personal experiment – I'm quantifying all my macros, activity level, so on and so forth. With the help of the Physique Series Fat Burner and the appropriate nutrition I've lost so far 10 pounds in two months. I also complement my workouts with the Transparent Labs Lean supplement and I've noticed I have more energy while working out. I am very happy with my purchase and for sure I am going to keep trying more of their products!"
"Website was informative and easy to navigate. Shipping was fast with great packaging. Flavor is awesome and seriously the best pre workout I've had. Past experiences with other pre workouts were bad that I stopped taking them a long time ago. But I saw an ad on the gram and decided to try these out. Love the energy and kick. No jitters or extreme shakiness and tingling. No regrets and will definitely buy more"
The Pros
1) 60-Day Money-back Guarantee
Transparent Labs offers a 60-day money-back guarantee. You can get a refund on your purchase without the hassle.
If you are not satisfied with its effects or the flavor, you can get a refund within 60 days of your purchase.
2) High-Quality Formulation
The formulation of Preseries Lean is developed based on research and scientific evidence.
You will find the list of ingredients and optimized dosage in full detail on their website.
It contains clean ingredients without an unnecessary amount of caffeine or stimulants.
Preseries Lean does not cause headaches, jitters, energy crashes, or palpitations. Unlike most pre-workouts in the market.
Moreover, Preseries Lean does not have artificial sweeteners, coloring, and preservatives.
Informative and Honest
Transparent Labs lives up to its name as a transparent company. Their products do not contain proprietary blends.
Pre-workout supplements must disclose the complete list of ingredients and dosage in their products.
Athletes that use these pre-workouts need to undergo drug testing for prohibited compounds in certain sports.
Proprietary blends fail to compromise this.
Moreover, it helps us accomplish this Pre-Workout review if the dosage and complete list of ingredients are provided.
The company responds to inquiries in detail and has excellent customer service.
Things To Watch Out For
Transparent Labs Preseries Lean Pre-Workout supplement does not contain creatine, a common ingredient in other pre-workout supplements.
They explain that the reason for this is that large doses of caffeine can negate the effects of creatine, and Preseries Lean contains 180 mg of caffeine anhydrous.
In addition, if you want to gain more muscle while trying to burn fat, a weighing scale is not the best tool.
Weighing yourself on the scale will not accurately measure the fat you've lost because the muscle you've gained will add to your weight.
Buying Guide
Transparent Labs Preseries Lean is available for shipping worldwide. You can purchase this product at Transparent Lab's official website.
You can buy bundles and get discounts by purchasing other products of Transparent Labs with your Preseries Lean.
The Verdict
This Lean Pre-Workout review determines that this supplement has a high-quality formulation.
Combining Lean Pre-Workout with high-intensity interval training sessions and a proper diet will effectively enhance your performance, lean physique, and fat loss.
Moreover, Transparent Labs is a transparent and informative company. You will gain complete information about their products with research on their website.
The ingredients are combined meticulously with purpose. There are no unnecessary amounts of stimulants or caffeine.
Therefore, it is a safe and clean product that produces an effect without harmful side effects.
The information provided in this Lean Pre-Workout review is for educational purposes only.
Consult your doctor for professional advice if you plan to change your diet, medications, and exercise program.
Frequently Asked Questions (FAQs)
Why do I need pre-workouts?
Pre-Workout supplements are used for individuals who need support before strenuous exercise or for athletes before intense training sessions.
Will I gain weight with Transparent Labs Preseries Lean?
No, there are no ingredients in Preseries Lean that could cause weight gain. It only includes ingredients that enhance your workouts, recovery, and metabolic rate.
What are the best flavors of Transparent Labs Preseries Lean?
The most popular flavor of Preseries Lean Pre-Workout is strawberry lemonade. Other flavors are tropical punch, blue raspberry, grape, and green apple, from most purchased to least.
How should I take Transparent Labs Lean Pre-Workout?
Transparent Labs recommend taking Preseries Lean Pre-Workout 20-30 minutes before working out. You can mix 8-12 fl. oz of water for half a scoop when you've only started to take Lean Pre-Workout for the first few days. Once you adjust to the supplement, you can switch to taking 1 scoop day of Lean Pre-Workout mixed with 16-24 fl. oz of water.
How much caffeine is in Transparent Labs Preseries Lean?
Lean Pre-Workout contains 180 mg of caffeine which is lower than most products. Regardless, Transparent Labs states that it is a sufficient dose that will not cause jitters or crashes. Moreover, most healthy adults shouldn't exceed 400 mg of caffeine per day.