If you're a person that is into fitness and healthy lean muscle, then you probably are making yourself homemade protein shakes in any case.
You have no doubt realized just how safe they are to consume and how easy they are to make.
You have probably managed to maintain your weight because they are so filling, keeping you satiated even after you have worked out for a long time.
Did you know that protein is critical for every cell in our bodies?
Protein is vital for our health. And the health industry knows this.
They know that bodybuilders and athletes rely on protein to build their muscles and to keep them looking lean and mean.
Not only did protein supplement sales reach around $12 billion this year, but it is estimated that they will sell literally billions more by 2025 [1].
Protein keeps our hair, nails, muscles, and bones running so to speak
One dietician, Angela Pipitone Dempsey says, "The typical American diet is a lot higher in protein than many of us think."
She says that many expect the protein to be found only in typical foods such as eggs, chicken, beef, and dairy.
But that protein is found in veggies, fruits, grains, and beans – foods that we don't immediately think of when we think of protein.
50-60 Grams of Protein Daily
The U.S. government's recommended daily allowance (RDA) for the average adult is 50-60 grams of protein daily.
That sounds like quite a lot, doesn't it?
But as we eat through the day, the protein starts adding up. That's because so many foods contain those bits of protein.
Just breakfast, for example – Two eggs, topped with some cheese and one orange; you have already hit around 22 grams of protein. Whole foods are the best option for eating protein – it is better than adding supplements.
But if you need to take a protein supplement, always read the ingredients to ensure pure protein that will benefit your health, fitness, and weight loss ideals.
Certain situations do warrant extra protein
There is no doubt about that. When you are in an anabolic state [2] or building muscle, as extreme athletes become, then they need more protein.
They expend energy when breaking down, building, and repairing muscles. I
t will be the protein that gives them the edge they need to speed along that process.
Vegans are other people who might benefit from more protein supplements. Individuals recovering from surgery or an injury might also benefit from the healing powers of extra protein.
Then there are the oldies, the over 60s, whose muscles are starting to break down. The body's ability to break down protein is reduced.
A small study found that when you add extra protein foods to the diets of older, obese individuals trying to lose weight, their muscles strengthen [3].
One group of participants was asked to eat 30 grams of protein in whole foods in one meal at three meals a day.
That would be 90 grams of protein in a day.
The other group ate a low-calorie diet of 50-60 grams of protein daily.
After six months, the researchers discovered that the high protein group had improved muscle function by almost double that of the other group.
They could move faster, have better balance, and rise from a chair faster than the other group. Everybody lost more or less the same amount of weight.
Yes, we need healthy protein shakes in our lives, and we have 13 of the most nourishing that you will LOVE and NEED. (Don't go overboard with them because they might just be too delicious-moreish!)
13 DIY Protein Shakes That Taste So Good
1) Chocolate Protein Shake (23.6 g)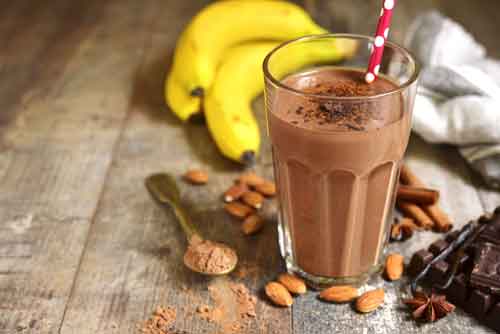 Those who love bitter chocolate flavor will love this shake even though it is still sweet – just not too sweet. Look what ingredients you get in this one:
Ingredients
1-Tablespoon almond butter
One chopped apple
1-Tablespoon dark chocolate, grated
1-Tablespoon cocoa powder
½-cup yogurt
1 cup milk
Two pitted dates
Preparation
Add the dates, apple, yogurt, milk, cocoa powder, and almond butter into a blender. Whizz it up into a smoothie texture and pour it into a glass. Garnish with the grated bitter dark chocolate.
2) Peanut Butter-Banana Protein Shake (43.54 g)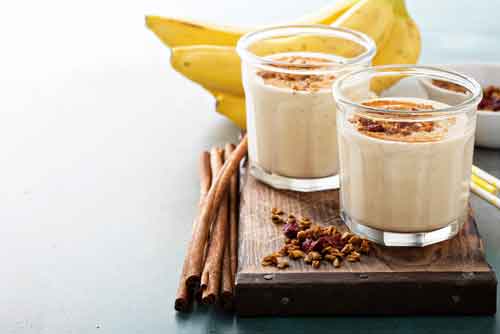 This delicious shake is packed with protein – it will boost your energy and strength after your workout.
Ingredients
2-Tablespoons peanut butter
2 medium-sized bananas
½-cup of full-fat milk or soy milk
2 cups Greek yogurt or almond yogurt
1-Tablespoon chia seeds
Cocoa powder
Preparation
Add bananas, milk, yogurt, and peanut butter to a blender.
Blend, so it comes out as a thick, smooth smoothie.
Sprinkle some cocoa powder and chia seeds on top.
3) Sattu Low-Calorie Protein Shake (16.65 g)
The vegans will love this one.
Sattu is a plant-based protein powder made from roasted gram flour. It costs one-tenth of the price of whey protein and is known as the "poor man's food."
Usually, you find it in Indian supermarkets. It offers energy and is one of the best sources of protein [4].
Ingredients
4-Tablespoons sattu powder
Juice of half a lime
½-teaspoon of roasted cumin powder
2-Tablespoons chopped cilantro
1 cup of water
Salt to taste
Preparation
Mix the sattu with roasted cumin powder, salt, and chopped cilantro.
Stir while adding the cup of water, ensuring there are no lumps.
Pour into a glass with lime juice, stirring before downing it. Voila!
4) Oatmeal-Apple Protein Shake (21.48 g)
Apples have phytonutrients that control your blood sugar levels [5].
Pair the apples with oatmeal and milk for a thick scrumptious breakfast shake filled with protein to keep you fuller for longer.
Ingredients
2 cups milk
3-Tablespoons oatmeal
1 peeled and chopped apple
3-Tablespoons almond butter
Cocoa powder
Preparation
Blend all the ingredients quickly in the blender until you get a thick and smooth shake.
Pour into a glass and sprinkle some cocoa powder.
5) Blueberry, Almond Butter, and Banana Smoothie (26.7 g)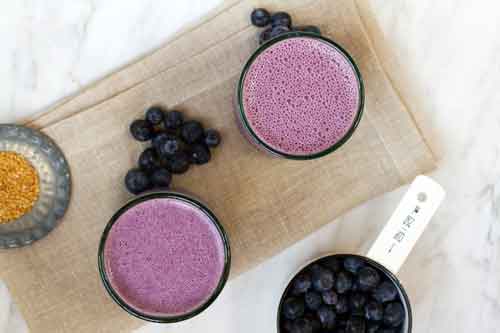 Blueberries are oh so healthy, packed with vitamin C and antioxidants. See how healthy these shakes are – all of them.
It will be hard to choose which one – not that you won't want to try all of them!
Ingredients
1 Banana
1 cup blueberries
2-Tablespoons almond butter
1 cup Greek yogurt
Preparation
Puree all the ingredients in the blender at high speed.
Pour into a glass and feel your body infused with goodness and health.
6) Alphonso Mango-Almond Milk Protein Shake (24.84 g)
This is a great post-workout shake. All the depleted glycogen and carbs will be fueled up again with this protein shake.
Ingredients
1 cup chopped Alphonso mango
1 cup almond milk
2-Tablespoon chia seeds
1 oz. cashew nuts
1 cup chilled Greek yogurt
Preparation
Add the chopped-up Alphonso mango, milk, and chilled yogurt into the blender.
Whisk all the ingredients up, and pour into a tall glass.
Add the chia seeds, stir well, and drink.
7) Vegan Pea Meal Replacement Protein Shake (16.5 g)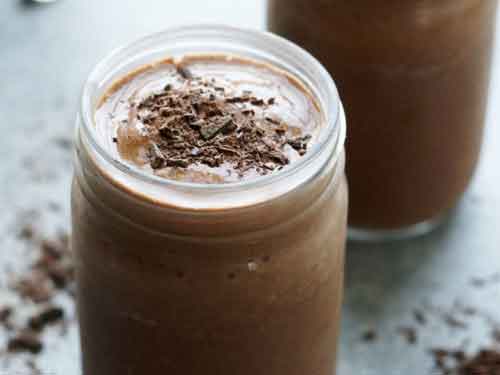 This protein shake is fantastic for those who don't want any dairy in their shake or gluten, for that matter. Just by adding in some strawberries or blueberries, the consistency is thickened with enhanced flavors.
Ingredients
3-Tablespoons pea protein
1 cup almond milk
½-cup strawberries or blueberries
1 teaspoon powdered jaggery. Jaggery is unrefined sugar made from palm or sugar cane
A pinch of nutmeg powder
Preparation
Toss all the ingredients to be well blended in the blender. Pour it into a glass, with a couple of ice cubes added.
It's delicious and refreshing.
8) Almond-Cocoa Milkshake (12.92 g)
Doesn't it sound too tempting – Almonds and coconut – a great combination?
Mixing this shake-up with milk or almond milk just enhances the taste and adds very delicious nutrition.
Ingredients
10 almonds
1-cup milk or almond milk
1 teaspoon of cocoa powder
2-Tablespoons grated fresh coconut
¼-cup cashew milk
1 teaspoon vanilla extract
2 pitted dates
Preparation
Blend the almonds, dates, milk, and coconut.
Pour it into a glass.
Stir in the cashew milk, vanilla extract, and cocoa powder. You will want to sip it so you can relish it.
9) Hemp Green Protein Shake (17.9 g)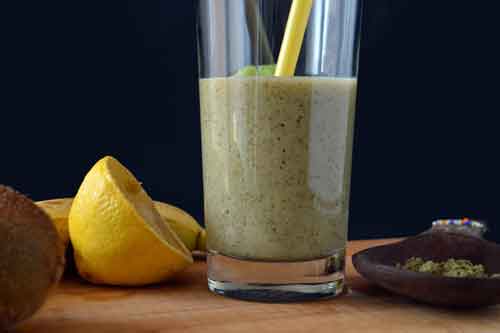 A hemp protein shake is made from the seeds of the hemp plant. It is an excellent source of fiber. You could add a banana for extra creaminess.
Ingredients
3-Tablespoons hemp powder
1-Tablespoon ground sunflower seeds
1 cup baby spinach
A pinch of salt
½-cup purified water
Ice cubes – optional
Preparation
Toss in the baby spinach and blend until you get a smooth paste. Add the other ingredients and pour it into a glass, adding salt to taste. Stir well before drinking.
10) Vegan Raspberry-Banana Protein Shake (16.88 g)
What you get in this shake is antioxidants, calcium, protein, iron, and energy – just everything!
Ingredients
½-cup raspberries
1 medium banana
1 cup almond milk
2-Tablespoons almond butter
1-Tablespoon hemp protein powder
1-Tablespoon ground flaxseed
¼-cup of water
Preparation
To a high-speed blender, add all the ingredients except the water. Puree until the mixture is pureed.
Add water to adjust the thickness.
Chill and enjoy.
11) Soy Milk-Strawberry Protein Shake (24.72 g)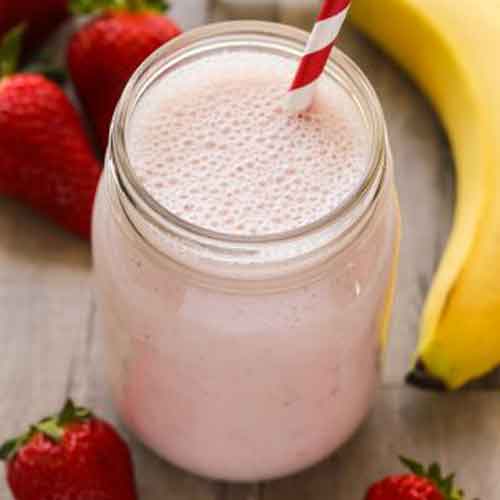 This is another delicious vegan protein shake adults, as well as the kids, will want to make as often as they can.
Ingredients
2 cups soy milk
½-cup chopped strawberries
1-Tablespoon ground melon seeds
1-Tablespoon ground almond
1 teaspoon cocoa powder
Preparation
Into the blender, toss all the ingredients. Blend and twirl until a thick smoothie results
Pour it into a glass. Add a couple of ice cubes if you want, and relish the flavors.
12) Hot Chocolate-Cashew Meal Replacement Protein Shake (16.35 g)
This is a good breakfast replacement meal because it has cashews which are higher in calories and filling. So it is best as a replacement meal and not really as a snack if you are watching weight.
Ingredients
One banana
1 cup of full-fat milk
Two teaspoons of cocoa powder
2-3-Tablespoons cashew nuts
2-Tablespoons grated dark chocolate
Preparation
Toss all the ingredients into a blender to make a thick, smooth paste.
Pour it into a glass and sip.
13) Almond-Coconut Protein Shake (23.53 g)
Almonds are full of protein – 20 of them will already offer you around 5 grams. When you add milk and flaxseed, you get more protein and a daily dose of rich omega 3.
Ingredients
20 almonds
½-cup unsweetened dried coconut
1-Tablespoon of honey
2½-cups water
One teaspoon cinnamon powder
2 cups of milk
2-Tablespoons ground flaxseeds
Preparation
Soak the dried coconut and the almonds overnight in water. Discard the water.
Blend the almonds and coconut until you are left with a coarse powder.
Then add the milk and blend to get a thick, smooth shake.
Add cinnamon powder, honey, and ground flaxseed.
Serve in a tall glass garnished with a bit of cinnamon powder.
Conclusion
Protein is essential to keep your body functioning properly – that's non-negotiable.
We have given you 13 fantastic homemade shakes to make for yourself.
They will ensure that you are getting in all your protein needs. Each one is filling, nutrient-rich, and will help rebuild and strengthen your muscles.
Homemade protein shakes are made with all-natural ingredients, so they taste good, and you can customize them to suit your needs.
It's the perfect choice to incorporate protein shakes into your diet and lifestyle.
Not only are they so simple to make, but they are full of nutritious ingredients, refueling your energy and helping your muscles to heal after exercising.
Way to go.
Frequently Asked Questions (FAQs)
If I don't want to use protein powder, what else should I use?
You can use seeds, nuts, soy milk, almond milk, dates, figs, in your homemade protein shake. Here we have for you what to use if you don't buy protein powders.
Do protein shakes taste nice?
Yes, particularly the homemade ones. You will soon find out very quickly when you try the ones we have listed above.
Are protein shakes really good for you?
Yes! Protein shakes are an excellent choice to start your day with as a breakfast meal, for a snack, for lunch, dinner, or for a meal replacement. Adults need at least 46-56 grams of protein every day. Protein shakes are the ideal way to meet that requirement. After all, they must be good for you if they:
Aid with weight loss
Help to build strength and muscles.
Keep you feeling fuller for longer.
Boosts metabolism
Repairs muscles from exercise
When is the best time to drink a protein shake?
Protein is an essential nutrient to help repair muscles and for them to grow. That's why so many bodybuilders and athletes consume protein shakes pre- and post-workouts. When precisely you should have a protein shake is quite a debatable topic [6]. You can figure out as you go along which is the best time for you.
Research suggests that how much protein you ingest each day is more important than when you ingest it. It doesn't really matter whether you have your shake before or after your training.
Do you lose by weight taking protein shakes?
If you make sure that your protein shakes are made from high-quality ingredients, they actually work for weight loss [7]. Because when you are trying to lose weight, protein is actually the most important ingredient and nutrient. It gives you a feeling of satiety and also prevents blood sugar spikes. Adequate amounts of protein promote lean muscle and also increase your metabolism.
References