Mark Wahlberg is an American actor.
He had a rough start in life but managed to headline the musical group Marky Mark and the Funky Bunch.
It was later that he became a Hollywood movie star in the 1990s.
He hit rock bottom at the age of 16, from his life living on the streets.
He was jailed for 45 days in total for savagely beating a Vietnamese man. After that he vowed to turn his life around, devoting himself to bodybuilding.
He loved music and even recorded a debut album, Wildside, which went platinum.
His physique from his bodybuilding efforts also paid off and he signed a 2-year contract with Calvin Klein to model underwear.
By the age of 22, he had moved over to acting.
Mark Wahlberg Workout Schedule – All You Need to Know About This Bodybuilder's Body
Current Stats
Age: 50-years old
Weight: ± 185 pounds
Birthday: 5 June 1971
Birthplace: Dorchester, Boston, Massachusetts, USA
Accolades/accomplishments:

1997 – Florida Film Critics Circle – for Boogie Nights – Best Cast
2001 – As a committed philanthropist, Mark found the Wahlberg Youth Foundation. It benefits inner-city youth.
2006 and 2010 Boston Society of Film Critics – for The Departed – Best Supporting Actor and for The Fighter – Best Cast.
2006 and 2021 Satellite Awards – for The Departed – Best Ensemble Cast Motion Picture and for Himself – Humanitarian Award.
2007 – British Academy Television Awards – for Entourage – Best International Program.
2007 – National Board of Review – for The Departed – Best Cast.
2010 – African-American Film Critics Association – for The Fighter – Best Actor.
2010 – Honoured with a star on the Walk of Fame. He became the 2,414 star to receive the honor.
2013 – MTV Movie & TV Awards – for Ted – Best On-Screen Duo (shared).
The Workout Principles of Mark Wahlberg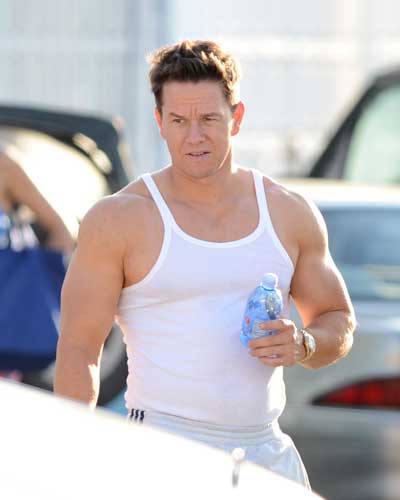 Mark, for the past 15 years or so, has been working with the same trainer for almost every movie he has performed in. That's Brian Nguyen.
The trainer's plans for Mark arise from the basic principle that 'movement is paramount.' He told com that "When we're training together, my philosophy comes from that as an athletic trainer, focusing on staying healthy and moving well."
For his role in Mile 22, Mark had to be in tip-top shape. He had to be combat-ready for his role as part of a secretive CIA squad. He would have to be able to pull off some very physically demanding maneuvers.
Brian wanted him to look like "an intense military specialist, with Marine type training." One top aspect was to work on Wahlberg's posture and getting back to basics.
The principles applied to the movie with 4 to 6 weeks to prepare were aimed at instead of focusing on different body parts on different days, each workout would be a full-body routine.
"We work out in two-day splits," Nguyen said. "That means there's a Day A regimen, and a Day B regimen. So let's say on Monday, we do upper body pushing and lower body pulling. Then on Day B [Tuesday, or the next training day], our focus is on the flip side, upper body pulling and lower body pushing."
If anybody wants to get ripped like Mark, you need to put his workout to the test. Nguyen advises anyone who wants to give Mark's workout a try to focus importantly on the form that he advises in his video – use lighter weights until you have mastered the moves.
Mark Wahlberg's Training Methods
Mark Wahlberg has always had the penchant to keep himself toned. He does this with full-body workouts.
He will also supplement with more intensive days where he pushes heavyweights to maintain size.
He posts routinely on his Instagram page, as well as the stuff he does at F45. It was just a year or so ago that Mark did the F45 Challenge.
The benefits of the F45's high-intensity workouts really showed on Wahlberg's frame.
They show just how successful they were when Mark displayed the results on full social media. This was when he was filming the Peter Berg–directed Netflix movie Spenser Confidential.
Mark had promised Peter that he would get into the best shape of his life for him, and he did.
F45 is an 8-week program that combines meal planning as well as six 45-minute minute HIIT sessions every week.
It is aimed at helping people to achieve their bodyweight goals. It was around this time too, that Mark Wahlberg invested in the F45 fitness program which first began in Australia.
Mark's abs should be plenty enough inspiration for guys to get off their butts and into the gym.
Mark's Instagram pics show plenty of workout routines and photos.
See Mark's full-body workout which he used for his acting in Mile 22.
For the Mile 22 movie – Mark Wahlberg's Full-Body Workout
WARM-UP
Supine-band overhead hold: One Hold for 2-3 minutes
Hip bridges with band pull apart: One 1-2 minutes continuous
Push-ups to mountain climbers: One 2-3 minutes, use a Bosu ball or a power plate if available
Bear-crawl 4-point mountain climber – Four 2-3 minutes continuous, use sliders for the mountain climbers
THE WORKOUT
You need to exert yourself here so you can complete 2 more reps at the end theoretically
Exercise Sets Reps
Do barbell floor press with dead-bug – three 12-20 reps
Single-leg band RDL 3 12-20 reps
Farmer's-Walk – Three 50-100 yards
Kettlebell-deadlift – Three 12-20 reps
Do half-kneeling unilateral overhead press – Three 12-20 reps
Figure-4 stretch – One 2-3 minutes alternating sides
Battle-ropes – Five 30 seconds on, 30 seconds off
Sled push 1 – Continue until for begins to slump
Mark's workout routine isn't only about lifting heavyweights. He likes to have a holistic approach to fitness.
His workouts will always start with Range of motion, Activation, and Movement Prep (RAMP).
He will perform movements like Spiderman-stretch, hip bridges, foam rolling, etc.
Then he will perform some unilateral and bilateral strength moves.
He will always make sure to include certain drills for the lower body so as to promote agility and balance.
Mark also includes cryotherapy in his training program, as mentioned above. This involves sitting in a chamber – the temperature will drop down to around 150 degrees below zero.
A few experts advocate cryotherapy benefits, claiming it helps to reduce pain and inflammation. It also improves the quality of sleep.
For would-be followers of Mark Wahlberg workout, even though cryotherapy is generally safe, it needs to be discussed with your doctor first before trying it.
There are certain medical conditions that some people have that should not try cryotherapy.
Mark Wahlberg's Diet
Through Mark's interviews and Instagram, he has revealed all that he eats in one day. He says his routine might vary at times depending on what the demands of his next movie are.
But whatever the schedule is for that particular movie, he will stick to the workout and diet plans.
He eats a lot, eating approximately 6-7 meals a day, and works out often – sometimes twice a day.
But he has a chef too, Lawrence Duran, who knows exactly what Mark needs according to each movie as well.
After filming the 2018 film "Mile 22," we show you for example what was Mark's normal schedule – it includes meals prepared by his chef.
2:30 a.m. – Wake up
2:45 a.m. – Prayer time
3:15 a.m. – Breakfast no. 1: Steel oats, peanut butter, eggs, and blueberries.
3:40-5:15 a.m. – Workout no. 1
5:30 a.m. – Breakfast no. 2: Protein shake, 3 Turkey burgers, 5 pieces of sweet potato
6 a.m. – Shower
7:30 a.m. – Golf
8 a.m. Snack: 10 Turkey meatballs
9:30 a.m. – Cryotherapy chamber for recovery
10:30 a.m. – Breakfast no. 3: Grilled chicken salad with 2 hard-boiled eggs, olives, avocado, tomato, cucumber, and lettuce
11 a.m. – Family time/meetings/work calls
1 p.m. – Lunch: Steak with some green peppers
2 p.m. – Meetings/work calls
3 p.m. – Collect the kids at their school
3:30 p.m. – Snack: grilled chicken with bok-choy
4 p.m. – Workout no. 2
5 p.m. – Shower
5:30 p.m. – Dinnertime/family time: Fish (halibut, cod, or sea bass) with vegetables (for example sautéed spinach and bok-choy)
7:30 p.m. – Bedtime
Mark Wahlberg's Supplements & Recommendations
1) Protein Drink – Performance Inspired
This is Mark's own line of supplements.
This drink contains whey protein and builds muscle. At the same time, it reduces hunger and food cravings.
He also has made a plant-based protein supplement drink for those people who do not have dairy.
2) Turmeric:
Mark will take a turmeric supplement because it is an antioxidant as well as being anti-inflammatory – it helps to support recovery.
3) A multivitamin:
It is ensured that Mark's multivitamins contain only natural ingredients.
4) Conjugated Linoleic Acid
Linoleic Acid is an omega-6 fatty acid. It helps Mark to shed excess weight whilst retaining his lean muscle.
It plays an important role in heart health as well and also improves insulin sensitivity.
5) Pre-workout supplement
This supplement will have in it arginine, creatine, beta-alanine, green tea, and other nutrients. It will boost Mark's energy levels to help him through grueling workouts.
6) BCAAs
(Branched-chain amino acids) help Mark to build muscle and to improve his performance at the gym.
It will also help to reduce his recovery time.
7) Collagen
Hydrolyzed collagen helps Mark to maintain and support healthy joints, nails, and skin.
Other nutrients will also be found in the collagen Mark takes.
8) Garcinia Cambogia:
Mark makes use of this supplement.
It's extremely popular amongst the Hollywood set who are always looking for ways to burn fat and lose weight.
Recommendations of Mark Wahlberg
Of course, Mark has recommendations, advice, and tips for those who want to follow his workout plan and diet.
He is one of the hardest-working stars in Hollywood. Here he provides his fitness advice:
1) All journeys start with the first step
If you have been slacking off, forgetting to focus on your health, or working out, he advises that you just have to throw yourself into it and get started! He says starting small is key.
You will wake up the next day feeling tired, but good about yourself.
2) Switching things up helps to make improvements in your fitness
Mark says it's not always enough just to have a routine. You want to be sure that your workouts are dynamic.
Mark Walberg says that he is always conscious about what is and isn't right for his body.
He says shocking his body and changing workouts helps keep him in top shape and make improvements.
3) Listen to your body
That means resting when your body when it needs it.
It is very important to keep on track with your health and fitness goals.
You cannot afford to lose momentum and then slip back into your sedentary lifestyle.
4) Be dedicated to working out
There are only a handful of people in Hollywood who have Mark's dedication to working out.
Not many have the drive to, for instance, lose 10 pounds in five days to get ready for a role!
"Being fit is almost as important to me as my face. And for me, it's a combination of being spiritually and physically fit. There are guys who want to look good, and there are guys who want to perform at their best. Being fit is about being able to perform at your best, not necessarily just looking your best" – Mark Wahlberg.