Everyone needs a little energy boost every now and then and the first option that comes to mind is caffeine.
It's a well-established fact that caffeine is one of the most potent energy stimulants that help improve our mental focus and physical performance.
While this magical product can be obtained from different sources such as colas, tea, green tea, and energy drinks, coffee remains the most popular choice for caffeine consumption.
Although, a previously less common option that is currently taking over the world by storm is caffeine pills.
You heard that right! You can get pills that are concentrated with the energy-boosting, focus-enhancing properties of caffeine.
However, considering their rising popularity, there has been a sudden surge in the production of caffeine pills from different brands and it can become quite challenging to choose the best one.
Therefore, we have rounded up the 7 best caffeine pills available on the market today!
Quick Guide to Choosing The Top Caffeine Supplements
Before diving deep into the details of all the products, we have highlighted some of the most common features that people look for while buying a caffeine supplement.
These features will make it easier for you to choose the best caffeine pills that are best suited to your personal needs.
Best Overall
If you're searching for a high-quality caffeine supplement that's made using natural caffeine and some of the finest natural ingredients to boost your cognitive performance, then Performance Lab Stim is your best bet.
Best Sustainable Option
The Elm and Rye Caffeine Supplement uses sustainably sourced ingredients and packaging material that doesn't harm the environment.
Best Budget-Friendly Option
The Bulk Supplements Caffeine Capsules offer an effective source of organic caffeine for people on a tight budget.
Best Fitness-Friendly Choice
If you're looking for the best caffeine pills to help you lose weight or build muscles then, the Pro-Lab Advanced Caffeine supplement is your best friend.
Best Energy-Booster
The Smarter Vitamins Supplement contains pure caffeine, and it offers a steady supply of energy that lasts for a longer time than certain caffeine pills.
Best Tasting
If you want a caffeine supplement that tastes good, then you should opt for the Objective Wide Awake Caffeine Supplement.
Healthy Natural Caffeine Pills
1) Performance Lab Stim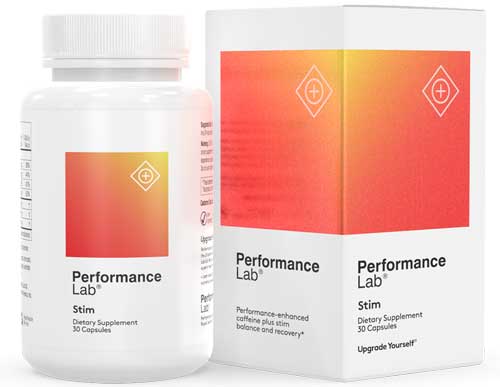 Performance Lab is a modern nutrition company that uses the best research available to create its products.
They have a multitude of products such as NutriGenesis vitamins, minerals, and additional amino acids that are all lab-cultured.
These caffeine pills also boast vegan capsules and the first vegan soft gels.
One of their products is their Stim caffeine capsules.
Performance Lab has created a caffeine capsule that provides you with all the stimulative power of coffee without the tricky side effects.
They are among the best caffeine pills since they provide a healthier and cleaner option for your energy boost.
These caffeine pills give you a much-needed burst of energy with much less post caffeine burnout.
Key Benefits
The Performance Lab Stim caffeine pills are nootropic, which means they can provide you with an increase in the performance of the central nervous system and

improved overall mood, increased focus, alertness, and sharper

.
Athletic performance is enhanced. Caffeine has been seen to increase athletic performance, and this product boosts your endurance, competitiveness, and physical performance.
These caffeine capsules have

thermogenic abilities

, and they can help increase your metabolic rate and assist in weight loss and burning of
Performance lab stim caffeine capsules have reduced side effects due to the use of L-theanine. L-theanine reduces the post caffeine burnout or crash, cuts down on the feelings of anxiety and jitters, and

reduces the feeling of anxiety and jitters

, and reduces the feeling of drowsiness.
Performance Lab Stim uses natural caffeine from the seeds of Coffea robusta.
It contains 50 mg of caffeine to provide several health benefits without leading to the paradoxical effects of overstimulation that come with caffeine.
The use of L-tyrosine counteracts the demands that caffeine places on neurotransmitters such as norepinephrine, epinephrine, and dopamine.
Furthermore, L-theanine balances the effects of dopamine and serotonin.
L-Theanine provides additional benefits such as raising the alpha brain wave levels as well as maintaining them.
It also helps to regulate the body's cortisol levels and increases relaxation.
B vitamins provide the body with a portion of its needed vitamins which are used in homocysteine metabolism, and they work to reduce heart rate and maintain blood pressure.
Additionally, these caffeine pills support the levels of serotonin and norepinephrine to counteract the effect of caffeine.
A one-month supply of Performance Lab Stim costs $39 for a month's supply.
Pros
These caffeinated pills are made using natural.
You can use these caffeine pills for energy and they don't have any harmful aftereffects.
This supplement contains plant-based capsules which are easy to swallow.
Cons
These caffeine pills contain a lower dose of caffeine.
These caffeine pills are expensive.
The effects can wear off faster.
2) Elm and Rye Caffeine
Elm and Rye are a health and wellness company.
They create essential energy supplements to boost your body's overall health.
Third-party labs test their products to ensure that this is one of the best caffeine supplements.
They only use ingredients of the best quality; their ingredients and packing are sustainably sourced to positively affect the environment.
They have a variety of dietary supplements for everything from gut health to brain health.
They sell supplements for testosterone support, to burn fat, and for providing a boost of energy.
Key Benefits
These caffeine tablets boost energy.
Like most caffeine pills they increase the ability to focus on tasks.
Similar to other caffeine pills they improve your overall endurance and reduces the feeling of fatigue.
It does not need to be stored in a refrigerator and is tested by third-party labs for quality assurance.
The price of the Elm and Rye caffeine supplement is $49.99 for one bottle containing 30 tablets.
Pros
It provides a boost in overall energy.
This product is environmentally friendly.
It is third-party lab tested.
Cons
These pills are expensive.
It doesn't have a definite Ingredients list.
It doesn't offer information on the dosage of caffeine.
3) Bulk Supplements Caffeine Capsules
Bulk supplements is a health and wellness company.
They provide their consumers with over 500 nutritional supplements that help to improve their health in numerous ways.
All their supplements are lab tested to ensure they are fit for consumption; they also use third-party labs that are well recognized.
They provide protein powders, herbal supplements, and vitamins and minerals.
Additionally, if your order is placed before noon PST, the product is shipped the same day.
Among their supplements are their caffeine capsules.
These capsules are psychoactive CNS stimulants.
They were formulated to reduce tiredness and provide a much-needed boost during your day.
Key Benefits
Provide an almost immediate energy boost due to the 200 mg of caffeine in the capsules.
The formulation comes completely free of any

sugars, additives, gluten, soy, and dairy

. This makes it a good option for those with allergies or anyone looking to avoid dairy or sugar.
The caffeine capsules come in gelatine formulation and vegetarian-friendly formulation to allow for a wider consumer range to use the product.
The capsules help in reducing large appetites, which assists in weight loss.
The caffeine capsules also have a diuretic effect of assisting your body to lose water weight.
Boosts the effects of exercise in burning calories, as caffeine has a calorie-burning property.
These caffeine capsules can be used by anyone looking to boost their energy during the day.
However, they are far more beneficial for those that have long and strenuous exercise regimes.
These caffeine pills provide you with an added boost to keep powering through your exercise routine.
The dose of caffeine used in the BulkSupplements caffeine pills is equal to 2 whole cups of coffee.
They provide you with endurance and stamina during the day.
They reduce the feeling of tiredness during and after a workout.
Additionally, they assist in burning calories and fats.
The caffeine used in these caffeine pills is 100% pure caffeine.
Not only do they provide users with increased energy, but they also reduce the tricky side effects that come with caffeine, like shaking or jitters and elevated heart rates.
Like all other products from this company, these caffeine capsules come lab-tested and are safe for you to use without the worry of side effects.
They are also allergen-friendly and come in a vegetarian formulation.
The price of the bulk supplements caffeine capsules is $11.96 for one bag (100 capsules)
Pros
These caffeine pills are a budget-friendly option.
It contains a natural source of caffeine.
Cons
This supplement is more geared towards people with high activity levels.
It is bitter tasting.
It has no use of L-theanine, so side effects may be possible.
4) Vali Caffeine and L-Theanine
Vali is a US-based nutritional company.
Vali aims to provide its consumers with health, happiness, and improved performance.
Vali's supplements give real results.
The company believes in being completely transparent about its formulations and using ingredients of the highest quality while still being easy to afford.
The Vali company offers supplements to boost memory, make hair stronger, boost electrolytes, improve sleep, and boost energy levels.
Vali has formulated a caffeine pill that guarantees to boost your overall energy.
Their caffeine supplement is formed to cut down on the side effects that come after a dose of caffeine from traditional methods such as drinking coffee.
The caffeine supplement is created using no additives and with clean formulation methods.
Key Benefits
These caffeine supplements boost your cognitive abilities by boosting your ability to concentrate, heightening focus, and improves memory. These effects are increased by the use of L-theanine in the formulation of the supplement.
The supplement is packaged in a vegetarian-friendly capsule allowing for a wider range of consumers to benefit from the effects of the supplement.
L-Theanine not only boosts the effects of the caffeine but also helps to reduce the aftereffects of caffeine as well as the side effects that come with caffeine.
L-Theanine helps to reduce the feeling of anxiety, jitter, and jerking that comes with caffeine.
There are no artificial flavors, additives, or preservatives, or artificial sweeteners in this product. There are no calories in this. There are no restricted or dubious chemicals in this product.
Vali Caffeine supplements are gluten-free. The ingredients used are soy-free, vegan, gluten-free, and non-GMO. The supplement is made in the United States in an eco-friendly FDA-approved facility that follows GMP rules.
To ensure optimal quality, each batch is tested by a third party. This shows its users' complete transparency and prevents any of the company's own biases from being reflected on the product.
The Vali caffeine pills come in a 50/100 mg formulation.
They provide 50 mg of caffeine with 100 mg of L-theanine per capsule.
This provides a boost of energy while still reducing the side effects and post-burn-out symptoms.
Additionally, the smaller caffeine pills allow you to tightly control the amount of caffeine intake at one time.
The price of one bottle of Vali caffeine supplements with 120 capsules costs $19.99.
Pros
It's a cost-friendly supplement.
These caffeine pills don't have any harmful side effects of caffeine.
It follows the transparency of ingredients and formulation.
L-Theanine reduces the feeling of anxiety, reduces stress and stress-related anxiety.
Cons
It has smaller doses of caffeine.
The Higher L-Theanine levels might cause side effects such as headache and adverse effects such as drowsiness, sleepiness, decreased blood pressure, and a slow nervous system.
It contains synthetic caffeine.
5) Pro-Lab Advanced Caffeine Supplement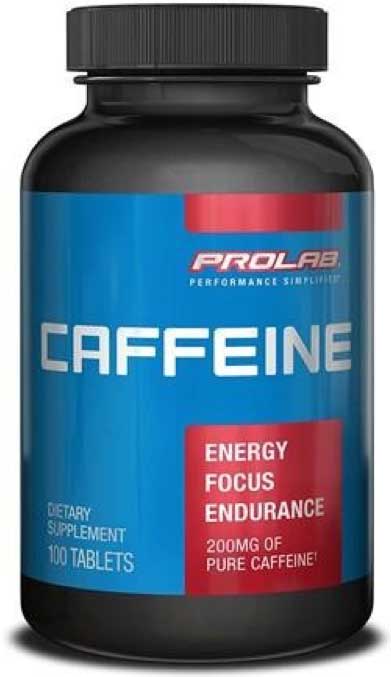 Pro-Lab believes in creating supplements that make performance simple.
They are a company that is geared towards building muscle, exercising, and losing weight.
Their supplements are created with workouts in mind.
Their products increase your performance, help in post-work-out repair, or both while maintaining a normal caffeine balance.
The caffeine supplement created by the pro lab is formulated to provide you with a boost of energy to get you through your exercise routine.
They help you to endure the most challenging workouts and keep you focused on your activities/goals.
The caffeine supplement is created with a comprehensive blend of pure caffeine extracts/sources to provide you with a large quantity of caffeine.
Key Benefits
These caffeine pills are formulated with a blend of the best caffeine sources such as white tea, guarana, green coffee, and green tea. The use of these extracts has additional benefits along with the benefits of caffeine.
Caffeine boosts endurance during exercising or workouts by increasing the time it takes for muscles to tire.
The caffeine also improves stamina and increases energy levels to allow you to power through difficult exercises.
The pro lab advanced caffeine pill increases adrenaline levels which is great for focus and increasing mental performance.
The pro lab caffeine supplement increases stimulation causing the body to burn higher levels of fat. Great for those looking to reduce their weight.
These caffeine pills also boost the body's ability to burn calories while also acting as a pre-workout energy booster.
The different blends of caffeine extracts used in the formulation provide a lot more than caffeine.
White tea has a host of benefits such as antioxidant properties, reducing chances of heart disease, and helps in losing weight.
The use of guarana proves effective in boosting energy, reducing exhaustion, benefits memory, improving overall health, boosting weight loss, and even providing pain relief.
Kola nut has been known to reduce fatigue and improve muscular tone; additionally, it has been shown to provide relief for chronic fatigue syndrome and add flavor.
Green coffee unlike the roasted variant retains their antioxidant properties and are beneficial in weight loss, increasing metabolism, reducing cholesterol, and burning fat.
The use of green tea in the formulation provides consumers with antioxidants that boost immunity, help in burning fat and weight loss, and reduce the chances of heart disease.
Choco amine, which is an additional ingredient that boosts energy, endurance, stamina, helps with focus, and tastes like chocolate.
The price of the Pro Lab advanced caffeine is $12.99 for one bottle containing 120 tablets.
Pros
It contains an ideal caffeine dose.
This dietary supplement is perfect for pre-workouts.
This is a budget-friendly option.
The medication improves physical and mental strength, increases energy and focus.
Cons
It is more focused on workouts.
It doesn't contain any additional ingredients that will reduce side effects.
It contains a remarkably high caffeine dose that might become addicting.
6) Smarter Vitamins Caffeine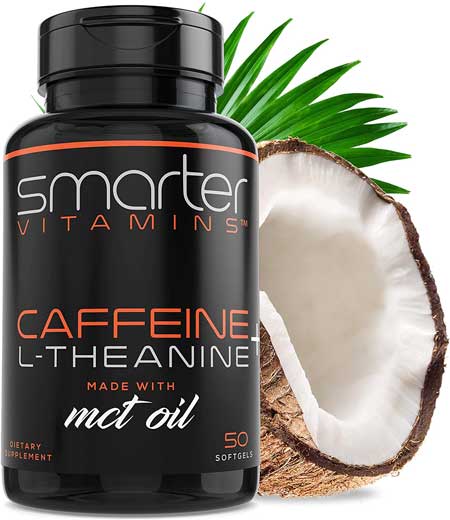 Smarter Vitamins is a health supplement company.
The company claims they use the best possible ingredients in their supplements.
They ensure their products are made to improve normal everyday functions of our body.
They offer a number of supplements that boost vitamins like C and K and fish oil supplements, and mineral supplements.
They have two formulations of caffeine supplements.
The two formulations of the caffeine supplements use different additional ingredients which are added to the supplement to provide the user with more than just a boost of energy in their everyday life.
The Caffeine L-theanine is the supplement whose benefits we will be discussing.
Key Benefits
The caffeine pill uses natural sources of caffeine. This is healthier for your body and reduces the number of synthetic ingredients you are taking into your diet.
These caffeine pills contain L-theanine, which is added to caffeine supplements to help the body counteract the effects of post caffeine burnout and the side effects of caffeine.
Smarter vitamins caffeine supplements use medium-chain triglycerides in their formulation, which is extracted from coconut oil.
The supplements are one of the best caffeine pills as they come in an easy-to-swallow soft gel formulation that contains 200 mg of caffeine—providing you with a boost of energy without the need for drinking coffee.
The Smarter Vitamins caffeine supplement uses a smart formulation to allow for the energy from caffeine to be released over an extended period of time.
So, instead of a sudden burst of energy burst for a short period of time, you are provided with a long and sustained energy increase throughout the day.
L-theanine, which is used in this caffeine supplement, offers a variety of benefits.
L-theanine helps to balance the side effects that come with caffeine usage.
L-theanine helps to reduce the feeling of anxiety that comes with caffeine usage, and it decreases jitters in the body. It also helps reduce heart rate and blood pressure,
Caffeine affects neurotransmitters in the body, such as serotonin and dopamine; L-theanine helps in balancing the effects caffeine has on dopamine and serotonin.
L-theanine also provides benefits such as raising the alpha brain wave levels along with maintaining their levels.
Additionally, it also helps to regulate the body's cortisol levels and increases relaxation.
The caffeine which is extracted from green coffee beans has antioxidant effects on the body.
The medium-chain triglycerides from coconut oil are a good source of energy, helps in weight loss, and fight against the growth of bacteria.
The price of the Smarter Vitamins caffeine supplements is $20 for one bottle (50 capsules).
Pros
It uses natural caffeine.
It has L- Theanine that reduces the side effects of Caffeine.
This supplement has a 60-day free return policy.
Cons
It contains only 50 capsules.
200 mg of caffeine may be too high for everyone.
7) Objective Wide Awake
The objective is a natural health and wellness company.
They understand that we all live incredibly busy lives. To help us with our nutritional needs, they offer stress-free solutions.
They make supplements that not only provide solutions but also fit into your lifestyle. They have made wellness convenient for their users.
The company carefully researches the ingredients that go into their supplements.
They carefully study each ingredient and its benefits before it is approved for use.
The company has supplements for various needs like providing calm, helping you fall asleep faster, and supplements for keeping you wide awake.
Key Benefits
It uses a natural source of caffeine to provide you with the healthiest options.
The caffeine used is created with an extended-release formula, so you are provided with energy over a longer period of time, keeping you active and wide awake.
Due to the extended-release formulation, the side effects that come with caffeine are greatly reduced.
The Objective caffeine supplement uses cocoa to give their supplement a nice chocolate flavor.
The supplement comes as a square rather than as a capsule or tablet, making the experience far more enjoyable.
The Objective caffeine pill does not use any artificial sugars or flavorings in its product.
The supplement uses allulose, a natural sugar that comes from dried fruit, to add sweetness to its product.
The supplement is sold as squares of chocolate, which is a fun experience and great for anyone who needs a boost of caffeine but does not like the taste of coffee.
The formulation of the supplement releases approximately 80 mg of caffeine immediately after consumption and then releases the remaining caffeine over the course of 10 hours.
By six hours, almost 80% of the remaining 120 mg of caffeine is released.
This formulation allows for a slow and steady release of energy that allows you to stay awake and active.
An additional benefit of the extended releases formulation is that the side effects of caffeine are far less pronounced.
There are little to no jitters, anxiety, or raised heart rate levels as the energy are released slowly over a period of 10 hours.
Pros
These caffeine pills have a slow-release formula.
They are great for students.
They have a delicious chocolatey taste.
Cons
These pills are costly.
It offers only 15 squares in one package.
It does not provide an immediate high energy boost.
Taking this supplement later in the day can make it difficult to fall asleep.
What are the Benefits of Using Caffeine Supplements?
The following are the most significant benefits of incorporating caffeine pills into your everyday life:
1) Energy Boosting Properties
Caffeine is an excellent product for increasing your overall energy.
It also helps to keep you energized throughout the day.
2) Fat Burning Substance
Caffeine is super effective for shedding a few pounds and burning the extra fat in your body.
It helps to curb your appetite, which leads to reduced calorie intake and weight loss.
3) Post-Workout Muscle Recovery
Muscles suffer from a lot of wear and tear after an intense workout session.
Therefore, they need something to heal them, and using caffeine pills can help speed up the process of muscle recovery through its antioxidant properties.
4) Healthier Alternative to Energy Drinks
Energy drinks are also loaded with caffeine, and they are commonly used to boost your cognitive performance.
However, caffeine supplements are a healthier alternative since they are free from the harmful chemicals found in most energy drinks.
5) Enhanced Mental Performance
Caffeine is the best product to keep you mentally alert and focused on your goals.
It makes you think quicker and improves your overall mental alertness.
Therefore, if you have to pull an all-nighter for work or exams, then caffeine pills will keep you focused and alert by keeping you fatigued at bay without causing caffeine-induced stress.
Furthermore, it has also been observed that frequent caffeine consumption can help reduce the onset of premature cognitive decline, leading to serious mental complications such as Alzheimer's.
Conclusion
Caffeine pills are all the rage these days and for a good reason!
They improve mental focus, mental alertness, memory, and thinking skills ( cognitive function), they improve stress and stress-related anxiety, decrease fatigue, boost energy along with helping you lose weight and become a more physically active and alert individual.
Therefore, if you don't want to drink coffee, then taking caffeine pills is also extremely beneficial, but in case you're confused about which brand offers the best caffeine pills, then our list will help you make a highly informed choice.
You Might Like: The Best Energy Pills on The Market
Frequently Asked Questions (FAQs)
Exactly how much caffeine is too much caffeine?
While different people have different levels of caffeine tolerance depending upon their usual caffeine intake, the daily consumption of adults should not exceed more than 400mg of caffeine per day as it could lead to caffeine overdose and caffeine overstimulation.
However, the regular caffeine amounts in one caffeine pill are usually around 100mg to 200 mg.
What are the common side effects of caffeine pills?
Some of the most common side effects of caffeine supplements include Headache, Restlessness, Nervousness, nausea, sleep disturbance, heart burn, high blood pressure, high heart rate and insomnia.
What are the adverse effects?
Tremors, Hyperadrenergic syndrome resulting in seizures and Cardiovascular Instability.
Who should avoid consuming caffeine supplements?
Caffeine pills are generally not suitable for children, pregnant and lactating mothers.
They should also be avoided by people dealing with anxiety, high blood pressure, and digestive complications such as GERD.