Whether you work at home, in the office, or outside, you will need an energy boost, especially if you have not been eating healthily and getting adequate rest.
While we all may want to produce energy naturally, the reality is that we don't always have the time to work out and make well-balanced meals to boost energy and mental performance.
The market is consumed with numerous products, like energy drinks, all promising to help you with energy production.
However, many of these are unhealthy and can cause serious complications. Instead, it would help if you opted for health supplements.
We have compiled a list of the nine best energy supplements that work.
These energy pills are formulated with vitamins and other supplements to help you feel energized for longer.
At a Glance
9 Supplements For Energy & Focus That Work – Top Reviews
Now let's get into the specifics of each product…
1) Best Overall: Performance Lab Energy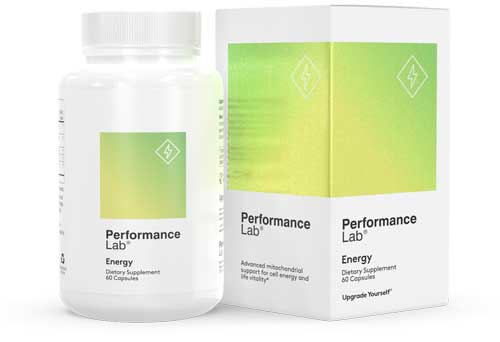 Performance lab, a reputed supplement industry leader, has designed a vegan-friendly energy pill to supercharge daily performance with stim-free vitality.
Performance Lab® Energy does not contain caffeine for a smarter, cleaner, and healthier energy boost and is perfect for pre-workout time.
This energy pill is formulated with the following:
Magnesium

– if you have low magnesium levels, it can contribute to feeling tired and drained, and as such, using a supplement that contains this nutrient helps to boost the body's energy production.

Black pepper extract (active piperine)

– piperine helps improve bioavailability so that more nutrients in the energy pill and foods you eat can make it to your bloodstream.

R-Lipoic Acid

– promotes insulin transport and usage.

Acetyl-L-Carnitine (ALCAR)

– plays an instrumental role in energy production, usage, and recycling.
Pros
Vegan-friendly
GMP- Certified
Caffeine-free
Non-GMO
Synthetic additive-free
Soy and gluten-free
No soy, egg, fish, shellfish, dairy, peanut, tree nuts, wheat
Easy-to-swallow
Prebiotic-infused
Cons
A vegan option must always be since this group can often get overlooked.
As such, this is our best overall choice as it caters to vegans and energy-boosting needs and provides other essential health benefits.
It can:
boost mental vitality
aid exercise intensity
improve energy generation
2) Best Overall: Qualia Nootropic Energy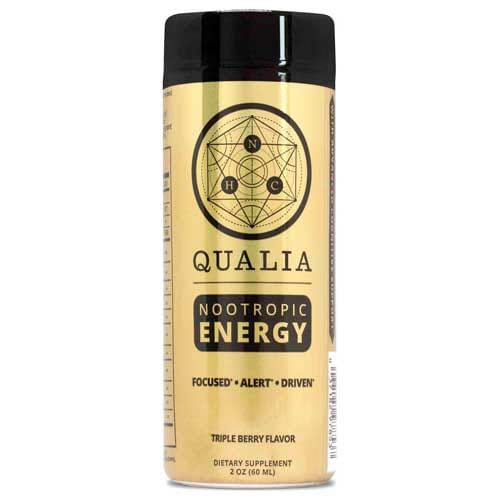 This energy supplement is an all-in-one energy shot that provides cognitive support.
Qualia Nootropic Energy is formulated with 12 high-purity nutrients backed by science and is known for its propensity to fuel energy.
This formulation focuses on the brain but provides physical health benefits, leading to a more energized you.
Also, it comes in a liquid form, perfect for those who have difficulty swallowing pills.
Let's look at its primary constituents:
EnXtra® Alpinia galanga Root Extract: may support alertness and focus, as shown in a study.
Cereboost™ American Ginseng Root Extract: can enhance attention accuracy, working memory, and secondary memory.
NooLVL™: aids with processes that regulate tissue function within the body.
Organic Coffeeberry® Whole Fruit Extract: may heighten alertness, processing speed, and motor reflexes.
L-Tryptophan plays a vital role in producing energy within the body's cells.
Celastrus paniculatus Seed Extract: The brain tonic, this extract can promote mental acuity, support memory, and alleviate mental fatigue and stress.
Pros
Back by research
Liquid formulation
100% Vegan
Non-GMO
Natural Flavors (Blueberry, Açaî, Raspberry, Vanilla)
Gluten-free
100-day money-back guarantee
Cons
Contains Tree Nuts (coconut)
A bit expensive
This is another vegan-friendly option that does way more than reduce fatigue.
Energy is formulated with natural ingredients suitable for use by all regularly to reduce physical fatigue and supplement the natural energy-making process from the food you consume.
This makes it one of the best energy supplements on the market. Additionally, it can:
boost physical and mental functioning
provide clean, lasting energy
boost memory and productivity
increase alertness and focus
3) Ashwagandha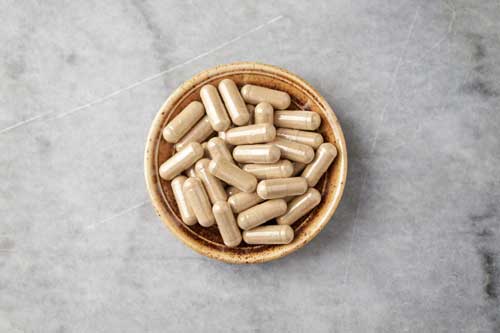 Ashwagandha is one of the most widely studied herbs globally.
It is sometimes referred to as the Indian Winter cherry or Indian Ginseng.
Research has suggested that it can provide several health benefits, including improving brain health, increasing energy, and supporting the nervous system.
Ashwagandha has been used in traditional Indian medicinal practices for centuries and has been adopted by other nations.
This natural energy supplement is comprised solely of the Ashwagandha root extract.
Ashwagandha – is an evergreen shrub found primarily in Asia. It can combat physical and mental fatigue and lead to an increase in energy levels.
Pros
Vegetarian-friendly
Non-GMO
Vegan-friendly
Research-backed ingredient
Subscription plans available
It can be taken on an empty stomach
Gluten-free
Certified organic
Does not contain egg, fish, milk, peanuts, shellfish, soy, tree nuts, or wheat.
Cons
Not available as a one-time purchase.
The Ashwagandha used in this pure supplement is certified organic and non-GMO and sustainably harvested from India's farms.
The company holds a high standard for its root production, extraction, and manufacturing processes to ensure the supplement maintains its potency while being delivered in a convenient capsule.
Ashwagandha is a gold standard among herbal supplements and can:
improve stress and physical endurance
reduce anxiety and fatigue
induce sleep
aid athletic performance
provide pain relief
combat diabetes and skin and gastrointestinal disease
speed up metabolism to promote weight loss
4) Body⇌Brain Energy™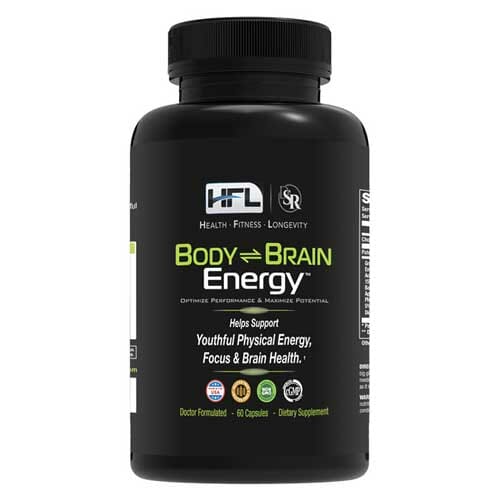 This Nootropic-based energy supplement is a doctor-formulated vegan pill.
This doctor initially developed it more than eighteen years ago, as he wanted to maximize his performance in school, at work, and at the gym.
Its formulation can affect the whole body by improving sleep and cognitive performance, reducing fatigue, and maintaining overall health.
Body Brain Energy is formulated with fifteen patented ingredients and fifteen herbal extracts, including green tea extract, four essential vitamins, and two amino acids.
As a plus, the majority of these ingredients (like Ginkgo Biloba and Asian Ginseng) are scientifically proven to have the ability to give its user more energy.
Pros
Made in an FDA-approved facility
Third-party tested
Non-GMO
Ingredients backed by scientific evidence
Veggie capsule
GMP Certified
Cons
A bit costly
It May cause slight headaches
Body⇌Brain Energy™ is our top choice for cognitive function as its clinical trials-validated ingredients are meant to target your mental capabilities and sharpen them to promote optimal performance.
This energy booster is intended to help anyone get an energy kick, whether for work, exercise, parenting, or support youthful and healthy aging.
With its potent green tea extract formulation, Body⇌Brain Energy has the potential to:
provide a whole-body energy boost
enhance your drive and cognitive function
improve daily productivity
boost mental processing, alertness, and reaction speed
promote youthful memory, clarity, and focus
provide enhanced muscle mass and stamina
5) Rhodiola Rosea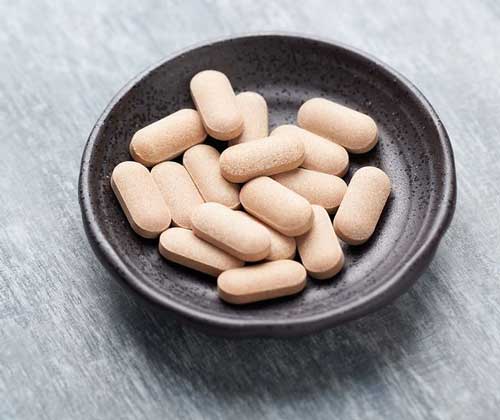 The herb supports a healthy response to occasional stress.
It is frequently used and very popular for its medicinal properties and has been the subject of many clinical trials that have since validated its energy booster qualities.
Recent research within the United States shows that Rhodiola may benefit from supporting stamina under prolonged stress.
This flowering herb, found mainly in the mountainous parts of Europe and Asia, has been used in Traditional Chinese Medicine for many years and is sometimes called the golden root or arctic root.
Its energy pills are naturally formulated with the plant collected in the Altai Mountains of Siberia.
Rhodiola

– This extract can be used as a dietary supplement to promote better health in anyone, including athletes, to enhance the energy levels within the human body, and supplement that which is gained from eating food.
Pros
No GMO
Vegetarian-friendly
Vegan-friendly
No Gluten
Research-backed ingredient
Can be taken on an empty stomach
Does not contain egg, fish, milk, peanuts, shellfish, soy, tree nuts, or wheat.
Subscription plans available
Cons
Not available as a one-time purchase.
Having options should always be afforded when buying supplements because people with allergies and other particular needs can still have a shot at getting an efficient product.
This is one reason why we decided to add this energy booster to our list.
We believe it is one of the best energy supplements out there, and boosting energy is just one of the benefits this product can supply.
It may also:
help with remedying depression symptoms
provide antioxidant defense
help you in reducing anxiety and stress
improve cognitive performance
help manage diabetes
6) Vitamin B12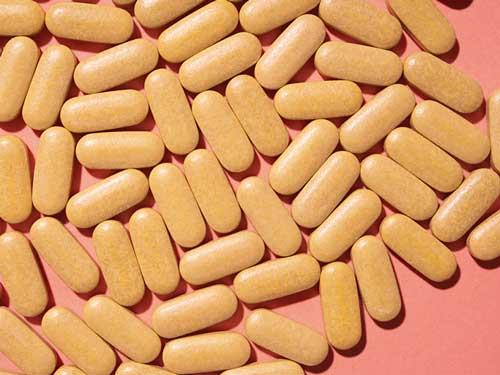 Vitamin B12, also known as folic acid or folate, is one of the more instrumental nutrients in breaking down the food you eat into energy for your cells to use.
These energy pills are formulated with three types of active vitamin B12 to boost energy levels and, at the same time, improve sleep and aid digestion.
It is especially essential for supplementing the diets of vegans and vegetarians, as they do not get an adequate amount of this vitamin based on what they consume, mostly frozen or fresh vegetables.
Vit. B12 is a nutrient vital to your health and can reduce the need for caffeine use to increase energy levels.
It can be described as one of the best vitamin energy boosters.
Pros
GMO-free
No caffeine
Vegan-friendly
Vegetarian-friendly
No gluten
Subscription plans available
Research-backed ingredient
It can be taken on an empty stomach
Cons
Not available as a one-time purchase.
Vitamin B12 is an ideal energy-boosting supplement for vegans and vegetarians since eating food is insufficient to satisfy their body's daily requirement of this nutrient.
While providing energy, at the same time, it provides them with an essential vitamin that they would otherwise not get adequately.
Additionally, these naturally formulated energy pills are also suitable for people with caffeine intolerance.
Furthermore, this vitamin B12 energy supplement may:
prevent deficiency symptoms, including fatigue, constipation, and nerve problems
support energy metabolism (production)
combat anemia by aiding with red blood cell formation
promote bone health
prevent birth defects
improve mood
7) Natrol High Caffeine Tablets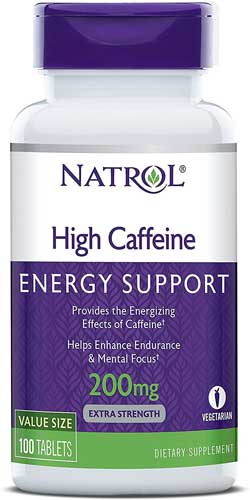 Most energy products in today's market are caffeine-based; however, they may not perform as intended or expected.
But that's how Natrol High Caffeine Tablets differ from the rest. According to the product's nearly 4000 reviews, it can deliver on the manufacturer's promise to delay fatigue and be an ideal pre-workout supplement with various other benefits.
Not only is it efficient, but it is also one of (if not) the most affordable energy supplements available.
This energy booster is formulated with a range of ingredients, such as:
Calcium

– is an essential mineral instrumental in bone, muscle, and heart health and function.

Caffeine

– is a natural stimulant that works by increasing activity within the brain and other parts of the CNS.

Stearic Acid

– is a useful type of saturated fatty acid and can provide health benefits for the skin.

Cellulose Gum

– is a food ingredient derived from cellulose, a structural part of certain plants.

Silica

– is a vital trace mineral that promotes the strength and flexibility of the connective tissues within your body.
Pros
Much more affordable than most energy supplements
Flavorless pills
Milk, egg, shellfish, tree nut, yeast, wheat, soybeans, and peanut-free
No added sugar or preservatives
No artificial colors or flavor
Cons
Some reviews complained of drowsiness
Can cause caffeine tolerance
Not suitable for vegans or vegetarians
A lot of people prefer to just use caffeine as their option for an efficient energy booster.
They tend to opt for unhealthier and unsafe products like energy drinks.
These are unsafe because they do not come in metered doses, whereas these Natrol tablets do.
Natrol understands that there is a demand for caffeine-based energy supplements. Because this company is passionate about improving human wellness worldwide, they developed a safer and healthier option for caffeine lovers to avoid the adverse effects of energy drinks, etc.
In addition to saving you some money, this caffeine supplement can:
jumpstart energy production
improve physical and mental performance
stimulate the central nervous system
delay fatigue
deliver an extra accelerant to maximize exercise potential
increase alertness, reaction time, and endurance
8) Nature Made CoQ10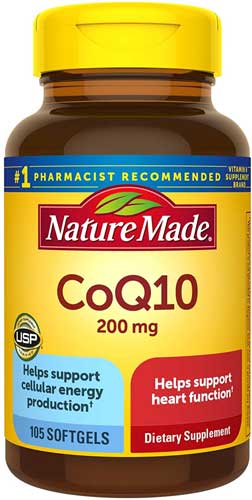 CoQ10 is produced naturally by the body and is referred to as coenzyme Q10.
It is found within every cell and performs numerous functions, including aiding energy production.
CoQ10- based supplements are highly recommended, particularly for persons experiencing extreme tiredness or fatigue.
Low levels of CoQ10 will cause energy deficiency as it is needed before energy can be produced, and food sources will only provide a small amount of CoQ10.
Nature Made CoQ10 is formulated with the following:
Soybean Oil

– is a heart-healthy type of vegetable fat that can provide numerous health advantages.

Gelatin

– helps to create the soft gel capsule to house this CoQ10 supplement.

Glycerin

– is a natural compound derived from vegetable oils or animal fats and has considerable health gains, particularly for the skin.

Soy Lecithin

– is derived from raw soybeans and is instrumental in the metabolic process and in moving fats.
Pros
Affordable
No artificial colors
No artificial flavors
No preservatives
No gluten
Natural fruit flavor
Cons
Contains soy
Not suitable for vegetarians and vegans
Soft gels may stick together
A slight odor reported in customer reviews
The formulation of this supplement is geared toward supporting heart health while ensuring optimal energy levels are maintained.
This 105-day supply of soft gels promises to provide a dietary supplement for heart health and energy generation, which is reason enough to add Nature Made CoQ10 to this list.
Here are a few other advantages that you may get from these energy pills:
lowered cholesterol
improved digestion
soothe and moisturize skin
prevent bone loss, and provide essential omega-3 fatty acids
9) Care/of Creatine
Creatine was first discovered in 1832 by a French scientist named Michel Eugene Chevreul.
It is one of the most suitable energy-boosting supplements for people who work out. Creatine is designed to increase physical endurance for short-term, high-intensity exercise.
It is especially helpful to the older population who live a very active lifestyle.
This compound can be found in fish, pork, red meat, and poultry.
However, even though creatine is primarily found in meat sources, Care/of has created a strictly vegan form of this dietary supplement.
Further, creatine is dubbed as the muscle-maker due to its ability to provide quick workout energy.
Creatine Monohydrate – this is an affordable sports supplement that active lifestyle people widely use to supplement their energy needs.
Pros
GMO-free
No caffeine
Vegan and vegetarian-friendly (sourced from Germany and produced on a completely closed production line, ensuring its purity)
No gluten
Subscription plans available
Research-backed ingredient
Can be taken on an empty stomach
Cons
Not available as a one-time purchase.
Required preparation
Being healthy requires being active, but the average person, often lack the energy to make it to the gym or even do a simple home workout routine.
Sometimes we need a bit of a boost to get up and get going, and Creatine is the ideal product for the job.
Its properties boost one's energy levels almost immediately and provide that zing to start the workout and push through to the end.
A lack of exercise can affect your body in many ways, including reduced sleep.
Also, creatine supports muscle development and helps the muscles recover more quickly during exercise.
Conclusion
This list was compiled to be as inclusive as possible.
We wanted to provide an option suitable for everyone.
After all, we all need energy, and we believe these pills, liquids, and powders are among the best available products to help provide you with the same amount or more energy than you produce naturally.
Also, they are formulated with natural ingredients, such as caffeine, whole grains, green tea extract, and more, to efficiently increase energy.
These nine top energy boosters can improve how your body uses blood sugar to increase energy levels.
Lastly, they go beyond providing and supplementing the body's entry stores.
They can aid weight loss, improve sleep, and reduce the need for that extra caffeine intake.