Whether you're a beginner, gym buff, or an athlete, it can be difficult to build and maintain muscle.
Several bodybuilding supplements on the market contain ineffective or harmful ingredients.
Anabolic drugs like steroids and selective androgen receptor modulators have numerous health risks.
Therefore, the need for safer and legal alternatives for these drugs are needed. Staying lean and gaining muscles does not need to come with sacrifices to your health.
Ligan 4033 is an alternative to the SARM Ligandrol. It aims to provide those benefits without health risks.
In this Ligan 4033 review, we will look into the ingredients of this supplement and evaluate the claims of CrazyBulk.
LIGAN 4033: All About This LIGANDROL Alternative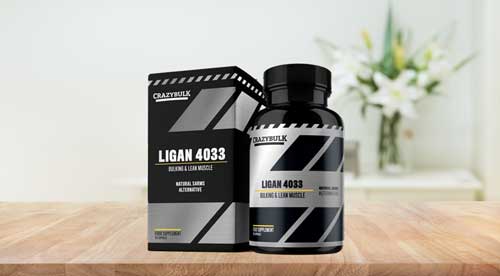 What is Ligan 4033
Ligan 4033 is a fitness supplement created by Crazy Bulk. It is designed for gaining lean muscle mass or bulking.
Ligan 4033 is a natural alternative to selective androgen receptor modulators (SARMs). It is a safe and natural way to boost testosterone.
For optimal results, take Ligan 4033 daily as instructed, accompanied by a proper diet and workout plan.
The formulation of Ligan 4033 is made up of 6 straightforward ingredients. Each one is backed by scientific evidence for its safety and efficacy.
The body produces natural testosterone which triggers muscle growth.
Ligan 4033 works on this natural ability of the body to build muscle without the long-term side effects.
Moreover, the vitamins and plant extracts in their formulation have additional health benefits.
Each bottle of Ligan 4033 contains 120 capsules or 30 servings. For one serving daily, you need to take four capsules of Ligan 4033.
Ligan 4033 is created by CrazyBulk under their product line of SARM alternatives.
CrazyBulk is a brand owned by Wolfson Brands UK limited. It is a supplement company based in Glasgow.
CrazyBulk names its supplement alternatives based on the drugs it is designed to replicate.
However, this is a marketing strategy to advertise their supplements based on the benefits of the drug it is named after.
The company clearly states that Ligan 4033 is a natural SARMs alternative.
The benefits of Ligan 4033 are based on the drug Ligandrol. This drug is being studied for the treatment of conditions such as osteoporosis, muscle wasting, and muscle weakness.
Ligandrol or also known as LGD-0433 has been reported to increase lean muscle mass.
Its anabolic or muscle-building effects may be attractive to some athletes and bodybuilders.
However, it is illegal for use in supplements and sports. Ligandrol is found to disrupt hormonal signaling in the body, suppressing the natural production of hormones such as testosterone.
Ligan 4033 by CrazyBulk is made to imitate the beneficial results of Ligandrol but it does not have the same mechanism.
Hence, Ligan 4033 will not produce the same adverse effects.
The benefits found in Ligan 4033 ingredients are the following:
Benefits of Ligan 4033
Boost natural testosterone without suppression
Improve muscle growth & strength
Bulk up and maintain lean muscle
Improve endurance, stamina, & recovery
Enhance workout performance
Boost energy and increase pumps
Ligan 4033 uses multiple ingredients to produce these benefits. 6 ingredients are responsible for these benefits of Ligan 4033, while Ligandrol is just a one-drug compound.
Ligan 4033 raises natural testosterone levels in the body without disrupting the body's ability to produce hormones. It has no suppressing effects.
This supplement also improves your performance and results from workout efforts. This effect is made by increasing your energy, strength, and recovery.
It keeps you motivated and dedicated to your workout sessions. Ligan 4033 helps you train harder and longer consistently.
In addition, with better blood flow and energy, you can breeze through your workout sessions easily.
Ligan 4033 is an excellent pre-workout supplement and testosterone booster.
Ligan 4033 Ingredients
1) Vitamin D3 (5 mg)
Vitamin D3 is a fat-soluble vitamin associated with homeostasis and bone metabolism.
Vitamin D deficiency is widely prevalent which causes osteoporosis, increased risk of falls, and fragility fractures.
Epidemiologic evidence has linked its deficiency with multiple diseases, including musculoskeletal decline.
In addition, a clinical trial was done on overweight men undergoing a fitness program. It was found that vitamin D supplementation may increase testosterone levels in men.
However, it still warrants further studies for its potency.
2) VitaCholine (1000 mg)
VitaCholine is a trademark product of choline, manufactured with high-quality standards. Its key therapeutic areas are cognition, metabolism, and vitality.
Choline is an essential nutrient in the body. It has multiple roles to help fight diseases. The majority of the population has a suboptimal consumption of choline in their diet.
Therefore, the addition of choline in this supplement helps you meet those needs for your health and fitness.
3) Methyl Sulfonyl Methane (800 mg)
Methylsulfonylmethane or MSM is commonly found in joint supplements and post-workout formulas.
It is a chemical that is found in the human body, plants, and animals. MSM is used for pain, swelling, aging skin, and osteoarthritis.
MSM is an anti-inflammatory agent. Supplementation with MSM can be beneficial for inflammation, joint pain, muscle pain, oxidative stress, and antioxidant capacity.
Based on clinical trials it is well-tolerated by most individuals.
4) Beetroot 10:1 Extract (400 mg)
Beetroot has become popular among athletes and performance-enhancing supplements. It contains high concentrations of nitrates which convert to nitric oxide.
Nitric oxide is known for its vasodilating effects, enhancing blood flow, and oxygen and nutrient delivery to various organs.
Beetroot may have an impact on skeletal muscles, muscle efficiency, tolerance, and endurance. Therefore, it complements well in fitness supplements.
Moreover, beetroot has antioxidant, anti-inflammatory, and chemopreventive properties.
5) Caffeine Anhydrous (150 mg)
Caffeine is a stimulant that boosts energy levels. It is commonly taken as a beverage in the form of coffee. It combats fatigue and drowsiness.
However, it has other underlying benefits. Some studies have investigated its impact on cognitive and physical performance at healthy amounts.
6) Schisandra 10:1 Extract (15 mg)
Schisandra is a herbal extract used in traditional medicine.
It has been used for fatigue, weakness, reducing hunger, increasing vitality, and improving mental health.
Numerous clinical trials have exhibited the potential benefits of schizandra in cognitive health and endurance. Preclinical trials have demonstrated benefits on physical capacity and stress.
It has a diversity of benefits but further studies are encouraged.
Who Ligan 4033 is not for
1) Anyone under 18 years of age
Ligan 4033 is designed for active adults who want to build muscle and boost testosterone. Children under 18 years old may experience unwanted side effects.
Most ingredients in bodybuilding supplements are only tested for adults. Keep out of reach of children.
2) Preexisting Conditions
Ligan 4033 is a natural supplement made with vitamins and plant extracts.
However, people with a compromised immune system including pregnant or lactating mothers should not take bodybuilding supplements.
This supplement requires you to be active and eat a proper diet for optimal results. Consult your doctor before you make any changes to your diet and lifestyle.
Moreover, if you are taking any prescription medicines, inform your doctor about the full ingredients of this supplement.
3) Unrealistic Expectations
Ligan 4033 is created to support you in achieving better results in your workout and diet routine.
You need to make healthy choices and be active. A bodybuilding supplement cannot work on its own without your dedication and patience.
Ligan 4033 will help you maintain your workout efforts and accelerate results.
You will need to take Ligan 4033 for a few months before seeing significant changes.
The Cons of Ligan 4033
1) Misleading Brand Name
Ligan 4033 can confuse some consumers. CrazyBulk has a product line of SARMs alternatives and this includes Ligan 4033.
Its name is based on Ligandrol, a selective androgen receptor modulator. However, Ligan 4033 does not contain any trace of this anabolic drug.
Ligan 4033 is made of vitamins and plant extracts that produce the same benefits as Ligandrol without the side effects.
Nevertheless, Ligan 4033 does not have the same potency as Ligandrol. It does not mimic its mechanism of action.
This also means that Ligan 4033 will not produce the same health risks and is safe.
2) New Product
Ligan 4033 is a new product and there are only a few customer feedbacks found online. You will have to try it for yourself to know more about its effects.
However, it is made of safe and natural ingredients that are tested and proven in clinical trials.
Regardless, if you experience sensitivity or allergies from Ligan 4033 ingredients, stop taking it immediately and consult your doctor.
Trying Ligan 4033 is financially risk-free, you can get a refund with their 60-day money-back guarantee.
Ligan 4033 Reviews from Consumers
There are five Ligan 4033 reviews found on CrazyBulk's official website. You will find a limited amount of customer feedback on Ligan 4033.
It is a new product by CrazyBulk, a well-known supplement manufacturer.
Nevertheless, all five Ligan 4033 reviews gave this supplement a 5-star rating.
Customers seem to agree with the claims of CrazyBulk. People praised the efficacy of Ligan 4033 in enhancing muscle growth, recovery, testosterone levels, and mood.
All these benefits without the side effects such as testosterone suppression. Although, feedback from a larger number of consumers would be more reliable.
Every supplement will have different effects on an individual. How someone responds to one supplement may be different for you.
It is helpful to be able to see feedback from others. However, by trying it for yourself, you will know whether Ligan 4033 is the right supplement for you.
"ADDED 10 LBS OF MUSCLE

I added more calories to my diet and started taking LIGAN 4033 on a daily basis along with my workout and I've probably added 10lbs of pure muscle. All of my reps went up. I go like 5x longer than I did before. Take it. You won't regret it."
"NO SUPPRESSION

I used to cycle LGD-4033 in my early 20s and would get the worst headaches afterward and I would sink into this depression. I only did a few rounds and stopped. CrazyBulk's LIGAN 4033 is awesome! I feel stronger and I don't have any down periods. Another great product from a great company."
The Pros of Ligan 4033
1) Safe and High-Quality Formulation
Ligan 4033 is a natural supplement. It does not contain any illegal or harmful ingredients.
Ligan 4033 is an alternative to SARMs, which are anabolic drugs with certain health risks.
It is made of vitamins and plant extracts that mimic the effects of SARMs. Ligan 4033 is a straightforward formula, containing 6 ingredients.
It has sufficient scientific evidence at the right dosages. You also get additional health benefits from its ingredients.
More importantly, a natural alternative supplement like Ligan 4033 does not come with harmful side effects.
Short-term or long-term side effects of drugs like steroids will not manifest with a supplement like Ligan 4033. It is safe to use daily for extended periods.
2) 60-Day Money-Back Guarantee
CrazyBulk offers a 60-Day Money-Back Guarantee. They are aware that how individuals respond to a supplement will vary.
Therefore, you can return your used and unused bottles in their original containers within 67 days after you received your order.
You will get a 100% refund for your purchase. Simply contact CrazyBulk's customer service, found on their webpage
3) Manufactured by CrazyBulk
CrazyBulk is a popular supplement brand. This manufacturer has sold several supplements that are tried and tested.
They sell natural and safe supplements for fitness enthusiasts. CrazyBulk creates alternatives to usually harmful drugs that are used to bulk up and increase testosterone.
Their supplements are designed to imitate the benefits and remove the side effects of traditional anabolic drugs used by gym buffs, bodybuilders, and athletes.
Other popular supplements created by CrazyBulk are Testo-Max, Anvarol, D-Bal, etc.
Ligan 4033 may be a new product but it is manufactured by a well-known brand. It is made in GMP-approved facilities with strict guidelines and manufacturing.
Things To Watch Out For
Ligan 4033 and Ligandrol are not the same nor does one contain similar components.
It may be confusing for some consumers if a supplement is named after an anabolic drug such as Ligandrol.
Selective androgen receptor modulators are alternatives to traditional steroids. However, these are not FDA-approved for medical or supplement use.
The FDA warns against supplements that contain SARMs. They remain to be investigational drugs and need further clinical trials.
Therefore, Ligan 4033 was created by CrazyBulk to cater to people familiar with SARMs.
It is essential to be aware that Ligan 4033 is made up of natural ingredients, and is a legal and safe alternative.
Buying Guide
You can buy Ligan 4033 from CrazyBulk's official website.
They offer discounts and promos if you buy directly from them.
Moreover, we recommend that you avoid resellers or unauthorized sellers to ensure that you do not get scammed or receive counterfeit products.
CrazyBulk also offers a 60-Day money-back guarantee for all purchases. You can return your bottles if you are not satisfied with your purchase.
The Verdict On Ligan 4033
Ligan 4033 is a legal and safe alternative to anabolic drugs such as SARMs and steroids.
It is formulated with 6 ingredients that have additional health benefits. Ligan 4033 replicates the benefits of Ligandrol a SARM but without including the side effects.
You can take Ligan 4033 daily for bulking and building lean muscle without worrying about legal concerns or harmful effects.
CrazyBulk is a well-known brand and it ensures that its products are legitimate and manufactured with the right standards.
Therefore, Ligan 4033 despite the confusing name, is a natural and effective supplement. This supplement is worth a try for its value.
Frequently Asked Questions (FAQs)
How should I take Ligan 4033?
Drink 4 capsules of Ligan 4033 with a glass of water daily. CrazyBulk recommends taking it 20 minutes before your workout.
How long before I see results?
CrazyBulk advises consumers to take Ligan 4033 for at least 2 to 3 months for optimal results. However, benefits that support workout performance can be experienced sooner.
Is Ligan 4033 a drug?
No, Ligan 4033 is a supplement with 6 natural ingredients. It is an alternative to anabolic drugs. Its name is based on Ligandrol because it mimics its benefits.
Is Ligan 4033 safe for athletes?
Yes, Ligan 4033 is made up of vitamins and plant extracts. It is designed to be a straightforward formula to avoid side effects. It does not contain any prohibited drugs or harmful ingredients.