Welcome to my Balance of Nature review…
The way to good health and wellness is often through the stomach.
I realized this sometime back when everything I did failed to bring cheer to my body or mind.
Whatever way I changed my diet, my digestion, as well as absorption of nutrients, was obviously a problem.
I finally decided to kick blah and take control, I wanted something that would work as whole food.
However much I changed my lifestyle, I knew that realistically it was impossible to consume just fruits or have a viable fiber drink or live on apple juice.
I definitely needed something that had all these ingredients in an easy-to-consume form.
Even with somewhat conflicting reviews online, I could not help being impressed with Balance of Nature and its founder.
I was ready to give this product a try for all it was worth.
I checked out Balance of Nature costs online and decided I would order one for myself and try to change the course of things for my tummy.
The following is a detailed review of my findings and experience with this product…
Balance of Nature Fruits and Veggies Review: All You Need to Know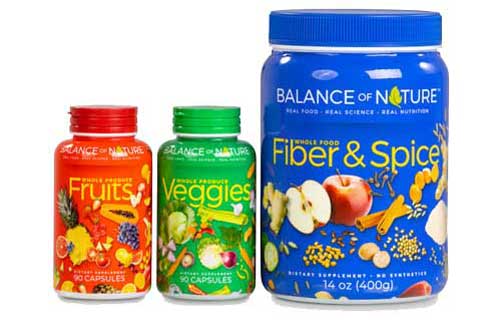 What is Balance of Nature?
Balance of Nature is a dietary supplement formulated from real fruit and vegetable extracts.
The makers claim that the ingredients are naturally ripened and then extracted to create the capsules.
Believing that health springs from the gut, this product aims to improve digestion.
One might be prone to loose stools while getting used to the product.
However, that might be, fruits and vegetables are beneficial as it is.
The product also get integrated into the body system easily.
Who made it?
Balance of Nature is the brainchild of retired chiropractic physician Dr. Howard.
His staggering list of achievements is testimony to his complete commitment to serving people.
It was his series of observations on the conditions in Russia during the time the Iron Curtain fell that fueled the idea of Balance of Nature.
Dr. Howard made this product to be a whole health system and heal holistically.
Why was it created?
This product was created by Dr. Howard as a means of providing people a way to better balanced life using natural ingredients.
This supplement contains extracts from fruits and vegetables which are sourced from various parts of the world.
Studies have shown that our daily diet does not provide the balance needed for our bodies to get real nutrition.
This can throw the body's health system out of gear.
This may lead to a compromised immune system and consequent problems.
There are multiple dietary supplements in the market that cater to such requirements. It is not always clear from the nutrition label exactly what a product might contain.
This is where Balance of Nature fruit and veggie capsules establish their intent and content both.
It is one of the leading vegetable supplements that does not contain any artificial elements.
It has no harmful components and fulfills the criteria for health supplementation like real food.
What is the whole health system?
The whole health system is the fulcrum upon which Balance of Nature fruits and veggies is based.
The idea is to trigger the body's own defenses to rise up and work for its benefit with the goodness of a triad of health.
This is not a new concept. It has been known and acknowledged for centuries that mental and physical health go hand in hand.
In fact, when the mind is under control and one has faith and positivity, healing is much better.
Dr. Howard takes this idea of the whole health system further and believes that a lot of how we feel comes from 'personal accountability'.
He has actually coined the term 'Triad of Health' to define the whole health system.
Read on to know more about how this is visualized by the maker of Balance of Nature, Dr. Howard.
Physical Health
This is all about the physical aspect of anyone's body. It is about how the entire physicality of a human body works.
This means the positive effects of eating well which in turn benefits the physical aspect of the body.
From the external organs down to basic cell health, this is what constitutes health in the physical sense.
Spiritual Health
It is an established fact that our body hears what the mind thinks.
In other words, keeping our mental and spiritual health in top order is essential for overall well-being.
Our mindset and our attitude go a long way in correcting physical health.
This is why it is important to focus on keeping the mind in good shape.
The focus on improving spiritual outlook has been the focus of many treatment modalities with great results.
Chemical Health
In the end, human bodies function as good as the chemical processes going on within them.
Taking care to balance these chemicals is essential in order to stay healthy. That is the only way all bodily processes will work smoothly.
How does Balance of Nature work?
This supplement is a blend of fruits, vegetables, fibers, and spices.
These are mixed in proportions that have been thoroughly researched to give maximum benefit.
Fibers used in the composition of Balance of Nature act on the gut to make way for smooth functioning. Phytonutrients present in the supplement are delivered via specifically intended pathways directly to the gut.
This means less bloating for the user, an advantage that is noticed within a couple of days of use.
The presence of the right amount of fiber also soothes the colon and helps in improved bowel health.
Whether it is loose stools or constipation, both conditions are relieved by taking this supplement regularly.
One may also add these capsules to applesauce or almond milk and consume it for better taste as well as effectiveness on the digestive and gut function.
This begs the question – what are phytonutrients and what role do they play?
Plants-based foods have certain chemicals in them which are highly beneficial to the human body.
These are known as phytochemicals or phytonutrients. Phyto stands for 'plant' and is a Greek word.
These phytonutrients protect plants from attacks from germs and fungi and insects.
They also are believed to play a big role in preventing many diseases in humans.
Balance of Nature Ingredients
There is a long and impressive list of fruits and vegetables along with fiber and spice in this Balance of Nature supplement.
Here is an extensive list:
Broccoli
Cabbage
Carrot
Cauliflower
Cayenne Pepper
Celery Stalk
Garlic
Kale
Onion
Shiitake Mushroom
Soy Bean
Spinach
Sweet Potato
Wheat Grass
Zucchini
Aloe Vera
Apple
Banana
Blueberry
Cherry
Cranberry
Grape
Grapefruit
Lemon
Mango
Orange
Papaya
Pineapple
Raspberry
Strawberry
Tomato
Whole Psyllium Husk
Flax Seed
Whole Apple
Allspice
Cardamom
Cinnamon
Clove
Coriander
Cumin
Fennel Seed
Fenugreek
Ginger
Mustard
Nutmeg
Turmeric
Whole Monkfruit
Such an array of natural fruit, vegetables, and spices are rarely available in other food supplements.
This healthy combination is a great food source that fills in the daily requirement of natural fruits and vegetables.
These are divided into three supplements, Veggies, Fruits, and Fiber & Spice.
Veggies supplement consists of Maintain, Protect and Repair blends.
The same goes for the Fruits supplement. Fiber & Spice consists of Balanced Whole Fiber Blend and Protect & Repair Whole Spice Blend.
The long list of ingredients is divided into each of these blends in order to maintain, protect and repair the body and make way for holistic wellness.
Who should not use it
It is made from fruits and vegetable extracts. There are still some people who should avoid taking this supplement.
This supplement is about fruit capsules in a proprietary blend that also contains grapefruit. This might not be suited for some.
There is soybean extract, which again might not agree with some people.
Although tested extensively for allergens, those with sensitive constitutions should double-check for each ingredient.
It is about better health for the user but make sure to be 18+ to use it safely.
Feel free to consult your physician to rule out any medicine interactions because the formulation contains grapefruit. Fruit and vegetable supplements containing grapefruit have been found to cause side effects upon interaction with some medications.
The makers state that their product is safe for pregnant or lactating women since it is made up of natural fruits and vegetable extracts. Having said that it is always better to consult a physician before this group gets on the supplement.
Cons: What I did not like
This product is not suited for those with intolerance to food supplements with soy products.
There are separate fruit, vegetable, and fiber spice capsules that make it a bit cumbersome to take.
Balance of Nature contains grapefruit extract which might have undesirable interaction with certain medications.
One needs to be taking Balance of Nature without break over a period of time to show discernible results.
There are persistent complaints online that re-orders are very difficult to cancel. This can be a huge put-off for many.
Results are not consistent across users and one is not sure how useful it would be.
Testimonials
There are mixed reviews of Balance of Nature even though makers claim real science behind it.
In this day and age of fake news and false advertising, I was skeptical when I ordered this product. After about a week, I was a true believer and placed my second order. I also took the suggestion of emptying a capsule into hot water and it was great tasting, as well. Love this stuff!!!
This product really works. I am an educator of elementary school children. After a full day with them, I am too tired to do needed things required of me when I get off work. After starting this program, it has only been a few days, I am not tired when I get home from work. I am actually physically alert to do things at home when I come home from work. I have EXCELLENT bowel movements using this product. In addition, when I take this product, I do not feel hungry. I am happy I decided to try this product.
As can be seen from above, like for any other product, there are satisfied users and then there are disgruntled ones.
A common grudge is the capsules are too large and three different capsules are cumbersome.
However, the effects are good for most, which is what matters.
Balance of Nature is a completely plant-based supplement that is packed with the goodness of fruits and vegetables.
Supplement facts on labels are a bit of contention but the product itself is a great formula for wellness and whole food.
Pros: What I did like
There are some of the many Balance of Nature pros that appealed to me. I am listing them below:
Balance of Nature products is rigorously tested for quality and potency.
It is whole food in fruit and veggie capsules form.
There is clear mention of the manufacture date and the product stays good well into a year of manufacture.
These veggies capsules boost the immune system with regular use.
It is excellent for bowel health and boosts the digestive system.
Regular use of Balance of Health has been shown to improve energy levels.
It is great for overall health and wellness.
Ingredients are approved by the FDA and are mixed in a proprietary blend to aid in wellness with these veggie capsules.
This is a gluten-free vegan product that is non-GMO.
It is full of phytonutrients from fruits and vegetables.
There are no added sugars in the product.
The presence of dietary fiber ensures healthy digestion, regular bowel movements, and relief from constipation.
Each of the ingredients is freeze-dried to preserve its properties and nutrition.
Regular users can ensure uninterrupted supply by opting for a monthly subscription.
Artificial sweeteners are not used in these veggie capsules.
This supplement is a great way to improve gut health in an easy manner.
There is a lot of antioxidant effect with so many real fruits and vegetables in extract form which helps revive and rejuvenate overall health.
What was most important for me was the fact that this spice product contained extracts of real fruits and brought to me a unique system to boost my wellness.
And that all of it is based upon scientific evidence and created by a chiropractic doctor with years of experience backing him up.
Insider Information
One thing that I feel any new user should know is that capsule size is very big.
A lot of reviews have users speaking of this issue.
I found this to be a deterrent too. I mean, the very thought of gulping down such a big capsule whole is quite daunting. To top it, I found the taste to be a drawback.
It is my experience that emptying out the contents in a glass of warm water and taking that liquid is a better way of enjoying the benefits of this supplement.
It is all very well to say this is an easier way of eating real fruits but this is definitely not all about dietary fiber.
I would suggest taking normal quantities of roughage to fill in for the dietary fiber requirement of the body.
On the other side, there is some objection raised by the Federal Foods and Drug Administration to supplement facts labels.
According to them, many labels have content that indicates the use of the whole health system for mitigation and cure of certain health conditions.
It is even suggested for cures of conditions like asthma, prostate, and cold to name just a few.
This according to the FDA is akin to suggesting a 'new' medicine which Balance of Nature definitely is not.
This labeling conundrum does cause confusion in the minds of users.
Buying Advice
For the best deals, one needs to purchase directly from the parent website, needless to say.
There are also special discounts for those with preferred membership.
If you are a preferred customer it opens up many avenues for discounts as well as gives priority shipping in many cases.
As part of the deal for preferred customers, orders get delivered within 28 days.
One does not need to enter into any kind of contract, nor is there a minimum amount to be ordered. There is also a 35% off on one-time purchases for the preferred customer.
There is at least $40 worth of savings for the preferred customer with every order. All one needs to do is enroll for preferred membership with a one-time fee.
Avail of all of these benefits as well as coupons and other discounts on the website.
Final Verdict
Give this product a try!
Keep in mind that there might be bowel disturbances while on it.
There are overall benefits for your gut health and digestion in a compact capsule form.
However, there is some ambiguity regarding nutrition aspects on the website and it is up to you to decide.
If you are one of those who are on the wrong side of the age graph and feeling tired easily is something to worry about, I would suggest trying out this product.
Including enough fruits in the diet might not be possible and added sugars in normal supplements can cause further problems.
Balance of Nature Fruits brings them all together in a nice way. Make sure you become a premium member in order to take advantage of all the benefits.
Frequently Asked Questions (FAQs)
Is this a good product?
This is one of the premium dietary supplements on the market now that is based upon providing the goodness of nature vitamins. It brings extracts of real fruits and vegetables in a balanced and easy to consume form.
Going by user accounts there are very few negative reviews. Which would imply that Balance of Nature veggies and fruits is a wonderful product.
Is it worth the money?
Sometimes it is better to look at the overall picture in order to understand the true value of a thing. Taking whole fruits and vegetables in day-to-day consumption might not be always convenient or possible.
Balance of Nature brings all the advantages in simple capsule form. It would certainly seem worth the money in light of the advantages. 
What are the side effects?
While there have been no undesirable side effects of this supplement, it does contain soybean. Those will allergies or intolerance to this would do better to be careful or stay off the product.
What is better than the supplement?
Among the multiple food supplements in this segment, there are pros and cons of each product. It depends upon individuals to decide which suits them better.
Some prefer Texas Superfood because it offers similar pluses in a single capsule form.
What is the recommended dosage?
The manufacturers recommend 6 capsules daily of 3 Veggies and 3 Fruits with 1-2 heaped scoops of Fiber and Spice two times a day.
It is recommended to stick to this dosage and not overdose.