Sometimes, a massage therapist's best alternative is high-quality massage chairs.
They can give you a kneading massage almost on-par with some excellent massage therapists.
They are also a great choice for people who do not enjoy being touched by other people.
A good massage chair provides you with a relaxing massage that gives you pain relief from muscle pain and increased blood flow.
The problem is how to differentiate between a good massage chair and other massage chairs that claim to use body scan technology and chromotherapy, which are nothing more than empty claims.
This is why we have researched multiple massage chairs to give you a list of the best massage chairs, so you can choose the best massage chair for your needs.
Your Quick Guide to The Top Massage Chairs
If you're someone who is short on time no matter what you do, then chances are you need shortcuts whenever possible.
For this reason, we have put together a quick guide on our choice of the best massage chairs.
It's a rapid walk-through of why we believe this belongs on our list—allowing you to choose the best massage chair for you without having to read through the entire review.
Best Overall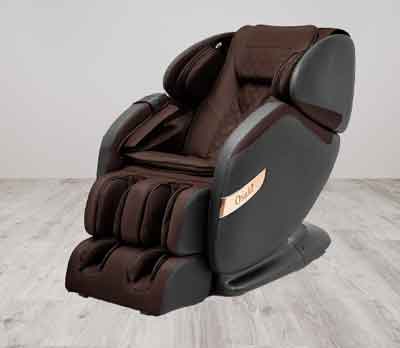 Among our list of best massage chairs, the Oskai OS Champ is our choice of best massage chair.
For us, this chair fits all the criteria of a good massage chair.
This is a zero gravity massage chair, meaning you can recline it enough to give you the feeling of zero gravity (weightless).
It is a full-body massage chair with heating features and a minimum of one year warranty.
Easily making it among the best massage chairs available today.
Best Runner-Up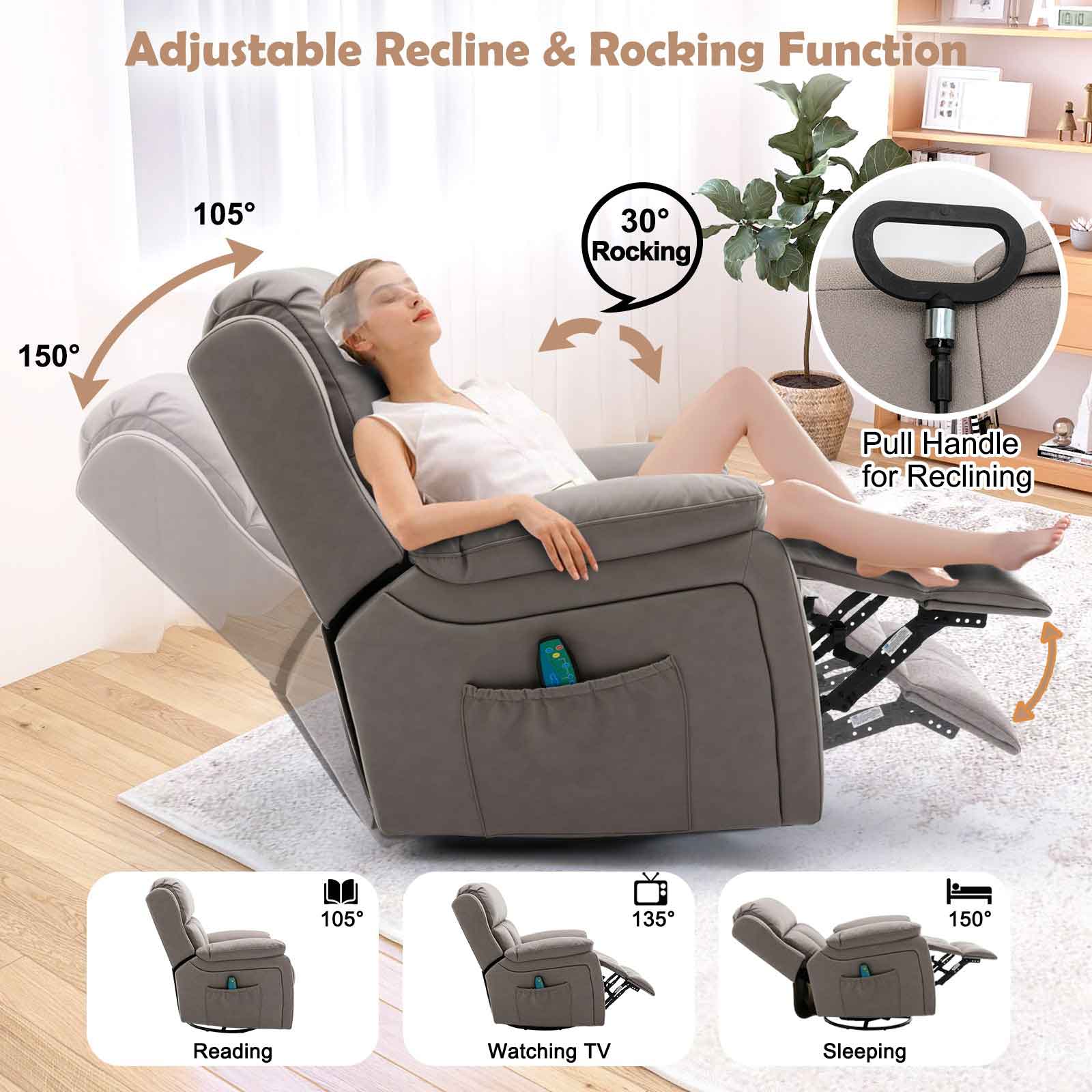 A close runner for our number one position is the Homrest Recliner Massage Chair; while this chair lacks foot rollers for an intense foot massage, it does come with a heating feature and a remote that allows you to control the massage intensity.
As far as massage chairs go, this massage chair can easily be added to your living area with its plush padding and casual style.
The Homrest recliner may not be a full-body massage chair, but it is a reclining massage chair that has heat therapy abilities.
Along with this, it comes with a one-year warranty and is easy to assemble.
Best Budget
The HoMedics Shiatsu Elite II Massage Cushion (MCS-845HJ) is among our list of best massage chairs. Unlike many massage chairs, this massage chair is portable.
It can be used at home or with your office chair. It provides this massage therapy through the use of various massage zones.
Its space-saving technology makes it easy to store away after use.
It is the perfect choice for someone looking for a massage chair that will provide a therapeutic massage while on a budget.
Best Luxury
If you are looking for a massage chair that screams luxury and expensiveness, then the Bodyfriend Rex-L-Brain is the choice.
This massage chair offers the feel of a Lamborghini seat without having to purchase the car.
This 4D massage chair has numerous massage settings that can be adjusted to your needs.
When it comes to luxury massage chairs, you can't go wrong with this chair and the amazing massage therapy it offers, along with looking sleek and offering numerous chair features.
Best Weight Capacity
This 4D massage chair belongs on our list of best massage chairs because of its ability to capacitate larger weights, something not all massage chairs can claim to do.
This massage chair provides you with a heated massage, massage rollers, and multiple massage styles that can be customized.
A zero gravity massage chair provides the ultimate relaxation for a large weight range.
The Top 5 Recliner Full-Body Massage Chairs of 2023
1) Oskai OS-Champ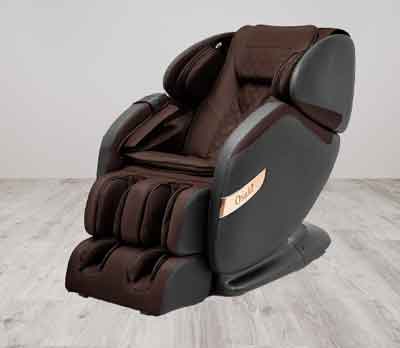 The Oskai Os Champ is a sleek and modern massage chair, and it is designed with your comfort in mind.
It is available in neutral colors allowing it to fit comfortably into your home's design.
The numerous features in this chair give the users the ability to enjoy a full-body experience.
With its space-saving technology and user-friendly controls, you would expect this chair to be far more expensive than it is.
Not only is the chair in the realm of affordable chairs, but it also comes with a warranty, so you do not have to worry about spending on repairs should something go awry.
About The Brand
OTA World/ Titan World is a well-known and trusted brand in the world of massage chairs.
They ensure that every product they produce is of the highest standard and quality; nothing leaves their doors without meeting their standards despite the fact that their products are sold at prices lower than expected of high-end luxury massage chairs.
Titan collaborates with numerous experts in the fields of relaxation products and massages.
This ensures that every product they create meets the claims that they make.
They ensure that they are able to offer their consumers the best services along with some of the best and most reliable products.
The top priority for this company is to bring their customers rest and relaxation so that they are able to live more active lives.
They create products that are beneficial for your health and are worth the expenditure.
They work to be complete transparency in their products so that the information you get with your purchase is accurate and meets your expectations.
Along with this, Titan ensures that its customer services are nothing short of exemplary.
Key Benefits
This chair comes with a body scanning feature. It locates the areas of pain and tension and acts on them to relieve the tension and aches. Body scanning is a brilliant feature to have in this chair.
While this chair may look like it requires vast amounts of room, its space-saving technology allows it to fit into smaller areas.
The chair can reduce the space it takes up by 9 inches. As the chair goes into the recline position, it slides forward to reduce the amount of space it takes up.
This chair is created with the zero-gravity feature. The zero gravity position extends your legs above heart level, giving you the feeling of having no weight and allowing the chair to support the entirety of your weight.
This chair has two different zero gravity reclining positions, which can be adjusted according to your personal preference.
The track of choice for this chair was the L track, which, unlike the s track, is able to target greater regions of the body. This track can focus on your lumbar regions, such as the hamstrings and calf muscles, as well as your lower back.
The airbags in this chair are not isolated to a single region, and rather the 18 airbags target various areas in your body. These areas include the feet, calves, shoulders, and arm regions. The airbags provide a compression massage to these areas.
The foot rollers installed in this chair give you a kneading massage that focuses on the acupuncture points in your feet.
The heat therapy in this chair is focused on the lumbar area through the placement of 2 heating pads.
The auto massage settings in this chair allow for a full-body stretch experience as well as relaxation and other massage options.
The chair can be connected to your smart devices via Bluetooth so you can listen to whatever your heart desires.
This user-friendly massage chair allows you to control your experience with its remote control. You can customize every massage according to your requirements with this remote.
Pros
The chair does not take up a lot of space in your home. It comes with numerous features that you can customize as you see fit.
Cons
This chair is only available in two colors, black or grey. The heat feature is isolated to the lumbar area and is not more widely distributed.
2) Homrest Recliner Massage Chair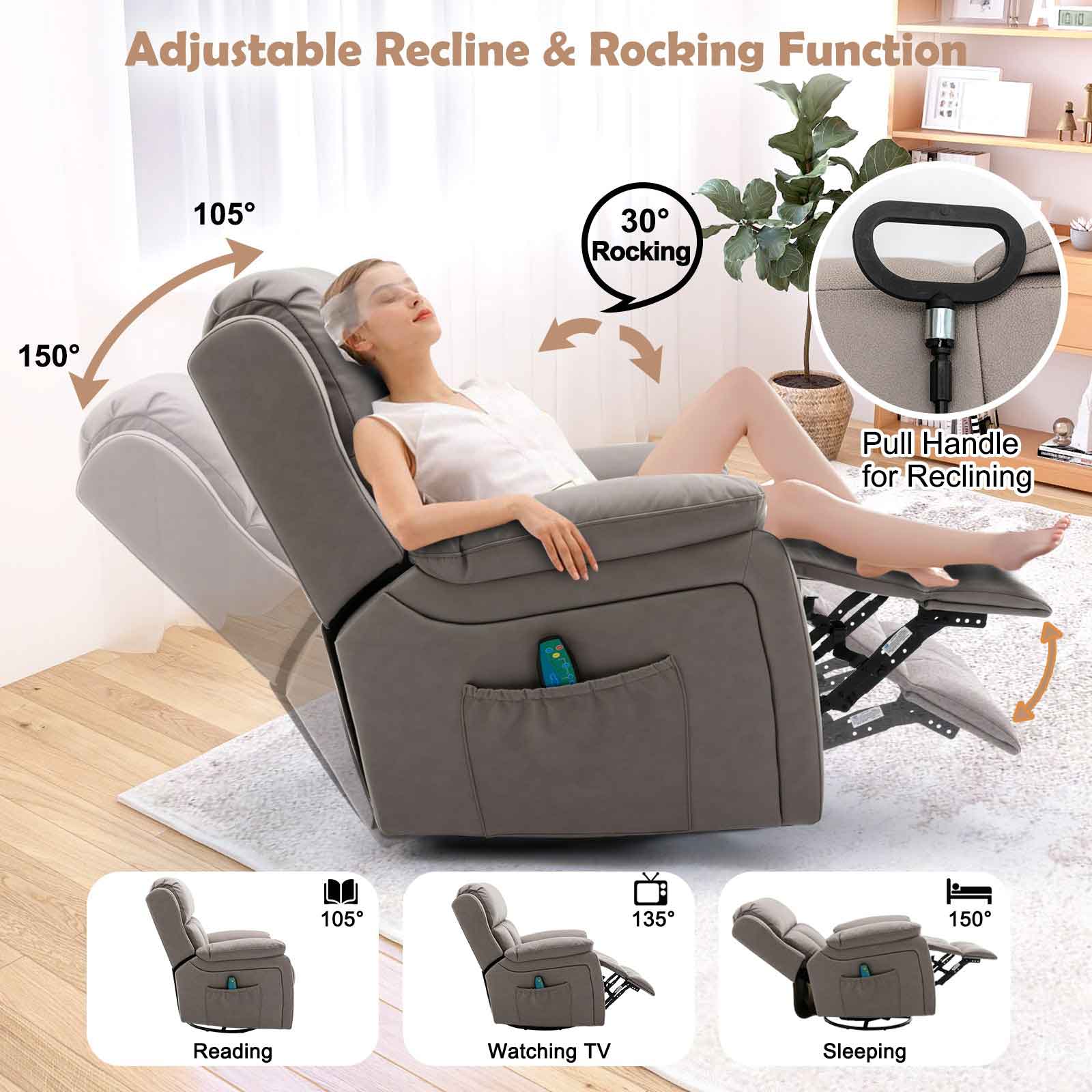 This massage chair screams comfort and gives a perfect home-fit vibe. With its faux leather upholstery and neutral colors, this chair will fit right in to the decor of your home.
It comes with numerous features to make it worth the purchase and is runner-up on our list for these very features.
The chair is simple to put together, does not require any tools, and is delivered to you in two separate boxes.
This chair includes a remote for easy usage, a heating feature, along with 360-degree rotation. This chair provides maximum relaxation and comfort with its padding and sturdy structure.
About The Brand
Homrest is a furniture company that was created in 2019.
For a new company, they have quickly made a name for themselves and can be trusted to take care of you and the furniture in your home.
They are a brand that is passionate about what they do and what they create.
The company is determined to create products that are of the best quality and value. Every product they make takes into account the customer, their lifestyles, comfort, likes, and dislikes.
They aim to offer numerous products in various styles and at affordable and competitive prices—making a name for themselves in the world of furniture.
Key Benefits
It is safe to say that this is a perfect fit for homes with limited space from massage chair reviews. It is able to recline and swivel without taking up excessive space.
The handle located in the side of the chair puts it into recline position; while it is not zero-gravity, it comes very near to the feeling. Allowing you to stretch out your legs and fully relax your muscles.
The chair is created using 40D high-density memory foam. This allows the chair to mold itself to your body, providing maximum comfort while you relax.
The fabric used is created using microfiber technology so that it can resist damage such as scratches and abrasion. It is also an incredibly soft and comfortable fabric.
The chair has a heating feature that targets specific areas of your body to provide you with increased relaxation.
According to massage chair reviews, this chair does not provide as deep a massage as other massage chairs, but the message is still enough to relieve aches and pains.
The massage technology of this chair allows the vibration power of the chair to be modified by the user as per their preferences. The chair focuses primarily on the lower legs, lumbar, thighs, and back region.
This chair can easily be controlled with its remote control, which allows you to alter the settings of the chair without having to move from your seat.
The chair includes a large side pocket in which you can store your favorite book or magazine to read while you relax; it is also perfect for storing the chair's remote control.
This is an incredibly affordable massage chair. It comes with a one-year warranty so you can have it repaired should something go wrong. The total cost of the chair can also be paid via four installments without interest.
Pros
This chair will not look out of place in your home. It is comfortable, fashionable, and easy to use. The chair is also affordable while still being effective.
Cons
This chair does not provide as deep a massage as a more expensive model.
The chair does not have a zero-gravity feature. It can't provide a 4D massage or a 3D massage.
It also does not have foot rollers or a body scanning feature.
3) HoMedics Shiatsu Elite II Massage Cushion (MCS-845HJ)
The Shiatsu elite II massage cushion is a high-end portable massage seat that is both affordable and effective.
As the name suggests, this massage cushion provides you with the Japanese Shiatsu massage, which differs from other massage methods traditionally found in massage chairs.
The seat comes equipped with plenty of features that make it worth the purchase.
This is a perfect option for those who need a chair that is affordable, effective, and can easily be stored. The chair comes with a customizable message option and a heating feature.
It can easily be used at home, or at your office, due to its simple and adjustable design.
About The Brand
The HoMedics brand has been around for more than 30 years.
That is definitely long enough for a brand to make a name for itself and become trusted among its users.
They have become leaders in the world of health and wellness and are always implementing new innovations in their field.
They are a family-run company that has been growing rapidly over the years. They have millions of consumers that trust their products.
Every product they create is made with the utmost quality and with high standards.
The company's mission is to improve the quality of its consumers' lifestyles and provide them with products that help them lead healthier and happier lives.
Key Benefits
This massage cushion, despite its size, comes with three different easy-to-use massage options. It provides its namesake shiatsu massage, a spot massage, and a rolling massage.
The areas of focus can be adjusted according to where you require the maximum focus on your back, whether that be your lower, upper or entire back.
Due to the design of this massage chair, it can not only be stored away when not in use, reducing space, but it is also portable and can be used in your office and home.
This chair is 100% user-friendly, the control comes pre-programmed, and the cushion can be adjusted to almost any chair without difficulty.
Though it may be hard to imagine, this chair has a brilliant heating feature. This boosts your overall massage experience and provides relaxation and increased circulatory flow.
The company offers you the chance to try the product, and if you are unhappy with the results, you can return it for free within 30 days of purchase.
This massage chair extends up towards your neck, providing support and allowing it to massage your neck region as well as your back.
Pros
The chair is portable and can fit almost any chair. It has three massage styles. It is incredibly affordable.
It does not have a body scanning feature. It is made with innovative massage technology.
Cons
The chair can not provide a zero-gravity recline. It does not have a 4d massage option or a 3D massage option.
4) Bodyfriend Rex-L-Brain
The Bodyfriend Rex-L-Brain is a massage chair that looks and feels luxurious.
It gives you the feeling of owning a Lamborghini without actually having to purchase the car itself. With its sleek and classy design, it is definitely a chair that lives up to its hype.
It is packed with numerous features to provide you with the best massage.
About The Brand
Bodyfriend is a global enterprise that specializes in the world of healthcare. They create luxury products that improve your life.
They are a known and trusted brand for luxury healthcare and have been around for quite some time.
Their goal is to increase the healthy life year of their consumers by ten years.
Every product they create is of the utmost quality, incredibly user-friendly, luxurious, and expertly designed.
They create innovative products using new and improved technology.
After extensive research into how the product will improve their consumer's health and well-being, they create their products.
Key Benefits
This chair provides a body scanning feature, allowing the chair to target specific points in your body.
The chair can give you a foot massage due to its built-in foot rollers, so you can relax your feet as well as the rest of your body.
The chair gives you the feeling of being in a Lamborghini chair, providing you comfort and luxury.
The chair provides you with a sound system that you can connect with your phone or tablet's Bluetooth so you can enjoy your music, audiobooks, or podcasts.
The state-of-the-art massage technology in this chair provides you with relaxation and relief from any aches and pains that you may have.
Pros
This chair provides you with the best massage money can offer. It has been created using some of the best technology.
Cons
This chair requires a decent amount of space. It is not a chair that will fit well into a standard home design. It is definitely a pricey option, not for anyone on a budget.
5) Kyota Kokoro M888 4D Massage Chair
The Kyota M88 Kokoro has been created using the best massage technology available.
It provides a 4D massage and 3D massage. It can accommodate 330 lbs in weight.
About The Brand
Kyota believes that it should not be a challenge to buy a massage chair online or to find a standard premium chair but still within a reasonable range.
This is why their brand ensures that you can easily find the best massage chair for you that is both within your budget and of premium quality.
Their chairs are manufactured in Asia. Every chair that they create is accessible, functional, and of the best quality.
Key Benefits
The chair can be set to 3D massage or 4d massage. The 4D massage provides a great experience than the 3D massage, but you can switch between both choices depending on the intensity you require.
The chair has a j track, a combination of the S and L tracks.
Its body scanning ability allows it to focus on specific points in your body.
The foot massager ensures that your feet are not left out of the experience.
It has a zero-gravity feature as well as a heat feature and voice control.
Pros
The chair includes numerous features and comes with a 4-year warranty.
Cons
The chair is on the pricier side of affordable chairs.
Conclusion
During our look into the many massage chairs in the market and what makes them worth buying, we short-listed five chairs that we feel are worthwhile.
Our number one choice is the Oskai Os Champ, as this chair can be placed in the zero-gravity position, has a foot massager, heat therapy, and numerous other features that make it worth the purchase.
Your Guide To Massage Chair Terminology
1) Zero Gravity Recline
The difference between a zero gravity chair and other chairs is in the way it reclines.
The zero gravity position is one that allows your legs to be raised beyond the level of your heart and was formulated by NASA.
Zero gravity recliners give you a weightless feeling, much like zero gravity in space. The chair supports the entirety of your weight so you can better enjoy the massage your chair offers.
The zero gravity feature is the perfect way to enhance your relaxation while also relieving pain in your muscles.
2) Rollers
It is the rollers in massage chairs that give you the full massage experience.
There are numerous types of rollers, and you should look into the rollers used in the chair you are looking to purchase.
There are 2D rollers, 3D rollers, and 4D rollers, each of which provides a different experience.
To experience a deep tissue massage, the perfect massage rollers are the 4D roller.
These massage chairs look to provide you with a massage that targets various points in your body, points that other massage chairs may not reach.
3D rollers are the next best rollers. These massage rollers are found on the majority of massage chairs. They target the deep muscles in your shoulders and back.
The massage you get from these rollers is pleasant but also intense enough to relieve any tension or pain in your muscles.
Finally in massage chairs that cater to those on a budget are the 2D massage rollers.
These massage chairs provide you with enough massage to be soothing and relaxing but do not target deeper tissues in your body.
For someone on a budget that is looking for a relaxing massage, these rollers are a great experience.
3) Space Saving Technology
A massage chair is big, and there is no other way to say it.
Naturally, a big chair will require quite a bit of space, especially when it needs to recline, such as with chairs that have zero gravity reclining abilities.
However, not everyone has a lot of room at hand, and some people are short on space.
In cases where space is limited, it is best to look for chairs that have space-saving technology built in. Chairs with space-saving technology allow your chair to recline despite minimal space.
This feature lets you enjoy the complete experience of a massage chair without worrying about the room.
4) Heat
The heating feature on your chair should be your best friend.
The heat therapy you get from your chair can be an absolute godsend on days where your muscles and joints need a little more love and attention.
This feature provides co tolled heat to your body which helps to improve your blood flow and circulation.
Improved circulation improves your body's capacity to remove toxins from your system.
The combination of heat and massage helps to achieve increased muscular relaxation, relief of stress, and relaxation.
The use of heat is also beneficial in improving muscle mobility in those with muscle stiffness.
5) Track Types
For the most part, there are two types of tracks found in these chairs S and L track. These tracks dictate what experience you have with your chair and the points that are targeted in your body.
So, what is the difference between an S track massage chair and an L track massage chair?
The L track is able to target the muscles in your legs, such as the hamstrings and glutes. This is due to the shape of the track.
It goes from the neck region down your back and then underneath your legs hence the l shape.
This is the best kind of track for people who need more focus in their leg regions. It provides targeted relief to the leg muscles, perfect for anyone who spends long hours on their feet.
This track is also more expensive than an S track chair.
The S track chair, as you can guess from the name, follows an S pattern.
It is shaped to fit the curvature of your spine and is perfect for soothing aches and pains in your back region. This track is more commonly found and more affordable.
6) Intensity Control
While these chairs come with auto massage programs, an important feature to have in a massage chair is the ability to control the intensity of the massage.
Auto massage programs need to come with customization options so that you can alter the massage according to your requirements.
With the feature of intensity control, you have better control over the massage.
7) Airbags
Certain massage chairs have the capacity to administer compression massages. This is usually done through the use of airbags installed within the chair.
These airbags work due to their ability to inflate and deflate and are usually found in the lower limb regions of the chairs.
Compression massages offer another way for users to relieve aches and pains in their bodies if they do not feel like a regular massage.
Airbag settings can be altered according to your requirements, so you do not have to worry about excessive pressure applied to your muscles.
With certain airbags, you can set them to act on specific points as opposed to the entire lower limb region. Using these airbags can help your body stretch and relax.
8) User Friendly
In today's age of technology, massage chairs need to be up to the mark of the latest innovation, and most importantly, quick and easy to use.
Keeping this in mind, manufacturers of these chairs have begun to create chairs that can be connected to your smart devices via Bluetooth.
Now along with a soothing massage, you can connect your chair to your tablet or phone and play audiobooks, music, and podcasts from your chair's inbuilt sound system.
The highly advanced chairs can even match your massage to the music playing.
Some chairs even offer you the power to control the settings of the chair from your personal devices. Making the chair easier to use and less worry about losing your chair's remote.
9) Calf Rollers and Foot Rollers
A good massage chair is one that gives you a full-body experience, which includes your feet and calves.
For someone who spends a major part of their day on their feet, a chair with calf rollers and foot rollers is a must.
A foot massager is a must for a high-end, luxury chair.
In fact, even more, affordable models of these chairs include calf rollers and foot rollers in their systems.
These are perfect for relieving aches and pains in your feet and calves while also boosting the circulation of your lower limb region.
Like most other features, these too can be controlled and adjusted as your needs require, ensuring that you are comfortable and relaxed.
Frequently Asked Questions (FAQs)
What To Look For In A Good Massage Chair?
A massage chair is an investment that you should take seriously as they are usually expensive. The first massage chair you purchase should ideally last you a long time and be worth the expense. A massage chair worth buying is one that comes as close as possible to massage therapy done by a person.
Even if you are looking for affordable massage chairs, they should have a number of features to make them worth the purchase.
Things to look for in your massage chair are a heating feature that is in soothing sore muscles. Your massage chair should offer a reclining position if it doesn't provide a zero-gravity recline.
A highly-rated massage chair is one that provides body scanning, which is used to provide various massage styles.
Massage rollers are a must-have in a good massage chair. If your massage chair provides a foot massage as well, then you are truly winning.
Other things to account for in your massage chair are the tracks, which are used to pin-point massage points.
Certain tracks target certain areas, but as a rule, only two massage points are a minimum in a good massage chair.
A really good massaging chair includes 3D massage or 4D massage capabilities.
Finally, one of the most important things to look for in your massage chair, besides the features and price, is the warranty.
A good warranty is something that massage chair manufacturers offer and definitely needs to be considered when buying your massage chair.
Is Buying A Massage Chair Worth It?
Massage chairs are expensive; there is no denying this fact. However, think of a massage chair as an investment. A good massage chair is guaranteed to last you quite a while. Not only this, but a massage chair offers you the power to have a massage whenever you need it from the comfort of your own home.
When you consider how much a good massage costs, you can truly appreciate buying a massage chair.
The many trips you take to your masseuse, and the cost of a good deep tissue massage quickly accumulate.
With a massage chair, you only have to splurge once, and then you can take advantage of the massage techniques in your chair from the comfort of your home and at your convenience.
Considering the cost and the many many features that you can get with a good massage chair, buying one is well worth the cost. They provide you with comfort, relaxation, and relief to your sore muscles.
What Massage Techniques Are Used In Massage Chairs?
The benefit of a massage chair is its massage technology which provides you with numerous massage techniques. You should also consider this when purchasing your massage chair, the massage techniques it provides its users. There are a number of techniques that you can find in your chair.
Some massage chairs provide a rolling massage. This requires the use of massage rollers, which provide continuous pressure along your back.
The Japanese shiatsu massage is another technique that can be found in massage chairs. A shiatsu massage is a combination of various techniques that work to relieve muscular pain and stress in your body.
Another massage that a massage chair can provide is the kneading massage.
This massage aims to improve your circulatory flow through the use of pressure applied in circular motions at multiple points in your body.
It is a great way to relieve any tension or stress you may be holding in your body.
Among the many other techniques is the tapping massage. It works by using multiple taps (as the name suggests) to stimulate your muscles and connective tissues.
It feels like being percussed, but it provides relief in muscle stiffness.
Which Is A Good Massage Chair?
A good massage chair is one that is worth its cost. It should be able to provide you with relief for your stiff and aching muscles. For a massage chair to be classified as good, it needs to come close to the effect that comes with a massage from a therapist.
Your massage chair needs to fit your massage needs. It should come equipped with heat therapy, a zero-gravity feel, and different massage programs which you can adjust.
Good massage chairs are those that can provide relaxation and have massage technology that actually works as is advertised.
Are Massage Office Chairs Worth It?
As tempting as it may be to purchase a massage chair for your office, it is not worth the effort. When you are working, your entire body is tensed; it is a natural response to work, no matter how good your posture may be. Your muscles are in a constant state of contraction.
While massage chairs are great for providing relief to tensed muscles and relieving stress, using them in an office setting is not productive.
You can never truly relax while working and so are more likely to harm your muscles than any good.
This is why massage chairs are not recommended for office use.
Can You Overuse A Massage Chair?
Yes, absolutely. Massage chairs, like all things, can be overused, which can cause harm. A massage involves the use of various levels of pressure on your muscles to help relieve pain, stiffness, and stress. Other chairs use a compression massage which usually involves compressing muscles to relieve pain.
Overworking these muscles through the application of pressure or compression can lead to muscle pain and bruising.
This is the complete opposite of what you are looking for when it comes to a massage.
A good time frame to follow is 15 minutes per session to prevent damage to yourself and the machine's motors.
Is Massage Therapy Effective?
Massage therapy has been around for a long time and is not about to go anywhere anytime soon. Massages are a popular way to relieve stress and relax your muscles and mind. There is a huge range of massages available, perfect for any situation.
When combined with heat therapy, massages are a wonderful way to relax your entire body.
They help improve the circulation in your body, relieve muscle pain, tension and stiffness.
They are also able to provide you with much-needed time to relax your mind and focus on yourself.