So who has the biggest muscles in the world?
You see, whether you're simply looking to get fit or become the strongest man in the world, scribbling up a workout routine might be easier than sticking to your fitness resolution.
As with most things, success at the gym comes down to committing to long-term results.
You're not going to get a bigger frame or bigger veins overnight.
Even the strongest and biggest bodybuilders of all time did not become hulking titans on their first day at the gym.
These "Mass Monsters" built their freakish physiques through much hard work.
Only then were they able to reap 100% benefits from every rep.
With every hard-earned bead of sweat, they turned a childhood dream into reality and built successful careers out of it.
We hope their milestones in the bodybuilding world will inspire you to do more.
These are the top 15 biggest bodybuilders of all time…
Top 15 Heaviest & Massive Bodybuilders Ever
1) Ronnie Coleman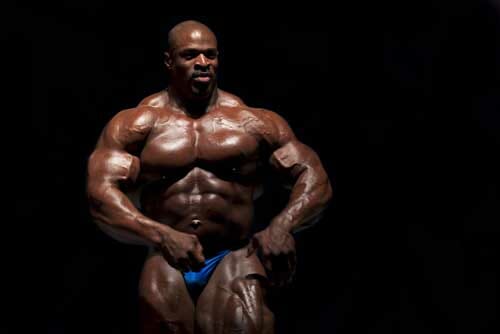 With a competition weight upward of 300 pounds, Ronnie Coleman boasts of being the biggest "mass monsters" of the new era of professional bodybuilding.
He was the judge's favorite when being the bigger muscle meant everything in the industry.
And reaching an off-season weight of 320 pounds was no small feat, any way you slice it.
His low-key jump into the bodybuilding landscape was eventually –inevitably— punctuated with the IFBB pro card and countless titles.
By the time he said Sayonara to the sport, he had more Sandows decorating his house than any other bodybuilder.
Nicknamed "The King," Ronnie Coleman was the only other person to eclipse Schwarzenegger's seven-title-plunder with an impressive eight-time victory, tying Lee Haney's record.
Alongside his prestigious record was another record for the most wins by a single IFBB professional until being dethroned by
Dexter Jackson's 29 tittles against his 26 wins.
2) Lee Haney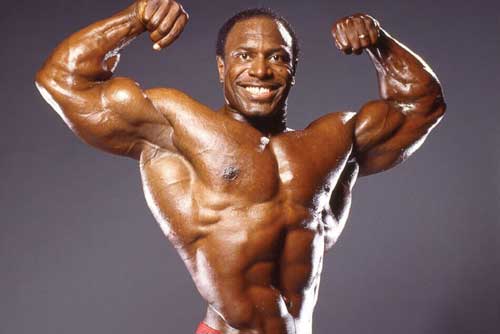 No listicle of the biggest bodybuilders in the world would ever be complete without the "GOAT."
Lee Haney went down in IFBB professional history for being the only bodybuilder to pull off an "eight-peat."
While the industry also witnessed another eight-time Mr. Olympia title winner, Ronnie Coleman's slow rise to tie Lee Hanely's eighth title haul proved that Haney's record was the single-most impossible feat to break.
Born in 1959, Orlando, Lee Haney got serious about bodybuilding at 16 and went professional by age 23.
He was one of the few bodybuilders to ever bag a victory on their pro debut appearance.
3) Arnold Schwarzenegger
Call him Arnie, "The Governator," or the "Australian Oak," Arnold Schwarzenegger has seen it all.
The Australian-born former American bodybuilder-cum- Hollywood action film star and a one-time politician is perhaps the most prominent figure on this list.
Schwarzenegger's passion for physical fitness led him to a career in professional bodybuilding at a young age.
He is most notable for winning five amateur titles in the Mr. Universe contests and seven pro littles in Mr. Olympia.
At the pinnacle of his bodybuilding career, Schwarzenegger was a crowd favorite.
Standing 6ft 2in, he was one of the largest pro bodybuilders of the classic "Golden Age" era.
He dwarfed his competition in every lineup.
Arnold dominated the sport of competitive bodybuilding with an impressive contest weight of 253 pounds and a 260-pound off-season weight.
The Pumping Iron champion has since retired from professional bodybuilding to pursue a career in acting and even became the 38th Governor of California at one point.
He still hits the gym for routine fitness exercises, which have helped him retain his muscle and physique.
4) Dorian Yates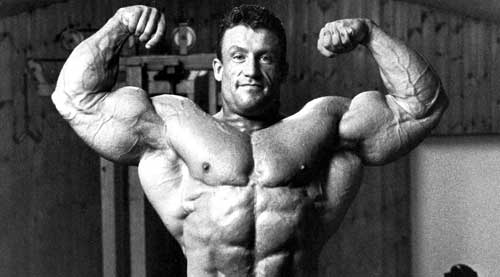 Standing at 5ft 10in tall with a competition weight of 275 pounds and an impressive 310 pounds off-season, Dorian Yates was considered one of the largest pro bodybuilders in history.
While he fell short in symmetry and aesthetics, he more than made up for it in conditioning and rock-solid mass.
For Dorian Yates, bigger was better.
He stepped on his first Olympia competition in 1991, being the biggest muscle on the platform but came up short, finishing runner-up to the all-time best, Lee Haney.
The loss on his IFBB professional bodybuilding competition debut only made Dorian Yates up his game, coming back bigger and better at the 1992 Mr. Olympia stage.
He went down in history for his six Olympia wins from 1992 to 1997.
Having bagged the prestigious title the fifth-highest number of times, Dorian Yates rose to the ranks of Phil Heath, Arnold Schwarzenegger, Lee Haney, and Ronnie Coleman.
5) Paul Dillett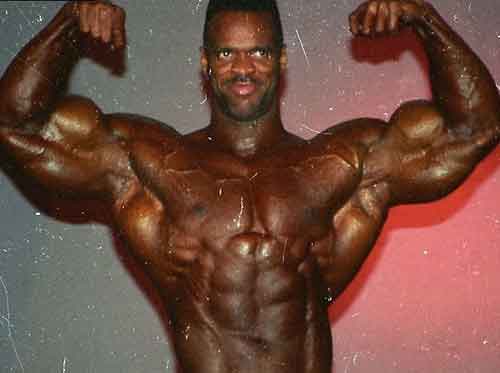 You cannot think about the biggest bodybuilders of all time like Dorian Yates and Ronnie Coleman of the mass-monsters-era without Paul Dillett ever crossing your mind.
His eye-popping size made a mark for him on the early 90s bodybuilding landscape, where you needed to have a mammoth frame if you hope to get even a whiff of the prestigious Olympia stage.
Paul Dillett was an all too familiar face at every Olympia lineup from 1993 to 1999.
Being a 6ft 2 in tall frame with freakish vascularity punctuating his 285 pounds mass, you bet he was the most impressive gun to ever do battle in the bodybuilding arena.
And with such an incredible arsenal, Paul Dillett was a common name in the top five.
6) Lou Ferrigno
Nicknamed "The Incredible Hulk," Lou Ferrigno made himself a major sports icon when he was the youngest to win the IFBB Mr. Universe competition twice.
The New York-born professional bodybuilder is perhaps also well known for casting in the 1977 acclaimed docudrama Pumping Iron.
In the film, Lou Ferrigno was pitted against Arnold Schwarzenegger in a no-holds-barred face-off for the title of Mr. Olympia.
He was the largest pro bodybuilder on that stage, but Arnold was better in physique, muscle proportionality, and symmetry.
Even if he lost to Schwarzenneger that night, several movies would portray him as a muscle monster and salute him as one of the biggest bodybuilders of all time.
His role as Bruce Banner's alter ego in the titular CBS television series, the Incredible Hulk, was a much-needed ego boost after losing consecutive Mr. Olympia competitions, and giving up hope on ever hoisting a Sandow.
But this wasn't the last time the towering 6ft 5in, 300-pounder Lou Ferrigno would feature in a film.
7) Jay Cutler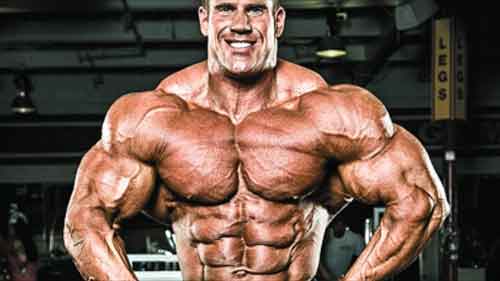 Three-time Arnold classic winner and four-time Mr. Olympia champion Jay Cutler was a spirited IFBB pro.
He was one of many bodybuilders who took second place on their debut appearance but established a name for themselves in the industry.
Standing at 5ft 9 in, weighing some 310 pounds off-season, and a remarkable competition weight of 280 pounds, Jay Cutler was one of few bodybuilders with the best body.
In a competition that was craving bigger proportions, Jay Cutler had plenty of mass and muscle to go around. And being the 3rd richest bodybuilder, you bet he had an even bigger bank account.
8) Big Ramy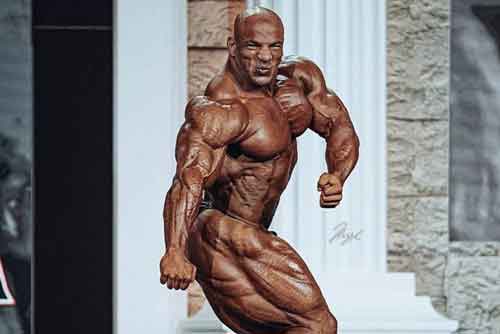 Going by the nickname "Big Ramy," Egyptian IFBB professional bodybuilder Mamdouh Elssbiay is the most recent Mr. Olympia winner at the time of publishing this listicle.
His 2020 win was inevitable.
He was the biggest bodybuilder on the lineup and the crowd's favorite.
Big Ramy always hit the stage at more than 300 pounds in competition weight.
Big Ramy had a pleasing physique.
His unbelievable size secured him his first pro win when he debuted at the New York Pro Championship in 2013 and a second win on the same stage the following year.
He also bagged the Arnold Classic Brazil 2015 and Europe 2017.
Although his baptism at the Olympia stage in 2013 was a disappointing 8th place, his 2020 Sandow was testimony to his 'never give up spirit.'
9) Günter Schlierkamp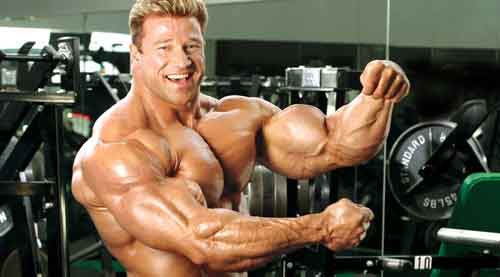 Coming at a respectable 10th place almost every time he stepped onto the Mr. Olympia stage, retired German IFBB professional bodybuilder, Günter Schlierkamp, was never one to give up.
He was the Gentle Giant whose ferocious exercises shaped his legend more than a single –historic—win.
He had the body and mind of a champion, but his training was wanting in some aspects.
This fact was underscored when he started training with the legendary personal trainer in the fitness industry, Charles Glass, the same year he won the infamous 2002 GNC show of strength, and in a way, dethroning the reigning Mr. O, Ronnie Coleman.
10) Greg Kovacs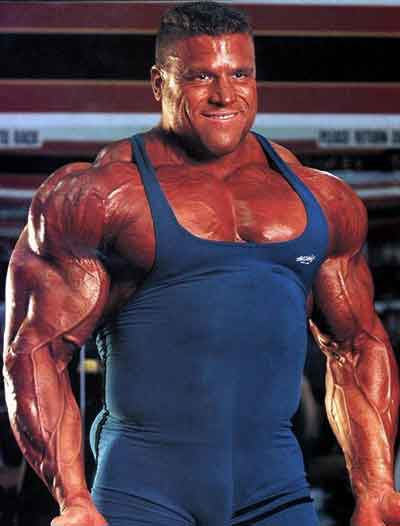 Canadian professional bodybuilder Greg Kovacs is regarded by many as the strongest and biggest bodybuilder of all time.
He was a 6 ft 4 in tall bodybuilder hitting a jaw-dropping competition weight of 330 pounds and an off-season weight of 420 pounds. Career-wise, however, he is unduly underrated.
His highest professional placing was a debatable 13 at the 2004 Arnold Classic.
But being an absolute beast who packed the mass of two average men, Greg Kovacs always won the crowd's verdict.
According to muscle insider, he retired from competitive bodybuilding in 2005 to become a coach and personal trainer.
He would venture into the business until he died from a heart attack in 2013.
11) Markus Ruhl
Ruhl's physique was wanting in proportionality, but he was undoubtedly one of the biggest bodybuilders to ever live.
He wasn't nicknamed "The German Nightmare" for nothing. But even with a desirable 5ft 10 in height and a contest weight of 280 pounds, Ruhl was more of a crowd-pleaser than the judges' favorite.
Bodybuilding was never his childhood dream.
Ruhl loved football more, but a serious knee injury changed the script.
And thus, the wannabe football player got into fitness.
Although he started training later than most of his competition, Markus Ruhl was the most passionate gym-goer.
His exercises were always the most demanding, but he never once lost and gave up on his dream of becoming the biggest bodybuilder on the Mr. Olympia stage.
He had a remarkable run with some notable achievements.
His best placing was at the 2000 Toronto Pro and 5th place at the 2004 Mr. Olympia.
12) Roelly Winklaar
Egerton "Roelly" Etienne-Winklaar is the Curaçaoan/Dutch beast who turned plenty of heads with his rare display of shredded conditioning combined with a massive eye-popping physique.
His 2009 win at the NCP Arnold Classic Amateur Championship heralded big things to come.
Not long, he would receive his pro card and try to battle it out with the mass monsters of the IFBB Arnold Classic. He placed 7th but continued to pack on additional muscle mass to grow his amazing physique.
He was the very first beneficiary of the Mr. Olympia fan vote when it debuted in 2018.
He placed 3rd, trailing behind Jamaican Shawn Rhoden and American Phil Heath.
13) Dennis Wolf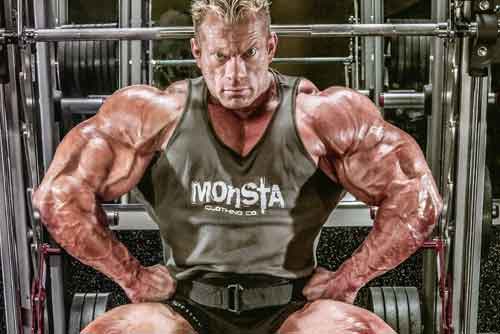 Though he never owned a Sandow, Dennis Wolf always performed remarkably at the Mr. O competition platform.
With a lovable contest shape but lacking muscle, he placed top six the eight times he battled in bodybuilding's ultimate contest.
2013 was his best year.
His fans especially reminisce about the year their "Big Bad Wolf" should have been crowned Mr. O.
His sheer weight and unfathomable size brought unprecedented width to the pro-competition, but he never finished above 3rd.
A spinal injury ultimately brought his career to an end, having earned the ranks of legends like Phil Heath and Dexter Jackson.
14) Rich Piana
American bodybuilder and legend Rich Piana took up weightlifting at age 15.
Piana was already doing competitive bodybuilding when most kids his age played video games.
He would compete on and off for 25 years, placing in several state and national competitions.
His best performance was the NPC Mr. Teem California contest which saw him being named Mr. California in 1998.
Piana was perhaps better known for his nutrition and supplement business.
His 5% nutrition brand boasts of being the best supplement for the few willing to do what it takes to earn the desired muscle power.
Not just hitting the gym.
He was also one of the few bodybuilders to admit to steroid use, making him the most controversial bodybuilder in the industry.
15) Dennis James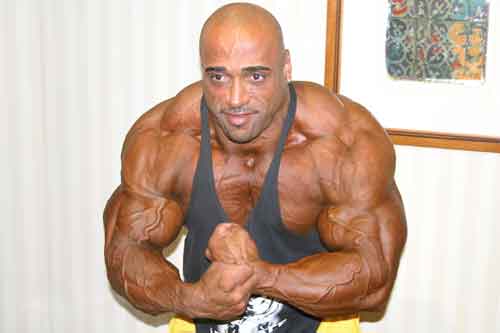 Popularly known as "The Menace" in the bodybuilding world, Dennis James is a retired IFBB Pro from Heidelberg, Germany.
The 5 ft 8in tall German-American bodybuilder never failed to impress with a competition weight of 265 pounds.
His well-chiseled body offered both the requisite aesthetics and jaw-dropping mass.
The 1966 athlete took his pro card in the bodybuilding and fitness industry in 1999.
It was not until the following year that he would debut at the prestigious Mr. Olympia contest.
He placed 11th on the night Ronnie Coleman bagged his third consecutive Olympia title.
2003 was his best year.
It was the year he finished 4th and asserted his potential to take on the best in the big leagues.
Though he would not have another impressive finish, Dennis James often confesses looking back on his career with pride.
These famous bodybuilders participated in many big and small competitions and achieved good results in each competition, they deserve Custom Medals with their achievements, glory, and their own names, not only honor.
A symbol that can be treasured forever. For bodybuilding enthusiasts, customized medals are an incentive, and major gyms can also customize some to expand the flow of people in the store. It can be used not only as a souvenir for the winner but also as a tool for promotion and marketing.