Welcome to my comprehensive Blackwolf pre-workout review…
Lots and lots of people love the gym; it can be a lot of fun…
…whether you go there to socialize or whether you go there to get a real workout with exercises, it's all up to you.
But when it comes to the body being beautiful, a dilemma has always been for the gym-goer whether to take supplements or not – do they benefit the body – are they worth it?
People get confused when they hear about supplements for pre-workout or post-workouts, protein-powders, weight gain, creatine, BCAA's, and you name it.
And if you look on the gym websites or go into a pharmacy, you will be dazzled by the array of pills, powders, supplements, and potions…
…in the end, you just don't know what is right for you!
Finally, when you figure out what is right for you, someone says, "Don't forget the brand!"
Blackwolf Pre-Workout Review – Is This Supplement Worth It?
Blackwolf.com USA is the developer of premium sports nutrition to bring back your motivation and energy for the gym with their top-of-the-range workout supplements.
The supplements have been designed to jumpstart gym training sessions and take you and your body to new levels.
Blackwolf came up with a pre-supplement, an intra-supplement, and a post-workout supplement – their workout strategy.
Instead of gym-goers choosing dozens of different supplements, now they just need to buy a single one, enough to cover all their training needs.
Finally, gym-goers' dreams of finding an all-in-one formula have become a reality.
More about Blackwolf Pre-Workout Supplement…
What you get with Blackwolf is an all-in-one supplement pack, combining benefits that come from various supplements into something that you just simply take every day.
Taking it, you save yourself time, energy, money, and confusion – finally, you can now focus on your workouts.
And it's easy, too; there is something for the men and something for the women.
Blackwolf comes up with premium packs for men and women; pre-workout, intra-workout, and post-workout supplements – no fuss, no bother.
All of Blackwolf's products contain 100% active ingredients.
These are all important ingredients; the exact quantities have been measured to recharge your body before, during, and after workouts.
Each product combines exact quantities of highly potent nutrients such as BCAAs, (branched-chain amino acids which are leucine, isoleucine, and valine), whey protein, and creatine, all found to recharge your body during and after intense workout sessions.
All the ingredients have been planned to offer exceptional results for building muscle and reducing lactic acid from building up in the body.
Blackwolf gets absorbed into the body and starts doing its work
After taking the Blackwolf supplement, the body is prepared for an intense, heavy workout session.
People notice improvements in their concentration and focus during workouts as well.
It helps avoid distractions, keeping the users motivated throughout the session.
Indeed, many people can't do their best at the gym because they are so tired and have low energy levels.
But Blackwolf makes up for that discomfort, providing the body with the energy necessary to work out.
Whatever you do at the gym, lifting weights or doing intense cardio sessions, a pre-workout boost of Blackwolf is all you need to get going.
Want more muscle mass?
Those who want to add muscle mass must incorporate this product into their routines.
They will find they can lift heavier weights and prepare their muscles to grow bigger.
Remember, there is creatine in the product; highly proven to be effective in helping muscles to get bigger and better.
Many people find it difficult to go to the gym first thing in the morning; they just don't have the energy, and many of them have no motivation, either.
Then others don't want to go to the gym after work because they feel too tired at the end of a draining day.
But just taking one dose of this powerful blend called Blackwolf will make you feel revved up to get going.
It provides energy and strength, improving your endurance for high-intensity exercises.
You will find you can go much longer with the cardio sessions, activating the body to burn up all that stubborn visceral fat.
A tasty way to start your day
Some diet supplements on the market don't taste so good.
But Blackwolf did an excellent job with their flavors because it makes taking the supplements something to look forward to each day.
The top flavors are Blue Raspberry, Green Apple, and Fruit Punch.
Very appetizing!
These enhanced flavors smell mouth-watering, and after a workout, it's like you are on a tropical island drinking down thirst-quenching fruit juices.
And when you take it right at the onset of the workout, it leaves a nice taste in the mouth right through the workout session.
Top health experts and athletes endorse this product
This just further adds to how good and reliable Blackwolf is.
The health experts and the athletes who use the products know and believe in their safety and effectiveness.
Ekaterina, the Olympic swimmer, says…
"BlackWolf gives me everything I need from a pre-workout boost before morning sessions to keep me going."

And Ekow, the professional boxer, says:
"With Blackwolf behind me, I'm 10 steps closer to my goals, Why wouldn't I want to join the pack?"
Like Ekow, get Blackwolf behind you, too, because once the product kicks in, you will feel energetic and ready to hit the gym.
Only those with some health complications are advised to consult their doctors before use.
The human body needs nutrients, so it stays in harmony
Can you see from the above packs for men and women that the human body is extremely complex?
It can only work optimally if all the organs are working in harmony with each other.
That's why supplements aren't just a lot of nutrients.
No, the ingredients are top-quality ingredients, carefully chosen and carefully crafted, with just the right amount of dosage rations added.
That makes them clinically able to maximize the operational capacities of the muscles, internal organs, and tissues.
Now, instead of men and women needing to take separate supplements for energy, improved focus, etc., Blackwolf supplements encapsulate everything you need to get top benefits.
These benefits are:
Faster recovery times.
Enhanced focus and concentration during intense exercise routines.
Improved energy release.
Workout sessions are prolonged because of the elimination of lactic acid.
Blackwolf Ingredients?
First, these are all-natural ingredients, so you are nourishing your body from within, from nature.
All the ingredients have been clinically worked out to address the different phases everyone goes through with workouts, affecting everyone during the different phases.
These ingredients do amazing things for you at the gym and afterward:
1) Leucine
Leucine is like amino acid, and it helps each person to increase their muscle mass a lot.
Some research mentions that amino acids can also help to maintain body cholesterol which is fantastic for keeping weight and fat under control.
2) Isoleucine
Isoleucine is another type of amino acid that burns up energy in your body, consuming all the carbs in your body and turning it into energy to pass on to your muscles.
You will find that you can continue your workouts without taking a break.
3) Taurine
Taurine is an amino sulfonic acid, and it occurs naturally in your body, particularly concentrated in the eyes, brain, muscles, and heart.
It relaxes the muscles, giving power to the workout sessions and aiding in the recovery of the muscles.
4) L-Valine
L-Valine promotes muscle growth and repairs tissues.
Valine forms part of the three branched-chain amino acids (leucine and isoleucine) that enhance energy, increase endurance, and aids in muscle tissue recovery and repair.
It does a good job of helping muscles recover from soreness and stress, like preparing them for the next workout.
5) Creatine Monohydrate
Creatine improves strength, increases lean muscle mass, and helps muscles recover quickly during exercise.
It can also help you achieve energy and speed bursts, particularly in high-intensity activities such as weight lifting or sprinting.
6) Co-Enzyme Q10 (ubiquinone)
It helps to give your cells plenty of energy, particularly as it contains antioxidants.
Those who suffer from diseases like;
High blood pressure
Heart failure
Gum disease
Blood infections
Parkinson's Disease
Diseases of the muscles and
HIV infection…
…might have insufficient coenzyme Q10 levels in their body.
7) Zinc Citrate Powder
Zinc citrate is an organic element, an essential element needed in the human body.
It boosts performance and energy levels because it has antimicrobial and anti-inflammatory effects on the body…
…it also fights the common cold, and the more levels of zinc there are in the body, the faster all the recovery processes are.
8) Seleno L
Selenium is a very powerful mineral, essential for the proper functioning of your body.
It makes sense as it plays a critical role in metabolism and thyroid function, protecting the body from damage caused by oxidative stress.
It helps to boost the immune system and increases strength, empowering the cardiovascular system in the body.
9) Whey Protein Isolate
It contains low carbohydrates, no lactose, and an incredible amount of essential amino acids.
Studies show that it helps increase strength, gain muscle, and help lose body fat.
The supplement also has a good dosage of branched-chain amino acids [2] (BCAAs), creatine, and whey concentrate for high-quality protein, plus minerals, vitamins, and ginseng.
Some agents stimulate natural testosterone production in men, helping to dilate blood vessels and improve blood flow and oxygen delivery to muscles.
The ingredients are excellent for working out and come back by use and research…
The blend of carefully crafted ingredients feeds and protects the muscles during workout stress so you won't lose muscular mass.
Instead, you will be building more of it.
Both the Blackwolf Hunter and Huntress packs feature the three supplements described above, one for each important moment of the day they have slightly different ingredients and quantities.
This enables the ingredients to match the different needs of males and females.
The ingredients may vary a bit, whether you are taking the pre-workout supplement, the intra-workout supplement, or the post-workout supplement.
With such advantageous ingredients, it must have amazing benefits on the body, not so?
The benefits of taking BlackWolf Pre-Workout
Blackwolf is precisely structured to address the different phases of bodybuilding.
The formula has been carefully structured so the user can notice fast results.
Easy to take and consume each day.
Blackwolf burns unwanted fat, helping each one to build a lean muscular body in no time.
It enhances focus and concentration.
It enhances the blood circulation of the body.
It contains natural ingredients to keep it safe and to get the best results naturally.
Plenty of energy is supplied to hold out for extended workout sessions.
The Side Effects
Frankly, there are no side effects.
However, if you are under medication from your doctor, for instance, and want to use this supplement, you could encounter dizziness, headaches, or insomnia.
This can happen when medications 'clash', even with natural supplements.
You should speak to your doctor if you plan to take these supplements or are under other medications.
Also, don't take Blackwolf if you are pregnant or breastfeeding.
How to take Blackwolf Pre-Workout Supplement
You must be sure about taking the proper dosages of Blackwolf bodybuilding supplements, whether you are taking the pre-working, during-workout, or after-workout supplement.
It is packaged as a powder as well as in capsule form.
You may be advised to take 1-2 capsules with water, while the powdered supplement must be mixed with water, milk, or juice.
You may skip taking the supplement when you're not training, but it's not recommended.
Your body needs proper nutrition around the clock, even when you're not training and your muscles are recovering.
Regarding the capsules, it is best to take the first capsule in the morning or within 30 minutes before you begin training.
You could take the second one later in the day or the evening.
Blackwolf Prices & Where to Buy it
You can get the latest prices and deals from the official website.
The packs include 5 Training & Nutrition Guides + a Free Subscription to the Tips & Tricks Newsletter.
This occurs once you place your order and finish the payment process.
The guides have a lot of data showing you how to manage your exercise regimes.
They also show you what you should eat according to your body type before and after your workout.
You will also get a large, 700-ml shaker for free.
Pros & cons of BlackWolf Pre-Workout Supplement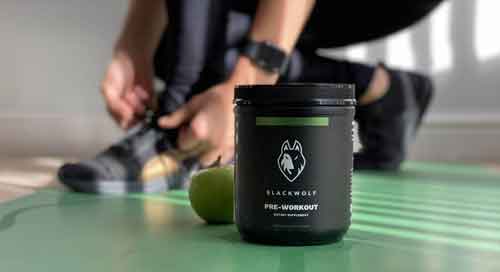 Pros
It's a superior, powerful, all-in-one formulation combining the effects of multiple supplements.
The packs are convenient for both men and women and eliminate the need to take multiple supplements.
Take only three intakes per day to meet all your workout needs.
Rated as the best-in-class 'pre-workout' supplement for both men and women.
Made from 100% organic ingredients – no side effects have been discovered.

Blackwolf has also been backed by science and endorsed by professional boxer Ekow Essuman and Olympic swimmer Ekaterina Makarova.

Fantastic customer care service around the clock.
Cons
Only sold through the official website.
The per-serving costs are a bit on the costly side.
BlackWolf Pre-Workout Reviews
Just go onto the Facebook page and read the reviews there – look on the Blackwolf website as well; you will soon decide whether this product is for you or not.
Below is an example of some of the comments and reviews by past users.
Jackson (31) wrote in a bodybuilding forum as
"One of the best supplements I have used in the recent past. I was a hardcore ON fan and never wanted to think of another supplement. But the convenience of just three intakes a day made me change to Blackwolf. I'm using the hunters pack and it does its job neatly. A big hi5 to Blackwolf."
Conclusion
Blackwolf undoubtedly ranks as the top-of-the-range product for fitness supplements – look, there are heaps and heaps of these products for you, but let's put it this way, if you are looking for quality, then Blackwolf is the brand to go to.
Another top perk is that it takes away all the worries of taking supplements because by just taking the three supplements a day; you are completely covered nutritionally with everything you require.
That's what is unique about Blackwolf; you can buy individual products too.
It has all the worked-out organic ingredients that make it a safe bodybuilding product.
Who doesn't want to boast of a body-beautiful look – naturally, bodybuilding is a way to do just that.
Studies show how workout supplements boost your performance.
But unfortunately, many people don't check out the products; they believe that what they see on the shelves will do just what the 'pictures' and labels say they will do, without much research.
That's dangerous to do because how can you tell what side effects there are and how can you tell whether those side effects can lead to body failure – please be careful!
Show your doctor the list of ingredients on the Blackwolf pack or your nutritionist, and let them have their say about Blackwolf for your peace of mind.
Are you looking for these things?
To accelerate the healing process after a tough workout?
To develop muscles to their peak?
To still feel strong and powerful in your post-workout period?
To reduce muscle pains?
To promote the production of glycogen and blood sugar in your muscles?
To improve your heart condition?
To remove free radicals from your body by elevating your immunity?
Well, the answer to those questions is here – BLACKWOLF.
If you want to look ripped, you got to think ripped and start to get ripped.
Start thinking Blackwolf today, get thrown to the wolves, and you might well be the pack's leader after a while!
Frequently Asked Questions about Blackwolf (FAQs)
How long will Blackwork start to work for me?
You should start to feel its effects in as short a time as 30 minutes. To get the best results, it is advised you take the required dose about 30 minutes before you start to workout.
What am I going to notice in my body by taking Blackwolf?
Blackwolf has been specifically designed so that you feel the energy, you notice your focus and concentration is enhanced, and you will be able to maximize your workouts for longer, even with intense sessions, for ultimate results.
Should I eat differently on Blackwolf?
It is recommended that you cut down on your caffeine intake when you are using Blackwolf. Because it is a fitness supplement, it makes sense that you would aim to eat healthily and drink plenty of water to boost the effects of Blackwolf.