Women's History Month has ended and April rolled in.
Once again, March was a great way to recognize and praise women of the past and present who have jumped numerous hurdles and achieved so much.
We think we should stretch the month a bit longer and showcase women who inspire us as Wellness Warriors.
What sets them apart is their perseverance in prioritizing the wellness of the planet and humankind. Did you miss our recognitions? Here are the women we highlighted:
Susie Ellis
Susie Ellis is a leading advocate of wellness and serves as our first Wellness Warrior Woman.
As the chairman and CEO of Global Wellness Institute, a nonprofit that offers insight into wellness and health, she's done her share of implementing and educating wellness to the public.
Not only is she an entrepreneur in the wellness world, but she is also a highly acclaimed individual, recognized by The New York Times and Financial Times.
Eugene Peterson, Indra Devi made her way to India after a fascinating encounter with yogi enthusiast, J. Krishnamurti.
Indra Devi
She moved to India and sought treatment from Krishnamacharya, a renowned yogi, after suffering from a medical illness.
Through committed dedication deep respect for the practice, Indra not only was cured but was asked to become one of the first female Western yoga instructors under the supervision of Krishnamacharya.
A charismatic and gentle individual, Indra made her way to the U.S and shared her knowledge, earning her the credit of being one of the most influential female yogis in western cultures.
She opened up her own yoga studio and was a regular instructor at Rancho La Puerta, an acclaimed spa/ranch geared toward self-renewal and rejuvenation through the reflection in physical and mental wellness.
Although she passed in 2002, her legacy lives on as she has created and defined yoga in the U.S as well as taught her knowledge to all aspiring yogis.
Danielle Nierenberg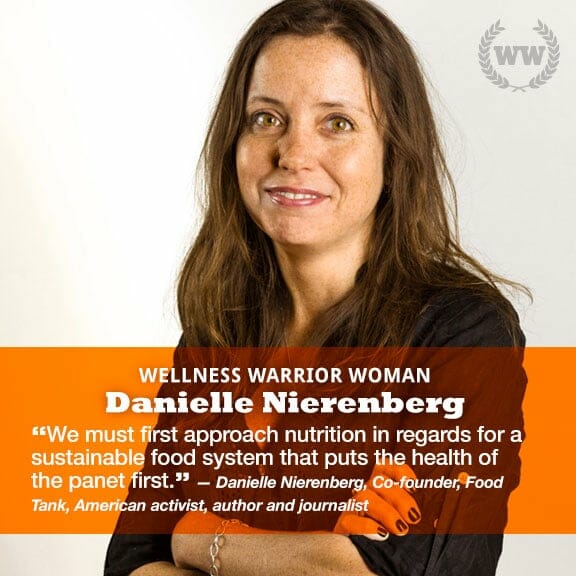 Danielle Nierenberg is the co-founder of the non-profit Food Tank, an organization seeking solutions and sustainable practices through network collaborations and connections to alleviate hunger, obesity, and poverty.
Danielle was a world traveler who documented the different policies and practices that supports sustainability as well as the founder of Nourishing the Planet, a Worldwatch Institute project geared toward evaluating different cropping methods to educate and alleviate world hunger by promoting these methods.
Her vast knowledge of global agriculture has been noted by widely acclaimed publications like The Washington Post, TIME Magazine, and the Associated Press (just to name a few).
She has authored many books pertaining to sustainable living like Happier Meals and Innovations in Sustainable Agriculture: Supporting Climate-friendly Food Production and has contributed to dozens of different reports and books seeking her expertise.
Bonnie Prudden
Prudden, a leader in promoting fitness for youths, is a fitness pioneer who helped shape physical exercise during the rise of television and videos in American culture.
Born in New York City, she rose to fitness fame when her determination to alleviate unhealthy weight gain amongst children catapulted her into becoming the poster child of physical education and a regular fitness face on television in the 1950s.
Her tenacious work ethic caught President Dwight D. Eisenhower's attention when she penned a 1955 report illustrating the vast differences between American and European fitness amongst children.
56% of American children failed at least one portion of physical education tests as opposed to 8% in Europe.
President Eisenhower, alarmed by Prudden's report, established the President's Council on Fitness, Sports and Nutrition.
As one of the first exercise instructors featured on television, she's made appearances on numerous networks, authored dozens of fitness articles, and even recorded her own books as well.
One of her biggest accomplishments was the creation of Myotherapy, a technique created by Prudden herself to alleviate pain due to exercising by targeting trigger points in the body.
There currently is a Myotherapy clinic in Tuscon.
Bonnie St. John
African-American to win a medal in the Winter Olympics continues to be an outstanding role model for society.
With her leg amputated at the age of 5, Bonnie threw out society's handbook and decided to carve her own path, winning herself silver and bronze medals in the Paralympics in Austria.
Her accomplishments go above her Olympic days, for she is a bestselling author, a leadership consultant for the Fortune 500, and was appointed as Director for Human Capital Issues by President Clinton.
She even was awarded a portrait at Trinity College in Oxford as a distinguished alumnus.
Today, she is featured on numerous television networks and is CEO of Blue Circle Leadership which includes virtual leadership programs geared to multicultural women.
Su-Mei Yu
Born in Thailand, Su-Mei Yu made her way to Kentucky at 15 years old.
Coming to America was no easy feat, for she traveled with only her cousins and attended an all-girls school until college.
She attended San Diego State University where she earned a degree in social welfare.
As her skills improved and her love for food grew, her respect for Thai flavors and traditions transcended across cultures.
She founded and is the former owner of the popular Saffron Thai Grilled Chicken and Saffron Noodles and State.
Yu was determined to create a space where her knowledge in Asian cuisine could be shared with everyone and to this day, her restaurants are thriving spots in San Diego.
However, her booming restaurants are only but a few of the accomplishments she has made throughout her life.
She has released three separate cookbooks, including the IACP Award-winning cookbook Cracking the Coconut, and contributes to numerous magazines like Food & Wine, Fine Cooking, and Gastronomic.
Deborah Szekely
Founder of Rancho La Puerta and the very creator of Wellness Warrior, Deborah Szekely has dedicated her life to spreading wellness of the mind and soul while also educating those who aspire to follow in her footsteps.
After marrying Edmund Bordeaux Szekely, both Deborah and Edmund decided to create a haven where they could harvest a connection between the mind, body, and spirit.
Thus Rancho La Puerta, a spa getaway, was created with wellness in mind. Soon after, The Golden Door, a breathtaking luxury spa, was created.
The Golden door was an instant hit, hosting guests like Barbara Streisand, Natalie Wood, and Elizabeth Taylor. Deborah became an established wellness leader and continued her legacy throughout her career.
She later founded COMBO, Combined Arts and Education Council, in 1978 where she raised millions of dollars for the San Diego art community.
Not only did she create our very own Wellness Warrior, but she is also a highly respected individual in her career.
She was later inducted into the San Diego County Women's Hall of Fame by the Women's Museum of California, the Commission on the Status of Women, the Women's Center at UC San Diego, and the Department of Women's Studies at San Diego State University in 2014.