Welcome to my honest Super Beta Prostate review…
As you already know, many different prostate health solutions exist.
Prostate health supplements are touted as an effective alternative to costly pharmaceuticals.
Super Beta Prostate is a popular prostate supplement designed to support healthy prostate function and improve urinary health.
Super Beta Prostate includes scientifically proven health-promoting natural ingredients that work on symptoms of Benign Prostatic Hyperplasia (BPH).
Also known as enlarged prostate, Benign Prostatic Hyperplasia (BPH) is one of the most common prostate problems affecting men as they age.
BPH may present a range of symptoms similar to other aging prostate complications, including prostatitis and prostate cancer.
While BPH can develop into a serious complication when left unchecked, it is not as severe as prostate cancer.
Some common symptoms of benign prostatic hyperplasia (BPH) include:
Frequent urination
Excessive nighttime urination (

Nocturia

)
Weak urinary flow
Incomplete bladder emptying
involuntary leakage of urine (

Urinary incontinence

)
Uncomfortable urinary symptoms
Addressing BPH symptoms when they present can delay potentially serious complications, ranging from difficulty urinating or ejaculating and urine with blood to urinary tract infections (UTIs) and bladder or kidney damage.
Doctors suggest prescription medication for treating benign prostatic hyperplasia (BPH).
Your doctor may also recommend surgery if you present serious symptoms and infections.
While these options are deemed the most effective treatment options for BPH, pharmaceuticals and surgery often have adverse side effects.
Many people turn to dietary supplements designed for enlarged prostate symptoms to avoid the adverse effects of prescription drugs.
Note that symptoms similar to an enlarged prostate may be caused by something far more severe.
Therefore, you must discuss any concerns with your healthcare provider before taking any medications or home remedies.
Home remedies, including dietary supplements, cannot completely treat BPH.
However, they may contain ingredients studied for their efficacy in easing the symptoms associated with an enlarged prostate, including improvements in urinary tract functioning.
Consider these things when choosing a prostate supplement for your symptoms.
All-natural ingredients
Scientific evidence for benefits
Clinically effective dosages
Designed for easy absorption
This review examines whether Super Beta Prostate meets the above considerations for choosing the best prostate supplement.
Special attention will go to evaluating Super Beta Prostate ingredients and determining whether the supplement works to improve prostate health and promote urinary health.
Our Recommendation
After a series of tests, we believe Prostate Plus is one of the best prostate supplements on the market.
Here's why:
Prostate Plus 10x More Effective than Super Beta Prostate
Helps maintain a normal urination schedule
Comprehensive prostate & urinary tract support
Recommended by Urologists worldwide
So make sure to check it out. It might just be the best money you'll spend in 2023.
Super Beta Prostate Review – Is it Safe to Use?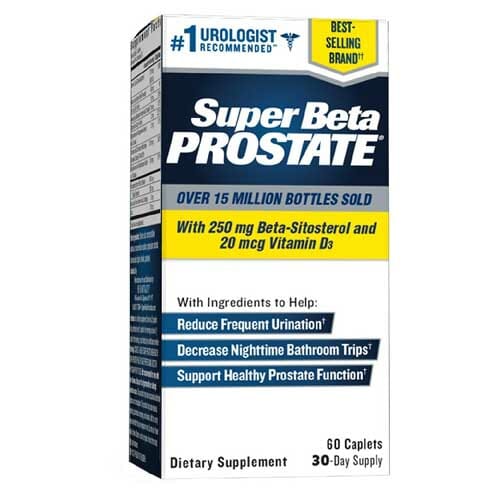 Super Beta Prostate Overview
Marketed as the number #1 supplement in providing relief for men with symptomatic BPH for over two decades, Super Beta Prostate is claimed to support prostate function naturally.
Super Beta Prostate is the best-selling men's health supplement from New Vitality.
New Vitality manufactures various supplements promoting men's health.
The products seem to be divided into two brands, Ageless Male and Super Beta.
Super Beta Prostate Advanced
Super Beta Virility Boost
Ageless Male
Ageless Male Performance
Ageless Male Core Energy
Super Beta is their best brand yet, with Super Beta Prostate leading the way in sales and fantastic customer feedback.
SBP packs a powerful blend of 10 ingredients promised to provide the following benefits:
Decrease frequent and sudden urges to urinate
Reduce excessive urination at night
Promote complete bladder emptying
Restore healthy prostate function
The following section will examine the science backing this prostate supplement and its ingredients to evaluate whether they can produce the claimed benefits.
Super Beta Prostate's Ingredients
SBP supplement facts outline the key ingredients as indicated:
Vitamin D3 (Cholecalciferol) – 20 mcg (800 IU)
Calcium (from Oyster Shell Powder) – 80mg
Zinc (as Zinc Oxide) – 15mg
Copper (as Cupric Oxide) – 2mg
Manganese (as Manganese Amino Acid Chelate) – 2mg
Chromium (as Chromium Nicotinate Glycinate Chelate) (TRAACS®) – 120mcg
Molybdenum (as Molybdenum Amino Acid Chelate) – 75mcg
Phytosterols (from Plant Sterols) – 600mg
Beta-Sitosterol – 250mg
Boron (as Amino Acid Chelate) – 3mg
Silica – 20mg
1) Phytosterols/ Beta-Sitosterol
Naturally occurring in nearly every plant cell membrane, phytosterols (including Beta-sitosterol) have been widely studied for their ability to improve symptoms of an enlarged prostate and support healthy prostate function.
Evidence suggests this natural substance found in various vegetables, nuts, seeds, and fruits, including saw palmetto berries, may improve the urinary stream and other symptoms of an enlarged prostate.
Beta-sitosterol may help reduce prostate swelling (inflammation) to improve bladder emptying and reduce the urge for frequent trips to the bathroom.
Good scientific evidence showed that 130mg of Beta-sitosterol divided into two to three doses was enough to promote urination in men with symptomatic BPH.
The New Vitality Prostate supplement contains 600mg of phytosterols and 250mg of Beta-Sitosterol, which is more than what was shown to be effective in clinical trials.
While higher doses of phytosterols or Beta-Sitosterol don't seem to work better for reducing symptoms of BPH, they may help with other conditions, including lowering blood cholesterol levels.
2) Boron
According to a 2004 epidemiological study, dietary boron may improve prostate health.
Specifically, the dominant form of boron (boric acid) was seen to have therapeutic effects against prostate cancer.
As a trace element that is particularly useful in wound healing and immune system boosting, boron has been shown to help reduce BPH symptoms.
According to World Health Organization estimates, Super Beta Prostate contains 3mg of Chelated Boron, which may be an effective dose.
3) Vitamin D
Several studies have explored the potential role of Vitamin D in treating lower urinary tract symptoms and supporting prostate health.
Evidence suggests that vitamin D levels correlate with prostate volume and composition.
Specifically, vitamin D deficiency has been linked with an increased risk of benign prostatic hyperplasia (BPH).
Increasing the intake of Vitamin D supplements has shown promising results in supporting healthy urinary function and improving symptoms of BPH.
A dose of 800 IU (20 mcg) daily was shown in studies to be sufficient.
4) Calcium
Some researchers have associated high calcium intake with the potential risk of BPH and cancer cell growth and development.
However, research in this regard produced mixed results since a few other studies did not find any significant impact of calcium supplementation and increased prostate cancer risk.
It is unclear why New Vitality formulators would include an ingredient with questionable effects.
5) Zinc
Dozens of studies have shown that zinc may support prostate health.
Zinc deficiency has been observed in patients diagnosed with BPH and prostate cancer.
Some researchers found that zinc worked to suppress cancer cell growth.
Supplemental zinc intake has been suggested to help with urinary symptoms like frequent urination associated with an enlarged prostate.
Most studies suggest doses of 20mg and 100mg per day. Super Beta Prostate contains 15mg supplemental zinc.
6) Copper
Researchers found a weak link between supplemental copper and a reduced risk of prostate cancer.
Better research studies are needed to determine copper's effectiveness in reducing BPH symptoms.
7) Silica, Manganese, Chromium, & Molybdenum
Manganese, Chromium, and Molybdenum are essential minerals needed to support various body functions, including the immune system and wound healing.
Some research suggests these essential minerals may be beneficial for limiting the advancement of prostate cancer cells.
However, more research is needed to ascertain these benefits and confirm the connection between these minerals and an enlarged prostate.
Super Beta Prostate's Dosage, Safety & Side Effects
Each New Vitality prostate supplement bottle contains 60 caplets meant to be a one-month supply.
The manufacturer recommends taking one caplet with the morning meal and one with the evening meal to reduce frequent bathroom trips and improve bladder control.
Ingredients used in the New Vitality prostate supplement formula seem well-tolerated with no significant concern for safety.
Side effects are typical of what users experience with other supplements; mild digestive upset, nausea, fatigue, and perhaps low sex drive and erectile dysfunction.
If you are experiencing any unusual symptoms while on the supplement, consult your healthcare provider to provide medical advice.
Super Beta Prostate Customer Reviews
Customer reviews show mixed reactions.
Still, most users reported that Super Beta Prostate worked for their symptoms.
While most users felt little to no relief within the first week, symptoms improved significantly over the month.
Some users did not experience any beneficial effects of the supplement.
Another group of reviewers mentioned experiencing some mild side effects after taking the New Vitality Prostate supplement.
We highlighted a few customer reviews which we thought might be helpful…
I was skeptical, but I'm glad I tried this prostate supplement. I was getting up to pee about once every hour throughout the night. With SBP, I'm only going about twice a night, which I believe is normal for a man my age.

The key is patience. It took about six weeks for the tablets to take effect, and I'm glad I waited.
I have just used this for 1 month (2xday = 60 tab). No appreciable change. Will try another 2 months to see any impact. Otherwise, will discontinue and try something else.
I was getting up twice a night to urinate. I started taking more and more saw palmetto but saw little to no change. I reluctantly tried SBP as a last resort.

Within two weeks, I was down to only getting up once a night. Within a month, it was more common than not that I could sleep through the night. It is now unusual that I have to get up during the night.

I have told all my friends, and I recommend this product to anyone with prostate issues.
Quick Overview
Super beta prostate offers some relief for enlarged prostate symptoms.
It is formulated with ingredients clinically tested for BPH symptoms.
The ingredient lineup in this supplement is typically well-tolerated and is generally safe with little to no significant side effects.
Beta-Sitosterol is the core ingredient in this prostate supplement. It has been shown in multiple double-blind clinical trials to reduce urinary urgency significantly.
Other ingredients like Zinc and Vitamin D are essential in supporting prostate health.
Pros
Research-backed natural solution
Beta-Sitosterol is a regarded ingredient
Fewer embarrassing trips to the bathroom
Decrease nighttime bathroom trips
Better bladder emptying
Improves prostate health & sexual function
Positive results reported
Less expensive than prescription medication
Cons
Results take time
Contains soy & shellfish
The Bottom Line
Super Beta Prostate is a decent-quality prostate supplement with little safety concern.
Despite lacking a few essential ingredients like saw palmetto and pumpkin seed, this prostate supplement packs clinically significant dosages of vitamin D3, zinc, and mixed plant sterols, including beta-sitosterol.
Clinical studies have shown its core ingredients to improve urinary symptoms and promote prostate health.
Minerals used in the formula may support overall health, including proper prostate function. They have all been chelated for increased effectiveness.
Customer reviews are convincing, with complaints limited to some mild side effects.
For the most part, Super Beta Prostate has been noted to help reduce urinary urges but promoted more robust urine flow with fewer trips and bathroom trips at night.
While Super Beta Prostate presents itself as a solid prostate supplement with sufficient evidence to support its claims, it is worth speaking to your healthcare provider before taking any dietary supplement for BPH.
Frequently Asked Questions (FAQs)
What are the risk factors for benign prostatic hyperplasia (BPH)?
Age is by far the most significant risk factor for developing benign prostatic hyperplasia. This is because the prostate gland grows larger with old age and may affect urinary health.
Risk factors associated with BPH can be categorized into non-modifiable and modifiable conditions.
Age and genetic conditions are out of our control and are therefore non-modifiable risk factors. 
Medical conditions and lifestyle influences are factors that can –in theory, be changed—and are therefore the modifiable risk factors.
Does enlarged prostate affect sexual health?
Benign prostatic hyperplasia (BPH) can cause sexual problems in men.
Sex-related effects may present as;
Low sex drive
Decreased sexual satisfaction
Erectile dysfunction, and
Ejaculation problems
While treatments for BPH may help manage the sexual problems associated with an enlarged prostate, some treatment options can have sex-related side effects.
Do doctors recommend dietary supplements for enlarged prostate?
While prostate supplements may help control the symptoms of an enlarged prostate, doctors will not prescribe them. Doctors prescribe medications like finasteride, dutasteride, doxazosin, and tamsulosin. These pharmaceuticals provide much more significant symptom relief but are extremely expensive compared to supplements and natural remedies.
Some supplements contain ingredients that have been suggested to be as effective as pharmaceuticals in relieving symptoms of BHP.
Saw palmetto extract, which is not present in Super Beta Prostate, had been determined in studies to be as effective as finasteride.
Other ingredients present in the New Vitality Prostate supplement, including beta-sitosterol, have been shown to be as helpful in supporting healthy urinary flow and treating enlarged prostate symptoms.
Discuss with your doctor before taking any supplements touted to treat BPH.