No joke, we all know how unattractive and confidence-reducing traditional braces can be.
If you've ever had to wear a set, you know how people can stare awkwardly when you smile or speak.
Well, that type of discomfort is quickly becoming a thing of the past, as invisible braces, which are also called clear aligners or at-home aligners, for teeth straightening are rapidly becoming more popular and commonly used.
Invisible braces are giving a serious boost to enhancing self-esteem and confidence in your appearance.
They offer what is termed – as a barely visible alternative for fixing crooked teeth.
So, in this post, we will look at seven of the best invisible braces that all have individual qualities to promote teeth straightening with an esthetic flair compared to the traditional metal braces.
At a Glance
Top Invisible Teeth Aligners Review: Best Teeth Straightening Kit
1) Candid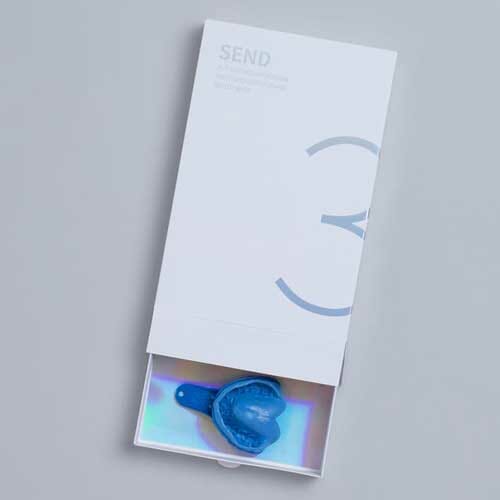 Candid is a well-known company for its expert care and professional service, as it guarantees orthodontist-only expert care; specialists in tooth movement.
As compared to other companies that utilize the services of dentists and other professionals, Candid stands out as one of the best invisible braces companies in the cosmetic dentistry industry.
To offer such top-quality service that this company is renowned for, Candid uses a detailed process, which includes using impressions, pictures, and imaging to create a customized treatment plan for each person.
Even though they are offering a cosmetic service, their approach goes beyond that, as Candid also includes a comprehensive oral health assessment for every customer to ensure you get more than just a straight smile.
To start the process, you would take impressions of your teeth at home with a starter impression kit, or visit one of the Candid Studios.
Next, you will receive your clear aligners.
These clear teeth aligners come with everything you need for treatment and your orthodontist will track your progress with scans you take from your phone.
Plus, after buying your clear aligners, Candid will provide you with a free carrying case, teeth whitening foam, along with all the equipment you'll need for remote monitoring.
Because you have remote access to an orthodontist, you will be able to ask questions and get help as needed.
CandidMonitoring
Using the CandidApp, you can scan and submit images of your teeth quickly and easily to your assigned orthodontist for examination and feedback.
Who doesn't like that type of service? Using the app, you can even get customized care plans and live chat.
At Candid, they believe regular check-ins with CandidMonitoring are essential in providing the best outcomes for their patients.
That's why their service includes check-ins every 14 days.
CandidMonitoring makes it easy to take scans of your teeth and track your progress from home.
Your scans are reviewed to optimize your treatment and also evaluate your overall oral health.
For their expert orthodontists, Candid uses professionals with 20 years of experience on average who are also experts in clear aligner treatment and are trained in cutting-edge remote care.
Candid prefers to use orthodontists because only orthodontists are trained in the diagnosis, prevention, and correction of irregular alignments of the teeth and jaws.
If you aren't ready to go all-in, you can begin with a starter kit.
Pros
Complimentary teeth whitening kit.
Some persons may receive a refund on the starter kit after assessment by a Candid representative to ascertain ideal candidates.
Candid has a treatment plan made specifically for teens.
Remote monitoring by an orthodontist is available for all clients.
7 days a week customer support is available.
Invisible braces are BPA and phthalate-free.
Candid aligners are formulated using premium thermoplastic.
To reduce the cost, you can use an FSA or HSA.
Payment plan option available.
Cons
Candid is more expensive than most invisible braces companies.
Retainer comes at an extra cost.
To access the payment plan, you must undergo a credit check.
Why Candid is the Best Overall and Expert Care?
From all that you have just read, I'm sure you agree with us and Candid's many customers that this company is certainly the invisible braces company for expert care and with all the efforts it makes to ensure optimal results, it is certainly the best overall.
2) AlignerCo
Next on our list is AlignerCo, a company that has been in the orthodontic treatment industry since 2019 has made massive strides toward becoming one of the most trustworthy and well-respected invisible braces companies today.
AlignerCo offers a convenient invisible braces system and clear aligners at a reduced cost that work just as well as most to remedy crooked teeth and do away with metal braces.
This at-home with remote monitoring invisible aligners program allows you to start the process using a putty mold at home.
Also, it has a nighttime-only option that can last for 6 to 11 months. AlignerCo offers three plans.
Available Plans
The first is their most affordable, one-time payment option called SmileAdvantage.
It comes with an impression kit, invisible aligners, and a set of retainers.
SmileFlex is the next option. It is a monthly plan that offers an easy installment plan of 12 monthly installments of $86 Powered by Affirm.
Next is another monthly plan called SmileFlex Easy.
It is a simple installment plan of $95.00/mo for 11 months with a $275.00 down payment ($1320 Total). All major forms of payment are accepted Powered by Partial.ly.
All three plans come with a free teeth whitening kit.
If you are undecided, AlignerCo allows you to get started with an impression kit for just $39.99.
Straighten Your Teeth While You Sleep
AlignerCo's NightOnly Clear Aligner treatment is a safe and effective way to achieve a straight smile.
This kit includes the same benefits as the regular teeth aligners but requires less daily wear time.
For the night-only option, it requires 8 to 10 hours of wear time.
AlignerCo promises teeth straightening in three simple steps.
STEP 1: First Impressions Count
To begin your teeth straightening process, order an impression kit for just $39.99 (limited time offer). Take your dental impression at home and then send it back to the AlignerCo's team.
STEP 2: Let's Get Things Straight
AlignerCo's specialized team of experts will create a customized invisible aligners treatment plan designed just for your smile.
STEP 3: Go Ahead. Smile
Watch the magic happen as your new smile showcases straighter teeth at just one fixed price of $1145.00 (or $95.00 a month).
Additionally, if AlignerCo's expert dental team determines that their aligner treatment is not the best fit for you, you will be refunded the full cost of your impression kit.
Pros
Very affordable compared to other invisible braces companies.
NightOnly Clear Aligners available.
Money-back for those who their aligner treatment is not suitable for.
Multiple payment plans
High online customer satisfaction and ratings.
Cons
Only one physical location is available (New York).
Typically does not remedy complex issues.
The average treatment time is longer than with other brands by a few months.
Why AlignerCo?
We believe AlignerCo deserves to be the best runner-up based on its treatment process and invisible braces cost.
AlignerCo helps to fix your misaligned teeth with several plan options and post-treatment retainers.
It also offers an affordable at-home impression kit that doesn't skimp on quality and is just as efficient as metal braces.
3) Straight My Teeth
Straight My Teeth™ was born in 2018, out of the desire of helping anyone who wants to achieve a better, straighter, and whiter smile, regardless of their personal budget.
Once the person had a will to look at alternatives to fixed braces, which can be time-consuming and not suited to everyone's lifestyle, smile goals, or availabilities.
For its clear aligner treatment, Straight My Teeth invisible braces are made of Raintree Essix plastic, supplied by Dentsply Sirona, which is BPA-free and medically approved.
They are manufactured from a medically graded biocompatible material, which makes them the world's clearest.
Straight My Teeth is constantly looking to give you the best service, at the best price, with great value.
Straight My Teeth is proud to partner with one of the largest patented manufacturers of clear braces.
They are approved by the FDA and MHRA, which truly sets us apart.
Straight My Teeth's production team members are the dentist or dental technicians, who are very experienced and highly skilled professionals.
Straight My Teeth strongly believes in the highest level of competency and standards.
That's why its treatment plans are only conceived by its specialist team of dentists.
Available Plans
Straight My Teeth promises to straighten teeth at home with clear aligners in as little as 4 to 6 months. The company offers four plans in total. Two of which are for its new NightOnly Clear Aligners.
SmileAdvantage

– this is Straight My Teeth's most affordable, one-time payment plan. An impression kit and Invisible Aligners are included in this plan.

SmileFlex Easy

– this is an easy installment plan of £45 per month for 12 months with £359 Down Payment (Total £899). All major forms of payment are accepted.
Introducing NightOnly Clear Aligners
With an active lifestyle wearing clear aligners for 20-22 hours each day can be challenging.
Straight My Teeth brings you the solution with NightOnly Clear Aligners.
NightAdvantage

– this is Straight My Teeth's most affordable, NightOnly one-time payment plan, which includes an impression kit and NightOnly Clear Aligners.

NightFlex Easy

– this is an easy installment plan of £50.00 per month for 12 months with £399 Down Payment (Total £999). All major forms of payment are accepted.
Pros
MHRA & FDA approved
Supervised by UK Dentists/Orthodontists
Affordable compared to other invisible teeth aligners.
Crystal Clear Look
The average treatment time is 4 to 6 months.
Gumline Trimmed Edges
If the company's expert dental team determines that its aligner treatment is not the best fit for you, you will be refunded the full cost of your impression kit.
High online customer satisfaction and ratings.
Military discount available.
Cons
Typically does not remedy complex dental problems.
The impression kit is rather costly.
Why Straight My Teeth?
Straight My Teeth at-home invisible braces are virtually invisible and without an orthodontist's office visit, allow you to begin treatment, unlike traditional braces.
With this company, your invisible braces treatment is prompt and short-term, which allows you to remedy crowded teeth and gapped teeth all from the comfort of your home.
Straight My Teeth even provides nighttime invisible braces for those unable to wear clear aligners throughout the day.
For us and its many customers, as evidenced by the reviews and ratings, Straight My Teeth is one of the best teeth aligners available.
4) Byte
Byte guarantees to work for as long as you own your smile.
So if at any time after going through your Byte treatment process, your smile moves out of alignment, the company will help you get it back at no additional cost.
Doesn't that promise say it all about Byte?
Byte is known for providing value for money, access to experts, excellent customer care, and from the statement above, a lifetime guarantee.
This company may be able to offer you a treatment duration of 3 to four months, and that's for the complete treatment!
Byte's teeth aligners work similarly to metal braces to straighten teeth, only without the clunky, unattractive wires.
Byte offers game-changing comprehensive doctor-directed care and FDA-cleared technology for faster results and a lifetime guarantee.
Its Expert Dental Network has over 200 licensed doctors, dentists, and orthodontists throughout the United States, who partner to oversee your treatment from start to finish.
Byte only accepts customers who are great candidates for teledentistry and can safely use Byte for improving their smile without an in-person appointment.
The company's HyperByte® aligner seating technology is FDA-cleared to safely straighten your teeth in up to half the time of most other options out there.
This comes with each treatment, improves the accuracy of teeth movement, and even reduces discomfort when switching trays.
There is also a no-risk guarantee, as such, Byte will refund you if you don't qualify and there is no obligation or commitment if you do.
Byte offers an all-day or all-night plan
The All-Day plan can straighten your teeth in as little as 3 months.
Byte's All-Day invisible braces with HyperByte® give you faster treatment times than most other options out there, overseen and supervised by licensed doctors in all 50 states.
Daily wear of 22 hours required.
At-Night Aligners are the most convenient way to straighten teeth while sleeping.
If you don't want to wear teeth aligners all day, you don't have to.
Just put your invisible aligners in at night, and take them out again in the morning when you're ready to face the world.
Requires nightly wear of over 10 hours upon doctor approval for mild cases.
Pros
Uses medical-grade, grind-resistant polymer material.
Byte produces the fastest results of all clear aligners.
BPA-free
Discounts are available for college students, military, and first responders.
Byte offers two daytime and nighttime-only plans.
Lifetime guarantee.
There is a no-risk guarantee.
Cons
No physical locations
Typically does not remedy complex dental problems.
The impression kit is rather costly.
Why Byte is the Best Value
Value for money is what everyone wants and that's exactly what Byte delivers with its remote monitoring, at-home invisible aligners that are proven to efficiently adjust teeth gradually.
Although invisible aligners are much more convenient than metal braces, no one wants to wear them for a prolonged period.
So, to address that issue, Byte reduces the treatment duration to possibly the lowest on the market, which is 3 to 4 months.
You get a custom treatment plan when you buy teeth aligners online from Byte.
You also receive access to dental professionals and free retainers, not to mention a lifetime service guarantee.
Now, if that's not value for money, then what is?
5) Smile Direct Club
Smile Direct Club believes everyone deserves a smile they love.
That's why they've made it easier and more affordable than ever to straighten, whiten, and clean your teeth.
With Smile Direct Club, you get doctor-directed teeth straightening with invisible braces sent directly to you.
So the savings go directly to you with no need for a middle man.
This company wants to empower everyone to take control of their dental health while forgoing metal or ceramic braces and opting for clear braces instead.
These invisible braces help to facilitate tooth movement into their correct positions and are recommended by dental professionals.
Smile Direct Club promises results in as little as 4 to 6 months, which costs 60% less than traditional braces and many other teeth aligners.
Plus, the company offers a Lifetime Smile Guarantee.
Each individual treatment plan is prescribed, directed, and managed by a state-licensed doctor who has over 5 years of aligner therapy experience.
Your custom treatment plan uses state-of-the-art aligner innovations including Smart Sculpt™ for absolute precision and Comfort Sense™ to safely and gradually move your teeth.
Smile Direct Club's FDA-approved facility makes it the largest clear aligner manufacturer in the USA. ​
Smile Direct Club's retainers can keep your new smile intact and healthy for a lower price than most teeth aligners cost, and with no new office, visit needed.​
This company aims to aid you in enjoying better oral hygiene, straighter teeth, lower invisible braces cost, and shorter treatment time without traditional braces, wires, buttons, or attachments to block your brushing​ and hinder your eating.
Laser-cut aligners match the contour of your teeth for an improved fit at your gumline.​
These invisible braces have a crystal-clear matte finish, which gives them a more natural appearance.​ Smile Direct Club's proprietary soft, medium, and firm aligner plastic progression eases your teeth more comfortably into place.
Available Plans
There are three ways to get started:
From home
At a SmileShop
With a Partner Network dentist
Two aligner schedules to choose from:
22 hours a day
10 continuous hours only at night
All aligners arrive at once, which means there's no wait to start your next set, and you also get access to face-to-face virtual Smile Check-ins™ with dental professionals without mandatory office visits, unlike with traditional braces.
As a plus, Smile Direct Club's top-notch dental team is available 24/7 via text, video chat, email, or phone.​
Pros
No credit checks.
SmileDirectClub treatment is backed by its Lifetime Smile Guarantee
Affordable compared to other invisible braces companies.
Payment plans are available.
You get a custom treatment plan.
If your doctor determines these aligners aren't a good fit for you, Smile Direct Club will refund the cost of your impression kit or scan.
If you're unhappy with your treatment within the first 30 days, you'll get a refund of 100%.
50% dental insurance coverage.
Premium teeth whitening included
Cons
Typically does not remedy complex dental issues.
The impression kit is rather costly.
Why Smile Direct Club is the Best Support
Smile Direct Club is not just another affordable and convenient invisible braces option.
While straightening crooked teeth, this company's products are able to provide maximum support based on their design.
Smile Direct Club's clear teeth aligners have a laser-cut design that is customized to match the contour of your teeth for an improved fit at your gumline.​
6) Invisalign
Invisalign is best for complex cases, and as such, is offered as an in-office visit by orthodontists and dentists.
If you want to wear invisible braces that are frequently monitored by a dental professional, then this option is best suited for you.
Similar to when using the traditional metal braces to fix crooked teeth, Invisalign's clear teeth aligners will require you to make frequent in-office trips when receiving orthodontic treatment.
If you have severely crooked teeth that normally require the use of traditional braces, but you prefer to avoid the clunky and unsightly metal, Invisalign invisible braces are recommended and used by medical professionals in those cases.
Office visits will be necessary every four to six weeks, which means you will get in-person attention and orthodontic treatment from a dental professional can improve your patient experience and outcome.
Also, Invisalign clear aligners must be worn 20 to 22 hours a day for the best and fastest results. Invisalign is highly rated.
In fact, according to Best Company customer reviews, its customers rate their experience as four or five stars 90% of the time.
How does Invisalign Work?
Invisalign uses SmartForce attachments.
These are tooth-colored shapes that get attached to your teeth.
These attachments facilitate teeth' movement in the right direction with an appropriate amount of force.
Invisalign Cost
Invisalign aligners do cost more than the typical invisible braces providers.
For one, the fact that you will be continuously undergoing orthodontic treatment means more cost per visit.
These teeth straightening aligners can cost anywhere between $3,000 to $8,000.
The cost of Invisalign® treatment is similar to braces, but that's where the similarity ends.
Invisalign clear aligners are removable and virtually invisible, unlike metal brackets so you can keep living your life and caring for your teeth throughout treatment the same way you always have.
Pros
In-person visits.
Clear aligners are FDA-approved and contain no BPA, BPS, latex, or gluten.
You get custom treatment based on a 3-D digital scan of your teeth.
FSA or HSA can help cover the cost.
Dental insurance may cover some of the costs.
First program available for growing children.
Ideal for complex dental issues.
Cons
Quite expensive compared to other clear aligners.
Requires frequent office visits.
Treatment duration is longer than other invisible braces brands.
Why Invisalign?
Not everyone has mild to moderate teeth issues that can be fixed with at-home invisible braces and a short treatment time.
So products like Invisalign are certainly needed to help with straightening teeth with complex issues.
Invisalign provides extra treatment to facilitate major corrections and remedy complex dental challenges.
At-home aligners are made to conveniently help you to get that beautiful smile you deserve.
All six of these options provide you with varying treatment durations and customized plans from the moment you begin treatment.
If your daytime routine does not allow you to wear clear braces, then many of these companies offer nighttime aligners for more convenience.
Unlike lingual braces, invisible braces can be removed to facilitate eating and teeth cleaning.
You may also receive post-treatment retains for free or at an additional cost, depending on the company.
We hope that this list can help you to make an informed decision and put you on the road to getting that beautiful smile and confidence.