Prostate health is becoming even more critical as the number of men being affected by prostate-related issues is increasing rapidly, especially pertaining to prostate cancer.
In fact, the American Cancer Society reports that second to skin cancer, prostate cancer is the most common cancer in American men and estimate that in 2021, there will be 248,530 new cases of prostate cancer within the United States.
Along with prostate cancer, the two other more common prostate conditions are prostatitis and benign prostatic hyperplasia (BPH), which is an enlarged prostate.
Citing the importance of prostate health, several manufacturers went ahead to develop vitamin supplements that enhance and maintain prostate health.
These prostate supplements are formulated to combat BPH symptoms, lower urinary tract symptoms, help keep the prostate gland in optimal condition, and improve urinary tract function in optimal condition.
These prostate dietary supplements provide comprehensive prostate support that improves prostate health through their combination of saw palmetto extract, vitamin E, nettle root extract, pumpkin seed extract, and many other natural ingredients.
Finding the best prostate supplement is essential, and we are here to help you in that quest.
Best Supplements For Prostate Health At a Glance:
Top 10 Prostate Medicine (Over-The-Counter)
1) 1MD ProstateMD® – Best Overall
ProstateMD® is formulated with the saw palmetto extract USPlus®.
USPlus® is one of the best prostate health supplements available and it is known to promote urinary tract and prostate health by being efficient in treating inflammatory conditions and urinary tract diseases.
The saw palmetto extract in this prostate health supplement is notably more powerful than many others, as its manufacturer points out that it contains up to three times the beta-carotene, ten times the amount of lutein, and 30 times the zeaxanthin of typical saw palmetto extracts.
1MD ProstateMD's Formulation
1) USPlus® Saw Palmetto Extract
Clinical testing revealed that it contains three times the beta-carotene, ten times the lutein, and 30 times the zeaxanthin of typical saw palmetto extracts.
2) Pumpkin Seed Oil Extract
Pumpkin seed oil has been shown to maintain healthy prostate function and is efficient in combination with other prostate supplements like saw palmetto or on its own.
3) Pygeum African Cherry Tree Bark Extract
This is a powerful botanical extract known for its ability to promote urinary tract function.
4) Lycopene Extract From Tomato
This component is a potent plant sterol shown to support healthy prostate cell growth.
It aids with the development and improvement of natural defense mechanisms, and it significantly improves prostate and heart health and its efficiency.
Pros:
Affordable
Subscription plans are available along with a one-time purchase option.
90 days money-back guarantee
Dairy-free
Wheat-free
Non-GMO
Shellfish- free
Cons:
May interact with prescription medication (speak to your doctor).
Why 1MD ProstateMD® is the Best Overall
ProstateMD® is a scientifically-formulated supplement that promises to provide a prostate health supplement that you can be confident has no unnecessary fillers or additives.
Additionally, its potent formulation, which gives it extremely efficient anti-inflammatory properties to combat prostatitis, etc., may also enable it to:
help maintain a normal urination schedule to reduce overly frequent urination
support healthy prostate cell function
2) VitaPost Prostate Plus
Support your prostate nutritionally; this is what Prostate Plus provides with its modern formulation and traditional ingredients, and is designed to provide nutrients in support of your prostate health.
Also, VitaPost Prostate Plus' use of multiple minerals, herbal extracts, and vitamins is the primary reason for its efficacy in reducing prostate symptoms like a reduced or delayed urine flow.
It is developed to look after your overall prostate health. Let's take a better look at these ingredients.
Formulation
1) Vitamin E
Is an antioxidant, which means that it is instrumental in protecting the prostate gland from free radical damage and oxidation.
2) Pygeum Africanum
Powder is derived from the bark of the Pygeum tree, and recent clinical trials have evidenced that it may aid in promoting prostate health.
3) Saw palmetto
We have already established this ingredient's role in providing herbal support to enhance urinary tract health and promote prostate health, and several studies have validated these claims.
4) Stinging nettle
Clinical studies have proven that stinging nettle can hamper the growth of certain prostate cells in benign prostatic hyperplasia.
Pros:
Affordable
The capsule can be taken apart and absorbed in your favorite drink or food.
Prostate Plus is a vegan product.
Cons:
This prostate supplement is manufactured and packaged in a facility that may also process milk, wheat, egg, peanuts, tree nuts, fish, and crustacean shellfish.
It has a very strong taste.
Why VitaPost Prostate Plus Prostate Supplement is the Best for Vegan
VitaPost knows that supplementing your diet to enhance prostate health is essential.
As such its has developed a prostate health supplement formulated with a series of natural ingredients, including natural green tea powder and extracts that reduce urinary symptoms and prostate enlargement, among other benefits that promote overall health.
3) Pure Encapsulations ProstaFlo
Pure Encapsulations ProstaFlo is one of the best prostate supplements formulated with a powerful combination of corn' timothy' and rye.
In addition, it boasts a 20 to 1 ratio of water-soluble to fat-soluble extracts' both of which have differing benefits.
This combination of ingredients has been proven to support prostate health, combat BPH symptoms, and even improve the immune system.
This supplement is 10x better than VigRX Prostate Support and Prostate Freedom formula.
How It's Formulated
Rye (Secale Cereale) extract (Flower Pollen)
clinical trials have shown that rye flower pollen extract preparations may facilitate significant symptom reduction in men with prostate symptoms.
Rye pollen extract is derived from the pollen of rye ( Secale cereal) and can play a role in relaxing the muscles of the urethra and improve bladder function and urine flow.
Pros:
Egg-Free
Gluten-Free
GMO-Free
GMP (Good Manufacturing Practices) Certification
Peanut-Free
Wheat-Free
Hypoallergenic
Cons:
It may not be suitable for pregnant or lactating women.
Daily Value not established.
Why Pure Encapsulations ProstaFlo is the Best Hypoallergenic
We're sure you are wondering how can this be a hypoallergenic prostate supplement if it uses pollen.
However, its manufacturer takes the utmost care in developing this formulation.
As such, ProstaFlo's prostate supplement is created by removing the allergenic outer husk of the rye plant.
4) VitalFlow
Developer Sam Morgan is confident that he has arrived at what he describes as a special blend of ingredients that may help anyone support a healthy prostate with his top-notch prostate supplement.
VitalFlow can also be described as one of the best prostate supplements available.
This is due to its calculated and adjusted formulation that underwent several clinical trials and experiments.
VitalFlow's Formulation
VitalFlow prostate supplement has been formulated with these top 3 ingredients:
Saw Palmetto Berries- several studies show that this component supports urinary tract health and promotes prostate health.
Graviola Leaf- may inhibit the growth of prostate cancer tumors as shown in several laboratory tests.
Japanese mushroom trio – Maitake, Reishi, and Shiitake- are all proven to have incredible health properties by one study in the Journal of Oxidative Medicine and Cellular Longevity.
Pros:
Ingredients sourced from the purest locations.
Prostate supplement tested several times
Each capsule contains the purest and most bioavailable form of these prostate-supporting power foods
60-day 100% money-back guarantee.
Cons:
A bit more expensive than other prostate supplements.
Why VitaFlow?
We chose Vital flow prostate supplement as our multipurpose option because of its ultimate combination of natural extracts that appeal not only to prostate health but also to reproductive health, cardiovascular and immune system.
Some of these potent clinically proven ingredients include:
Cat's Claw and Tomato Fruit Powder-support prostate function and a healthy immune system.
Pygeum Africanum Bark- supports healthy inflammation.
Natural green tea, Selenium, Vit E, and Vitamin B-6.
5) Havasu Nutrition Saw Palmetto
Havasu Nutrition Saw Palmetto is specially formulated for prostate health with its extra-strength blend of saw palmetto, which is actually its only ingredient.
Saw palmetto extract is taken from the berries of the plant and is known as a powerful anti-inflammatory product that is instrumental in relieving benign prostatic hyperplasia and prostatitis symptoms.
Formulation
Over the years, many studies have proven that saw palmetto extract improves urinary flow, supports prostate health, lessens symptoms of BPH and prostate cancer, and decreases inflammation.
It may also help protect against the growth of cancer cells in the prostate, making it one of the most potent and efficient prostate health supplements.
Pros:
Manufactured in a GMP-certified facility.
Third-party tested in an ISO-certified lab.
Formulated with extra-strength saw palmetto extract
Affordable
Gluten-Free
Cons:
It may have a strong odor
May cause nausea
Why Havasu Nutrition Saw Palmetto?
We are impressed with the many issues that this prostate supplement can tackle, and as such, decided to add it to our list as the Runner- up Best Multi-purpose option.
This saw palmetto extract prostate supplement helps you regulate your urinary health by reducing frequent trips to the bathroom, particularly at night so you can get more quality rest.
Moreover, it promotes sexual function and hair growth.
6) Teraputics ProstratePro
Teraputics ProstratePro's developers understand that while million of men need good prostate health, not all of them can afford the pricey prostate supplements.
So they have formulated a potent yet highly affordable option for those who need economically priced prostate health supplements. The closest to it in terms of pricing is the Nuzena Prostate Support.
ProstratePro's Formulation
Teraputics ProstratePro constitutes a proprietary blend of 33 premium ingredients, such as pygeum africanum bark powder, tomato fruit powder, plant sterol complex, beta-sitosterol, and of course, saw palmetto extract.
These ingredients have a collaborative effect on one's prostate health to provide healthy prostate support.
Many prostate supplements claim to deliver optimal results, and Teraputics ProstratePro has proven to do exactly that with its prostate support formulation.
Pros:
Non-GMO
More affordable than many prostate health supplements.
Proprietary blend
Formulated in an FDA registered and GMP-compliant facility.
Undergoes testing by a third party.
Cons:
Not suitable for pregnant or nursing mothers.
Manufactured and packaged in a facility that may also process milk, soy, wheat, egg, peanuts, tree nuts, fish, and crustacean shellfish.
Why Is This Our Most Affordable Option?
Usually, you worry about the quality of a product when the price is low.
However, the case is different with Teraputics ProstratePro Prostate Supplement, and this is validated by the near 4000 reviews found on its Amazon page.
Teraputics ProstratePro Prostate Supplement is not only an affordable option for men looking for prostate pills to improve or maintain prostate function but it can also:
support fast hair growth in men
give you urinary relief and put your bladder at ease
improve bladder control
give you a steady urinary flow
7) Phytage Labs Prostate 911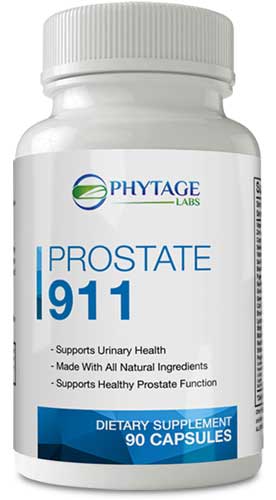 Prostate 911 is a plant-based urinary health supplement support for healthy prostate function.
It boasts a natural and powerful content developed with Vit E, Vitamin B6, Zinc, Copper, Selenium, Saw Palmetto Berries, Plant Sterol Complex, Pygeum Africanum Bark Powder, Red Raspberry, Graviola Leaf Powder, Green Tea Leaf, Cat's Claw Bark, Broccoli Leaf, and many more potent extracts and botanicals.
Prostate 911 is suitable for men looking for even more comprehensive prostate support through its advanced blend of herbs and vitamins to help them enjoy life.
Its intense formulation accounts for its fast-acting feature, which has allowed some users to see optimal results in as little as one week of continuous use, making it one of the most rapid-acting prostate supplements available.
Prostate 911 comprises an intense blend of potent extracts and botanicals that reduce an enlarged prostate gland and urinary symptoms, and may even be one of the best prostate health supplements available due to its many health benefits.
Let's look at its four primary ingredients.
Pygeum

– is a revered anti-inflammatory ingredient that can aid with improving urinary flow rate and nocturia.

Uva Ursi

– can shield prostate cells against oxidative damage from free radicals.

Pumpkin Seeds

– are filled with omega-6 and omega-9 fatty acids plus vitamins E and K. These nutrients play a pivotal role in immune and reproductive system health.

Nettle Root

– also called stinging nettle is ideal for treating urinary tract infections (UTI), promoting healthy inflammation, and reducing enlarged prostate.
Pros:
All-Natural
Easily absorbed
Maximum strength
Cons:
More expensive than most prostate supplements.
Why Prostate 911?
Many persons prefer to have all-natural prostate supplements and so we had to ensure there is an option on our list addressing that need.
So from the research we conducted, we believe Prostate 911 is the most suitable prostate supplement for those who prefer a more natural approach.
In addition, this prostate supplement can:
reduce frequent urination
help with urine regulation so you can travel without worry
improve urinary tract function
decrease inflammation
relieve enlarged prostate symptoms and other prostate issues
improve sexual drive and performance
8) NOW Beta-Sitosterol Plant Sterols
NOW Beta-Sitosterol Plant Sterols Prostate Supplement is developed using a plant compound derived from part of a group of substances known as phytosterols.
This powerful plant prostate supplement comes compacted in the form of a soft gel capsule made with gelatin, glycerin, water, and carob.
NOW Beta-Sitosterol prostate supplement is developed by a family-owned and operated company since 1968 that truly understands the necessity of men's prostate health supplements.
Formulation
Over the years many clinical trials have been undertaken to validate claims of beta-sitosterol being able to aid in prostate health.
Some of these studies have proven its potential role in improving prostate health as a result of its anti-inflammatory and antioxidant properties.
Beta-sitosterol is another very essential ingredient in prostate formulas.
Additionally, NOW Beta-Sitosterol prostate supplement offers 60 mg of fish oil per capsule, which also aids in repelling prostate problems with its anti-inflammatory action.
Pros:
Available in a Softgel Capsule form.
GMP Quality Assured.
Undergoes independent third-party testing.
Affordable
Cons:
Not suitable for persons with fish allergy
Why is this Our Best Heart-Healthy Option?
We love when a product designed to target one issue can also assist with your health maintenance or improvement in other ways.
This is one reason why we are so impressed with NOW Beta-Sitosterol Plant Sterols because of its inclusion of fish oil in its simple formulation.
Multiple studies have found that fish oil contains omega-3 fatty acids, which can be useful to the heart and can also lower cholesterol.
We think this puts NOW Beta-Sitosterol Plant Sterols in the ranks as one of the best multi-purpose prostate supplements. Furthermore, this prostate supplement can:
reduce urinary symptoms
combat benign prostatic hyperplasia
hamper prostate cancer cell growth
9) Nature Bound Mega Strength Beta-Sitosterol
Nature Bound Mega Strength Beta-Sitosterol is developed as a natural prostate complex designed to improve symptoms of benign prostatic hyperplasia, other prostate issues, and additional health challenges aging men encounter.
Some experts assert that this Mega Strength supplement may be the ideal replacement for saw palmetto.
How it is Made
Beta-sitosterol is plant-based, and it works by inhibiting certain biochemical processes that worsen prostate enlargement, this is the primary action of saw palmetto and beta-sitosterol, and as such, claims of them being replacements for each other have been made.
This results in less frequent urination, as well as, a better urinary flow.
Healthcare professionals have even labeled this as an effective natural treatment for prostate issues because of its unique chemical structure.
Nature Bound's proprietary formula attacks prostate issues on a cellular level and prevents the increase in the growth of prostate cancer cells.
Pros:
100% money-back guarantee.
Fast-acting prostate complex.
Produced in a facility that exceeds GMP standards.
Cons:
May cause allergic reactions for persons with allergy issues.
Why Nature Bound Mega Strength Beta-Sitosterol?
Nature Bound Mega strength beta-sitosterol prostate supplement is comparable to the efficacy of saw palmetto and is ideal for men who may have an allergic reaction to that extract.
Beta-sitosterol provides advanced prostate support for men while it supports their bladder health and urinary function. It can also:
reduce hair loss
boost immunity
improve sexual libido and energy
boost immune system
10) Nutrifect Relief-Superior Formula
Nutrifect Relief Superior Prostate Formula is an extra-strength supplement that supports prostate health.
This all-natural prostate supplement is again one of the best prostate supplements.
Similar to how many prostate supplements work, Nutrifect Relief-Superior Prostate Formula provides relief from prostate issues.
This formulation uses a combination of pyegeum africanum bark, lycopene, saw palmetto, and beta-sitosterol for an intense natural palmetto supplement to support prostate health.
The Ingredients
Saw Palmetto

– Relief Superior Prostate Formula contains 900mg of Saw Palmetto extract, more than twice the dose of similar supplements and proportionate to those used in clinical studies.

Beta-Sitosterol

– is most commonly used for relieving symptoms of an enlarged prostate in cases of benign prostatic hyperplasia and also to reduce inflammation.

Pyegeum africanum bark

(Garlic Bulb Extract)– is an herbal extract taken from the bark of the African cherry tree and is assumed to encourage prostate health.

Lycopene

– this is a naturally occurring component that gives fruits and vegetables a red color. Lycopene has antioxidant properties that protect the prostate gland from free radical damage.

Pumpkin Seed Powder

– this extract is believed to promote a healthy microbiome, maintain healthy cardiovascular function, promote healthy liver function, and support a healthy immune system.

Stinging Nettle

– Fenugreek helps reduce internal and external inflammation, improve sex drive, and improve reproductive function.
Pros
GMP-certified
All-natural
Affordable
Cons
It may not be suitable for pregnant women.
The product is manufactured in the same facility that processes milk, soy, egg, wheat, peanut, tree nut, fish, and crustacean shellfish.
Why Nutrifect Relief-Superior?
This all-natural option stands among the best prostate supplements, and its formulation may be able to provide more than prostate benefits.
It also facilitates better kidney function and bladder control and helps reduce baldness.
It may also:
reduce frequent urination
improve erectile dysfunction
improve urine flow
reduces hair loss
helps to maintain natural testosterone levels
The prostate is essential, and at times men need additional supplementation to promote or improve its health.
While there are many prostate supplements on the market, we know you want to find the ideal option that best suits your needs, as such, we have compiled a comprehensive list to provide you with several options ranging from all-natural to most affordable.
These options may help you combat prostate issues to live a near-normal and healthier life.