Have you ever anticipated an invitation to an event or maybe a date?
Do you remember how you started preparing from the very minute you received the invitation?
You probably started looking at appropriate outfits and maybe photos of the venue and acceptable behaviors.
Well, that's because you know being prepared is everything.
For example, would you and your family be prepared if a national or international food shortage developed?
This is the same advanced preparation approach we should take toward emergencies, as no one can tell when a crisis will arise and there will be a need for emergency food supplies.
Long-term food storage is necessary, and many companies understand this need.
Ready or not, we all need to store food.
So in this post, we will explore the ten best survival food companies that will help you professionally access survival food, emergency kits, and much more.
At a Glance
Top Freeze Dried Food Companies Reviews: Emergency Food Supplies in Bulk
1) Legacy Food Storage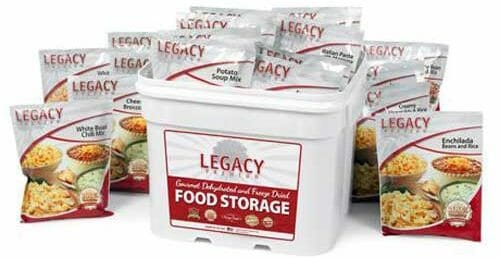 Legacy Food Storage is a fifteen-year-old veteran in the emergency food supply industry.
This company offers a convenient way to build your emergency food supply, regardless of the length of time you need that supply to last (shelf life).
Legacy describes its Premium's main dishes as amazing.
There are several single options that you can try, and even pet supplies are offered, but Legacy's main product is the 120-SERVING ENTREE BUCKET.
All their food supplies are secured in this bucket, providing convenience and ease of store with lightweight portability.
These buckets are also heavy-duty and designed to facilitate easy stacking.
Legacy offers twelve different main dishes, and the best part is all you need to do is add water to prepare these freeze-dried emergency meals.
Its freeze-dried meals are vacuum-sealed for a food supply shelf life span of up to twenty-five years.
Legacy Premium takes your family's emergency preparedness very seriously. Consequently, all Legacy freeze-dried main dish meals are wholesome and affordable.
Legacy aims to offer the highest quality main dish options at the lowest cost per 2,000 calories within this emergency food storage industry, so it offers a price-per-pound comparison.
Legacy provides safe and protected freeze-dried emergency meals by sealing them in Mylar pouches that are then preserved in sturdy, stackable buckets.
Foods Offered
The 120 Serving Package from Legacy Premium includes 12 different entrees, that's 120 servings in total, making it ideal for a family or even just one person who needs a long-term supply.
Here's what you get in each bucket.
For nutritional information on each meal, you can check Legacy's website.
Italian Pasta with Marinara (8 Servings)
Pasta Alfredo (12 Servings)
Pasta Primavera (12 Servings)
Enchilada, Beans, and Rice (8 Servings)
Stroganoff (8 Servings)
Cheese & Broccoli Bake (8 Servings)
Creamy A La King (4 Servings)
Vegetable and Rotini Pasta (8 Servings)
Macaroni and Cheese (12 Servings)
Potato Soup Mix (16 Servings)
Classic Chili Mix (12 Servings)
White Bean Chili Mix (12 Servings)
Legacy also supplies breakfast, side dishes, drinks, snacks, gluten-free foods, and more.
Pros
Non-GMO
High in Fiber
Low Fat
Low Sodium
Nitrogen Flushed Pouches
No HFCS
No MSG Added
No Trans Fats
Oxygen Absorbers
Uses Sea Salt
Vegetarian-Friendly
Free Shipping
Subscription plans and one-time purchase options are available.
25- year shelf life
Cons
Most products are always sold out.
Requires boiling water to prepare meals.
Why Legacy Food Storage is Best Overall
Legacy provides an option for almost every category of diet, including pets.
This company's intent is not just to supply food, it wants to provide food that can help individuals and families with the nutrition they need in case of a natural disaster, hence its long shelf life and relatively easy and convenient preparation method.
Also, the company likes and makes things simple.
Hence, Legacy Food Storage has a free shipping policy that all customers within the United States can benefit from, making it one of the best food storage companies and one of the most highly reputed emergency food companies nationally.
1) Survival Frog

Rather than selling just one set of food or stocking supplies from one company, Survival Frog specializes in foods from multiple manufacturers.
This places the company among the largest providers of emergency essentials, freeze-dried foods, dehydrated foods, and more, with over 400 products to choose from.
Survival Frog is a small business located in Denver, Colorado, and is dedicated to and passionate about creating an amazing buying experience for its customers.
Survival Frog is one of the most trusted sources for survival and preparedness products online.
Its mission is to educate those ready to protect their families and provide them with the most advanced survival gear at affordable prices.
Survival Frog believes it is everyone's responsibility to prepare for potential threats with at least a 72-hour supply of the essentials and its team is here to help.
Foods Offered
When you shop at Survival Frog, you can choose supplies from multiple brands in one place.
The company offers emergency food from brands like ReadyWise, Backpacker's Pantry, Legacy Food Storage, Survival Cave, and Mountain House.
Here are some of the emergency food types you can get:
Mixed Meat All, Natural
Entree 120 Serving Emergency Food Bucket by ReadyWise
Fruit Mix 120 Serving Emergency Food Bucket by ReadyWise
LifeStraw Personal Water Filter
Breakfast 120 Serving Emergency Food Bucket
Vegetable Mix 120 Serving Emergency Food Bucket
Homestyle Scramble
Southwestern Medley
Fettuccini Alfredo with Chicken
Pros
Supplies numerous brand options
Offers freeze-dried, canned, dehydrated emergency food supply
Has vegetarian-friendly options
Some foods are non-GMO
Offers high fiber options
Offers low-fat and sodium options
Cons
The website can be overwhelming
You have to search through to pick options best suited for your diet. No pre-made dietary lists (gluten-free, vegetarian, or vegan).
Expensive compared to other emergency food supply companies.
Why Survival Frog?
Getting everything you need in one place is like a dream come through.
Survival Frog makes that dream a reality with its numerous options ranging from PPEs and survival kits to radios, first aid kits, etc.
If you have a family with multiple food preferences, then Survival Frog is your ideal long-term food storage company.
Its massive collection of emergency food supplies and survival food allows you to mix and choose emergency foods, canned meats, entrees, breakfasts, and snacks for your entire family, all in one place.
3) NuManna Food Storage
NuManna is a unique company as it caters specifically to organic eaters with its host of options for those who prefer their survival food to be non-GMO and MSG-free.
It aims to offer the most innovative, nutritious, and sustainable food-preparedness solutions for individuals and families so that you can have proper emergency supplies without visiting a grocery store.
NuManna offers nutritious prepared food, bulk meal packages, family packs, defender packs, and more to ensure the survival foods you have can sustain and promote optimal health during a crisis and heightened stress.
Additionally, the company uses superfood ingredients, like organic quinoa, black chia seeds, organic sprouted seeds, brown jasmine rice, parboiled rice, organic spelled, and others, to create wholesome, healthy survival food kits.
NuManna was formed on the principles of emergency preparedness with long-term storage and sustaining your family's long-term health.
In 2011, NuManna began as a small, home-based business but had since grown to be a nationally trusted brand.
For this reason, on the long list of survival food companies, we have to highlight NuManna as one of the best food storage companies.
Foods Offered
The first thing to mention is that NuManna offers a range of survival food categories to choose from. These include:
Two Defender Packs
The Defender Nutritive Pack

comes with 124 servings of GMO-Free, Easy-To-Fix meals. It also includes 80 servings of organic grains and "super foods".

The Defender Pack with Meat

comes with all of the above plus a serving of meat.
Four Family Packs
Family Pack

contains at least 144 breakfast, lunch, and dinner servings.

Organic Family Pack

contains products that are all organically certified and scientifically backed.

Family Pack with Meat

comes with all of the above plus a serving of meat.

Triple Family Pack

provides at least432 servings of breakfast, lunch, and dinner.
One Gluten-free
The Non-gluten Family Pack

has the same chemical-free recipes as the regular Buckets but without Wheat, Gluten or Soy. In this bucket, you pay for 116 lunch and dinners, and we give you 10 Servings of Breakfasts for free.
Two Grab-n-Go
The Grab -n- Go Original

bucket contains ten pouches that provide 80 servings of high-quality food. It is light and easy to carry or store.

The Grab -n- Go Triple

is light and easy to carry or store. Each bucket contains ten pouches that provide 80 servings of high-quality food. You save $10 per bucket with the Triple Grab -n- Go.
Pros
Safe products are facilitated through their ziplocked and heat-sealed packaging.
Soy-Free
GMO-Free
No added MSG
No Aspartame
No High Fructose Corn Syrup
Made in The US
The products have a shelf life of 25 years
Cons
Requires boiling water to prepare meals.
Why NuManna Food Storage?
NuManna focuses on producing emergency food that promotes long-term food storage and is high-quality and free of MSG and GMOs.
There is a significant number of people who prefer organic foods, and they, too, will experience whatever crisis everyone else does.
As such, they must have survival food options so they don't have to abandon their lifestyle to eat. It is also well-suited for people with food allergies.
For this reason, on the long list of survival food companies, we have to highlight NuMnna as one of the best food storage companies.
4) Augason Farms
Augason Farms is a true industry expert as it has been serving longer than many other food storage companies founded in 1972.
As a veteran of survival food, Augason produces all products in-house in its Salt Lake City, Utah facility.
Augason Farms designs its emergency food kits to suit individuals and families for 72 hours or long-term, like up to a year.
All kits are sold in convenient ready-to-go buckets that allow you to stack them easily and neatly to save space.
Augason Farms offers a 72-Hour, 4-Person Emergency Food Storage Kit that is 14 lbs 7 oz.
It provides 176 servings.
Within this kit are individually packed soups and entrees that contain nutritious ingredients such as rice, dehydrated vegetables, and delicious dry soup mix flavoring.
Morning Moo's Low Fat Milk Alternative is a tasty powdered drink along with these emergency food items.
Food Offered
These are some foods and emergency food storage kits you can get from Augason farms.
Steakhouse Potatoes
Homestyle Potatoes
Breakfast emergency food supply
Lunch and dinner emergency food supply
One-week emergency food supply
72-Hour Be ready emergency food kit
30-day 1-person emergency food supply
Freeze-dried fruits
Freeze-dried vegetable
Fruit chips
Milk alternatives
Pros
Affordable
Available on multiple platforms, such as Amazon, Walmart, and eBay.
Offers a variety of sizes
Has gluten-free options
Cons
Shelf life is 20 years, which is shorter than other emergency food brands
Requires stove-top preparation.
Non-resealable pouches
Why Augason Farms?
Augason provides affordable, nutritious options.
This could not be any more important than it already is because, during a crisis, saving is important.
So if you can get high-quality, tasty, and nutrient-rich survival food for a fraction of what other brands sell for, that is incredible.
For that reason, we believe that Augason Farms is one of the best survival food companies in the country.
5) Mountain House
Mountain House has an extended history of producing emergency food supplies, as it began in 1969. At that time, the company specialized in making high-quality freeze-dried foods for the military.
Since then, Mountain House has branched out into developing several types of survival foods that can be had by preppers, hikers, campers, and backpackers.
This food storage company supplies breakfast, entrées, sides, and desserts.
Mountain House believes in 100% transparency and provides consumers with wholesome natural ingredients.
The company shares the sentiment of many by believing taste is just as important as convenience.
That's why to lock the flavor in after cooking the food, Mountain House meals are made with a freeze-drying technique that has been perfected for over 50 years.
Mountain House provides high-quality freeze-dried food that is super convenient, super delicious, and can be taken with you no matter the occasion, anytime, anywhere.
They want you to enjoy a comforting, tasty meal at home, on the trail, or in your tent.
Foods Offered
Here are some of the survival foods you can get from Mountain House:
Breakfast
Spicy Southwest-style skillet
Granola with milk and blueberries
Scrambled eggs with ham and peppers
Scrambled eggs with bacon
Breakfast skillet
Entrees
Pad Thai
Chicken & Dumplings
Beef Stroganoff
Chicken Teriyaki with Rice – Pouch
Beef Stew
Pasta Primavera
Chicken fried rice
Chicken noodle casserole
Proteins
Ground beef
Diced chicken
Diced beef
Desserts
Vanilla ice cream sandwich
Mint chocolate chip ice cream sandwich
Gluten-free
Almost all products sold by Mountain house are gluten-free. There are twenty-six products to choose from.
Pros
Certified gluten-free
Ready in minutes
Just add water
Available at multiple retailers
Lightweight for easy transport
No artificial flavors or colors
Cons
Military options have a 3-year shelf life
Why Mountain House?
Mountain House has long been hailed for its convenience with its emergency foods.
The packaging, portion sizes, and preparation methods make the freeze-dried meats and other mountain house products exactly what a camper or a person on the go needs.
They are also ideal for any emergency kit and are easy for long-term storage.
We, along with its thousands of consumers, believe that Mountain House is one of the best emergency food suppliers.
6) Thrive Life
Thrive Life promises simple, clean food.
This emergency food supply provides snacks & mini-meals, bulk items, and ingredients, which they focus more on.
Thrive Life aims to provide premium freeze-dried food to give that special crunch.
Their meals help busy folks to stop chasing expiration dates and enjoy tasty food anytime.
Thrive Life supplies meat, vegetables, fruit, dairy, grains, and cereals as ingredients that you can purchase to prepare your meals.
This is one of the few food storage companies that offer freeze-dried pork.
Thrive Life supplies ham dice, pulled pork, and sausage crumbles in #10 cans.
Foods Offered
You can get food from various categories:
Ingredients
Fruits
Vegetables
Seasonings
Diary
Meat and protein
Sauces
Beverages
Snacks
You can choose from a range of fourteen snacks, including berry parfait, strawberries, peaches, green peas, cheddar bites, and vanilla yogurt.
Power Packs
You can purchase 1 or 3 months of food supplies that allow you to stock up on delicious and nutritious fruits, veggies, and protein.
Pros
Whole food
No preservatives
No artificial ingredients
Non-GMO
Shelf life of 25 years
Cons
Costly compared to other food storage companies
Why Thrive Life?
Unlike most food storage companies, Thrive Life wants to allow you to create your meals with convenient products that do not spoil off the fridge.
Its freeze-dried foods are the primary ingredients and provide gluten-free options.
Thrive Life foods, particularly its snacks, are emergency essentials as they require no preparation and are healthy freeze-dried fruits and veggies to provide adequate nutrition.
Worth being in your emergency supplies.
7) ReadyWise (Wise Food Storage)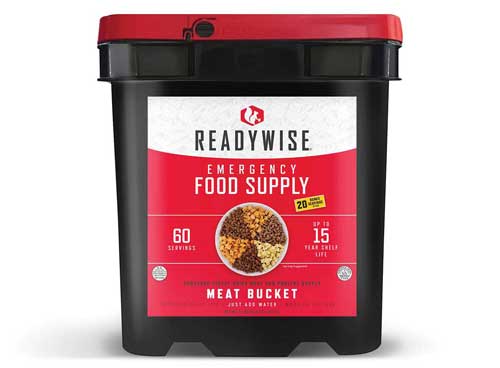 Wise Company has developed emergency food supplies by using a combination of freeze-dried and dehydrated technologies.
Along with long-term food storage, Wise Company also offers emergency pet kits for dogs and cats, survival packs, auto kits, and emergency supplies.
Wise foods come in an array of Grab-and-Go Food Kits for breakfast and entrees.
The company also supplies a 72-hour emergency food stock and powdered eggs in a bucket.
These products are suitable for daily use, hiking or camping, and crises such as hurricanes and other natural disasters.
These survival food packages are suitable for individuals and small and large families.
Food Offered
60-serving entree only
120-serving entree only
72-hour emergency food
82-serving breakfast and entree
Powdered eggs
120-serving whey milk in a bucket
120-serving breakfast only
Pros
Gluten-free options
Organic options
25-years shelf life
Free shipping on some orders
30-day Money Back Guarantee
Cons
A bit pricier than other survival food companies
Why Wise Food Storage?
In a crisis, all family members must get fed, which this company understands.
As such, ReadyWise also caters to your cats and dogs, making Wise Company one of the best emergency food providers.
Their incredible shelf-stable foods are available in easy-to-store and stack containers.
Wise Food Storage stands out among emergency food brands as it also provides survival packs and other supplies.
8) My Patriot Supply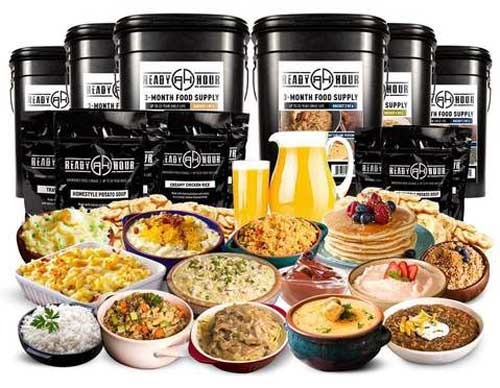 My Patriot Supply prides itself on being the original Patriot survival company.
My Patriot Supply was founded by people passionate about self-sufficiency and food independence.
They not only understand the importance of practicing emergency preparedness, but they are active participants in the survivalist lifestyle.
My Patriot Supply believes that true freedom comes from attaining a certain level of self-reliance.
My Patriot Supply emergency food storage solutions have an unopened shelf-life of up to 25 years.
You can get cooking gear and tools, power, lighting, first aid items, and survival food.
You may also get water filtration and air purification products, among other supplies. Plus, they offer 2000 calories per day.
Foods Offered
You can get long and short-term food supplies, bulk #10 food cans, gluten-free options, coffee, and more.
Franklin's Finest Survival Coffee
4-Week Emergency Food Stock
Mega Protein Kit with Real Meat
Fruit, Veggie & Snack Mix
Ultimate Breakfast Kit
Gluten-Free Food Kit
Preparedness Crate for Emergencies
Emergency Staples
Beans Trio & Rice Kit
Pros
Military Discounts available
They offer a variety of food storage sizes
Shelf life of 25 years
Cons
Requires removing from Mylar pouches to prepare.
No free samples
Why My Patriot Supply is Best for Military
Our servicemen and women and their families give a lot to us, so the least we can do is help them to access affordable food options.
My Patriot Supply understands this entirely and has made provisions by offering a special military discount.
This initiative, along with its mountain of survival food options and other supplies, makes My Patriot Supply deserving of this spot on our list.
9) Backpacker's Pantry
So many people need emergency vegetarian, vegan, gluten-free, and dairy-free options when it comes to food, and Backpacker's Pantry understands this need.
That's why they have all those options and more in stock to meet your nutritive needs.
Backpacker's Pantry even offers a variety of gourmet dried food.
Backpacker's Pantry is an industry veteran, as it has been in long-term food storage since 1951.
Additionally, Backpacker's Pantry has a recycling initiative, allowing you to recycle your Backpacker's Pantry flexible packaging.
The company also offers ready-to-go kits that you can customize and mix and match entrees to your liking.
These freeze-dried and dehydrated foods are suitable for any adventure.
Foods Offered
Entrees
Pad thai
Lasagna
Shepherd's potato stew with beef
Three sister stew
Kathmandu curry
Three cheese mac and cheese
Breakfast
Rocky mountain scrambler
Blueberry walnut oats
Granola with blueberry almonds and milk
Cinnamon apple oats
Desserts
Mango sticky rice
Dark chocolate cheesecake mix
Creme brulee
Pros
Pouches are recyclable
Free Recycling
Also available on Amazon
Favorably rated by reviewers
Vegan and vegetarian-friendly
Dairy and gluten-free
Cons
No bucket deals offered
Pricey compared to other long-term food storage companies
No free samples
Backpacker's Pantry?
Lactose intolerance and other dairy-related illnesses are real issues that even animals struggle with.
So it is highly considerate of Backpacker's Pantry to create options for that type of diet.
The shelf life of their freeze-dried food makes them ideal for any time without worry of expiration or spoilage.
Feel free to take their products hiking, hunting, camping, and backpacking.
10) Peak Refuel
Finding a wide variety of Non-GMO products in freeze-dried food options can be a tiring experience and a struggle.
However, Peak Refuel has sought to remedy that issue for many by providing a host of non-GMO food options. Peak Refuel uses clean ingredients and 100% real meat to formulate its tasty products.
These foods are ideal for short-term food storage, although they are made with hiking and camping in mind.
With Peak Refuel, you can get nearly twice as much protein as most food storage companies offer without GMOs and fillers.
When it comes to ingredients, although Peak Refuel uses less (7 ingredients) than most companies, it focuses on quality.
All growers and suppliers of Peak Refuel ingredients must undergo an extensive screening process before the company chooses to do business with them.
Peak Refuel prides itself on quality and ensures everyone who plays a role in its manufacturing process can meet Peak Refuel's high standards.
Foods Offered
You can shop according to meals, packs, and desserts. Here are some of the available options:
Biscuits & Sausage Gravy
Butternut Dal Bhat
Peanut Butter Chocolate Chip Cookie Bites
Chocolate Fudge Brownie Bites
Chicken Pesto Pasta
Strawberry Granola
Breakfast Skillet
Three Bean Chili Mac
Chicken Teriyaki Rice
Homestyle Chicken & Rice
Pros
Offers high-protein meals
Favored by consumers in reviews
Uses less water to rehydrate than other survival food companies
Non-GMO ingredients
Ready in 10 minutes
Microbe-tested to ensure the highest possible quality
Lightweight
Cons
Costly
Short-shelf life of 5 years
Why Peak Refuel?
How much food do you have to search through to find non-GMO options?
How frustrating is it?
Peak Refuel wants to make it easier for you to find the ideal products that are not only healthy and non-GMO-based, but the company also wants you to have tasty foods.
So they have created a range of options for you to choose from.
Peak Refuel meals are also fully prepared and cooked before they begin the freeze-drying process.
The food is then microbe tested to ensure the highest possible quality.
Plus, all this company's meals are frozen and packaged in a USDA-inspected & level 2 SQF-certified facility in Utah.
How much food is too much food?

Exactly what foods do you prepare for a crisis?
These questions may have been going through your mind before reading this article.
Conclusion
We hope we've answered those and other questions to help you get prepared for any unseen circumstances.
Making the smart choice to get canned, dehydrated, and other food supplied with an extensive shelf-stable is an ideal way to protect yourself and your loved ones.