At present, most professional trainers and athletes generally prefer a powerful pre-workout.
Whenever people talk about some solid pre-workout products, one of the first names that come to their minds is Bucked UP Pre-workout.
The product has gathered plenty of attention, and the team at Wellness Warrior is wondering if it's useful in improving athletic performance during exercise.
The trainers who formulated this supplement claim that it is the best in the market.
So, you know we had to examine this product and share our findings with you.
Plus, this Bucked Up Pre-workout review is hardly your usual pre-workout review because the supplement contains a surprise element.
If you are looking to find out if this supplement is actually one of the best pre-workouts as many claims it to be, then read on, as we cover the whys and what of Bucked Up Pre-workout.
Our Recommendation
After extensive research, we believe Crazy Nutrition INTENSIVE Pre-Train is the best pre-workout on the market.
Here's why:
INTENSIVE Pre-Train is 10x More Effective than other pre-workouts
Gives you explosive energy without stomach upsets or jitters
Trusted & approved by professional athletes worldwide
60-day money-back guarantee if you don't like it
So make sure to check it out. It might just be the best money you'll spend in 2022.
Bucked Up Pre Workout: Does It Really Work?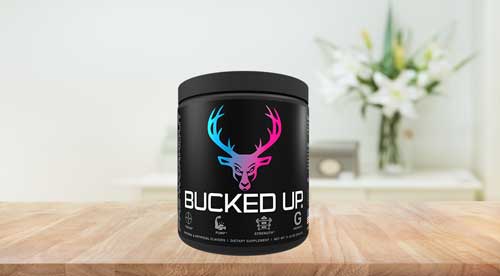 What is Bucked Up?
The Bucked Up Pre-workout supplement is manufactured by DAS Lab Supplement Industry. It is the brand's most popular product and claims to increase energy, focus, and pump.
Bucked Up Pre-workout is known for its unique deer antler velvet ingredient.
Deer antler velvet is more than a clever marketing term.
It is derived from the antlers of large bucks that grow these magnificent antlers in the months leading up to the mating season.
Scientists discovered that the velvety antlers secrete insulin-like growth factor (or IGF-1), which aids in rapid regeneration.
It greatly enhances the rate of muscular recovery when this IGF-1 is hitched and consumed by humans.
Deer antler velvet supplements can raise IGF-1 and improve testosterone levels.
This has the potential for erectile dysfunction treatment and sexual performance enhancer, increase muscle gains and increase citrulline absorption.
Deer antler velvet, however, requires more scientific research claiming that it increases testosterone for muscle gains and sexual function.
This might make you wonder what this has to do about a pre-workout.
DAS Labs believes that the compound can stimulate an IGF response, which will increase recovery before and during intense training.
DAS Labs claim they have created an innovative pre-workout formula that is superior to all other pre-workout products.
As such, the product has gained a fair share of attention, and many, along with us, wonder if this supplement is any good for boosting workout performance.
Bucked Up Pre-Workout's Core Ingredients
1) Citrulline (6 Grams)
An amino acid increases nitric oxide levels to open blood vessels for oxygenated blood flow. It also elevates stamina and provides increased pumps.
2) Beta-alanine (2 Grams)
Another amino acid that can help prevent fatigue and pain-causing lactic acid buildup is amino acid A.
3) Himalayan Rock Salt (100 mg)
Himalayan Rock salt is a natural mineral compound that contains trace mineral Sodium, which regulates fluid-electrolyte ratios.
Himalayan Salt, with Trace Minerals, Himalayan Rock Salt is a natural compound with trace mineral Sodium known to regulate fluid-electrolyte balance.
4) Alpha GPC (200 mg)
Alpha GPC is one of the essential pre-workout ingredients that are more intense. It will give you a focused pre-workout.
5) Caffeine Anhydrous (200 mg)
A powerful stimulant that increases energy and improves mental focus.
6) Deer Antler Velvet Extract (50 mg)
50 mg of deer antler velvet extract may raise IGF-1 levels. This helps to stimulate muscular hypertrophy and support bodybuilding.
7) AstraGin (25 mg)
It is a patent-protected natural ingredient that has been shown to increase nutrient uptake.
8) Actigin (25 mg)
Actigin boosts athletic performance and increases VO2 MAX.
9) Taurine (100 mg)
Taurine is an ingredient that can help to offset side effects such as headaches and nausea caused by caffeine.
Bucked Up Flavors
There are more than ten exciting flavors available, and each comes with 30 servings.
Blood Raz (Red Raspberry)
Rocket pop
Blue Raz (Blue Raspberry)
Grape
Strawberry Kiwi
Mean Green
Gym N Juice (Grapefruit-Citrus)
Wild Orchard
Mango
Watermelon
Killa OJ (Orange Juice)
The flavors from their main site actually contain the Deer Antler Velvet Extract.
Bucked Up Pre-Workout Is Not For…
This pre-workout is only intended for healthy adults 18-years of age or older.
It is not recommended for women who are pregnant or nursing children.
Do not take this supplement if you have any type of medical condition that could affect your heart, blood vessels, or other vital organs.
If you have any urgent surgery, it is ideal to stop taking Bucked Up pre-workout two weeks prior.
Talk to your doctor if you or a loved one has a history of any type of health problem before using the Ghost Legend pre-workout powder.
The Cons
Some flavors taste like cough syrup.
The serving size is small
Some key ingredients found in other pre-workouts are missing from this one
Bucked Up Pre-Workout Possible Side Effects
You're probably wondering if Bucked Up could have any negative effects. Well here are a few that other users have experienced.
If you are a caffeine-sensitive person, you might experience nausea, stomach upsets, interrupted sleep, jitters, agitation or headaches, and migraines.
Insomnia may also occur, especially if you already have difficulty sleeping. To avoid this, do not take this supplement late at night.
Because of its beta-alanine content, you may experience tingling throughout your body during the workout. But this is harmless and should not last for long.
Bucked Up Reviews from Other Users

Si-Uppercut not only gave a positive response but also highlighted its good taste and the effect of caffeine and beta-alanine on a sensitive user's health. Bucked Up tends to be effective and harmless.
So, this pre-workout may be really worth it.

As Emily mentioned, the effectiveness and potency of the product may depend on your current strength level, so you could save yourself from its negative side effects by following the instructions on the bottle.
Following the pre-workout's directives precisely can provide excellent outcomes.
The Pros
A high number of users have seen results after the continued use of this pre-workout.
There is no filler ingredient included.
It contains no calories, no sugar, and zero creatine.
Easy to mix and doesn't have any clumps.
It can keep you energized for the entire workout.
It does not have many side effects.
It has a number of delicious tasting flavors.
Insider Information
Consider these tips below before going ahead to purchase the Bucked Up Pre-workout.
If too much caffeine does not suit you, you had better start with just half a scoop to gauge acceptance.
You can search Bucked Up on the internet and buy Bucked Up the original pre-workout supplement at their official website.
However, you may also purchase it from other independent websites, like iHerb, bodybuilding.com, Amazon, and Bucked Up's official website.
My advice is to purchase from the manufacturer's website, this way you don't need to worry if you place the wrong order because they provide a money-back guarantee.
The results you achieve may also depend on your health condition, like some people feel a difference in their pump after only a few days of using Bucked Up, while others reported there is a little more improvement from this pre-workout.
Even if you are a healthy individual over the age of 18, it is highly advised that you always consult with a qualified healthcare professional prior to beginning any diet or exercise program or taking any dietary supplement.
Ensure that you are practicing an overall healthy lifestyle so that you can achieve your fitness goals much faster.
How to Use Bucked Up
Mix 1 scoop of Bucked Up with 4 to 6 ounces of cold water.
It would be best to stir the mixture to ensure the powder dissolves well before drinking it at least 30 minutes before your gym session, strength training, or other activity.
Final Thoughts
The Bucked Up workout is a popular supplement that can increase the intensity of workouts.
It has a small number of ingredients, but it is rather effective when compared to some alternatives.
The Bucked Up brand was created with two purposes in mind; first, take your workouts beyond the level and be the best workout product available on the market.
This scientifically tested, non-proprietary blend with no fillers, is loaded with the most premium ingredients, including three growth hormone potentiates and deer antler extract to help enhance your workout.
We've come to the conclusion that Bucked Up is more effective and helpful for beginners.
Though it is not as potent as many other pre-workouts, it is a great choice for those who are just starting their fitness journey.
Also, bodybuilders, athletes, or anyone seeking a little extra push can certainly give it a try.
Frequently Asked Questions (FAQs)
Is Bucked Up a good pre-workout for beginners?
If you are just starting, Bucked Up will be a very good pre-workout for you. You will feel the results such as energy, pumps increase, and focus that will allow you to get used to your pre-workout experience. However, I felt a much more skin-splitting muscle pump from the aforementioned products.
Why is Bucked Up banned?
It does not contain banned ingredients or any other substance of that kind; therefore, there is no reason to be concerned about it or take a test for a drug.
Is Bucked Up Trustworthy?
Bucked up does not contain any harmful ingredients; therefore, it should not cause any negative side effects. If you're extremely sensitive to caffeine, it is best to start by taking one scoop of the product to assess tolerance. You may experience slight nausea or headaches for sensitivity, but nothing that is a major issue.
Is Bucked Up a good pre-workout?
Bucked up is a powerful pre-workout formula that provides users with a taste of energy and delicious flavor. The product contains more stimulants, and high doses of them could have health implications; however, the dosage used in the product falls within the industry and is clinically researched guidelines for health and safety.
Does Bucked Up Promote Safe and Effective Muscle Growth?
Bucked Up pre-workout is a supplement known for its one-of-a-kind deer antler velvet patented ingredient. DAS Lab, the company that created it, may have recognized the significance of antler velvet extract in sports medicine.