There is a saying that goes like, 'The world always looks brighter from behind a smile'.
It is not attributed to anyone in particular, but this is an apt phrase.
A beautiful smile is one of the best assets a person can have.
One need not mention that a beautiful set of teeth will add to the sparkle and allure of a heartfelt smile more than anything else.
Unfortunately, some of us feel inhibited by these very teeth to smile big or wide enough.
Unaligned teeth can do more than spoil our smile.
They often take away the confidence to be ourselves and smile at the world.
To add to the woes of crooked teeth are the challenges faced in getting proper orthodontic treatment.
The entire treatment is often challenging in terms of the time taken and the costs involved.
These were some of the major concerns I faced when my partner expressed the desire to opt for teeth alignment.
Following is an honest account of how we chose the Candid aligner treatment and all that we learned about the whole process and this product in particular.
I am sure readers will benefit from my account and may even visit a Candid studio to set their teeth straight.
Let us dive right in…
Live Candid Co Teeth Straightening Review – All You Need to Know

What is Candid?
Candid is a company that provides orthodontic support to users through Candid's aligners.
Many people are now avoiding traditional orthodontic treatment due to the ongoing pandemic and the challenges it is creating.
In what is one of the pioneering moves in remote treatment, Candid treatment was put forward as a sustainable solution that could be done from the comfort of home.
Who made it?
Candid was founded by one of the leading orthodontists worldwide, Dr. C. Lynn Hurst, along with five other pioneers who wanted to change the aligner treatment industry.
When each of the founding members of a company is a renowned orthodontist in their own right, one may well imagine the standard of care that can be expected.
Setting a high bar in the orthodontic industry, the company also has a physical presence in the form of Candid studio.
Each treatment process is executed strictly on the AAO (American Association of Orthodontists) guidelines.
Why was Candid created?
Candid was created to provide people with a choice of aligner treatment that moves away from traditional braces and has a completely different approach toward crooked teeth.
Teeth are what lend beauty and radiance to any smile.
However, orthodontic processes can often put people off treatment.
To add to the different challenges of getting good treatment is the current COVID situation which is creating havoc worldwide.
Candid Teeth Aligners give a chance to those with teeth alignment problems the to correct these insufficiencies remotely.
They have clear aligners that do their job without becoming too obvious to outsiders.
Candid customers also benefit from remote monitoring to get the desired results.
Orthodontics – What is it about?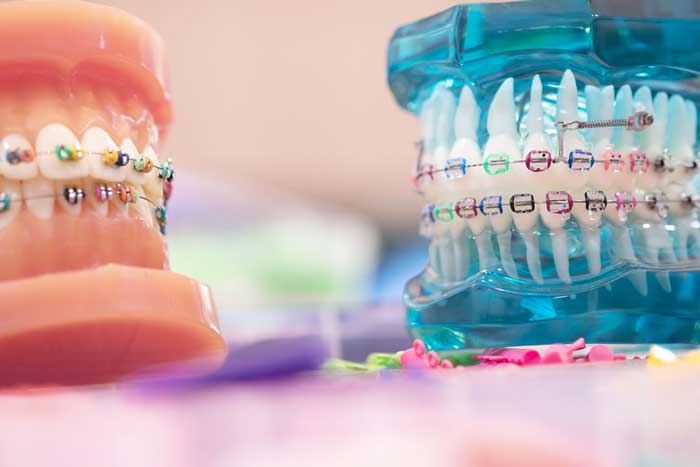 "Orthodontics is a dentistry specialty that addresses the diagnosis, prevention, and correction of mal-positioned teeth and jaws, and misaligned bite patterns. It may also address the modification of facial growth, known as dentofacial orthopedics. Abnormal alignment of the teeth and jaws is common."
The above is a very formal and on-point definition of what orthodontics is all about.
Some of us, albeit a small percentage, are blessed enough not to need our teeth looked into for a major part of our lives.
However, this is not the case with most of the global population, who need attention from dentists from time to time.
A lot of us still believe that a dentist is all that dentistry is about – fixing cavities and pulling out teeth or capping them.
While that is what dentists do, many people also need correction of their dental profiles for different reasons.
The extent of correction varies from person to person.
For some, it is purely cosmetic, like teeth whitening.
A whitening foam might do the trick but might not sustain the results that an orthodontist can give.
More than this need, it is the requirement of setting teeth straight with aligner treatment that concerns most people.
Clear aligners, as opposed to traditional braces and ugly metal fixtures, attract people to orthodontists.
Invisible braces are modern medicine's boon to people who need to set their teeth in perfect alignment and improve oral health.
Bite correction is another important facet addressed by orthodontists.
Facial growth problems can also be taken care of by them, and the use of cheek stretchers has been known to help the cause.
Many babies have congenital cleft lip issues that need a team of physicians to care for and correct them, and an orthodontist finds a primary place in the treating panel.
Baby teeth need special care when correcting a cleft lip and are about gifting a new smile to the afflicted child.
As one may see above, an orthodontist holds a prime position in the profession many of us broadly label as a dentist.
It is a branch of study that benefits many people suffering from tooth problems of different sorts.
What is Candid Treatment Plan All About
Candid's treatment plans reflect what dedication, expertise, and teledentistry can create when the intent is strong.
As I said earlier, Candid was set up and co-founded by a team of orthodontists whose mission was to provide world-class teeth straightening in an easy-to-access way.
Now anything to do with teeth has always invoked images of a studio, appointments to be booked, and visits to be made in person.
Traditional metal braces immediately leap to mind for those with teeth beautification issues like whitening or straightening.
Candid Co has helped change how people look at orthodontics and aligners in the industry.
Aligners are the new buzzword in the industry and are considered a viable and effective alternative to teeth aesthetics.
Along with Candid, many other aligner companies provide such services to users.
So, what makes Candid different from all of its competition?
Well, as one of the benefactors of their method, I would say their customized treatment plan is gaining them positive reviews from people with various teeth problems.
It might be protruding teeth or crooked teeth, or simply teeth whitening; the Candid team goes right to the root (no pun intended) of the problem and devices a strategy to deal with each person's specific dental challenges.
To top everything, the entire Candid cost of treatment is way more reasonable and hassle-free than in-person treatment.
Traveling to your orthodontist, taking multiple treatment sessions, and paying for in-office visits only gets the cost chart ticking away.
Remote monitoring the Candid way is the hallmark of their treatment plan.
This is called Candid Monitoring.
All one needs is a starter kit, and the process gets underway. This is especially relevant in present times, where keeping a distance is very important.
Before COVID, it was normal for Candid customers to visit Candid studios to get their teeth straightened.
However, the company has acted very responsibly to change its approach to treatment in keeping with pandemic protocols.
Their panels of doctors have consistently provided clients the highest quality of care through their online platform with regular interaction and constant monitoring.
With customized treatment design, the team at CandidCo gets to deliver the best treatment to their patients with the most startling results at an affordable cost.
What can one expect at the studio?
The Candid chain of orthodontic treatment centers began in 2017 as an online company.
As I have stated, their approach and planning toward each client are very systematic and highly customized. With their affordable solution to teeth alignment, CandidCo is a name to reckon with in this field.
In keeping with their treatment modalities and given the popularity of their approach, Candid studios in the form of physical orthodontic treatment outlets have since come up at various locations.
One may find Candid studio locations online by searching or by using their website.
These are expensive and sleek studios in different cities throughout the USA, Austin, Los Angeles, New York, San Francisco, Chicago, San Jose, and Washington DC.
These are not ideal times for in-person dental or orthodontal consultations. Before these pandemic restrictions, however, a person had the choice of walking into a Candid physical studio to get assessed by a Candid studio specialist and begin treatment.
Candid studio location guide online will help anyone willing to get in-person service.
Once at any Candid studio, skilled technicians take over the entire process.
From taking an impression of your teeth to capturing pictures from all angles, they handle every detail.
This helps to create a 3D image of a person's teeth which aids in taking the process of alignment further ahead.
In what is mainly a painless process, the only requirement from Candid is that the client should have a professional cleaning in the last half-year.
This helps them get a better image and ensures better overall hygiene.
A hallmark of Candid treatment has been its amazing customer service team which I can vouch for with many emphases.
This team has always been available to guide users, help them get in touch with treating doctors, and provide every support needed.
Getting started on the Co teeth alignment treatment
If you have made up your mind about getting your teeth aligned with the Candid process, here are some steps to get going.
Remember, these are not just dentists here but specialists in teeth alignment and beautification.
They are smile engineers who do their job safely and effectively for everyone to be satisfied.
1) Assessment
The first step to get going is to get your teeth checked by the orthodontist team at Candid.
This will ascertain if you are a candidate for straightening in the first place.
Candid aligners are made for a specific purpose.
They are highly customizable, but the team still needs to ensure that the client is a candidate.
For this purpose, one option would be to visit a nearby Candid Studio to get your teeth scanned by Candid team experts there.
However, in the present circumstances, that possibility is ruled out.
The next option is to order the at-home starter kit. This starter kit allows you to create the best impression of your teeth and to move on to the next step.
2) Treatment Design
Once you have the impression of your teeth, you need to upload this to the Candid website.
This gives the assigned orthodontist for your case a perfect 3D look into your teeth.
Albeit virtual, this makes the base to start treatment plans for straighter teeth.
The orthodontists and technicians then come together to develop the perfect aligner for your particular case.
This is what makes the Candid online platform so customized.
3) Kit Arrival
The next step begins when your Candid aligners arrive at your address.
This well-packaged unit comes replete with all instructions.
It is packed into a single box and contains customized Candid teeth aligners to work on your set of teeth.
Along with these, there is premium whitening also included in the package.
This will give you whiter teeth that are straighter and much better aligned.
We will elaborate upon other items in the starter kit in the next section.
4) Monitoring and Maintenance
Remember that the Candid Monitoring system is always in place to help you through every step of the way.
This is a special monitoring system that keeps you on track about your clear aligners and how effective the system is.
It is now up to you, the user, to follow directions exactly as mentioned to get your desired goal of perfect teeth.
How do Candid teeth aligners work?
This brings us to the question- how exactly do Candid teeth aligners work to give users the desired results?
I will try and explain this as lucidly as possible since I have been one of the beneficiaries of this.
My dream of straight teeth has been fulfilled; this is an immense relief for someone who has worn braces for a long time.
Simply put, Candid teeth aligners work just like any traditional teeth alignment process at an in-person orthodontist's office.
They use invisible aligners or braces to achieve the goal of better-aligned teeth.
As you would expect from one of the best aligner companies, they use stiff plastic tray-like appendages.
The trays are made of transparent BPA-free thermoplastic that does not show up as metal braces would.
These apply gentle but firm pressure on teeth that have gotten out of line. It is recommended to wear your plastic tray for at least 18 to 20 hours daily to get desired results.
The treatment module consists of going through 5 to 12 trays over 4 to 10 months as per directions.
Normally a person is to use one set for 10-14 days and then move on to the next.
It is to be noted here that experienced orthodontists thoughtfully design each tray.
The move from one tray to the next is designed to gradually tighten the teeth structure into a more aligned pattern.
This is a continuous process in a calibrated manner, so it is essential to stick to the aligner treatment exactly as prescribed.
In case there is any difficulty, it is advised to contact Candid for help or guidance.
Their experienced team is always there to help through Candid Monitoring.
With helpful customer care representatives attending to all queries, treatment and resolution are not problems.
Contents of Starter Kit of Candid Teeth Aligner
Once the starter kit is ordered, the whole process of teeth alignment gets underway.
It is to be noted that it takes about four business days for the starter kit to arrive.
Once the Candid aligner kit arrives, find the following items inside.
1) User manual
A user manual gives detailed instructions on how to use each component in the starter kit. Each of the items is neatly labeled for ease of identification.
The manual will help further identify and pick the right item as and when needed.
2) Hardening putty
This is divided into two parts – deep blue and grey putty.
Blending them gets the putty activated, and it begins to harden.
The provided timer is there to keep this process in control.
Filling this putty in the provided tray and sinking your teeth into it is the next step to create the right impression.
3) Cheek stretcher
This item does exactly what it says – it stretches out the cheeks to allow for the best pictures.
Selfies allow for good enough pictures. Inner mouth photos need better clarity and resolution; the same can be done by using flash or asking someone else to help.
The photos will then need to be uploaded on the site for the right-sized aligners to be made.
4) Plastic trays
These are the devices one needs to put in the mixed putty to harden up and bite into.
The bite should be such that every tooth sinks into the putty to get a true impression.
This will help the orthodontist to get a genuine 3D visualization of the condition of your teeth.
5) Gloves
This inclusion in the kit is very understandable.
You will be putting stuff in your mouth, and hygiene is important.
The mouth is the pathway to infections and takes them directly within the body.
6) Prepaid return box
After one is done with impressions, the only thing left in the starter kit is this return box.
Put the dental impressions into this and send them to the address mentioned, either by mail or USPS, as convenient.
It should be noted that if care is not taken while getting the impressions, the whole exercise will be futile.
Candid may reject your impressions, and you may need to repeat the process.
Who should not use the teeth aligners?
This method of teeth straightening is only for those with milder correction issues. If there are major problems, seeking in-person advice from qualified orthodontists is always advisable.
Those with problems requiring medications should seek clearance from their physician before committing to Candid.
The Cons: What did I not like?
This process does not give the real feel of visiting a clinic that some people prefer.
It does not work for severe cases of teeth deformity.
Candid Testimonials From Customers
"I priced traditional braces and Invisalign before finding Candid. It's saved me thousands of dollars, and I have a beautiful smile again!" Shannon B.
"My teeth are straight just in time for my wedding. The best part was that I got to choose a payment plan, so I didn't break the bank!" Audra S.
A beautiful smile is a priceless accessory, and Candid provides an easy way to achieve this, as is evident from the reviews above and many others on the website.
Why not give it a try?
The Pros: What I liked About Candid
This is a very easy process of teeth alignment from the comfort of your home.
There is no hassle of office visits which is especially great in pandemic situations.
There are no visits involved, and one gets monitored regularly at home by the nearest orthodontist in the local area who is affiliated with Candid.
Candid aims to provide professional orthodontic monitoring at all times via Candid Monitoring.
There is an entire support team to help in case of any problems.
They use a clear aligner that does not make the process too obvious.
Candid links up with your insurance provider, which helps in big-time savings for clients.
Insider Information
Candid offers a full refund on its starter kit if they feel the user would not be an ideal candidate for their process.
There need not be any hesitation in getting one with the knowledge that the money will get refunded by the company.
I found the customer service team very receptive to every query and willing to answer questions patiently and accurately.
Buying Advice
I bought my starter and treatment kit directly from the Candid website.
This is a patented system where the starter kit results will lead to an assessment by a Candid orthodontist followed by a treatment plan.
I would advise buying only from the direct website, not only to avail best discounts but also to make use of their refund policy in case your dental profile is not considered fit enough for the Candid treatment protocol.
Conclusion
For mild teeth structure problems that are not grave enough but not casual to let go, I would suggest Candid.
Just follow the steps mentioned above and seek an initial consultation with a Candid orthodontist to get the ball rolling.
Leave it up to the efficient, helpful, and knowledgeable team of orthodontists with long years of experience behind them.
They will devise the best treatment plan customized to your dental architecture and take it from there.
The search for straighter teeth just got easier with Candid aligners.
Anyone interested in flashing their pearlies with utmost confidence, do it the Candid way.
Frequently Asked Questions (FAQs)
Does it actually work?
For cases where teeth alignment is not too severe, Candid works very well. They have a great system where an impression kit is used to get a 3D imagery of teeth and then proceed to rectify.
Is it FDA approved?
Candid uses a process of 3D prints to create aligners for further treatment. These aligners are FDA approved, which is authentication of sorts for many users.
How Much Does It Cost?
Opting for monthly payments of $79 will ensure full care, monitoring, and every need taken care of, including regular monitoring. Click here to get started >>
How long does it take for the aligners to work?
Regular use of Candid aligners for 18 hours a day can give results in as many as 4 weeks of use. I can speak for myself that regular use of Candid fixed my irregular and crooked teeth satisfactorily within 5 weeks of use.
Is Smile Direct a good aligner company?
Smile Direct Club has a similar profile to Candid in that it makes aligners for at-home use.
The plus point about Candid compared to any other competitors is that Candid has only orthodontists on board which means they provide a more specialized level of care.