David Goggins is a retired Navy SEAL.
In the U.S. Armed Forces, he's the only member who has completed SEAL training and that includes two Hell Weeks as well.
He also graduated from the U.S. Army Ranger School as an Enlisted Honor Man.
He also has Air Force Tactical Air Controller training.
He is completely dedicated to perfecting his physical performance.
He wrote a book, too, about his life – Can't Hurt Me.
It describes how he transformed himself from a depressed and overweight young guy, with no future prospects, in the U.S. Armed Forces, and to become one of the world's top athletes.
David Goggins' Diet & Workout – All About His Weight Loss & Stretching Routine
Current Stats
Weight:

190 lb./86 kg.
Birthday: 17 February 1975
Birthplace: Buffalo, New York, USA

Accolades/accomplishments:

He was rated as "The Fittest Man in America" by Outside
He was the only US Armed Forces member to complete his Navy SEALs training, as well as the Air Force Tactical Air-Controller training, and U.S. Army Ranger School
Set the Guinness World Record for the most pull-ups in 24 hours (4,030 in 17 hours).
Check his racing career highlights here.
The Workout Principles of David Goggins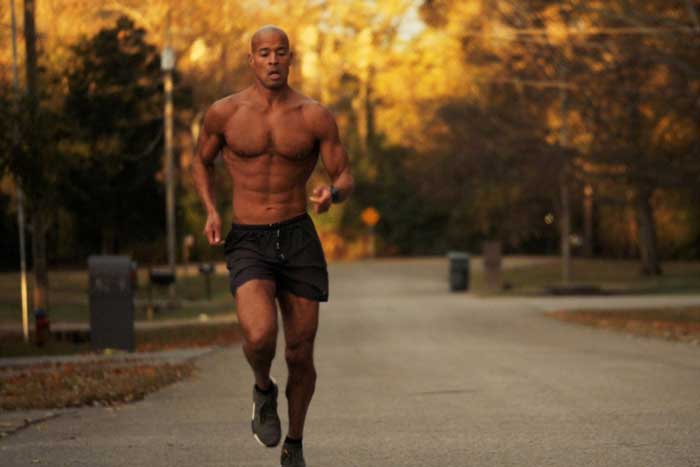 David Goggins travels the world.
That means he does certain moves in his hotel room if he doesn't have access to a gym.
He might do a full-body workout when he is short on time.
His workout principles for his weekly workout routines are:
You need to suck it all up: He doesn't like to work out much when it comes to biking, running, and swimming, but he does it anyway.
He gets an early start: David Goggins starts early on his routine by going for a 10-15 mile run. Then he gets on his bike to get to his workplace, as well as his lunch break, and then home again. That's about 50 miles in total.
He lifts weights like a SEAL: He takes 90 minutes for his weightlifting methods, doing these after dinner. He goes to bed only at around midnight.
Core matters: He says core strength is the answer to endurance. He does a lot of core exercises for cardio efficiency.
He stretches to the max: Every morning David stretches for 2-3 hours.
Moderation is key: He doesn't lift heavy weights every day – he does that a few times in the week. He never lazes off.
David Goggins Training Methods
Even though David is a runner, his workouts aren't all about cardio exercises.
He has a training schedule he liked.
He is very popular for his stretching schedule.
He actually doesn't like workouts and doesn't even like running, swimming, and biking – but he does them faithfully every day.
For his strength training, he takes about 1.5 hours at the gym
Working out his core is very important to him. His routine is to work out every single day and as often as he can. Then he lifts weights a few times a week. This is his daily routine.
As you can see, it's not for the faint of heart:
Between 3:00-4:00 am: He wakes up
From 4:00 am: He runs 10-15 miles
At 6.00 am: He rides his bike to work 25 miles away
11.00 am: Goes for a run during lunchtime
After Work: He rides his bike back home again
After arriving home: Probably another 3-6-mile run
David Goggins Workout Routine
He does these exercises every day:
Running: He runs 10-20 miles each day.
Biking: Each day he rides to work and back again, around 50 miles a day
Stretching: He spends around 2-3 hours a day stretching
Before he starts his workout routine
He will drink a lot of water before his workout routine.
This is also to prevent muscle fatigue. He also warms up and cools down before his workout and after it – that prevents injury.
Check out his sample routines here:
Chest workout
Bench press: 4-5 sets & 8-15 reps
Dumbbell press: 4-5 sets & 8-15 reps
Dumbbell flyes: 4-5 sets & 8-15 reps
Cable cross: 4-5 sets & 8-15 reps
Chest press: 4-5 sets & 8-15 reps
Push-ups: 4-5 sets & 8-15 reps
Shoulder workout
Military press: 4-5 sets & 8-15 reps
Arnold dumbbell press: 4-5 sets & 8-15 reps
Lateral raise: 4-5 sets & 8-15 reps
Front raises: 4-5 sets & 8-15 reps
Shrugs: 4-5 sets & 8-15 reps
Rear delt flyes: 4-5 sets & 8-15 reps
Back workout
Lat pulldown: 4-5 sets & 8-15 reps
Close grip lat pulldowns: 4-5 sets & 8-15 reps
Cable rows: 4-5 sets & 8-15 reps
One arm dumbbell row: 4-5 sets & 8-15 reps
Back lat pushdowns: 4-5 sets & 8-15 reps
Deadlift: 4-5 sets & 8-15 reps
Arms workout
Bicep curls: 4-5 sets & 8-15 reps
Isolation curls: 4-5 sets & 8-15 reps
Barbell curls: 4-5 sets & 8-15 reps
Preacher curls: 4-5 sets & 8-15 reps
Triceps push-down: 4-5 sets & 8-15 reps
Skull crusher: 4-5 sets & 8-15 reps
Triceps extension: 4-5 sets & 8-15 reps
Triceps kickback: 4-5 sets & 8-15 reps
Legs workout
Squats: 4-5 sets & 8-15 reps
Leg press: 4-5 sets & 8-15 reps
Leg extension: 4-5 sets & 8-15 reps
Leg curls: 4-5 sets & 8-15 reps
Stiff-leg deadlift: 4-5 sets & 8-15 reps
Walking lunges: 4-5 sets & 8-15 reps
Calf raises: 4-5 sets & 8-15 reps
David Goggins Diet
How does the world's toughest guy get fueled?
He follows a combo of the ketogenic diet, general healthy eating, and intermittent fasting as well.
The Keto diet is about eating low carbs and high amounts of healthy fats.
Some health benefits of this diet are that you lose weight, you experience improved mental clarity, blood sugar levels drop, and insulin levels are lowered.
David is also a believer in intermittent fasting.
This means not eating for the majority of the time. It is eating a limited number of meals over the course of time.
Even though he might wake up at 3 in the morning, he only eats for the first time at about 11 a.m.
Every 7th day David takes off so his body can recover and heal.
His type of diet plan:
Breakfast
Pre-workout meal
Lunch
Chicken breast
Veggies
Salad
Pre-dinner meal
Dinner
Fish or chicken
Veggies
Salad
He will eat almost 5 meals a day. He eats according to his workout routine; whatever will fuel his body at that time.
David Goggins Nutrition and Supplements
David likes to get all his nutrients from the foods he eats. But there do come times when there is a shortage, for which he will take supplements.
Here are the main supplements David Goggins takes:
Whey Protein Powder: to build muscle
Post-Workout Protein Formula: Extra protein.
Multivitamin: He replenishes the sweat he loses in his workouts with vitamins.
Caffeine/sometimes electrolytes: For recovery and better performance.
Keto: To help him get into ketosis.
Essential Amino acids (EAA)
Recommendations of David Goggins
David Goggin's recommendations for being more effective in the field:
Timing your workouts
He would get up at a certain time and make sure he had the time each day to do every workout he needed to do.
Weight training
He likes to lift weight sometimes, pushing himself to the highest lime, giving his all. He pushes his body to the next level every time.
Focusing on the core
He believes in focusing on his core workouts – if the core isn't strong, the rest of the body won't be either.
Regular stretching
David Goggins spends a few hours each day stretching. It's crucial for warming up and for post-workout rehabilitation.
Believe it
David Goggins didn't just dream about being a SEAL.
He acted on it because he believed he would become one and he did. He imagined precisely how he would feel and behave every step of the way.
Don't forget to celebrate
Goggins enjoyed a whole pizza after the SEAL's Hell Week. 'Keep going' is what he believed.
More Workout Routines: