LeBron James, "LBJ," or "King James", is a USA professional basketball player. He plays for the Los Angeles Lakers.
Today, he is considered one of the best National Basketball Association (NBA) players in history.
He often gets named in the same league as Kobe Bryant and Michael Jordan.
He has been with the NBA for over 18 years already.
Can you believe that he has been selected to the All-NBA First Team for a record number of thirteen times!
He featured in SLAM Magazine and this was the start of his nationwide exposure.
He is married and has 3 kids, currently residing in Coconut Grove, Miami.
In 2010, he was ranked as the second most influential athlete; just behind Lance Armstrong, by Forbes.
Lebron James' Diet & Workout – All You Need to Know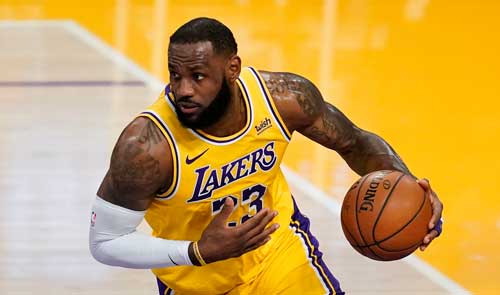 Current Stats
Weight

: 250 pounds/113 kg.
Birthday: 30 December 1984
Birthplace: Akron, Ohio, USA
Awards and Accomplishments

LeBron has had a very illustrious career as a famous basketball player. He has won many awards, in fact too many to mention here. Not only is he a famous basketball player, but he has achieved success in the film and television industry as well, as well as in the media. Have a look at his amazing career, and still going strong!
Workout Principles of LeBron James
Can you believe that James' house is like a laboratory?
It has a team of scientists who help it stay in top shape and health.
These professionals include a former Navy Seal, who is a bio-mechanist. There is a recovery coach, physical trainers, and coaches.
Plus he has his own personal chef and masseuse.
LeBron has a full gym plus an ice tub and hot tub.
He also has a hyperbaric chamber at home.
Mike Miller, his former teammate reported that LeBron treats his fitness and health as an investment.
The huge investment he has made to his body has allowed him to make a lot more money over a longer period of time.
After games, LeBron will down drinks that are rich in electrolytes, receive electrostimulation, and take ice baths.
He also wears compression tights and sleeves to keep his blood flowing. He prioritizes rest, recovery, and health over all things.
LeBron's Training Methods
LeBron James has a physically demanding training schedule that consists of strength training exercises that he sees are fit for a king.
His training methods include a regimen of four workouts, allowing him to maintain a high level of strength and endurance.
Workout on day 1
He has a five-minute warm-up jog on the treadmill. This is succeeded by 6 supersets of strength training exercises.
Workout on day 2
He has a five-minute warm-up jog on a treadmill. This workout comprises a variety of abdominal and lower body exercises.
Workout on day 3
He has a five-minute warm-up. This workout combines abdominal exercise with upper body strength training.
Workout on day 4
This workout starts with a standard jog on a treadmill followed by segments of bench knee pull-ins and cable crunches. Single-leg squats, one-leg hamstring curls, and dumbbell side lunges, etc. He finishes with three minutes of jump rope.
LeBron James' Workout Routine
Are you ready to pack in the muscle, similar to the style of LeBron?
Here's an example:
Monday: Chest, Triceps, Shoulders
VersaClimber: 20-30 minutes warm-up.
4 Sets of 12 reps : Incline dumbbell bench-press
4 sets of 12 reps : Seated dumbbell overhead press
4 Sets of 12 reps : Seated overhead triceps extensions with one dumbbell
3 Sets of 20 reps : Clap push-ups
3 Sets of 20 reps : Do triangle push-ups
Yoga for cooling down: 15-30 minutes
Tuesday: Yoga ad Plyometrics
Plyometrics or spin class: 30-60 minutes
Yoga: 30-60 minutes
Wednesday: Back, Traps, and Biceps
VersaClimber: 20-30 minutes warm-up
4 Sets of 12 reps : Barbell deadlifts
4 Sets of 12 reps : Standing bicep curls with barbells
4 Sets of 12 reps : Do 'Barbell bent-over' rows
3 Sets of 20 reps : Do wide push-ups
3 Sets of 15 reps : Chin-ups
3 Sets of 10 reps : Do wide-grip pull-ups
Yoga cooling down: 15-30 minutes
Thursday: Plyometrics and Yoga
Plyometrics or spin class: 30-60 minutes
Yoga: 30-60 minutes
Friday: Legs, Calves, Calisthenics
VersaClimber: 20-30 minutes warming-up
4 Sets of 12 reps : Do back squats
4 Sets of 12 reps : Leg presses
4 Sets of 12 reps : Do seated calf raises
3 Sets of 20 reps : Do jumping lunges
3 Sets of 14 reps : Box jumps
3 Sets of 10 reps : Weighted jumps
Yoga cooling down: 15-30 minutes
Weekend: Plyometrics, Yoga, and Rest
1 Set of 10-12 reps : Spider-man crawl
VersaClimber: 3 sets of 30 seconds (15-20 seconds rest in-between sets)
3 Sets of 8-10 reps : Inverted rows
3 Sets of 8-12 reps per side : Landmine rotational press
3 Sets of 3 rounds per leg : Multi-planar lunge
3 Sets of 10 reps per side : Cable lateral chop
LeBron James' Diet
LeBron is definitely no stranger to nutrition.
His personal chef supplies him with healthy, delicious meals.
His personal trainer, Mike Mancias, helps LeBron maintain a healthy nutritional program.
Mancias says, "As far as his diet goes, we've eliminated extra carbohydrates and extra sugars in order for him to drop the weight because the more weight he's carrying around, the more stress that can be on the body."
That's about James' diet – see what Men'sHealth says about the way LeBron eats.
LeBron James's Supplements and Recommendations
Plant protein
Pre-workout
Hydration supplement
Greens supplement
Recommendations of LeBron James
1) You can't go at leadership alone
The best teams prevail when they grow and evolve together.
And LeBron James willed his leadership through a group of like-minded teammates – teammates who also wanted to will their ways toward winning a championship.
2) Spacing and alignment
The concept of spacing is crucial to leadership success and the effectiveness of high-performance teams.
Spacing is about creating an environment of investing in relationships and cultivating them.
By enabling the right amount of spacing, there is the power to create optimal alignment between teams and leaders.
3) Self-trust
This is very important during change and It is about training the mind to anticipate the unexpected.
This demands courage and experience to strengthen your entail muscle.
Self-trust is a powerful tool that gives your clarity and understanding to know your team.
4) Reinvention and patience
Fans and historians demand results from champions like LeBron.
The pressure to deliver can be pretty overwhelming.
So LeBron continuously reinvents his game, taking great care of body and mind.
LeBron has trained his mind to neutralize outside pressures. He won't allow adversity to disrupt his mindset.
5) Inclusion and Individuality
LeBron James knows precisely who he is.
And he knows his teammates very well. He believes in taking ownership to be part of a solution and not the problem.
He says that leaders of today must embrace the power of individuality and inclusion because the speed of transformation and change demands it.
"You have to be able to accept failure to get better" – LeBron James
More Workout Routines: