Aside from what we call "bad hair days", there would also be "bad skin days", and men are not exempted.
When this happens, dull complexion, irritation, and breakouts will usually be seen.
Eventually, this could lower the self-esteem or confidence of most guys.
According to the Journal of the European Academy of Dermatology and Venereology, men's skin (72.3%) are more vulnerable to these diseases compared to women (58.0%), and aging is a big factor.
In the same study, the most common derma conditions were actinic keratosis, rosacea, and eczema.
Fortunately, there are many skin-care tips to avoid having these disorders and one way is by doing a healthy skin care regimen.
In this article, you will be able to find the best and solid skincare routine that you can easily use every day.
Skin & Face Care For Men – Easy-to-Follow Routine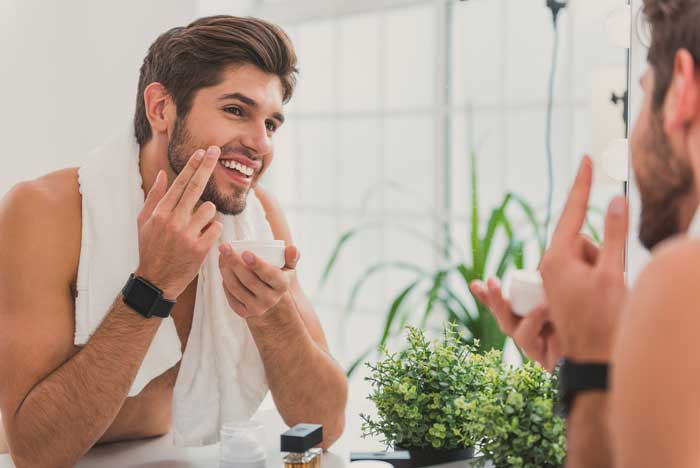 1) Cleanse
This is the first thing which you must do before anything else.
Understand that the part of your body that is most exposed to pollution and dirt in your face and a facial cleanser would be the best product that can help you wash away the stuck dirt.
According to a study of a dermatologist from India, a face cleanser is highly effective in removing impurities especially for those with sensitive dermis.
When you wash your face using a cleanser, the proper way is by rubbing using your fingers in a circular direction, and it is best if you use warm water.
Furthermore, doing this cleansing at night would also help in preventing oil and bacteria that clog your pores to stick on your gentle face.
A facial cleanser with glycolic acid is also recommended.
2) Exfoliate
According to a study of medical doctors from France, male skin is thicker compared to female skin. For this reason, the use of an exfoliator would be a great choice.
So, after cleansing, use an exfoliator to remove the dead cells under your skin that cannot be reached by a cleanser.
Usually, you can exfoliate 2-3 times a week but if you are prone to have an oily face, exfoliating daily is advised to prevent breakouts.
Lastly, after being done on this part, make sure that your face does not feel tight as this may cause irritation.
Anyway, if you are using a great cleanser and exfoliator product, dermal tightening will not be experienced.
Types of Exfoliators
There are two types of exfoliators and knowing what type of skin you have will be helpful in choosing which of these two are suitable for you:
a.) Chemical Exfoliator
This type of exfoliator is perfect for those with sensitive skin.
When you use this type, you might want to let the product be absorbed by your face for about 30 seconds.
b.) Abrasive Exfoliator
Also known as scrubs, this type of exfoliator is something that people without dermal sensitivities can use.
Using this type would require a scrub and if you opt to use this process, you might just want to do it up to 3 times a week, once a day, only.
3) Apply Serum
The third step in doing your solid skincare routine includes the use of a serum.
Serums are potent formulas that target your damaged dermis and it is advised to use these products every morning and night.
Moreover, serums are not just expensive products that would add up to your routine. Instead, they serve a unique purpose.
According to a study by dermatologists in the USA, the serum helps in reducing wrinkles, blemishes, pigmentation changes, and roughness.
Furthermore, serums can be used twice a day and only a pea-sized drop is required. Imagine, in that small amount, the lost dermal nutrients can already be replenished!
Indeed, if you have the right serum product, aging can surely be reversed.
4) Moisturize
Yes, drinking 8 glasses of water per day would be enough but if you want to boost that moisturizing level, hydrating using a moisturizer will be of great help in bringing back the firmness of your dermis.
One product that you may consider is hyaluronic acid.
According to a study published in the Journal of Clinical and Aesthetic Dermatology, hyaluronic acid can hydrate your dermis by up to 96% and can also reduce your crinkles.
Additionally, it can enhance the elasticity and firmness of your dermis by up to 56%.
Take note that the amount of moisturizer you must use depends on the type of your integument.
If you have an oily type complexion, use only a small amount of moisturizer as too much may cause breakouts.
On the other hand, if you have dry skin, use enough moisturizer until your dermis feels hydrated to the touch.
If you do not know what your skin texture is yet, there are moisturizers that work for all skin types which you can also consider.
Eye Derm Moisturizer
Moreover, this time, moisturizing also includes care for your eyes.
According to a study in Japan, the cuticle around the eyes produces less oil compared to the other parts of the face.
Eventually, when there is not enough oil, crinkles may start to appear. For this reason, you might want to consider using an eye cream.
Eye cream is said to be effective in moisturizing the derm around your eyes.
According to a study of a plastic surgeon in Florida, aside from being an anti-aging agent, eye cream also lessens your dark circles, and regular or daily use of it would result in positive dermal health in just a month.
As you moisturize your face and eyes, you can also de-puff your eyes with a cooling eye de-puffer to reduce some bags.
You may want to use a night cream when you apply some before you sleep to prevent smudging.
5) Conceal
For those with acne or pimples, the last part of the solid skincare routine would not be the moisturizing part.
Of course, when you go out with those breakouts, you might feel conscious and uneasy. Fortunately, concealing may be one of the keys.
When a pimple pops out, treating it with a concealer will reduce the inflammation.
However, take note that the inflammation can only be reduced when the concealer is formulated with an antibacterial ingredient such as salicylic acid.
According to a study of medical professionals from Thailand, aside from salicylic acid, a concealer with cinnamon oil is also useful for treating microbial bacteria, such as Propionibacterium acnes, that cause acne.
Furthermore, when using a concealer, make sure that you apply it 10 minutes after you apply moisturizer.
6) Apply Sunscreen or an SPF Lotion
Although this may not be a regular part of your solid skin-care routine, considering sunscreen is also great especially during summertime.
Sun exposure causes your skin's melanin (pigment) to be damaged, leading to discoloration and aging as well.
Therefore, using sunscreen would be helpful in protecting the outermost layer of your skin from UV sun damage.
According to The American Academy of Dermatology Association, the recommended sunscreen is that with an SPF of 30 and above.
Knowing Your Skin Type
As said, knowing the type of your dermis would help you find the best skin care products that may protect or target specific skin concerns.
Also, when you know how sensitive your dermis is, you will be able to learn how much and how often you need to do a skincare routine.
Some of the skin types include the following:
a) Normal Type
People with this type of skin are mostly oil-free during the day and they do not get irritated easily.
In terms of acne or blemishes, for those with normal skin, these occur rarely because their pores are healthy.
b) Oily Skin
Individuals with an oily type of skin may look a little shinier and greasier because their pores are open.
Although this is a natural look for them during the day, having this type of skin makes them have acne-prone skin.
c) Dry or Sensitive Skin
People with sensitive or dry skin may feel irritated all the time.
Also, skin tightness, flakiness, and itchiness are frequent.
When men with sensitive or dry skin use a product that is not suitable for them, aside from having itchy skin, they may feel some stings or burns.
d) Combo Skin
Your face comes with a T-zone, that is the horizontal bar, and a vertical zone, that runs down from the forehead to the tip of the nose.
Men with this type have an oily T-zone and a dry vertical zone. These dry parts are usually the cheeks.
e) Aging Skin
People with this type of dermis may observe that they have more lines and aging spots. Usually, people who have this type are the ones who do not care about their derm at all.
Tips for Bringing Out A Healthy Skin
Understand that as a man, having a skincare routine must be done regularly and not only when you have certain or specific skin concerns.
In this section, you will be able to find out some tips on how to improve your skincare routine.
a) Look at the Active Ingredients
Taking into consideration the ingredients of the product you wish to buy includes understanding the type of your skin.
If you have oily skin, you might want to go for those oil-free. If you have a sensitive type of skin, you might want to go for fragrance-free and alcohol-free ones.
Also, take note that there are products formulated with masking ingredients. Some may say that they are unscented but still may cause irritations.
b) Take Note How You Shave
Take a look at the shaving tool you use. Are they still new? Do they have any rusts?
It is advised to change your blades every after 7 shaves.
Before you shave, wet your skin and soften it using moisturizing shaving cream to prevent razor burn, razor bumps, or ingrown hairs.
Take note that you must not stretch your skin taut and when you shave, shave in the direction of the hair growth.
Multi-blade razors are the best options for shaving.
c) Check Your Skin Regularly
Monitor and pay attention to your skin. Are there new spots? Blemishes?
Take note that if there are any color changes, skin cancer called melanoma must be ruled out.
According to the American Cancer Society, there is an increased risk of melanoma for patients over 65 years old.
If you observe some changes, reach out to a board-certified dermatologist or a medical professional as soon as possible to avoid dangerous health events including skin cancer.
Also, these professionals will provide medical advice on how to properly treat your skin concerns.
d) Use Anti-Aging Creams
These creams are worth the try. They do not just lessen your wrinkles but they actually keep your skin radiant.
Of course, using them might prevent you from spending much money on costly dermal procedures!
If you opt to buy online, some users provide reviews which you may also take a look at.
e) Consider a Face or Clay Mask for Men
A face mask or clay mask is not only for women. After a long day, a man can also relax and put some on to remove some of your dark spots.
According to a study published in The Journal of Cosmetic Dermatology, aside from being affordable, these products can keep the face moisturized and rejuvenated.
The Takeaway
Indeed, a daily skin-care routine can prevent future skin issues, and a man is also entitled to enjoy this self-care activity.
There are different steps in doing the best men's skincare routine and the most important part before doing any of these is by knowing the type of skin you have.
Starting from cleansing to moisturizing, this will not actually consume a lot of time! With just a few minutes, you will have a skin-clear feeling and your confidence will be boosted.
Lastly, adding some boosters such as concealers and SPF lotions will also be of great help in having healthier-looking skin!