While constipation is not a life-threatening condition, we've all been constipated at some point in our lives, and we know how disturbing it is.
It is one of the most commonly experienced digestive problems.
Some of the symptoms of constipation include infrequent bowel movements, difficulty in passing stool, passing stools that are lumpy, hard, and dry, and the feeling that the bowels have not completely emptied.
Constipation has a significant effect on the overall quality of life.
Therefore, to keep the bowels functioning smoothly, a variety of factors are involved, such as diet, water intake, stress, and exercise.
One of the main reasons for constipation is inadequate consumption of fiber or reduced intake of water.
Usually, doctors recommend changes in diet, such as increasing the intake of fiber and drinking more water to improve constipation.
However, in some situations, even changes in diet and lifestyle are not enough to ameliorate constipation.
This is where the supplements come in, and we have decided to shed light on the best supplements for constipation.
Quick Guide to Choosing the Best Constipation Supplement
Prior to venturing into the world of constipation supplements, it's important to present a compact guide on the best characteristics of every product that would assist you in making more well-informed choices.
Best Overall
Our best choice for a constipation supplement is the 1MD BiomeMD. It is a natural, safe, and effective solution to relieve constipation.
Runner-up
The next best choice is the SANE Viscera-3 which comes a close second. It works just as effectively as our best choice by promoting optimal gastrointestinal health and function.
Best Doctor Formulated
If you are looking for a product that a healthcare provider has formulated, then Peak BioBoost is the best option for a healthy bowel movement to treat constipation.
Best Superfoods
Garden of life organic Raw fiber is a brilliant choice for someone looking for a more organic supplement with several good bacteria.
Best Budget Friendly
If you are looking to save on spending, Organic India is the right choice for your financial and dietary needs.
Best Magnesium Content
Natural Vitality calm boasts the highest Magnesium content for those looking for a magnesium-focused product that treats chronic constipation.
Best Probiotics
Probiotics are the good bacteria that offer the perfect treatment to soften stool, and Garden of Life Raw Probiotics Ultimate Care is your best option for the highest probiotic content.
7 Top Vitamins For Digestion & Bloating
Let's get started…
1) 1MD BiomeMD
1MD is a company that focuses on health.
Their goal is to help people live longer and healthier lives using the perfect combination of science and nature.
They are committed to assisting you in regaining your energy by providing an organization that contains revolutionary health supplements as well as access to the most up-to-date research news, nutrition, and exercise information, so you can be stronger, and healthier.
BiomeMD is a stool softener that aims to provide the best digestive care.
This product aims to improve the digestive system's immunity and the overall health of the digestive tract.
Key Benefits
BiomeMD is free from wheat, peanut, and shellfish, along with being non-GMO friendly.
It adds probiotic bacteria to the gut.
This product provides essential prebiotics for gut bacteria.
Biomed boosts the immune system's functioning.
The supplement provides support to the gastrointestinal lining.
A health care provider formulates BiomeMD.
BiomeMD has been carefully developed to include only the prebiotic fibers that the beneficial bacterial strains use.
Probiotics have been proven to boost disease defenses by lowering chronic immune system stress.
BiomeMD improves the body's digestion and absorption.
It also regulates bowel movements to reduce the chances of constipation.
Pros
A healthcare provider created it.
This product is non-GMO.
Cons
It is more expensive than other supplements.
BiomeMD is not lactose-free.
2) SANE Viscera-3
SANE Solutions believes that eating should be something that should be simple and enjoyable without having to worry about issues such as weight gain and diabetes.
They are a company whose products are created using modern science.
Their products are created to help in treating medical conditions without having to go on crazy diets.
SANE Viscera-3 is a stool softener that helps treat constipation.
It is formulated to reduce bloating and stomach issues that occur due to chronic constipation.
It aims to reduce incidences of gas that occur because of constipation as well improving daily bowel movements.
Key Benefits
SANE Viscera-3 boosts intestinal immunity and motility for daily stools.
The supplement reduces weight around the gut region which also helps to decrease the chances of illnesses that can occur because of excessive belly fat.
This is one of the finest laxatives that encourages cell growth in the brain, which reduces the risk of brain diseases like memory loss.
Corebiome tributyrate is used in this product that helps to deliver probiotics directly to the large intestine, which includes the colon, where it is the most effective.
Magnesium is included in the formulation to encourage muscular contraction and bowel movements.
Pros
It has a 1-year money-back guarantee.
This product improves overall digestive function.
Cons
It is expensive.
This is not vegan-friendly.
Viscera-3 can't be mixed into other foods or any type of liquid.
3) Peak BioBoost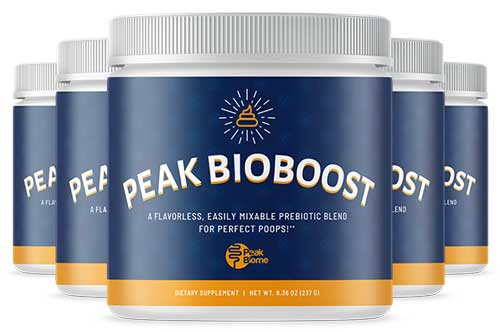 This is a company that specializes in fiber supplements to help relieve constipation with their laxative effect.
It was created by a man named Jeremy with the help of professional medical advice from Dr.Felley.
They created a natural product that is 100% plant-based, free of additives, artificial colors, and preservatives, and perfectly balanced with soluble and insoluble fibers.
Peak BioBoost provides a natural solution to constipation.
It is formulated with prebiotics that provide a decent source of energy to the good bacteria in your gut, allowing them to work effectively to improve your bowel movement in your large intestine and reduce the occurrence of constipation.
Key Benefits
The BioBoost product is free of artificial flavors, artificial colors, sweeteners, and additives.
Peak BioBoost supplement is free from dairy products and is safe for those with lactose intolerance.
Prebiotics in the supplement boosts the healthy bacteria in your digestive system to aid digestion.
Peak BioBoost uses prebiotics in their formulation, which helps in increasing bowel frequency up to a massive 129%, decreases bloating, reduces stomach pain, and has no side effects.
There are four prebiotic fibers in the formula oat fiber, inulin, fructooligosaccharides, and xylooligosaccharides.
Additionally, this product is flavorless and can easily be mixed into anything you wish.
Pros
It is 100% natural.
The supplement is free of additives and sweeteners.
Cons
It requires a monthly subscription.
Its laxative effect can cause excessive weight loss.
4) Garden of Life- Organic Raw Fiber Powder
Garden of life is a health company that believes in starting all its products, be they vitamins, probiotics, or supplements with real foods.
They believe in putting your health above everything, which is why they are more focused on quality rather than efficiency.
The raw organic fiber supplement features a blend of soluble and insoluble fibers from grains, legumes, and organic sprouted seeds. It is free of synthetic substances that may irritate the digestive tract.
Key Benefits
This product contains 9 grams of soluble and insoluble fibers.
Raw organic contains a total of 120 calories.
It contains 1 gram of omega-3 fatty acids that comes from chia seeds and flax seeds.
This product is among the finest fiber supplements since it is free of Psyllium, sweeteners, fillers, and preservatives.
Raw organic fiber is formulated with 15 organic superfoods which work to improve digestive health.
It contains probiotics that work with the fiber in the supplement to improve regular bowel movements and toxin elimination. It is vegan-friendly, non-GMO, dairy-free, and soy-free.
The price of the Raw organic fiber supplement can be found on the official website.
Pros
It is vegan-friendly.
It contains 15 superfoods.
Cons
It does not contain prebiotics.
It requires large amounts of liquid for consumption.
5) Organic India Psyllium Herbal Powder
Organic India is a company that specializes in health.
As a company, they aim to provide their customers with real organic meals and products and promote natural, organic, and sustainable agricultural products that benefit consumers and safeguard the environment.
The organic India Psyllium is a brilliant source of natural dietary fiber for the body. It works to relieve constipation by increasing the motility of the intestines.
Key Benefits
The formula is effective and gentle in helping improve the movement of the stools and keeps you safe from painful stool passage.
It assists in maintaining a healthy weight.
It can improve heart health.
Organic India psyllium is formulated with both soluble and insoluble fibers to give healthier intestines. The product also promotes the livelihood of small farmers in India.
The price of 1 container of Organic India Psyllium is $9.58.
Pros
It is budget-friendly.
This product uses organic ingredients.
Cons
It contains Psyllium.
Require a lot of liquid to dissolve.
6) Natural Vitality Calm
Natural Vitality Calm is a company that sells many laxatives for many different needs.
The company believes in having a calm and stress-free approach.
Natural Vitality calmful gut is a part of their calm's specifics line.
It has been formulated with excessive fiber and magnesium to ease discomfort in digestion and improve the digestive system's microbiome.
Key Benefits
It contains 300 mg of magnesium which is known to improve motility.
This product contains probiotics to reduce bloating and abdominal discomfort.
It contains the amino acid l-glutamine helps to maintain the health of the mucosal cells that line the gastrointestinal tract.
The supplement contains a comprehensive enzyme combination that aids in the breakdown of carbs, proteins, lipids, fiber, and sugars for good digestion.
The price of 1 bottle of Natural Vitality Calm is $23.83.
Pros
It has high levels of magnesium.
It has a range of enzymes to boost digestion.
Cons
This product comes in powdered form.
The taste is unpleasant.
7) Garden of Life – Raw Probiotics Ultimate Care
This brand offers a wide probiotics range tailored for a variety of needs.
The raw probiotics ultimate care has been clinically tested to improve digestion.
It contains a total of 34 probiotics and ingredients like Senna Leaf Extract.
Key Benefits
It has raw whole food benefits.
It works to aid digestion.
The supplement replenishes the body's probiotics.
The supplement probiotics are shelf-stable and do not require refrigeration.
The probiotic formulation delivers concentrated and diverse strains into the digestive system.
The cost of one container is $45.59.
Pros
It is a soy-free product.
It has 34 probiotic strains.
Cons
It is expensive.
It's not vegan-friendly.
Conclusion
Constipation is a condition that causes immense discomfort; however, it can lead to chronic constipation if left untreated.
Therefore, we have attempted to provide medical advice supported by renowned medical institutes such as Harvard medical school.
People with a recurring medical history of slow bowel movements should use supplements to treat constipation which is why we have rounded up the finest products that will help treat constipation.
Frequently Asked Questions (FAQs)
What dietary modifications help facilitate your digestive tract with regular bowel movements?
The most effective dietary modifications that help relieve constipation include a high fiber intake and increased water consumption.
What are the micronutrients that are best for aiding with constipation?
The vitamins that work best for treating chronic constipation include vitamin C, D, B12, and magnesium. A high dose of these micronutrients helps to treat constipation.
Does exercise help with constipation?
Exercise helps to improve the function of the gut and the nervous system that assists with improving stool passage.