Total Restore by Gundry MD is marketed as a supplement formulated to work on leaky gut.
It is one of several wellness products under the Gundry MD brand, founded by former cardiac surgeon Dr. Steven Gundry.
Dr. Gundry never misses the opportunity to point out that he is the first beneficiary of his wellness products.
The good doctor claims to have used Total Restore and other dietary supplements in the Gundry MD catalog to address his health concerns.
Dr. Gundry and a few other medical professionals believe that a "leaky gut" condition is at the core of most health issues.
He formulated Total Restore using health-boosting all-natural ingredients scientifically proven to address various medical issues arising from "leaky gut."
This Total Restore review is the culmination of tons of research and sorting through tons more customer reviews.
You will find this Total restore review helpful if you…
Are you concerned about improving gut health
Wish to know more about leaky gut and how it affects overall health
Have heard of the good doctor Dr. Steven Gundry and wish to learn more about his wellness products
Are you experiencing indigestion, bloating, or constipation and wish to know how Total Restore will help
You are looking for a product that could make a marked difference in my pursuit of a healthy lifestyle
Ultimately, this review builds up content that will address the elephant in the room…whether or not Gundry MD Total Restore works.
Dr. Gundry Total Restore Review – Is This Dietary Supplement Worth It?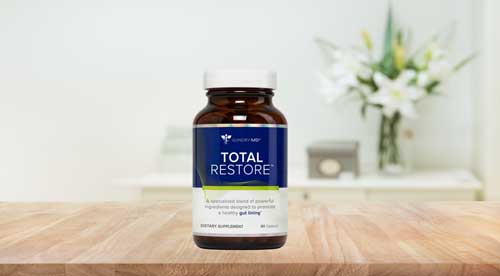 First, it would be helpful to know a bit of background on Gundry MD and the founder, Dr. Steven Gundry.
Gundry MD: Background
Gundry MD is the wellness supplement brand behind Total Restore.
The brand seems to be a big deal in the specialty health supplement industry.
Dr. Steven Gundry identifies as the founder of Gundry MD.
He was a leading heart surgeon based in California but has since left his career as an expert cardiologist to run his health supplements business.
Gundry MD offers a wide array of wellness products, from skincare and haircare to food products and dietary supplements.
The Gundry, MD product line, appears to be centered around the doctor's thoughts on the human microbiome.
Since stepping down as the Head of Cardiothoracic Surgery at Loma Linda University Medical Center in California, Dr. Steven Gundry has spent over twenty years studying the trillions of microorganisms in the human digestive tract.
Around this time, he developed his now-famous –albeit controversial – "Holobiotics" principle.
He also published the best-selling book "Plant Paradox," which gives key recommendations to improve the individual's overall health through several nutritional considerations, including a combination of a healthy diet and lifestyle changes.
His extensive line of dietary supplements is anchored on the nutritional theories that inform his philosophy of the human microbiome.
Three Gundry MD supplements appear to have garnered the brand a huge following.
Active Advantage: An energy-boosting antioxidant blend designed to increase physical energy and endurance
Bio Complete 3: A unique blend of prebiotics, probiotics, and postbiotics designed to promote healthy gut bacteria and help support digestive health.
Total Restore: Dr. Steven Gundry's gut health supplement blends 16 all-natural ingredients to combat leaky gut and markedly improve gut health.
Gundry MD features many more wellness products designed to help achieve overall wellness and longevity.
What is Total Restore
Gundry MD Total Restore is a doctor-formulated supplement designed to address leaky gut by blending natural ingredients.
The gut health supplement uses Dr. Steven Gundry's revolutionary formula to relieve leaky gut while supporting a healthy microbiome.
Dr. Gundry believes Total Restore can address various related health issues by supporting gut health.
Particularly, the Total Restore gut health supplement is claimed to be a powerful formula that will impact fatigue, lack of focus, and weight gain.
A combination of 16 all-natural ingredients went into the design of Gundry MD Total Restore.
There is evidence that most ingredients have beneficial effects on the digestive system.
More so, the formula contains several ingredients that work to help the gut naturally repair its protective mucosal wall.
These ingredients are at the heart of Gundry MD's promise to fight leaky gut and promote a strong, healthy gut lining.
Dr. Gundry proposes that a leaky gut is the most likely culprit in several human health issues.
Bloating, constipation, diarrhea, fatigue, allergies, diabetes, arthritis, food cravings, and excess weight are medical issues that appear to be stemming from your digestive tract.
According to Gundry MD, consumption of lectin-containing diets may worsen these complications by causing inflammation and intestinal damage.
This occurs when the tight junctions between gut wall cells become loose, increasing intestinal permeability.
In such an event, some bad bacteria populating your gut may flow freely into the bloodstream.
This situation has now come to be popularly known as leaky gut.
A range of chronic health problems arises when the bad stuff (bacteria and endotoxins) in the gut are allowed to seep out and into the bloodstream.
Gundry MD Total Restore is proposed as a multifunctional gut health supplement that combats gut health and relieves other related complications.
According to Gundry MD, a regime of Total Restore will help improve overall health.
Specifically, taking the recommended dose of Gundry MD Total Restore regularly will provide the following noticeable improvements:
Improved digestion
Remedy digestive irregularity
Reduced gas, constipation, and abdominal pain
Reduced bloating and a flatter stomach
Reduced unhealthy food cravings
Accelerate weight loss & maintain healthy body weight
Alleviate joint pain and stiffness
Boost in energy level
As you may notice, Gundry MD proposes that by fighting a leaky gut at its core, a myriad of health benefits unrelated to digestive health may occur.
These are desirable benefits, but you must go through the ingredients list to learn how a single supplement could propose to accomplish all that.
Total Restore Ingredients
Gundry MD Total Restore combines 16 natural ingredients into its (revolutionary) formula.
Looking at the ingredients label, we see that most ingredients shown meet the minimum effective dose to produce the intended health benefits.
L-Glutamine (213mg)
N-Acetyl – D Glucosamine – (142mg)
Magnesium Beta-Hydroxybutyrate – (86mg)
Grape Seeds (95% proanthocyanidins) Grape Seed Extract (58mg)
Licorice Roots Powder (54mg)
Wormwood Powder (50mg)
Cinnamon Bark Powder (50mg)
Maitake Mushroom (30% Polysaccharides) Extract (34mg)
Organic Strawberry, Organic Raspberry, Organic Blueberry, Organic Tart Cherry, Organic Elderberry, and Organic Cranberry (Vita Berry) (22mg)
Cloves Buds Powder (17mg)
Black Pepper Seeds Powder (17mg)
Grapefruit Seeds Extract (17mg)
Marshmallow Roots Powder (10mg)
Zinc L-Carnosine (PepZin GI) (10mg)
Berberine Bark Powder (3mg)
Other Ingredients – Hydroxypropyl Methylcellulose (vegetarian capsule), Microcrystalline Cellulose (plant fiber), Silicon Dioxide, Magnesium Stearate (vegetable source).
It wouldn't make much sense to only go through the ingredients without seeking a full understanding of how they work to fight leaky gut and bring about the myriad health benefits proposed for this dietary supplement.
So, let's look at what each ingredient does for your body.
1) L-Glutamine (213 mg)
This is a favorite ingredient in digestive health supplements.
Strong evidence suggests that L-Glutamine supplementation may decrease inflammation and infections.
It is especially effective at quickly improving overall health to greatly reduce hospital stays for patients recovering from surgery.
L-Glutamine is an important amino acid. It is the most abundant amino acid in the human body.
You have known from your high school biology that amino acids are the building blocks of proteins.
This is important because proteins are used to build and repair tissues.
As an important amino acid, L-Glutamine is considered to play a key role in immune function and intestinal health.
It has been widely studied for its role in maintaining a healthy gut barrier, thereby preventing intestinal permeability.
Besides improving intestinal health, L- glutamine may help improve blood glucose control in people with type 2 diabetes.
Recent evidence suggests that an adequately maintained blood sugar balance in the body helps reduce intense sugar cravings effectively.
2) N-Acetyl – D Glucosamine (142 mg)
Gundry MD Total Restore contains its second-highest percentage of ingredients in N-Acetyl – D Glucosamine.
It is a form of glucosamine naturally found in cartilage and other connective tissues.
It is one of the most studied joint health supplements.
More research is needed to fully understand the effect of glucosamine in treating joint pain and osteoarthritis.
Some preliminary studies have shown that N-acetyl glucosamine supplementation may relieve symptoms of inflammatory bowel disease (IBD), including ulcerative colitis, Crohn's disease, and some autoimmune diseases.
Although limited, studies found that N-Acetyl Glucosamine was instrumental in producing healthy digestive mucus.
N-Acetyl – D Glucosamine has been found to play a role in intestinal permeability by maintaining protective gut mucosal integrity.
N-acetyl D-glucosamine in Total Restore is derived from shellfish and is proposed to block or absorb certain types of lectins in the gut.
3) Magnesium Beta-Hydroxybutyrate (86mg)
If you've heard of ketogenic diets, you'll recognize Magnesium Beta-Hydroxybutyrate as a primary fuel source for the body.
Ketone bodies are naturally produced in the liver, and Beta-Hydroxybutyrate (BHB) is the most abundant, making up nearly 80% of ketones produced.
As a ketone body, Magnesium BHB is used as energy when carb and sugar levels are low.
It works by restricting carbs and inducing ketosis to support body and brain function when you're low on other fuel sources like glucose.
Gundry MD Total Restore uses Magnesium BHB as an exogenous ketone body.
Not only is it used to generate more energy, but it also provides us with a plethora of gut health benefits as well.
Most research into the suggested benefits of Magnesium BHB supplementation is still in its infancy.
Still, it has been found to help reduce inflammation, reverse oxidative damage, and increase longevity.
4) Grape Seed Extract (58 mg)
There is evidence that grape seed extract is a potential source of antioxidants.
It is used in Total Restore to boost antioxidant production and anti-inflammatory properties.
Both these activities help support a healthy digestive system.
5) Licorice Roots Powder (54mg)
Scientific research on the medicinal effects of licorice root is limited.
However, a few clinical studies investigating the potential benefits of licorice root have had promising results.
A compound in licorice root has been studied in animals for its anti-inflammatory, antimicrobial, and antibiotic properties.
These immune-boosting functions help accelerate the healing of the intestinal lining and improve intestinal integrity.
Licorice root powder may offer potential health benefits, such as reducing nausea, preventing heartburn, supporting the respiratory system, and relieving digestive discomfort.
6) Wormwood Powder (50mg)
Historically, researchers have studied wormwood herbs for their powerful benefits on digestive health.
The potent plant has traditionally been used in stomach pain management and reduces inflammation.
It has been known to help combat harmful parasites in the gut.
7) Cinnamon Bark Powder (50mg)
This spice is associated with several important nutritional benefits.
It is known for stimulating a healthy appetite and boosting metabolism.
It is widely used in many dietary supplements for its suspected antimicrobial effects.
It appears that this ingredient also helps with general gastrointestinal (GI) upset, prevents diarrhea, and reduces flatulence.
8) Maitake Mushroom Extract (34mg)
Maitake mushrooms are widely known for their powerful apoptogenic properties.
They help promote the natural balance of the systems in your body and effectively reduce the effects of stress.
Maitake is also recognized for its immune-boosting properties.
It is a rich source of vitamins, antioxidants, and other health-promoting nutrients.
Specifically, a heart-healthy fiber found in Maitake Mushroom might help lower cholesterol to boost cardiovascular health.
10) Organic Mixed Berries (22mg)
The mix consists of six types of organic berries.
Berries are full of fiber and loaded with essential nutrients that benefit different parts of the body differently.
For one, berries are proven "brain foods" that help support brain functions and improve cognitive abilities.
They also contain the highest concentration of antioxidants among dry fruits.
Antioxidants are essential to combat free radicals and other oxidative stressors.
11) Cloves Buds Powder (17mg)
As a rich source of antioxidants, cloves help combat free radicals within the body.
Cloves buds powder has been used in some dietary supplements to help reduce the risk of developing diseases like diabetes, heart disease, and even cancer.
It is used in Gundry MD Total restore for its rich content of gut-healthy essential nutrients like manganese and fiber.
12) Black Pepper Seeds Powder (17mg)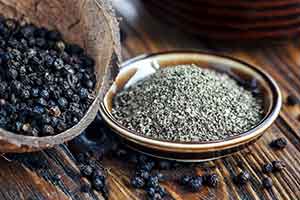 Black pepper is more than just a seasoning ingredient.
It is quickly gaining interest for its multiple functional and bioactive properties.
It is high in antioxidants, anti-inflammatory, and cancer-fighting properties and helps improve blood sugar control.
In the gut, black pepper helps reduce gas, relieve digestive discomfort, and improve digestion by stimulating the release of hydrochloric acid.
13) Grapefruit Seeds Extract (17mg)
Clinical research has shown grapefruit to have health-boosting antimicrobial, antifungal, antibacterial, and antiviral properties.
It is a popular natural remedy for quite a several digestive issues.
In one study, grapefruit seed extract improved the uncomfortable symptoms of irritable bowel syndrome (IBS) in 20% of patients.
There was a notable improvement in flatulence, constipation, diarrhea, and night rest.
14) Marshmallow Roots Powder (10mg)
Marshmallow root has been used for centuries as a powerful cure for cough and cold.
It has also gained importance in gut health, helping relieve digestive issues.
Marshmallow has been studied as a natural mucilage for their ability to create a protective coating around membranes.
Specifically, it has been shown to improve the functioning of the intestinal mucosal barrier, thereby helping reduce cases of heartburn, acid reflux, and stomach ulcers.
Its high mucilage content is also important for treating inflammatory bowel diseases like Crohn's disease and Ulcerative colitis and treating leaky gut syndrome.
15) Zinc L-Carnosine (PepZin GI) (10mg)
Numerous studies have shown the unique combination of zinc and l-carnosine to have the ability to support the digestive system to function properly.
Clinical trials have demonstrated significant improvement in patients with confirmed gastric ulcers after receiving 150mg of zinc-carnosine Extract.
The relatively new molecule appears to restore the gut lining by enhancing its mucosa defenses.
This provides significant benefits to the gut, skin, and liver.
16) Berberine Bark Powder (3mg)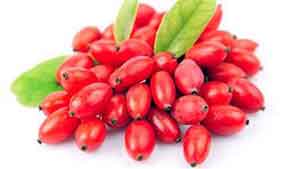 Berberine has been well studied for its antidiabetic and antiobesity.
Taking Berberine supplements regularly appears to regulate blood sugar in people with diabetes.
Some research has shown that berberine bark powder can improve triglyceride levels and remarkably reduce low-density lipoprotein cholesterol (bad cholesterol).
By inhibiting the enzyme lipoprotein lipase and modulating the gut bacteria associated with obesity, berberine could help obese individuals lose weight.
17) Other Ingredients
This includes ingredients like Hydroxypropyl Methylcellulose and Microcrystalline Cellulose that make the Total Restore vegan capsules.
Additives like Magnesium Stearate and Silicon Dioxide act as flow agents during manufacturing.
Safety & Potential Side Effects
The side effects of Gundry MD Total Restore will likely be minimal.
The gut supplement uses all-natural ingredients which are known to be safe. The small amounts of specific ingredients mean that any potential negative reactions will be minor.
However, allergies are expected with supplements that use as many ingredients as Dr. Gundry's Total Restore.
Specifically, this supplement contains shellfish, which may not agree with some individuals.
It is important to mention that while the capsule is vegan, the supplement is not.
The use of vegetarian capsules may be easily confused to mean that it is suitable for vegetarians.
It is commendable that Gundry MD advises its customers to consult a healthcare provider before taking Total Restore.
Also, while they do not expressly issue any side effects warning, the company mentions that their Total Restore formula uses shellfish.
I wouldn't recommend Total Restore for pregnant or breastfeeding individuals.
Also, you'd better consult a healthcare provider if you have any significant medical conditions or are on medication for the same.
Recommended Dosage
Gundry MD recommends a dosage of three capsules daily.
For maximum benefits, Dr. Gundry MD prefers all three capsules with the day's largest meal.
Taking one pill with each meal (three meals) daily is fine.
Note that the results may differ between users taking the same dose.
Total Restore Testimonials From Customers
Most Total Restore customer reviews seem to be on the positive side.
While we'll just show a few, the negative reviews are just as important to consider if you buy Total Restore.
Here's what Total Restore customers say about Gundry MD's leaky gut hero supplement.
Diana O…
I ordered 3 bottles of total Restore. I am only completing my first week and can truly feel the difference. My joints have improved, and my waistline and bloating are subsiding. I would highly recommend it. I am 64 yrs young, and want to stay feeling 40! Hat's off to a great product!
Michelene Stuart…
I've almost finished my first bottle of RESTORE and I definitely have more energy. My bowels are working perfectly and it's helped me stay on track with my intermittent fasting. Thanks so much!!!!
Where to Buy & Cost
Total Restore retails directly on Gundry MD's website. The product is offered in three order options as follows:
1 bottle
3 bottles
6 bottles
One bottle of Gundry MD Total Restore contains a 30-day supply if taken as per the recommended dosage.
Most of the ingredients used to make this dietary supplement are expensive. This reflects the overall quality and premium pricing of the product.
If this is your first time trying Total Restore, I recommend ordering one bottle.
However, you can save money by going for the saver bundles offered for a slightly discounted price.
There are savings to be made with the 3-bottle orders and the 6-bottle orders.
Plus, Gundry MD makes it easy to take advantage of the discounts by offering free shipping (on all orders above $60).
The company also backs your purchases with a 90-day money-back guarantee.
That means you can always return the product if you are unsatisfied with the results you see.
You will have to contact customer support at (800) 852-0477 to initiate the refund process.
Quick Overview
Pros
Reputable doctor formula
Dr. Steven Gundry's personal gut health supplement
All-natural ingredients
Does not contain added sugar or artificial sweeteners
Fix leaky gut
Boost energy levels
Promotes healthy weight
Improves joint health (relieves joint pain)
Reduces unhealthy food cravings
90-day money-back guarantee
Cons
Non-vegetarian (shellfish warning)
Bottom Line: Does Total Restore Work?
From the blend of natural ingredients used, it's clear that Dr. Gundry MD researched the Total Restore formula extensively.
Many of the ingredients used in the formula seem to have solid scientific backing for their contribution to gut health.
However, it seems inevitable that supplements like Total Restore will also rely on a few ingredients whose scientific support for their intended benefits is subject to more research.
Still, their effectiveness in alleviating the unpleasant symptom of an unhealthy gut is evident in the many positive customer reviews for the supplement.
Overall, the Total restore ingredient formula's potential to promote a healthy gut lining shows that it may work to combat leaky gut.
Dr. Gundry is a reputable medical doctor and leading gut health expert.
His approach to helping the individual achieve overall well-being may be unconventional.
Still, after twenty years of focusing on the human microbiome, you've got to at least nod to the fact that the good doctor is on to something.
And finally, without the myriad of customer reviews all citing different benefits derived from Total Restore, there would have been no way of telling whether the supplement works or is just another sham in the dietary supplement industry.
Gundry MD Total Restore has helped many people.
The bottom line is that Gundry MD Total Restore works.