Welcome to our comprehensive Morning Complete Reviews…
Would you trust a Hollywood action star and a celebrity doctor to fix you a "health-boosting" power shot that promises to get your mornings started right?
I'd just take a glass of water each morning –fresh lemon squeezed in it.
You don't need a medical doctor to tell you how a morning glass of water helps set the right tone for positivity and productivity throughout the day.
But if you insist, feel free to do your research; the health benefits of downing H2O are well documented.
Truth be told, while water is the best morning drink option, it certainly isn't the only option you have.
People more intelligent than you or I have explained the benefits of myriad healthy morning beverages, from green tea to breakfast smoothies.
The problem with many of these options (more so the vegetable and fruit smoothies) is that you'll need to take them fresh if you want to reap the full benefits.
However, mornings are already so cramped for many people that there just isn't time to squeeze in a morning routine that involves scrambling a chopping board, let alone setting up the blender.
This is probably why the Hollywood action star and celebrity doctor duo (I mentioned earlier) are gathering a great deal of following with their ActivatedYou Morning Complete wellness drink.
In a nutshell, Morning Complete is a brand-new convenient health drink sold by the American wellness brand, ActivatedYou.
As an "all-in-one" health supplement, Morning Complete is formulated with many health-promoting ingredients designed to address various health issues.
It is advertised as a morning starter beverage that helps the preoccupied and time-pressured 21st-century health nut meet its nutritional needs quickly and efficiently.
Morning Complete Review – Does This Wellness Drink Work?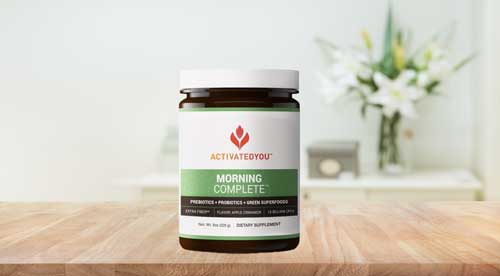 About ActivatedYou: The Brand
ActivatedYou is quite a mouthful for a brand name –but that is beside the point.
It is a relatively new supplement brand that focuses on creating wellness products for whole-person health.
While the approach to overall human health through holistic nutrition isn't unique to the brand, ActivatedYou stands out for how they communicate this fact to its customers.
They use simple, easy-to-understand terms instead of "defrauding" us with medical jargon.
Critics of the company allege that ActivatedYou doesn't bother with science-speak because it was founded by actress and health advocate Maggie Q (Margaret Denise Quigley), who isn't a medical doctor.
Most people recognize Maggie Q from her starring roles in action films like Live Free or Die Hard and Mission: Impossible III.
They don't know that besides being a Hollywood action star and a health advocate, Maggie Q is also a passionate environmentalist and an animal rights activist.
Still, you'd argue that her non-medical background would mean that she knows as much about human health as you or I do (if you're not a medic yourself).
But Maggie Q isn't the only face promoting the ActivatedYou brand.
Dr. Frank Lipman is the other notable face representing the company.
He is a celebrity doctor, a leading gut health expert, and a widely recognized integrative medicine pioneer.
The fact that a medical doctor is involved in product development should earn the brand more than a few points.
On that note, ActivatedYou seems to be a legit wellness brand that means to improve the health and well-being of its market.
The brand communicates its core values upfront with three impressive principles.
That their products are:
Environmentally sustainable
Plant-based
Scientifically proven
To have their products scientifically backed, I'd say that ActivatedYou has scored big on the one thing that most wellness brands today rank poorly on.
The fact that ActivatedYou states upfront that their products are scientifically-backed is a bonus.
Additionally, the brand claims to have its products tested for safety by an independent third-party facility, which is also well and good.
However, the absence of any seal of approval from said evaluators makes it impossible to verify these claims.
With such a solid foundation, the brand expects to boast a whole array of wellness products designed to cater to a range of critical areas of human health.
While they feature an entire catalog, only a few of their products are doing well, market-wise.
These are the health supplement blends currently on the brand's product catalog:
Morning Complete
Advanced Restorative Probiotic
AdrenaLife
Active Enzyme
Mito Vitality
Gut Balance
Essential Skin Food
GI Prime
Enhanced Algae Omegas
Vital Amino Essentials
If customer reviews are anything to go by, then the ActivatedYou Morning Complete supplement is their top product.
With an impressive 4.9-star rating on the ActivatedYou Morning Complete Customer Reviews page, I was eager to find out why people love this product so much.
Although, we should probably find out exactly what Morning Complete is in the first place.
About Morning Complete – The Supplement
Morning Complete is a delicious morning starter beverage flavored with apple cinnamon.
It is the leading daily dietary supplement blend from the ActivatedYou wellness product line.
Morning Complete is presented as an "all-in-one" health drink designed to promote overall health.
The company claims that taking this wellness supplement as part of a daily morning routine will:
Help boost energy levels
Optimize the body's performance, and
Bring about an overall sense of wellbeing
Users who take Morning Complete regularly also claim to feel particularly better focused with a sense of mental clarity.
Whether the countless health benefit claims you'll read on the ActivatedYou Morning Complete review page are actual or "imagined," it is undoubtedly clear that the energy-boosting morning health drink is gathering quite a loyal following.
From the list of ingredients on your Morning Complete label, you notice that several proprietary blends went into the formula.
These blends include prebiotics, probiotics, green superfoods, and some energizing ingredients, all popular with healthy living enthusiasts.
Morning Complete Ingredients
To stand out as a convenient "all-in-one" health supplement, ActivatedYou Morning Complete was designed with a unique formula that includes 8 wellness blends.
Morning Complete ingredients are listed on the supplement label, so it's easy to know the specific contents in each blend.
However, taking a closer look at the label, you notice that the amounts for individual ingredients are not disclosed.
For the health nut, a detailed breakdown of each blend and its exact properties is necessary to verify that the dosages provided are within the optimal range of the core nutrients needed for any significant digestive health benefits to be felt.
However, for many users, it's enough that:
A company is trustworthy,
The ingredients used are scientifically proven
The product is independently tested for safety.
In this case, just the complete list of ingredients contained in the supplement, plus a few other necessary details, should suffice.
While I agree that taking these dietary supplements doesn't have to feel like enrolling in a diploma course in biochemistry, it would be helpful to, at least, be aware of the specific ingredients used in the formula.
ActivatedYou Morning Complete contains the following blends to help support a healthy body and mind.
Prebiotic and High Fiber Blend (4.05g)
Green Superfoods Blend (735mg)
Metabolic Enhancing Blend (390mg)
Antioxidant Blend (100mg)
Sugar Balancing Support (100mg)
Adaptogens (55mg)
Cellular Function and Liver Support (30mg)
Probiotic Blend (10 billion CFU)
Also included are the following additives and fillings: natural flavors, guar gum, citric acid, rice hull concentrate, and monk fruit extract.
Shall we drill down a little into the eight primary ActivatedYou Morning Complete ingredients?
1) Prebiotic and High Fiber Blend
Chicory root fructooligosaccharides, cinnamon bark (4.05g)
A prebiotic blend of chicory root fructooligosaccharides (FOS) and cinnamon bark makes up the highest percentage of the Morning Complete ingredients.
Generally, prebiotics is known to be quite beneficial to gut health and overall human health.
This blend presents the body with dietary fiber in Chicory root, which is known to help develop and multiply good bacteria in the gut.
There is promising evidence that Cinnamon bark helps treat gastrointestinal symptoms such as gas bloating, diarrhea, and constipation and assists in weight management by regulating sensations of appetite and satiety.
2) Green Superfoods Blend
Spinach, broccoli, kale, mulberry leaf extract, alfalfa leaf, barley grass, berberine HCl (from Berberis aristata root) (735mg)
The health benefits of green superfoods are unassailable. As more people are becoming aware of the power of consuming greens regularly –more so in whole food form – green superfood supplements have started to become mainstream.
Morning Complete contains its second-highest percentage of ingredients in leafy green extracts. This explains why more people turn to it to increase their daily intake of green superfoods.
The extracts of healthy veggies contained in the Morning Complete green superfoods blend provide high amounts of vitamins and minerals, offering several health benefits.
These powered greens are associated with maintaining a healthy immune system.
3) Metabolic Enhancing Blend
Green tea extract, ginger root, white tea leaf extract, turmeric root extract, bitter melon fruit extract, black pepper (390mg)
With this metabolism-boosting blend also included in relatively high percentages, it would stand to reason that the brand was angling to make this product a 'catch-all' for a range of dietary requirements. Perhaps the health benefits associated with a revved-up metabolism stand out as the product's primary selling point.
As such, Morning Complete is becoming popular with dieters keen on gut health and those on a weight-loss mission.
This metabolic-enhancing blend features ingredients with:
Anti-inflammatory properties,
Antioxidant properties,
Potential fat-burning properties, and
A long list of other health benefits.
The inclusion of green tea leaf extract as the star of this metabolic-enhancing blend shows that Morning Complete is grounded in its purpose as a morning starter drink.
Both green tea leaf and white tea leaf benefit the body and mind by improving blood flow and lowering cholesterol.
Besides helping maintain healthy body weight and effectively accelerating weight loss, green tea leaf and white tea leaf extract also play a key role in bringing much-needed mental clarity for the best start each day.
Small amounts of ginger and turmeric extract help lower blood sugar levels and protect the digestive system.
4) Antioxidant Blend
Lycium berry, pomegranate fruit extract, Polygonum cuspidatum root extract (50% resveratrol) (100mg)
This blend is packed with plenty of antioxidants which help neutralize the effects of harmful compounds in the body known as free radicals.
The consumption of foods and supplements rich in antioxidants has been linked to impressive digestive benefits for the whole body.
Research has shown regular consumption of pomegranate juice effectively reduces inflammation.
While it is unclear how this benefit manifests in the dose present in the Morning Complete Antioxidant blend, we can at least expect some protective effects with regular consumption.
It is also worth noting that Antioxidants have been studied for their anti-aging properties in skin health and their brain health-boosting effects.
Daily consumption of the small dose of healthy antioxidants in the Morning Complete beverage could help fight oxidative stress, which is a great way to start the morning.
5) Sugar Balancing Support Blend
Gymnema Sylvestre leaf, fennel seed, pine bark extract (100mg)
This group of ingredients doesn't come in much of a dose. Still, the properties of individual ingredients contained in the blend have been shown to produce promising results in reducing blood sugar levels.
Particularly, Gymnema Sylvestre, has been studied for its blood sugar-controlling properties in animals.
Fennel seed and pine bark have also been determined to improve blood sugar control and cardiovascular health.
*Studies have suggested that a dose of 100mg of fennel seed and pine bark combined with diabetic medications may be sufficient to provide said unique health-promoting properties in diabetic patients.
*Note that: this ActivatedYou Morning Complete review is not meant to provide medical advice. Be sure to consult a medical doctor before taking health supplements in conjunction with any medications.
6) Adaptogen Blend
Astragalus root extract, Rhodiola rosea root extract, DIM (diindolylmethane) (55mg)
Adaptogens are plant compounds that have been used in Chinese medicine for centuries to counteract the effects of stress on the body.
Moring Complete contains a select group of apoptogenic herbal extracts, which may also help to get the day started right by:
Reducing fatigue,
Providing stress support
Naturally boosting mental clarity,
Improving resiliency, and
Providing a serious boost to energy levels
7) Cellular Function and Liver Support Blend
Organic aloe vera leaf, milk thistle seed extract (30mg)
The liver has to do a lot of work. Without a properly functioning liver, toxins will build up in the body.
Including ingredients that help promote efficient cellular function and support tissue regeneration in the liver is a good idea.
On the one hand, aloe vera and milk thistle have demonstrated great promise for liver support due to their anti-inflammatory, antibacterial, and antioxidant properties.
On the other hand, however, further study is welcome on the potential overall benefits of these ingredients.
More research is needed on the potential risks associated with the use of aloe vera leaf.
8) Probiotic Blend
B. coagulans, L. gasseri, L. plantarum, L. rhamnosus, B. bifidum, B. longum, L. acidophilus, L. casei, S. thermophilus (10 billion CFU)
Anyone who isn't new to dietary supplements has probably had mention of probiotics. Essentially, probiotics are the good bacteria that populate the gut.
You will remember that many digestive issues arise from a low population of good gut bacteria as harmful bacteria thrive.
Probiotics supplements replenish good gut bacteria for a healthy gut.
While probiotics are associated with gut health, they affect your overall health since they are responsible for supporting the "microbiome."
ActivatedYou Moring complete contains a generous blend of 9 different probiotic strains rated at 10 billion CFUs (colony-forming units) per serving.
This is quite an impressive concentration of probiotics that may be highly effective at populating the gut with beneficial bacteria.
Safety & Side Effects
The first thing I'd advise anyone looking to start on Morning Complete –as is the case with any dietary supplement—is to pay close attention to the ingredients used.
Most products designed to affect the gut can sometimes upset the stomach.
This may bring about side effects in users with existing sensitivities to any ingredients.
Common side effects may include:
Stomach cramps,
Diarrhea and
Constipation
Significant side effects when taking Activated You Morning Complete are highly unlikely.
Still, a note on the brand's official website warns of aloe vera's presence in the supplement.
While aloe vera is a popular ingredient in many plant-based health solutions, several studies have identified potential side effects with long-term consumption.
Be sure to consult a medical doctor to provide medical advice if you have heart disease or intestinal problems.
Serving Size
A serving of Morning Complete green powder is 7.6g. This is equivalent to one scoop to be taken daily for a significant boost in energy levels, whole-body nourishment, and improvement in overall health.
The company recommends mixing one scoop of Morning Complete supplement into a glass of water (8oz) or green tea.
It's easy to fit the green supplement into your morning routine since it can be taken with almost any kind of drink, from juices to smoothies.
ActivatedYou Morning Complete Testimonials from Customers
ActivatedYou Morning Complete is a relative newcomer to the green superfoods blend market.
So it should be expected that the bulk of Morning Complete honest customer reviews is found on the brand's official website.
For the most part, people who use Morning Complete seem to be satisfied with the results they see on the product.
So you shouldn't be surprised that most Moring Complete customer reviews are positive.
The main negative point I've ever seen on any ActivatedYou Morning Complete review was centered on the supplement serving size.
I figured that many other premium-rate products face a similar verdict.
A handful of customers didn't like the taste of Morning Complete.
These first-time users may not have done their homework concerning these supplements.
While Morning Complete does come in an apple cinnamon flavor, the absence of sugars ad artificial sweeteners should tell you something about the kind of taste to expect.
It is worth remembering that green powders contain lots of vegetables (whose tangs are already decided).
So, you are unlikely to get an amazing taste with any supplement advertised as a green superfood blend.
The goal is to make you healthy; I should think.
Here's a look at what ActivatedYou Morning Complete users wrote recently on the company website:
"I feel healthier overall and I noticed my energy lasts all day. Just gives an overall healthier balance. I love starting out my day this way. I'm feeling younger. Thank you for this amazing product!"
[/su_box]
"Tried this product on a whim. Now using Morning Complete for three months & I absolutely look forward to my morning serving! My energy level is back all day, my belly bloating is gone and I'm finally losing weight. Thank You!!!"
Morning Complete Cost
ActivatedYou Morning Complete is a high-quality product you'd expect to retail at a premium.
And there seems to be a good reason for that: The supplement contains a ton of healthy ingredients which are not cheap!
So, while you'll get a larger serving size with other brands retailing at a similar price point, Morning Complete presents more ingredients in a good-sized serving of 7.6g.
ActivatedYou provides three order options on its website:
A single jar makes for one month's supply when you take Activated Morning Complete as per the recommended serving size.
A month's supply should be sufficient for anyone looking to get started with such a green superfood blend.
This will help you evaluate the product without incurring any more than is necessary should you not feel good about the formula.
However, you should probably know there is a saving if you buy Morning Complete in bulk.
The company offers a 10% discount on the 3-jar order option and 15% off on the 6-jar order option.
Taking a good look at the total price on the "saver" options, ActivatedYou Morning Complete doesn't look so premium-priced anymore.
When you compute the cost per serving for the 6-jar order, it works out to be the equivalent of the price of your local coffee!
What's more, all ActivatedYou orders are backed by a 90-day money-back guarantee.
So, if you're unsatisfied with the results you get from your Morning Complete order, you can always get your money back.
Offering a 90-day money-back guarantee, ActivatedYou shows that they have faith in their product to work as advertised.
This should give any new buyer confidence in going for the saver bundles on their first order.
Where to Buy ActivatedYou Morning Complete
Morning Complete retails on the company's official website.
I had difficulty finding a merchant selling this supplement on Amazon, which is good.
While you often get slightly lower prices with third-party resellers, you can never be sure about the contents of the product you'll receive.
Should you choose to buy ActivatedYou Morning Complete, I'd recommend purchasing it directly from the manufacturers on their official website.
Quick Overview
Pros
Made in the USA
Boost daily energy levels
Contains healthy greens
Improves gut health, skin health, heart health, and mental health
Anti-aging effects
Accelerate weight loss by supporting healthy body weight
Good for the liver
US-based customer service
90-day money-back guarantee
Cons
Premium pricing for a high-quality product
Aloe vera contained disagrees with sensitive tummies
Bottom Line
The whole issue around dietary supplements is a real head-scratcher, even as thousands of these wellness products hit the shelves yearly.
More research is needed to determine the minimum dosages required to produce a real and tangible effect on our health.
Even so, there is no denying that most supplements deliver on their promise.
Frequently Asked Questions (FAQs)
Can You Trust ActivatedYou?
I struggle to find a reason why ActivatedYou should not be trusted. It is an impressive American wellness brand founded and operating on the principles of providing complete transparency. The brand is intensely pro-holistic in its approach to human health and wellness. Also, their products are well-researched, use naturally sourced ingredients, and are independently tested. What's more, I could not find any bad press on the company. So they must have a solid track record.
Does Morning Complete Work?
Backed with 8 scientifically backed ingredients, it is clear that this supplement is well-formulated and may produce the promised benefits. And seeing as it is a well-researched "all-in-one" health drink from a wellness brand you can trust, the benefits are many.