You're probably reading this post because you want to get fit and need a healthy supplement to help you.
We'll help you narrow your options with this list of top-tier, proven performance-enhancing BCAA supplements.
First, let's take a general look at what branched-chain amino acids are.
Branched-chain amino acids (BCAAs) are essential nutrients the body gets from proteins derived from high-protein foods, such as dairy, meat, and beans.
Also, you can get this rich supply from BCAA powders and BCAA products.
The three BCAAs include isoleucine, leucine, and valine.
The term "branched-chain" describes the amino acids' chemical structure.
Additionally, there are numerous medicinal uses for branched-chain amino acids.
Branched-chain amino acids can enhance your health as they counteract fatigue, promote optimum athletic performance, diminish muscle breakdown, and much more.
The Top BCAAs For Muscle Growth At a Glance:
Top 7 Amino Acid Pills Reviews (For Men & Women)
1) XTEND Original BCAA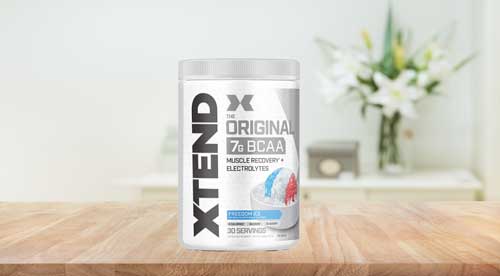 BCAA (Branch Chain Amino Acids) by XTEND is one of the most popular muscle boosters with a highly versatile performance.
It can elevate your strength and prevent your muscles from breaking down and becoming extremely sore.
Also, it may ensure the optimal growth and recovery of your muscles.
The XTEND BCAA supplement is delivered in capsule form, and that too in vegan-friendly NutriCaps.
It makes for an ideal and potential alternative to many artificial flavors, enhancers, etc.
The serving size is usually 6 NutriCaps, and each container holds 30 capsules.
The composite formula for this near-perfect BCAA supplement – XTEND BCAA is a 2:1:1 ratio.
It includes 1500 mg of Leucine, 750 mg of L-Isoleucine, and 750 mg of L-Valine.
The BCAAs comprised of these three essential amino acids make up almost 1/3 of the muscle protein.
Here is what each of these ingredients can do for you;
L-Leucine (alpha-amino acid) can help synthesize protein, support muscle growth, and aid repair during catabolic reactions.
L-Isoleucine (alpha-amino acid) ensures that RBCs transport oxygen to the muscles working hard. Plus, it supports the healing of the tissues and regulates healthy immune functions.
L-Valine (alpha-amino acid) works for optimal protein formation, growth, and repair of muscle tissues. Most importantly, it is a prime source of energy to the muscles.
Pros:
The product is 100% free from allergens like soy, egg, dairy, nuts, fish, shellfish, wheat, etc.
XTEND BCAA is non-irradiated, GMO and Gluten-free. No additives, colors, or preservatives were added!
Branched-chain amino acids are delivered in the most convenient and easy-to-swallow capsules that are 100% plant-based. Thus it ensures easy digestion and absorption of nutrients.
30-days money-back guarantee
Cons:
The supplement might be a little expensive compared to many BCAA supplements.
BCAA supplementation is hard to absorb because of their disproportionate essential amino acid ratio.
However, XTEND BCAA has the perfect ratio of branched-chain amino acids, enhancing its muscle-building potential and making it easy to absorb.
The supplement supports athletes of almost all levels, and the amino acids incorporated blend the most advanced forms around the world, i.e., Ajipure and NutriGenesis.
Here are a few more ways this supplement can benefit you:
It may slow down muscle breakdown and accelerate muscle growth by stimulating growth hormones.
It can block brain chemicals that tend to induce fatigue and thus extend the consumer's athletic endurance.
Promotes delayed onset muscle soreness and reloads them for a speedy and healthful recovery.
The prebiotic-infused NutriCaps from fermented tapioca can promote healthy immune responses for long-term fitness.
The supplement refuels depleted glycogen in the muscles, stimulates insulin for enhanced amino uptake, and maintains the glutamine level in the blood after exertion, empowering corporal immune functions.
If you want to get the most out of your gym time and intense workouts, Performance Lab BCAA capsules could be the ideal supplement. It can fight fatigue and restore strength for intense training and other physical activities.
2) Transparent Labs BCAA Glutamine
Transparent Labs BCAA Glutamine is our choice for Best for Repair and is also a popular restoration and recovery supplement with many other benefits.
If you are an athlete or a bodybuilder and want to reduce muscle fatigue and post-workout pain, this supplement may do just that for you!
Transparent Labs BCAA Glutamine is widely known as CoreSeries BCAA Glutamine.
It is primarily designed to stimulate protein synthesis and improve glucose metabolism.
This BCAA supplement works by increasing muscle glucose intake.
Consequently, it reduces fatigue and damage caused by strenuous workouts or activities.
Also, this supplement can improve your immunity status and accelerate healthy fat loss.
First, Transparent Labs BCAA Glutamine is not formulated with added synthetics, like artificial colors, dyes, additives, taste enhancers, fillers, sweeteners, etc.
In addition, it is gluten and soy-free.
This BCAA product includes premium fermented vegan branched-chain amino acids and works great for both men and women.
Further, you can get it in different flavors like green apple, orange, sour grape, tropical punch, etc.
4 grams of L-Leucine (alpha-amino acid)
2 grams of L-Valine (alpha-amino acid)
2 grams of L-Isoleucine (alpha-amino acid)
5 grams of L-Glutamine
Coconut Water Powder
The total composition of BCAAs is 8 grams/8000 mg, all in a perfect 2:1:1 ratio.
L-Leucine works to repair, develop, and recover muscles via protein synthesis.
L-Isoleucine utilizes ketone bodies and fatty acids and improves brain functions like memory and concentration.
Finally, the L-Valine prevents the onset of fatigue and reduces serotonin production during exercise. Note that this product has L-Glutamine as well.
It is also one of the most important branch-chained amino acids and takes care of the essential processes in your body, especially when working under physical stress.
This product keeps you active by ensuring healthy levels of amino acids.
Last, coconut water powder imparts greater health benefits like improved kidney functions, anti-inflammatory processes, rehydration, good workout performance, etc.
It has some precious electrolytes like sodium, magnesium, and potassium.
Pros:
Transparent lab BCAA Glutamine provides great muscle recovery
The product is very affordable
The ingredient label is transparent
The supplement has no harmful substances added
Ships globally, except to a few countries listed under its FAQs.
Cons:
The product may taste a bit odd
A bit foamy
It may take some effort to mix out
In case of pregnancy, lactation, or any other medical condition, a doctor's prescription is a must!
The above-listed pros and cons, coupled with many nourishing, restorative, and immunity-boosting benefits, plus the fact that there are no significant harmful effects associated with the product, means that we had to share them with you.
As such, we decided to award it a spot on this list.
Additionally, this product has a fairly high rating on its website and Amazon, with many customer recommendations and praises.
The product's ingredients are proven beneficial for the body's muscle-building processes.
They elevate your metabolic processes to a safe level and impart greater benefits.
Men and women athletes and bodybuilders can use this product safely.
3) Bulk Supplements Amino Acids 2:1:1
Bulk supplements BCAA (branched-chain amino acid) 2:1:1 is one of the best BCAA supplements for pre and post-workout sessions.
It contains three essential amino acids with slightly different chemical structures.
It is because these are branched chains.
These branched-chain amino acids make up 40% of the total protein content in the human body.
Also, they account for 15-25 percent of the overall protein intake.
Of note, Bulk Supplements BCAA powder is extracted from corn.
It helps athletes and bodybuilders build healthy muscle mass and serves as one of the best endurance BCAA supplementations making for the perfect addition to any athlete's supplement stash.
The only three ingredients included in the formulation of this supplement are L-Leucine, L-Isoleucine, and L-Valine.
The amount per serving of each amino is 800 mg, 230 mg, and 398 mg, respectively.
No hydration formulas, amino, caffeine, or natural energizers are added.
Pros:
BCAA powder works with protein to build strength and aid muscle recovery after strenuous exercises.
This product is quite affordable.
The supplement helps you maintain healthy blood sugar levels and lose weight.
It supports the liver health of the consumer.
This blend of amino acids is soy and gluten-free. It is prepared through high-level manufacturing processes and involves no synthetic ingredients.
It is one of the most affordable BCAA powders available on other seller platforms, with high-rated reviews.
Cons:
The product may be harmful to pregnant and lactating mothers to consume without any medical prescription.
It must be noted that the company advertises a 2:1:1 ratio; however, the quantities of the ingredients are not exactly in the mentioned ratio.
Considering the benefits of the three essential amino acids contained within this BCAA supplement, we figured it deserves a second place on our list.
Here are some health benefits you can gain from each of these amino acids found in Bulk Supplements BCAA 2:1:1;
Exercising for a long time can cause your muscles to break due to the degradation of the proteins. However, Leucine potentially prevents the net rate of degrading proteins and thus keeps your muscle strengthened and reenergized by preserving your muscle mass and energy stores.
Isoleucine (alpha-amino acid) has multiple functions like wound healing, waste detoxification, and balanced hormone secretion, and helps in fat and carbohydrate metabolism. Most importantly, isoleucine regulates blood sugar levels so that the muscles have energy available all the time.
Valine (alpha-amino acid) is good for tissue repair and the growth of the muscles. Also, it sharpens your mind and muscle coordination.
As mentioned above, Bulk Supplement BCAA contains three of the nine essential amino acids; these are the branched-chain amino acids.
These amino acids have a significant role in your corporal processes but are not synthesized naturally within your body.
Thus, BCAA can provide you with these crucial elements, and that too in an almost perfectly balanced amount.
The product promotes muscle protein synthesis, elevates lean muscle growth, and prevents tissue damage.
Moreover, it does so without any potential harmful effects.
4) FNXFit Recover Branched-chain Amino Acids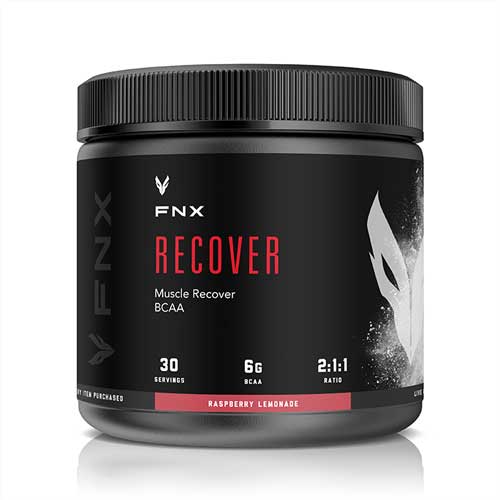 FNXFit Recover-BCAA is a post-workout recovery powder that aids protein synthesis and muscle tissue recovery.
If you get muscle sore during a workout or cannot complete your exercise, you should try this product; it might help restore and build lean muscle mass.
The main ingredient in this BCAA powder is branched-chain amino acids, the three essential amino acids that help promote muscle protein synthesis and increase energy.
These natural acids in the FNXFit Recover BCAA powder contain vitamin C, malic acid, electrolytes, and minerals that can keep you hydrated throughout the day.
This BCAA supplement can also improve your endurance by reducing lactic acid buildup.
Put this powder in a drink and sip it while lifting weights or engaging in physical activity.
More importantly, using it after your workout can aid in the recovery of muscle damage from tears and strain.
The product is available in over five flavors.
What you need to know about the three essential ingredients in this product:
L-Leucine (alpha-amino acid) helps synthesize protein and muscle growth and aids repair during catabolic reactions.
L-Isoleucine (alpha-amino acid) ensures that RBCs transport oxygen to the muscles working hard. Plus, it supports the healing of the tissues and regulates healthy immune functions.
L-Valine works for optimal protein formation, growth, and repair of muscle tissues. Most importantly, it is a key source of energy to the muscles.
Also, the supplement is added with Agmatine Sulfate.
A vasodilator allows the BCAAs supplement to get to your muscles faster.
Pros:
It comes in multiple flavors
It is pleasant to taste
Fast-acting
Not chalky like most BCAA supplements
Cons:
The product is a bit pricier than a few other BCAA supplements.
FNXFit reduces fatigue, accelerates recovery and muscle protein synthesis, prevents sore muscles, and improves the use of body fat for energy.
It turns on the synthesis of proteins like an engine that drives your exercise by enhancing your performance.
Moreover, the product is free from any harmful substances.
It has no artificial color, additive, filler, dye, etc., added.
It is gluten, soy-free, and vegan-friendly.
After consuming the product, you should not become easily tired, even when engaging in intense exercise, and your performance will improve significantly.
The product offers a perfect blend of essential amino acids that your body can't synthesize to enhance muscle gain.
Thus, it could be well worth your time and money! Additionally, it:
Strengthens:

FNXFit recovers BCAA maximizes the synthesis of the protein and recovers muscles by providing amino acids.

Hydrates:

The supplement contains electrolytes and minerals to keep you hydrated.

Recovers:

The supplements help to recover faster from workouts and get stronger.

Boosts Endurance:

The peak performance complex alleviates the production of lactic acid, enhances your performance, and increases your blood flow.
5) Advanced Bio Nutritionals PerfectAmino
The PerfectAmino supplement is a mixed berry flavored dietary supplement with a blend of 8 essential amino acids.
It ensures the required intake of essential amino acid supplements in your body.
This supplement helps maintain the body's muscular, skeletal, hormonal, and enzymatic systems.
It is designed to efficiently use the body and produces very little waste.
Advanced Bio Nutritionals PerfectAmino branch chain amino acid supplement also helps users build strong bones and improve muscle mass by averting or reversing the loss of muscle mass due to aging and exercise.
The PerfectAmino supplement formulation is delivered in the form of tablets or capsules. It has become a competitive product, comprising potent and pure BCAAs for building muscle and an overall lean mass.
This supplement is a non-GMO product that is completely safe to take on an empty stomach without any adverse reactions to the body.
All ingredients are natural for their formulation, which is why the body readily absorbs 99% of the nutrients in this BCAA supplement.
These amazing ingredients make the supplement a perfect partner to help you maintain your physical health.
Here is how these incredible amino acids and ingredients present in this BCAA supplement can help you with muscle protein synthesis and muscle growth:
L-Threonine helps in antibody creation.
L-Lysine HCI supports the levels of vitamin B or niacin in the body.
L-Phenylalanine regulates the level of hormones.
L-Methionine provides sulfur which aids in maintaining the metabolic system.
L-Valine maintains nitrogen balance, muscle metabolism, and tissue repair.
L-Leucine is responsible for synthesizing muscle protein.
L-Isoleucine stabilizes the blood glucose levels in the body and increases energy.
L-Tryptophan promotes the melatonin and serotonin release in the body, making you feel calm and relaxed.
Pros:
Affordable
100% Money-Back Guarantee
PerfectAmino tablets contain no soy, dairy, or gluten and are vegan and sourced from non-GMO ingredients.
Suitable for anybody (old, young, sick, healthy)
Cons:
The PerfectAmino BCAA supplement is only available online.
The more fruitful and deep effects can only be projected with consistent and continued use.
This is one of the best protein powders on the market, and we're not just saying that because of its name.
PerfectAmino can provide your muscles with many essential ingredients that are very helpful for the normal functioning of the entire body; as such, it has to be our Best Muscle Growth choice.
It also provides the following benefits:
Bone strengthening
Helps in muscle repair and growth
Prevent wounds and injuries
Improves strength, decreases exhaustion and anxiety
Increases your motivation, focus, and mental clarity
It provides you with stronger hair and radiant skin
It uplifts your mood and boosts weight loss, making you feel younger
Reduces your recovery time after any exercise or workout
Suppresses appetite and cravings
The respective supplement 'Perfect Amino' provides an almost flawless option to help those who live a hectic and active lifestyle as it helps you maintain good health and wellness.
Furthermore, it can also be used by seniors who want to feel fresh and younger and want to restore the physical capabilities of their bodies.
Thousands of people have used this supplement, and it possesses a 4-star rating on the official websites of around 912 individuals who have appraised this product.
6) Optimum Nutrition BCAA 1000 Capsules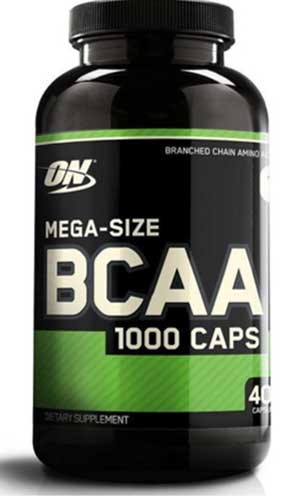 These Optimum Nutrition BCAA 1000 Capsules are each formulated with 1g of BCAAs.
In its capsule form, it promotes convenience for those who are too busy to spend time mixing a protein shake.
Since our bodies cannot make these essential acids, it's always great to have a convenient option to take when needed.
Here is a more in-depth look at the primary ingredients in this BCAA powder:
Ingredients
Gelatin

is used to make the capsules that hold the BCAA powder for convenience and protection from damage.

Microcrystalline Cellulose

is used in most supplements and pills to compress the ingredients into powdered form.

Magnesium Stearate

is the flow agent responsible for preventing the primary ingredients from sticking together or clumping.

L-Valine

(250 mg)maintains nitrogen balance, muscle metabolism, and tissue repair.

L-Leucine

(500 mg) is responsible for synthesizing muscle protein.

L-Isoleucine

(250 mg) stabilizes blood glucose levels and increases your energy.
Pros:
Affordable
2:1:1 ratio of Leucine, Isoleucine, and Valine
Available in various sizes: 60ct, 200ct, and 400ct.
Supports recovery
Suitable for between meals, before training, or after finishing your workout
Easy-To-Swallow
200 servings per container with a serving size of 2 capsules
Safe to be had on an empty stomach
Cons:
Optimum Nutrition capsules may not be suitable for pregnant women and persons with underlying conditions. We advise that you speak to your doctor if you are interested in using this product.
Packaging may vary from images.
When used before and after physical activity, the Optimum Nutrition Capsules are one of the top dietary supplements that helps everyone find alpha-amino more beneficial than other amino acids and other supplements.
Its fortified formulation helps preserve muscle, enhance muscle gain, and induce a fast recovery from muscle damage.
Furthermore, when used in strength training, this protein powder can help to kick-start muscle protein synthesis, which plays a vital role in muscle building.
These are just a few reasons we opted to place Optimum Nutrition's capsule for daily BCAA intake onto this list.
Here are a few more reasons why we think it is the Best Multi-functional BCAA powder.
It can provide active adults with versatile support for training endurance and recovery.
It may help you foster a healthier lifestyle and motivate you to keep active.
Reduces tiredness
Helps you get a leaner body
7) Thorne Amino Complex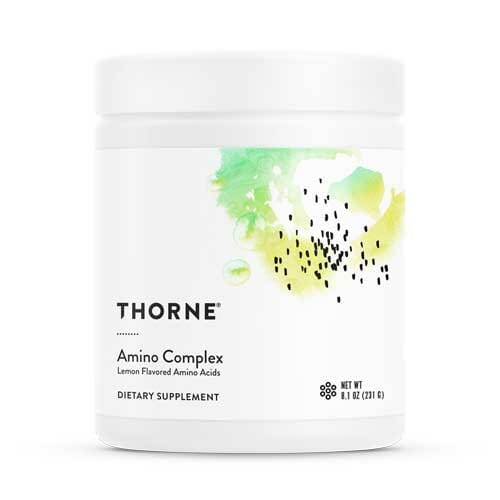 This pleasantly flavored protein powder is formulated with 1 g, L-Leucine 1.25 g, 650 mg, L-Isoleucine 625 mg, and L-Valine 625 mg.
Thorne Amino Complex serves up a comprehensive blend of essential amino acids.
This formulation is ideal for a post-workout supplement to promote and enhance the muscle recovery process.
Additionally, this protein powder has been validated in clinical trials to support muscle mass.
Thorne prides itself on exceptional sourcing ingredients, manufacturing the right way, its four rounds of testing, and product sustainability.
We trust Thorne, an industry expert providing supplemental products since 1984, to continue providing its customers with high-quality BCAA powders that can safely and efficiently help promote muscle regeneration and boost energy.
Sourcing Exceptional Ingredients
Thorne uses high standards for higher quality ingredients because the source of their ingredients is important.
Thorne's suppliers engage in practices that maximize quality, science, and responsibility.
They believe that better ingredients mean better potency, absorption, and digestibility, which ultimately results in better health.
1) Manufacturing the Right Way
Thorne develops its products to guarantee complete transparency of its supply chain.
For more than 30 years, Thorne has invested in clean manufacturing practices; as such, the company does not use ingredients that can inhibit absorption.
2) Four Rounds of Testing
Thorne runs four rounds of testing for each of its products.
Additionally, the company has invested in two state-of-the-art in-house laboratories.
These labs enable Thorne to undertake its four rounds of testing at every stage.
The company tests raw materials, in-process batches, finished products, and product stability for each product.
3) Thinking Sustainably
Thorne believes in environmental protection, and that's why it is thinking sustainably.
Thorne is all for doing its part to protect the environment and its most valuable resources, as they go hand-in-hand with Thorne's product quality standards.
Clinically Studied
Let's take a better look at its clinical validation.
The Thorne Amino Complex- BCAA Powder is high in branched-chain amino acids due to its overall blend of essential amino acids.
Multiple clinical trials have proven the efficacy of the primary ingredients within this product, Leucine, Isoleucine, and Valine, to promote the growth of lean muscle and enhance muscle strength.
More than 25 years of scientific and clinical research support these amino acids.
Pros:
Does not contain any unnecessary binders, coatings, disintegrants, fillers, or lubricants.
NSF Certified for Sports products.
Relatively affordable.
Available in two flavors, lemon, and berry.
Mixes easily with warm or cold liquids
No artificial sweeteners
Cons:
It may taste a bit sweet
Not suitable for pregnant women
Aside from its wonderful aroma and taste, hailed in over seven hundred reviews on Amazon, Thorne Research – Amino Complex – BCAA Powder for Sports Performance made it onto our list because of the detail and emphasis of its supply chain.
Also, we appreciate its potential to restore and repair muscles after an activity session.
Furthermore, this dietary supplement contains citric acid and turmeric powder, which are globally revered for their medicinal properties.
Additionally, Thorne Amino Complex may:
provide energy and promote lean muscle mass
supports sports- and fitness-related activities
provides support for muscle strength in anyone needing additional support
decrease fat synthesis
improve redox status
satisfy basic hydration and electrolyte needs
maximize injury recovery from strenuous activities
Final Thoughts
By now, we would have understood how essential BCAA intake is to our health and wellness.
With numerous BCAA supplements available on the market, we know it can become overwhelming to sift through on your own.
As such, we hope this list will help you to narrow down your options to choose the ideal BCAA supplement.
The best way to decide is to consider your schedule; do you have time to mix the powder into a protein shake, or are you always in a hurry and prefer to get the capsules for convenience?
Also, is taste vital to you?
The capsule and powder forms vary in taste and flavor; some even have fruit punch and lemon flavoring.
Another factor is the formulation; are you looking for an all-natural, vegan option, or is anything going?
Make a criteria list and tick each item off as you go along.
All the best in your search for the ideal BCAA powder.