Casein is the primary protein found in milk (milk also contains whey protein) and an essential cheese ingredient.
It is a great source of branched-chain amino acids (BCAAs), which are needed for numerous bodily functions.
Also, in its pure form, casein is white solid, tasteless, and odorless, while its commercial type is yellowish with a pleasant smell.
Casein plays a role in muscle growth and development and is widely used by many fitness professionals and the everyday person for fitness or recovery reasons.
Since you are on this post, you must be in one of those categories looking for the best casein protein powder to help you boost your workout journey to reach your fitness goals.
So to aid you with this big decision, in this post, we will review ten of the best casein protein powders to help you better understand which formulation is right for you.
This gluten-free milk protein may be very instrumental in improving your muscle mass…
At a Glance
Best-Tasting Casein Protein to Take
1) Transparent Labs Grass-Fed Casein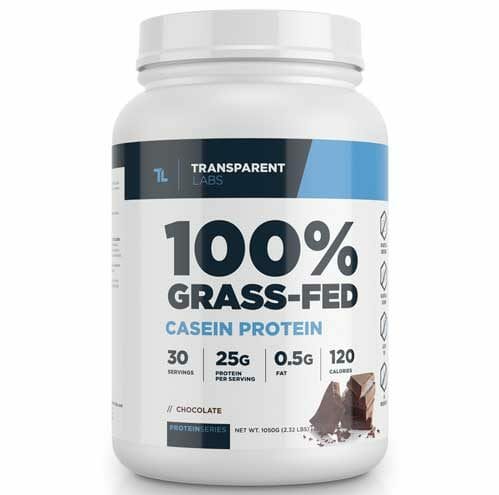 Transparent Labs Grass-Fed Casein is made with the pure micellar form of casein derived from grass-fed cattle.
This is the industry's cleanest casein protein powder, providing a sustained-release profile of essential amino acids to keep you in a muscle-building state for up to eight hours.
Because casein is a slow-digesting protein, many gym-goers and athletes opt for micellar casein as a nighttime protein powder to support muscle growth and recovery during sleep.
Transparent Labs grass-fed casein protein is also gentle on the stomach, has a pleasant taste and is 100% naturally flavored and sweetened with stevia.
This company promises that you will not experience bloating, gas, or stomach cramps like you might experience from low-quality casein protein powders that are loaded with cheap fillers and artificial sweeteners.
Due to the form of protein this supplement contains, it can also be an exceptional source of calcium and phosphorus.
Pros
Low fat, carbs, sugar, and cholesterol.
No artificial preservatives.
Gluten-free
Non-GMO
No artificial coloring.
No artificial flavors or sweeteners.
100% grass-fed
Available in two flavors; chocolate and vanilla.
Pleasant taste
Cons
May not be suitable for the on-the-go due to mixing constraints.
May have a chalky consistency.
A bit pricey compared to other casein protein powders.
Although this product is relatively new to the casein world, the company certainly is not, as it has been supplying top-quality supplements for years.
Transparent Labs has once again provided a top-notch product that performs quite well.
This casein powder is instrumental in muscle building and can serve several other purposes, including:
support muscle growth and recovery during sleep
aiding with weight loss
reducing hunger
2) Jacked Factory Authentic Casein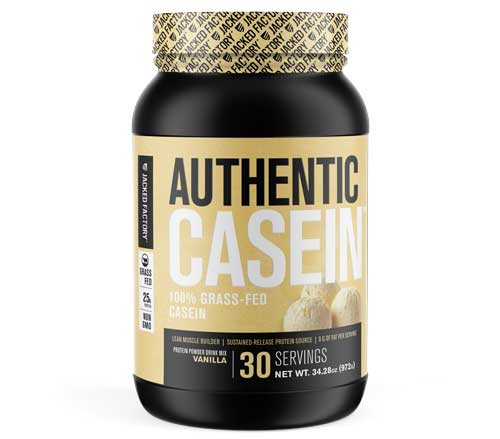 Among its many purposes, casein can also be used in baking, and Jacked Factory is ideal for that use with its 100% grass-fed casein powder.
This protein powder is ideal for you if you are on a weight loss journey but still need treats now and then. It easily substitutes sugar and fat, so you have a protein-filled treat.
Jacked Factory Authentic Casein is formulated with the 100% grass-fed micellar form of casein, also known as the native form of casein protein that is naturally rich in calcium and phosphorus.
Each serving of this casein powder is jam-packed with more than 25g of sustained-release protein, tastes delicious in water or milk, and is a great way to supplement your protein intake.
Of note, this high-quality protein is derived from cow's milk, and these cows are never treated with hormones or synthetic growth factors.
Jacked Factory Authentic Casein is one of the best casein protein powders and an ideal source of nighttime protein powder.
It supports muscle protein synthesis for up to eight hours as you sleep your way to lean muscle gains, whether you've had it as a baked delicacy or in a liquid form.
Pros
Non-GMO
Transparent label
No fillers or dyes
No artificial flavors
cGMP manufactured
Formulated with research-backed ingredients.
100% Hassle-Free Money-Back Guarantee.
Hormone-Free
This formula contains absolutely no harsh chemicals.
Cons
Some people find it a bit sweet.
A bit prices as compared to other protein powders.
Baked goods are things that almost everyone loves; however, it may not be appropriate for you to buy commercial products due to your fitness or health goals.
So to satisfy that desire, we believe you need a healthy baking substitute for flour.
It also makes up for sugar and fat.
This is why we recommend Jacked Factory, as it has formulated the ideal protein powder that fulfills its health obligations while treating your cravings.
Here are some health benefits you may derive from Jacked Factory Authentic Casein:
promotes lean muscle development
aids with muscle recovery
slows or reduces muscle breakdown
3) BulkSupplements Casein Protein Powder
This reasonably priced casein protein powder is on the list of best casein supplements as it can fit naturally into any recipe without detracting from its original flavor.
This protein supplement was designed to cater to persons unable to withstand the typical sweet taste of other casein protein powders.
Among the long list of casein supplements, this protein powder is noted for its ability to mix seamlessly into a savory meal or drink because of its unflavored formulation.
BulkSupplements outlines that casein protein is slow-digesting, which means it releases amino acids slowly instead of quickly like the fast-digesting protein, whey.
The company recommends that you use their casein protein powder as a dietary supplement by taking 30 grams daily (about 4 tbsp), before periods of rest and sleep.
Its low-carb, sugar-free, and low-fat content make it the ideal addition to any healthy meal such as a shake, smoothie, or yogurt.
Pros
Affordable
Certified gluten-free
Sugar-free
Multiple sizes available
No yeast
No artificial flavors and additives
Cons
May not mix well
Some customers experienced stomach upsets.
Sometimes you may want to use some casein powder in your foods, but due to the usual strong flavoring of some, it's difficult to do so; however, this casein protein powder is unflavored, giving you the freedom to use it as you like.
It also contains branched-chain amino acids that may assist in the recovery of muscles after strenuous physical activity.
Furthermore, because of its high protein content, one serving of casein contains almost half of the daily recommended value of calcium, which may promote healthy bones.
Using casein protein supplements could aid your overall development of lean muscle mass much faster than normal.
It also:
has a slow absorption rate
helps with muscle recovery
prevents protein breakdown
contributes to muscle development
helps maintain a healthy weight in already healthy individuals
4) Kaged Muscle Kasein Isolate Powder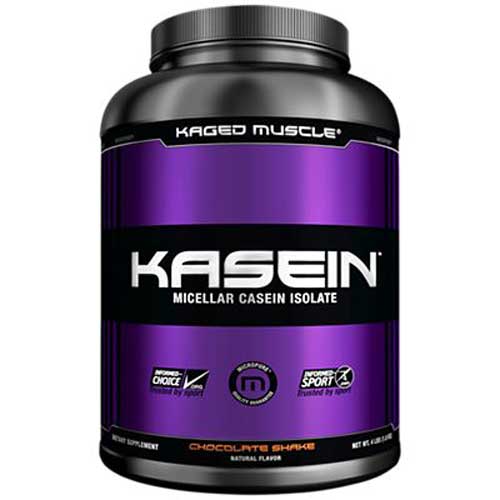 KASEIN™ promises to keep your lean muscle fueled for extended periods with its premium casein powder formulation, making it undoubtedly one of the best casein proteins available.
Its effects last several hours after consumption because of its premium cold-pressed filtration method to extract micellar casein isolate protein that is micro-filtered for purity to provide you with a slow and steady stream of muscle-building amino acids.
Its composition of stevia, cocoa powder, sea salt, natural chocolate flavoring, and more gives it a great taste that they describe as absolutely amazing.
Because of this formulation, Kaged Muscle Kasein Isolate Powder is perfect for when you're craving something sweet, especially as a tasty pre-bedtime snack.
When you need a power shot of protein between meals, this casein protein powder provides you with the essential amino acids to jump-start that muscle-building process.
Pros
Delicious milkshake-like flavor.
Formulated with micellar casein isolate.
No artificial colors
No artificial flavors
No dyes
Third-party tested
Free of banned substances
Great taste
Cons
It may not be suitable for pregnant or nursing women.
Exposure to moisture or heat may cause the powder to clump or harden.
May clump after mixing.
Because of its rigorous and detailed extraction process using a cold-pressed filtration method to derive high-quality proteins with a slow digestion rate and exclude substances banned for athletes, we believe Kaged Muscle Kasein Isolate Powder is of the highest quality.
For us, this places it among the best casein protein powders to supplement optimal protein intake. It can also:
help you maintain a healthy body weight
improve muscle gain
prevent protein breakdown
increase protein intake for muscle development
5) Legion Casein+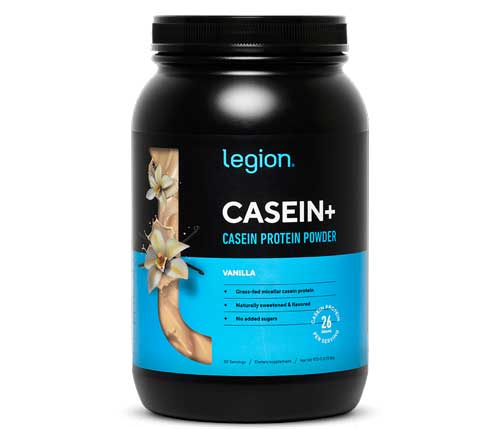 For many of us, consistency is just as important as taste and quality, so we had to include an option in this list emphasizing the consistency of casein protein powder when mixed.
While there are many great casein supplement options on the market, not many of them mix well.
However, Legion has developed a casein powder formulation from high-quality milk to ensure optimal mixability.
The milk is sourced from small Irish milk farms certified by Ireland's Sustainable Dairy Assurance Scheme to adhere to specific standards to produce high-quality casein powders.
Casein+ is a 100% natural grass-fed micellar casein protein powder that delivers 120 calories, 26 g protein, 2 g carbs, and 0 g fat per serving.
Plus, it is also naturally sweetened and flavored.
Legion is big on supplying top-grade products and has chosen to get their supply from Irish cows, which are some of the healthiest, cleanest milk in the world.
Additionally, the farmers adhere to best practices in animal welfare, sustainability, product quality, traceability, and soil and grass management.
Legion promises a mouth-watering, high-protein, low-calorie casein protein powder that helps you reach your fitness goals faster.
Pros
Full refund on the spot for unsatisfied customers.
Science-backed ingredients.
Naturally sweetened
Manufactured in an FDA-approved GMP-certified facility.
Lab-tested for potency and purity.
Non-GMO
Naturally flavored
No artificial food dyes or other chemical junk
No artificial ingredients.
Cons
A bit pricey
Contains soy lecithin (not suitable for persons with soy allergy).
Legion Casein+ is formulated with sunflower lecithin, which acts as an emulsifier, so it suspends fats and oils and keeps them from mixing with other substances.
For this reason, Legion Casein+has the propensity to produce a smooth, clump-free mixture in very little time.
With this and its many other benefits, it's no wonder Legion has secured several athlete sponsorship deals from high-profile clients.
Here are some other ways that Legion Casein+ may help you:
may improve insulin sensitivity
improve muscle-building capability
help you lose weight
decrease cholesterol profile
improve blood glucose control
display anti-cancer effects
reduce blood pressure
decrease inflammation
6) ON Optimum Nutrition Gold Standard Casein
Optimum Nutrition (ON) has had a history of setting higher standards for quality for thirty years. It has been hailed for its dedication to developing high-quality supplements, and its casein powder is no different.
Optimum Nutrition Gold Standard Casein powder is one of the best slow-digesting casein powders on the market, and it comes highly recommended by past and current consumers.
This casein supplement is a great option for snacking between meals or at bedtime and when fasting for long periods.
Optimum Nutrition provides 24g of a high-quality, slow-digesting protein that can help you achieve your health and fitness goals and support the recovery process of lean muscle mass.
As one of the best casein powders, Optimum Nutrition Gold Standard Casein can help rebuild torn-down muscle fibers and maintain muscle-building. At the same time, you sleep with its specifically formulated night-time protein source.
Compared to other proteins, it can take longer for this Gold Standard 100% Casein to be broken down into its amino acid subcomponents.
By using only premium micellar casein as a protein source, ON has created a formula that sets the standard for slow-digesting protein support.
Pros
GMP Certified
No artificial flavors
No artificial sweeteners
No added colors
Low in carbs, sugar, and fat
Available in 2 and 4 lb. tubs
Available in two flavors; chocolate crème and French vanilla
Certified for Sport by NSF International.
Cons
May not be suitable for pregnant and nursing women.
Expensive compared to other casein protein supplements.
Contains soy lecithin
We believe this option is best for digestion because of its specific digestive support formulation, including digestive enzymes, which may help facilitate better protein absorption.
Additionally, its formulation provides 24 grams of protein per serving and 4.7 grams of amino acids to help achieve your health and fitness goals by promoting muscle building and preventing breakdown.
It is also instrumental in helping you to feel full longer and support your weight management goals.
7) Dymatize Elite Casein
Dymatize Elite Casein protein powder is a slow-absorbing supplement with muscle-building amino acids and 100% micellar casein.
This sustained-absorbing protein can aid you with prolonged muscle support and recovery.
It is an affordable option that we chose for budget buyers, but it is also reputed for its great taste.
Elite Casein protein powder breaks down slowly in the digestive system resulting in increased satiety and a slower release of muscle-building amino acids.
Suppose you are looking for a long-term product that is affordable. In that case, we recommend Dymatize Elite Casein to help you achieve your muscle-building and repair goal while avoiding muscle protein breakdown between meals or during sleep.
Dymatize Elite Casein provides 25 grams of slow-digesting casein protein per serving. It is specifically formulated to digest more slowly in your body than other rapid-release sources, such as whey protein.
This slowed digestion results from the natural pH sensitivity of casein protein in the digestive tract.
Pros
Affordable
Available in four flavors with great taste.
Manufactured in GMP- and sport-certified facility
Supplies 24 grams of protein, with 5.3 grams of BCAAs per serving.
Low carbs
No added sugars
Certified gluten-free
Cons
Contains soy (not suitable for persons with soy allergy).
Compared to other casein protein supplements, this casein supplement is very affordable, as it provides more products for a lesser cost.
For many people, the cost is important. So we wanted to provide an economical option, especially for those who need to be on a casein protein supplement for a prolonged period.
Although it costs less, we also appreciate that this protein powder is still very efficient in delivering muscle health benefits.
8) Ascent Native Fuel Micellar Casein
Athletes are possibly the most consistent users of casein protein powders, so would it even make sense to have a list and not include a product specially formulated for the athletic group?
This protein supplement is certified by a global sports supplement testing program as Informed-Sport-certified.
This means it is free from banned substances, making it safe for athletes to consume.
This athlete-suitable casein protein powder provides 25 grams of protein per serving and 5 grams of BCAAs.
The ascent was created with one purpose: to naturally improve athletic performance; the company is committed to using the best real food ingredients designed to improve muscle health and performance.
Also, Ascent Micellar Casein contains zero artificial ingredients or flavors and is naturally sweetened.
Ascent Micellar Casein is a slow-digesting protein, taking up to 6-8 hours to digest; therefore, it is best used for overnight sustained muscle growth and recovery.
It may also help prevent muscle loss during sleep.
You can use Ascent Micellar Casein to create the perfect nighttime pudding using almond milk as a snack or have it between meals.
Pros
Informed-Sport-certified.
100% micellar casein
Available in two sizes — 2 and 4 pounds
Certified gluten-free
Zero artificial ingredients
Available in three flavors; chocolate, vanilla bean, and chocolate peanut butter
Soy-free
Cons
Pricey compared to other options.
Some customers complain about its strong taste.
Has a relatively high carb content compared to others.
Being certified by a global sports supplement testing program, Informed-Sport-certified says it all.
As most consumers of protein-based supplements, it's only natural that there is an option specially formulated for athletes.
Not only does the Ascent brand create products for athletes to get the protein boost they need, but the company also prides itself on quality supplements that may deliver maximum benefits, including:
help with muscle repair and recovery
reduce insulin sensitivity
promote muscle-building capability
stimulate weight loss
maintain blood glucose control
decrease blood pressure levels
reduce inflammation levels
9) Promix Casein Protein Powder
This low-calorie nighttime protein supplement helps you capitalize on the hard work you put in at the gym.
Because of its long-lasting, slow release of amino acids, you get a protein boost all night long that helps to decrease recovery time and increase muscle development.
Promix Casein Protein Powder is another high-quality unflavored casein protein option for you to incorporate into just about anything you make.
Promix Casein Protein Powder provides 25 grams of pure, high molecular weight protein, 5.3 grams BCAAs per serving, 0 grams fat, and carbs.
Its formulation may provide the optimum slow-absorbing protein powder for lean muscle and the best fitness results.
For over five years, Promix has sourced its milk from Midwest dairy farm partners who ensure a pasture-based supply of verified hormone-free and antibiotic-free milk from which Promix derives its casein protein.
Promix uses industry-leading filtration techniques that are completely chemical-free, so proteins stay intact, with a dash of sunflower lecithin added in for easier mixing.
This makes it easier for you to combine Promix Casein Protein Powder with your shake, smoothie bowl, etc.
Pros
Made from verified hormone-free and antibiotic-free milk.
Formulated with all-natural ingredients.
Soy-free
Gluten-free
Non-GMO
Hormone-free
No chemical bleaching or additives
Third-party tested
Cons
Expensive
May have a gritty texture and strong taste.
Sometimes, unflavored is good, and in this case, it is.
Being unflavored gives you the opportunity to become creative when making healthy foods and snacks because you can substitute this casein protein for other unhealthy ingredients.
So we thought it necessary to provide you with a second option that allows you to express your creative cooking skills while you try to maintain a healthy diet and still get the complete protein daily value you need.
Additionally, it may:
support weight loss
build lean muscle and recover efficiently in your sleep
kickstart muscle repair and growth
10) Muscle Feast Grass-Fed Micellar Casein
Muscle Feast 100% Micellar Casein Protein formulation is all-natural and derived from pasture-raised, hormone-free cows.
Additionally, it is soy-free and a slow absorbing pure European micellar form of casein.
Compared to other dairy proteins, this product is highly rated by consumers as a combination of quality and value.
They feel that using this product adds value for the money spent.
This product has been sourced from dairy cows that graze freely on grass and have not been given added hormones.
Furthermore, Muscle Feast optimizes its supplements to be the freshest and purest.
Therefore, its supplements are manufactured under the strictest HACCP, FDA, and Kosher standards, producing the highest quality and purest supplements available.
Muscle Feast's raw ingredients undergo state-of-the-art analysis to ensure zero impurities and strict adherence to product labeling.
Muscle Feast Casein is designed to digest slowly and provide you with a sustained increase in muscle protein synthesis.
This casein protein is isolated from milk by filtration, preserving the structural integrity of the protein molecule.
This process provides many biologically active compounds with direct immune and physiological benefits.
While its micellar casein is best taken before bed, you may also use it in the daytime as an ideal choice for a protein-rich snack.
Pros
Approved to be a kosher dairy product by the Orthodox Union (OU-D).
Certified by the American Vegetarian Association to be Vegetarian.
All-natural and non-GMO
Completely free from artificial fillers and ingredients.
No soy
Great value
Cons
Strong taste
Grainy texture
Muscle Feast Casein promises and delivers 37 and 75 servings in its two and 4-pound packages, respectively, for under $70.
From the reviews, it would suggest that this product delivers effective muscle support along with several other health benefits.
Plus, its formulation contains all-natural ingredients and is vegetarian-friendly.
Now, if that's not value for money, we don't know what is.
Here are some additional benefits you may gain from Muscle Feast Grass-Fed Casein:
support immune system health
decrease blood pressure levels
boost muscle development and regeneration
maintain blood glucose control
support weight loss
reduce inflammation levels.
Conclusion
We understand how much protein values and how vital it is to many, as it provides benefits that whey protein and other types do not, and often, finding the best casein protein is a challenge.
That's why we created this list, and we hope it will be instrumental in aiding you to find the ideal supplement with the right taste, consistency, and price.
When choosing a casein protein, consider your needs, including your budget, how long you may need to use the supplement, and if you have any allergy concerns.
More importantly, read the labels properly even when the product is delivered to you because sometimes product labels change and are not yet updated online.
All the best in your health and fitness journey.