Women need to stay on top of their health, and one way to do so is to take multivitamins daily.
No matter if you are a stay-at-home mom, if you work from home or outside the home, getting all the vitamins and nutrients required to keep your body healthy is essential.
In this guide, we will explore 11 of the best multivitamins for women, their health, and wellness.
These supplements contain folic acid, which pregnant women typically need, and other prenatal vitamins, along with vitamin D, vitamin C, and many other key nutrients.
These dietary supplements can help you to optimize your intake of vitamins and minerals that promote a healthy immune system, and digestive health, and fill nutritional gaps with those essential nutrients that you may be missing.
Finding the ideal supplement can be a tedious task, and really, do you even want to spend hours sifting through the multivitamin industry?
No, so in this list, we hope to provide you with several multivitamin options for you to choose from.
At a Glance:
Top 11 Women's Multivitamin Brands of 2023
1) Best Overall: Performance Lab NutriGenesis® Multi for Women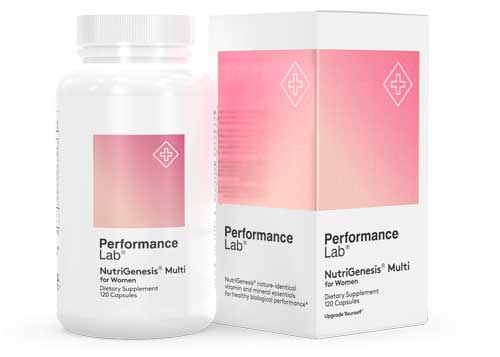 This female supplement is described as an ultramodern multivitamin for overall health and peak human performance.
It is formulated with over seventeen essential daily vitamins and minerals specifically for addressing women's nutritional needs.
Additionally, it boasts whole-food cofactors for optimal absorption.
Pros:
Vegan-friendly
GMP certified
Caffeine-free
Non-GMO
No synthetic fillers
Soy-free
Cons:
Dosage requires 4 capsules daily.
Expensive
Aside from being specifically formulated for women, this multivitamin may afford you a range of benefits, including:
improve cardiovascular, skin, nails, tissue health, and healthy hair
enhance energy metabolism and hormone production
promote a healthy immune system and bone health
maintain hydration, muscle, nervous system, and kidney function
1) Best Runner Up: THE Myers Way® Multivitamin
Dr. Amy Myers custom formulated a multivitamin with the most bioavailable pharmaceutical-grade nutrients available.
THE Myers Way® Multivitamin is specially formulated to help women achieve optimal health status.
It can provide you with high levels of key nutrients for general wellness and detoxification, moreover, it is ideal for women affected by thyroid dysfunction, like Hashimoto's and Grave's disease.
This supplement contains vitamin A, E, C, D, K, thiamine, niacin, and more.
Pros:
Third-party lab testing
90-days money-back guarantee
Keto-friendly
Non-GMO project verified
Soy and gluten-free
Cons:
Requires a dosage of 6 capsules daily.
Expensive
The Myers Way Multivitamin contains several B Vitamins, which in their activated forms can improve cardiovascular and neurological health, and optimize detoxification and methylation.
Also, here's why we think this is one of the best multivitamins for women, this supplement can promote bone health due to its bioavailable calcium and Vitamin D3 component.
Myers Way may also help ensure that you are getting optimal levels of antioxidants, omega-3 fatty acids, probiotics, and micronutrients.
3) Ritual Essential for Women 18+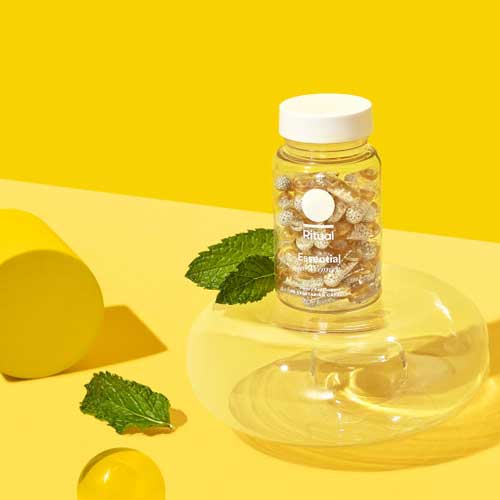 This is a clinical researched-backed multivitamin for women 18-49. It is formulated with omega-3 DHA, methylated B12, calcium-helper nutrients, vitamin D, magnesium, and boron to help fill nutrient gaps in women's diet.
Additionally, it contains iron, folate, and vitamin E.
The manufacturers believe not all ingredients are created equal, and as such, their women's multivitamin is created with a visible supply chain, so you know what you're putting in your body.
Pros:
University-Led Clinical Trial
Free Shipping
No Artificial flavors
No colorants
No Synthetic Fillers
30-Day Money-Back Guarantee
Gluten-free
Major Allergen-Free
Vegan- friendly
Cons:
It can take up to two weeks to see or feel any results.
Has a fishy flavor.
Ritual For Women 18+ specially made with a vegan formulation for women that is validated by research.
Also, its content is sealed inside a delayed-release capsule, which is should dissolve within the small intestine, as this is where most nutrient absorption occurs.
This supplement for Women 18+ can:
improve brain function
help you maintain healthy bones
promote the formation of red blood cells
provides antioxidant support to fight free radicals
4) Women's 50+ Complete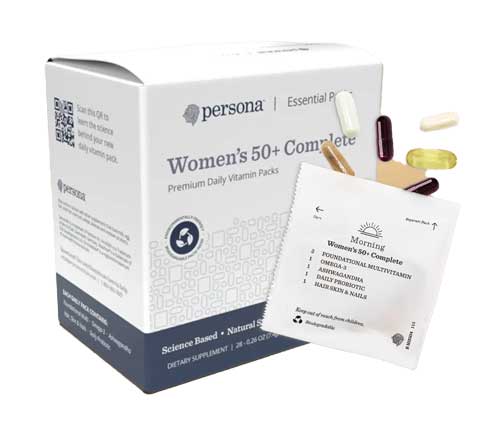 Although a multivitamin is made for women, it doesn't necessarily mean it is the right one for you.
There are other factors to consider other than your gender, like your age.
As such, Persona Nutrition has created one of the best multivitamins for women that is age and gender-based and is best suited for women 50 years and older.
It is formulated with ingredients from natural sources that are tested and retested for purity.
Each dose will provide you with all the nutrients you should be intaking daily, these include vitamin C, vitamins A, D3, E, K, thiamin, biotin, niacin, zinc, folate, and many more.
Pros:
No bottles
Doctor and nutritionist-approved
Corn-free
Egg-free
Gluten-free
Fish and shellfish-free
Nut-free
Soy-free
dairy-free
Cons:
This multivitamin by Persona Nutrition is formulated by a doctor to provide mature women with the boost they need for their immune health and essential nutrients to prevent nutrient deficiency and aid in maintaining a healthy lifestyle.
It can also:
improve brain and bone health
promote healthy eyes and heart
boost energy
hydrate skin
support breast health
5) Care/of Women's Care Pack
Care/of Women's Care Pack promises to cover all your bases with these essential vitamins and supplements for women, all in one convenient daily pack.
It is also an affordable multivitamin solution that can help you feel your best and support your long-term health.
Its formulation includes three capsules:
Calcium plus
Probiotic blend
Vitamin C
Pros:
Affordable monthly subscription
Personalized pack available
Non-GMO
Vegan-friendly
Cons:
No single purchase available (must cancel subscription)
So, just as you appreciate being able to log into Netflix whenever you need to, you will appreciate having your multivitamins whenever you need them.
That's why the Care/of Women's Care Pack subscription plan is so amazing.
Additionally, this multivitamin can provide you with a host of benefits like:
promote strong bones and muscle movement
improve digestive health
regulate a healthy immune system
6) LifeSeasons ReCODE Protocol Daily Multivitamin
With so many vitamins and key nutrients required to ensure the body organs gets the nutrition they need, it is essential that we have dietary supplements that target specific organs.
ReCODE Protocol understood this assignment, and as a result, developed a multivitamin to support optimal brain performance.
This supplement is comprised of multiple ingredients that may not only fill the brain's nutrient needs, they can also play a role in your overall health.
Pros:
No artificial colors
Gluten-free
Wheat-free
Yeast-free
Corn-free
Dairy-free
Vegetarian formula
Cons:
Expensive
Dosage requires 4 daily with food
Aside from being specially formulated with ingredients that can promote brain function, cognition, and memory, ReCODE's multivitamin is also potentially beneficial to the entire body.
Vitamin A

– Improves brain function, protects eyes from age-related decline, supports immune health, supports bone health.

Vitamin C

– Supports immune function.
Vitamin D – Promote calcium absorption, cell production and growth, neuromuscular function, and immune function. Support breast health.

Vitamin E

– Reduce risk factors that contribute to heart disease and inflammation. Promote eye health and immune function.
Vitamin K2 – supports blood clotting, prevents the calcification of blood vessels and kidneys, and regulates calcium in the brain.
Thiamine – Enables the body to use carbohydrates as energy and supports nerve, muscle, and heart function.
B vitamins – Boost brain energy metabolism, help the body to break down carbohydrates, proteins, and fat to produce energy, combat oxidation in the body, promote a healthy nervous system, support hormone balance, and support reb blood cell formation.
Folic Acid – supports the production of hormonal neurotransmitters. Prevent birth defects, like neural tube defects.
7) New Chapter One Daily Multi herbal Sleep Well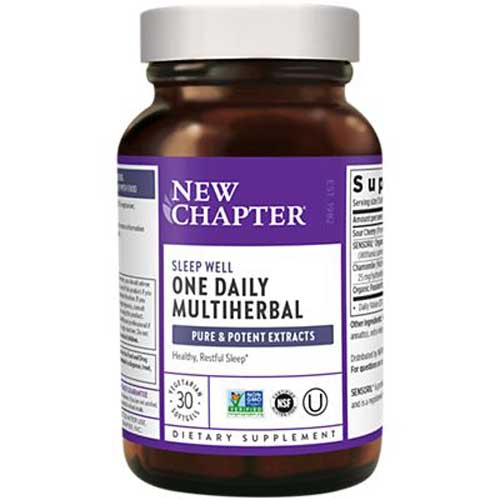 New Chapter's multivitamin is specifically formulated with whole food and probiotics to make it easier on your gut.
Additionally, it includes certified USDA organic vegetables and herbs.
This multivitamin supports herbal, holistic health through its clinically studied composition, which includes a blend of naturally soothing Chamomile, Passionflower, and Ashwagandha.
Pros:
Non-GMO project verified,
Gluten-free
No artificial flavors
No artificial filler
No colors addded
Affordable
Clinically studied
This herbal blend multivitamin is compact with the ideal ingredients to promote sleep.
As seen from the reviews on its website, it has helped many people to achieve the sleep they had been lacking, so maybe it can help you too.
1) Chamomile
Comes from a daisy-looking flower and is known to provide several health benefits. It can:
help reduce high blood sugar levels
reduce menstrual cramps and inflammation
prevent osteoporosis
treat cold symptoms
2) Passionflower
This vine for some, is a cure-all, as it may:
relieve pain
treat menopausal symptoms
reduce anxiety and sleep problems
aid with managing attention-deficit hyperactivity disorder
treat heart rhythm issues
3) Ashwagandha
This herb is heavily used in alternative medicine because of its potent medicinal benefits. It may:
help the body combat stress and arthritis
calm the brain and treat Alzheimer's
improve heart health
lower blood pressure
boost immunity
8) One A Day Women's VitaCraves Multi Gummies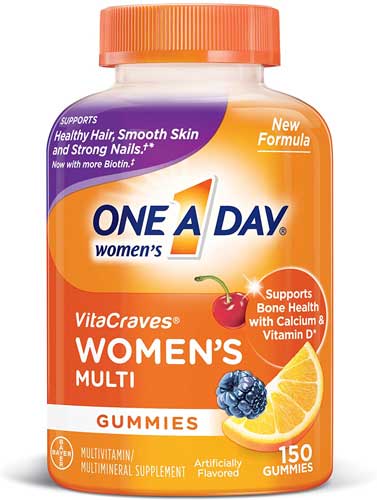 Swallowing a capsule or tablet while simple for many can be a stressful experience for others, and so it's good to have chewable and liquid alternatives.
One A Day, which has been making trusted, specially formulated multivitamins for more than 75 years knows how massive this need is as well, so they have created the ideal tablet and capsule gummy vitamins alternative for women.
In a convenient gummy form, you can get all the vitamins and essential nutrients you need for a balanced diet.
Chewing two gummies can provide you every day with a dose of well-needed nutritional support.
One A Day Women's VitaCraves Multi Gummies contain vitamin A, vitamin B12, vitamin B6, vitamin C, vitamin D, and E, Folic Acid, Biotin, Iodine, Zinc, and Calcium.
Pros:
No artificial sweeteners
No diary
Egg-free
Fish-free
Suitable for children 12 years of age and older
Affordable
Cons:
Not gluten-free
During the summer months, products may arrive warm
There is no need to worry about swallowing or tasting when you have this gender-specific multivitamin in a convenient, great-tasting gummy multivitamin, specially formulated to provide nutritional support so you can get the right daily value of each vitamin and nutrient you need.
Aside from convenience, it may:
support bone strength
improve immunity
promote skin and nail health
boost energy
promote heart function
improve brain function
9) Garden of Life Vitamin Code Women's Multi
Some women must avoid gluten at all costs, whether it be for medical or just personal reasons.
So being able to find a multivitamin that addresses that need directly, while still supporting your nutrition to ensure you get all the right vitamins and nutrients is essential.
Garden of Life Multivitamin for Women, Life Vitamin Code Women's Multi is formulated to be one of the best women's supplements, as it contains a fruit and veggie blend, live probiotics, and digestive enzymes for extraordinary health and vitality.
It also provides folate, iron, zinc, vitamins A, C, D3, E, and B-Complex, chromium, manganese, molybdenum, selenium, and more
Pros:
No binders or fillers
Non-GMO Project Verified
NSF Certified Gluten-Free
Star K Kosher Certified whole food multivitamin
Affordable
Diary-free
Vegetarian-friendly
Cons:
Has a strong taste
May cause slight bloating
This designed-for-women formula caters to a very special group and that must be recognized.
The manufacturers believe that you should have the best when it comes to your multivitamins, similarly to your food.
As a food fanatical, Garden of Life is over what goes into our products and is even more obsessed about the things it keeps out of them, like harmful substances.
As such, this company makes its supplements by hand, grown in rich organic non-GMO soil with enough sun, air, water, and time for it to be their best.
They are harvested when ready, treated with care, and turned into a power-packed nutritious food supplement.
Also, it is specially formulated for women during their reproductive years for fetal health and fetal brain development.
In addition to providing a specialized supplement, this product can provide a host of benefits for you.
It may:
support women's nutritional needs
support breast health
promote heart health
improve reproductive system health
10) Swisse Ultivite Multivitamin for Women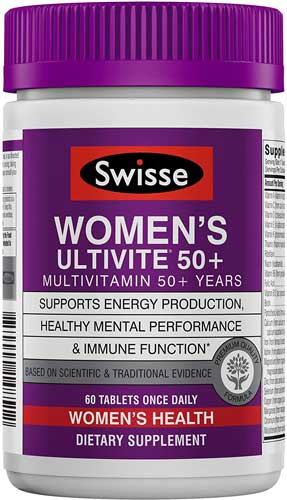 Swisse Women's Ultivite 50 plus is a premium quality formula containing 43 vitamins, minerals, antioxidants, and herbs.
This supplement goes above and beyond a typical multivitamin, as it is formulated with black cohosh, B vitamins, iodine, milk thistle, cranberry, vitamin C, and much more.
Additionally, its premium formula contains adaptogens that can help the body perform optimally during times of stress, making it possibly one of the best multivitamins for women.
Pros
Super affordable
No artificial sweeteners or flavors
Only one table for the daily dose
Flavored with spearmint oil
Coated for easy swallowing
No sugar added
Cons
The product has a strong taste
Has a slightly unpleasant smell
Getting in our daily supplements is essential, but to be honest, ts can be expensive over time.
That's why finding Swisse Ultivite was so important because, for a product that costs under $20, it has the propensity to supply all or most of your supplementation needs.
They wanted to provide an efficient and affordable product because they believe that health is the most important thing in all of our lives.
As such, we believe it truly deserves a spot on this list and according to its users, this is hands down one of the best multivitamins for women.
It can:
support energy production, stamina, healthy mental performance, and immune function
provide relief of symptoms, such as menopause
provide detox support & antioxidants
help protect cells from potential free radical damage
11) New Chapter Every Woman's One Daily Multivitamin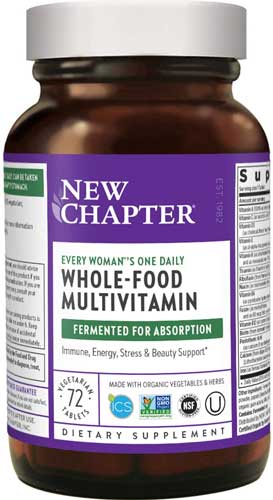 Probiotics are potent good bacteria that do an intense job of keeping the body healthy.
There are some conditions that will require you to consume more probiotics than normal, and while you probably can't eat enough food to supplement that need, there is always the option of taking a probiotic-rich multivitamin.
That's where New Chapter Every Woman's One comes into play.
It provides whole-food fermented nutrients formulated for your body to recognize as food, along with enhanced and pure superfood herbs, including elderberry, ginger, and organic turmeric.
Pros:
Vegetarian-friendly
Gluten-free
Made with Certified Organic Vegetables and Herbs
Non-GMO Project-verified
No artificial fillers
No animal gelatin
Cons:
Pills are quite large
Costly
We can't stress enough how essential probiotics are to our well-being and for that reason alone we had to add this probiotic-based supplement to our list of best multivitamins for women.
It also provides the necessary nutrients, vitamins, and minerals women need to keep energized and healthy.
This supplement may also:
support skeletal system health
provides stress support
boost immune strength
promote hair, skin, and nail health
supports a healthy heart
Conclusion
These are our top pics for the best women's multivitamins.
These brands recognize the necessity of producing more than just the average multivitamin as women have specific needs that must be addressed for them to remain in optimal health.
Whether you are lacking vitamins and minerals, such as folic acid and vitamin D, or just need to ensure you get the daily value of each, these options can assist.
Furthermore, some of these are suitable for pregnant women to use as prenatal multivitamins and can replace or supplement dietary fiber.
Our editors independently research each product to ascertain its benefits, pros, and cons and even look at market research to provide you with accurate information on which to base your decision.
If you are not sure which to choose, speak to a registered dietician, as they are sure to recommend the ideal supplement.