Becoming a vegan is a life-changing decision, and finding appropriate foods for a vegan diet, much more vegan multivitamins, is often challenging.
Finding the best multivitamin vegan is one of the most challenging tasks since most of the vitamin options on the market are made of animal products and by-products.
As such, many vegans give up on finding vegan vitamins to support their plant-based diet.
We understand that multivitamins are an essential addition to everyone's diet, so we researched to provide you with the ten best vegan multivitamins on the market.
These supplements contain organic fruits, essential vitamins, and nutrients.
Additionally, they are vegan-certified, gluten-free, and made specifically to prevent nutrient deficiencies by helping to provide a balanced vegan diet.
These supplements facilitate healthy skin and improve the immune system, among other benefits.
Let's have a look at these vegan supplements!
Top 10 Vegan Multivitamins at a Glance
10 Best Multivitamins For Vegetarians (Men & Women)
1) Best Overall: Future Kind Essential Vegan Multivitamin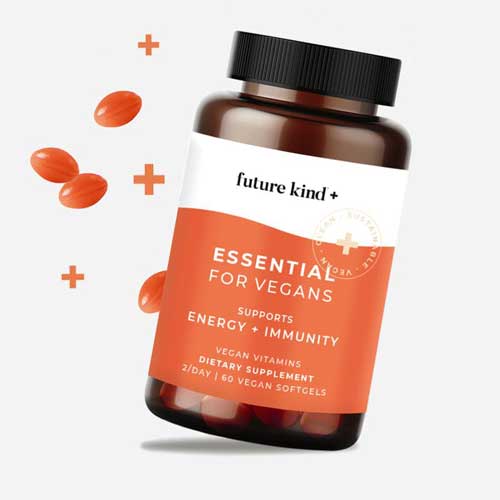 The name says it all, Future Kind Essential Vegan Multivitamin is made specifically for a plant-based diet, so it ideally caters to the vegan society.
It is made to supplement the nutrients and vitamins lacking in vegan diets, such as vitamin B12, omega-3 fatty acids, and vitamin D.
They have combined these three essential nutrients and removed everything else vegans do not need.
Taking two of these vegan soft gels a day may put you back in control of your body, brain, and how you age.
Pros:
Perfect for adults, teens & kids (11+)
Affordable
Glass bottle
Recycled packaging
Carbon offset
Cons:
Why Future Kind Essential Vegan Multivitamin is the Best Overall
While other vegan multivitamins may be packed with unnecessary nutrients, Future Kind took the time to research the vegan diet and identified the three nutrients that vegans are most commonly lacking.
As such, they focus on the necessary vitamins and nutrients. Future Kind's vegan multivitamin may:
support your energy levels since vitamin B12 is instrumental in energy production and helps to maintain a healthy nervous system
improve your mood, as omega-3 fatty acids are used to treat mood disorders
enhance your ability to focus
improves your immunity
supports healthy aging
supports healthy bones, joints, and brain function.
2) Best Runner-Up: Wholier Multi for Plant-Based People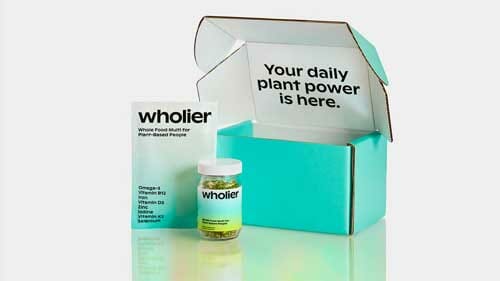 This vegan multivitamin provides daily nutrition for plant-eaters as it was specifically designed to supplement a vegan diet by providing essential vitamins and key nutrients.
Wholier is one of the best vegan multivitamin options and is also supported by scientific research as one of the most efficient in supporting the needs of a plant-based lifestyle.
It is formulated with eight vitamins and minerals and contains ingredients like fermented chickpeas, algae, gluten-free nutritional yeast, and rice.
Specifically, this vegan-friendly liquid multivitamin contains omega-3 fatty acids, vitamin B12, vitamin D, zinc, iodine, iron, vitamin K2, and selenium, all known to provide multiple health benefits.
Pros
Sold in a reusable glass bottle.
30-day money-back guarantee.
Carrageenan-Free and Gluten-Free
No Synthetic Fillers or Colorants
Third-Party Tested
Non-GMO
Cons
Available only on a monthly subscription plan.
Why Wholier is the Best Whole Food Option
Wholier's formulation makes it one of the best vegan multivitamins for supplying vitamins and minerals harvested from organic whole foods.
They believe nutrients should come from foods; their vitamins and minerals are derived from plant-based sources.
Wholier can help you sustain energy, improve brain and heart health, support your immune system, and provide optimal healthy metabolism.
3) MaryRuth's Liquid Morning Multivitamin
This vegan multivitamin provides essential vitamins and minerals in an easy-to-take liquid formulation.
MaryRuth's Liquid Morning Multivitamin is designed to be an efficient, vegan-friendly option, especially for those who have difficulty swallowing tablets or capsules.
This vegan multivitamin is suitable for your entire family and is formulated with essential vitamins, minerals, antioxidants, trace minerals, and amino acids for your body.
It also provides a blend of vitamin B.
Pros
Family-friendly
Available in multiple flavors.
Non-GMO
Free of the 8 Major Allergens
Sugar-free
Made in a GMP Facility
Soy-free
Free of animal products
Contains a variety of B vitamins
Cons
Costly compared to other vegan multivitamins.
Strong taste
Why MaryRuth's Liquid Morning Multivitamin is Best for the Family
Who doesn't prefer liquid to pills?
MaryRuth understands that many people struggle with taking tablets. So they have formulated the ideal Liquid Morning Multivitamin supplement using fortified foods and plant foods blends to help you experience a balanced diet.
This supplement is suitable for kids and adults. It can also:
support healthy metabolism
improve energy levels
support the nervous system
help amino acid metabolism
boosts red blood cell and DNA production.
4) Ritual Essential For Women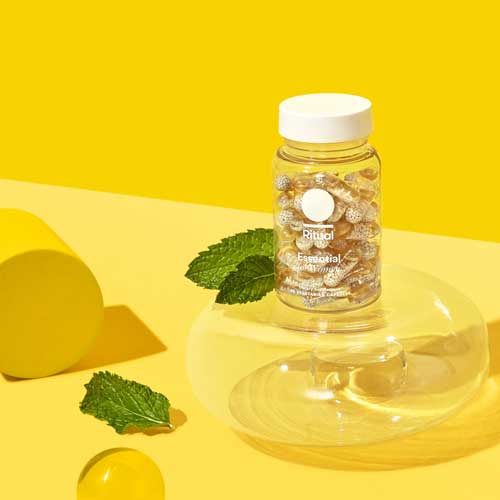 A woman develops Ritual Essential For Women.
Based on her experiences and inability to find a suitable vegan multivitamin when pregnant, Kat Schneider decided to remedy that issue by developing one that she and other vegan expectant mothers could use without worry.
This is one of the best vegan multivitamins for pregnant women, as it is formulated with nine traceable ingredients, all compacted into a smart capsule.
These include folate, omega-3 DHA, vitamin B12, Vitamin D, iron, boron, vitamin K2, magnesium, and vitamin E.
Pros
Free Shipping
Affordable
30-Day Money-Back Guarantee
University-Led Clinical Trial
Gluten and Major Allergen-Free
No Artificial flavors, Colorants, or Synthetic Fillers
Cons
Does not contain calcium or vitamin C
Why Ritual Essential For Women is Best for Women
Ritual Essential For Women is backed by science and has certainly proven benefits.
Additionally, its content is sealed inside a delayed-release capsule, which is intended to dissolve in the small intestine, where most nutrients get absorbed.
Plus, because of its design, you get a combination of dry and oily ingredients in one capsule, and it can:
improve brain health
help you maintain healthy bones
promote the formation of red blood cells
provides antioxidant support to fight free radicals
5) Hippo7 Vegan Complete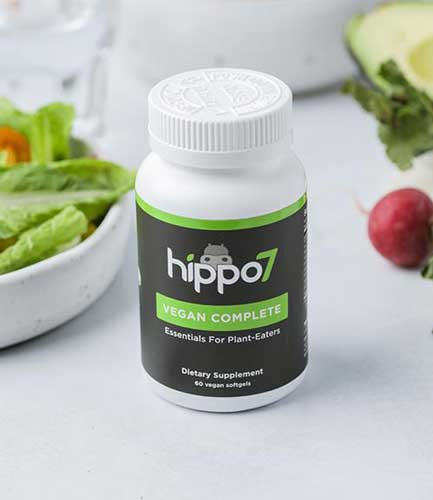 Vegan diets will always lack certain essential nutrients; however, Hippo7 provides seven of these in one convenient vegan supplement.
This formulation includes mega-3 from marine algae, vitamin D, vitamin B12 (Folic Acid), calcium, iodine, iron, and zinc.
With its powerful formula, Hippo7 Vegan Complete provides high-quality nutrition without compromising your plant-based diet.
Pros
Manufactured in state-of-the-art manufacturing facilities that are cGMP compliant & NSF certified.
Third-party lab testing.
Non-GMO
No synthetic colorants or fillers were added.
Gluten-free
Cons
Costly compared to other vegan multivitamins.
It may have a slight odor.
Why Hippo7 Vegan Complete is the Best B12 (Folic Acid) Option
Hippo7 Vegan Complete is certified vegan as it boasts a 100% vegan composition, including incorporating the more active form of vitamin B12 that is typically found in foods.
Hippo7's combination of these seven powerful natural vitamins and minerals has resulted in the formulation of what is revered as possibly one of the best vegan multivitamins on the market.
It can:
aid in the production of red blood cells that carry oxygen
improve heart health
promote healthy digestion
supply the body with important vitamins
6) NOW Eve™ Women's Multiple Vitamin Veg Capsules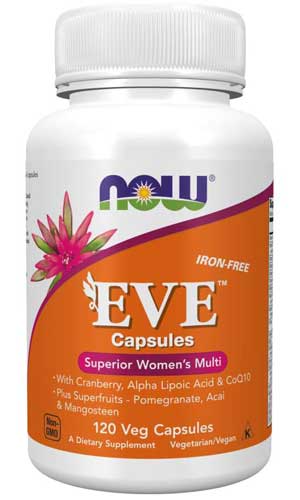 NOW Eve™ Women's Multiple Vitamin Veg Capsules feature a potent combination of vegetable blends to provide you with more than enough vitamins and life supplements.
MOW Eve recognizes that the world is filled with processed foods and fast-paced lifestyles, so many do not get the daily recommended allowance of vitamins and minerals.
This observation has served as one of the primary factors for developing Women's Multiple Vitamin Veg Capsules, which they hope will help fill in the areas lacking in your vegan food to provide you with a healthy diet.
Pros
Non-GMO
Keto-friendly
Non-dairy
Kosher
Egg-free
Produced in a GMP facility
Cons
GMP facility may process other products with allergens.
It may not be suitable for pregnant or lactating women.
It may interfere with blood test results.
Natural color variation may occur.
Why NOW Eve™ Women's Multiple Vitamin Veg Capsules?
NOW is a multivitamin pioneer known for delivering high-quality supplements suitable for all.
NOW is catering to women with its vegan vegetable dietary supplement, which may stimulate digestive enzymes, improve immune function, support brain health, and boost energy.
7) Deva Vegan Multivitamin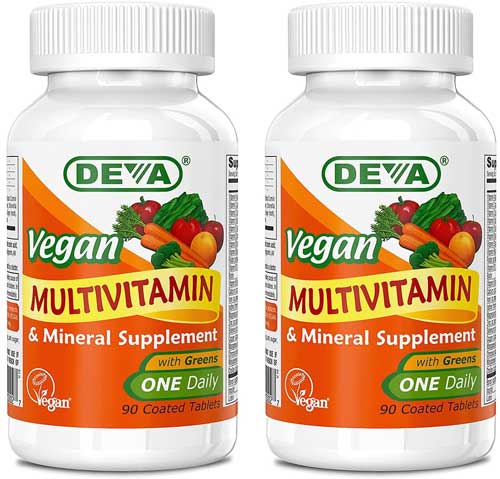 Deva Vegan Multivitamins is a high-potency supplement with important green whole foods, veggies, and herbs.
It provides a wide variety of essential vitamins, minerals, and a few key nutrients your body needs to keep vegans healthy.
These multivitamins are also enriched with vegetable powders, making them an ideal option for anyone who prefers an animal-free multivitamin supplement.
Pros
Green food blend
Registered by the Vegan Society
Yeast, gluten, egg, dairy, shellfish, and sugar-free.
Does not contain non-vegan ingredients, such as animal products.
Cons
During the summer months, products may arrive warm.
Has a strong flavor that many dislike.
Why Deva's Vegan Multivitamin is the Most Affordable Option
Deva's vegan multivitamin is rich in nutrients from green plant foods. Many hailed it as one of the best vegan vitamin options for those seeking a multivitamin vegetable blend to help them achieve a balanced diet.
It is budget-friendly and long-lasting, with a supply of two bottles, each containing ninety coated tablets.
Further, this supplement can:
boost the immune system's health
improve brain, bone, and heart function
promote blood cell production.
8) Abundant Earth Labs Whole Food Elite Multivitamin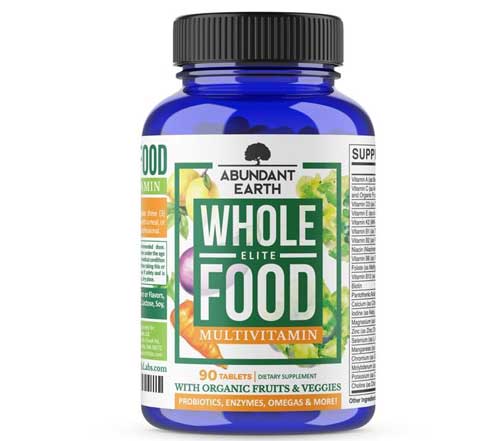 Abundant Earth Labs Whole Food Elite Multivitamin is an organically sourced whole food-based multivitamin option for vegans.
Along with incorporating a mushroom probiotic blend and digestive enzymes, this supplement provides other necessary vitamins and minerals to boost digestion.
It is also formulated with the methylcobalamin form of vitamin B12.
This vitamin B12 has potent bioavailability abilities.
It offers an all-in-one formulation that eliminates the need for taking multiple vitamins. It even contains omega three from fatty fish, putting it among the best vegan supplements.
Pros
Uses 32 organic ingredients.
Third-party tested.
Verified by customers
Provides five nutritional supplements in one.
Affordable
Cons
The dose requires taking three tablets at once.
Why Abundant Earth Labs Whole Food Elite Multivitamin?
With its intense plant-based formulation of digestive enzymes, vitamins, and minerals from whole foods, probiotics, and omega-3 fatty acids, Abundant Earth Labs Whole Food Elite Multivitamin does more than just improve and maintain healthy digestion.
It can also help you stay healthy, fight fatigue, boost your energy, improve your immunity, and protect your heart.
9) Yuve Vegan Liquid Multivitamin
No one likes to consume anything distasteful, so if you can have a healthy and efficient multivitamin that is vegan-friendly and tasty, it's a win-win.
Yuve Vegan Multivitamin contains amino acids, vitamins A, B, C, D, and E. It also contains biotin, zinc, and chromium.
This supplement uses a range of natural fruits for its flavoring, including bananas and strawberries.
It even uses the juice of organic fruit, noni.
Pros
Non-GMO
Gluten-free
Soy-Free
Affordable
Great taste
Cons
Currently out of stock due to COVID-19.
Why Yuve Vegan Liquid Multivitamin is our Choice for Best-Tasting
Yuve seems to understand that taste is important in getting people to stick to taking their supplements, and as much, they have created several options for you to choose from.
After all, we all have preferences, so no one should be left without an option.
Its customer reviews say it all; this plant-based supplement is more than just a great flavor; it may also help:
boost your energy and metabolism
improve heart and brain health
provide lacking vegan vitamins, like vitamin D and vitamin B12
support bone and joint health
promote healthy skin, hair, and nails
improve immune function.
10) NATURELO Whole Food Multivitamin for Women
Customers believe this is easily one of the best vegan multivitamins because its plant-based formulation features a combination of organic fruit, vitamins, minerals, and veggie blends.
Additionally, NATURELO Whole Food supplement for women supports digestion by incorporating probiotics, digestive enzymes, and plant-based antioxidants.
Pros
Non-GMO
No preservative
Gluten and soy-free
Made in an FDA-registered facility.
Non-dairy
Cons:
More expensive than other female vegan vitamin options.
The recommended dose is four capsules daily.
Why NATURELO Whole Food Multivitamin?
Options can never be too many, and that's exactly what we believe when it comes to finding the best multivitamin for vegans, the principle is the same.
This supplement can improve your energy levels, bone, and reproductive health.
It may also support your immense system, heart, and brain function.
The supplement industry is filled with competitive options fortified with vitamin C, fatty acids, vitamin D, fish oil, and many other nutrients.
Vegans must be careful in picking out multivitamins to ensure that they are getting a truly plant-based supplement that can provide lacking dietary elements like iodized salt and knows to avoid those that will provide excess supplements such as too much iron, as vegans already consume many iron-rich foods.
We hope this list can give you a head start in your search for the best vegan multivitamins.