Gabriel Iglesias, today, is one of America's most successful stand-up comedians – he literally performs to sold-out concerts around the world.
People swarm to watch this comedian, making him one of the most-watched comedians on YouTube…
…well over half a billion viewers have watched him.
To boot, he has over 19 million fans across social media. It was only a couple of years back in 2018, that Gabriel was included in The Hollywood Reporter's "Top 40 Comedy Players"…
…alongside other giants like Jerry Seinfeld, Lorne Michaels, and Chris Rock.
And he has also had the honor of being one of the few to headline and sell-out at Madison Square Garden in New York, the Sydney Opera House in Australia, and the Staples Center in Los Angeles.
And that's not all!
Another huge achievement has been his weight loss – 100 pounds!
Want to know how he did it?
Read on.
An introduction to Gabriel Iglesias – famed celebrity comedian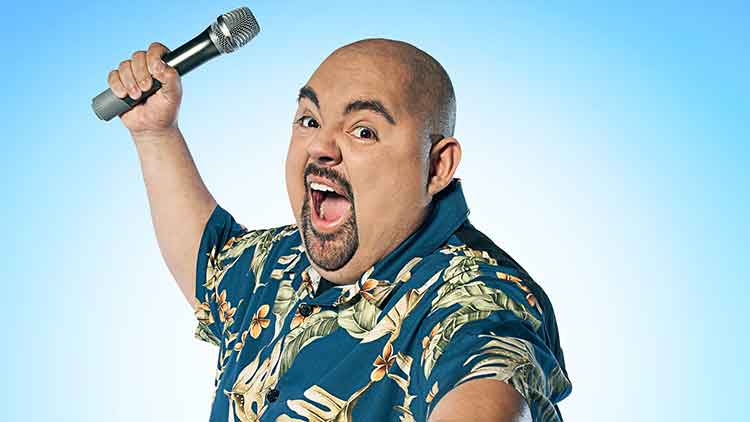 His younger years
Gabriel Jesus Iglesias was born in San Diego, California, on the 15th of July 1976 to his parents, Jesus Iglesias and Ester P. Mendez.
He was the youngest child out of six children. He was raised by a single mother in Long Beach.
He and his family lived in Riverside, Corona, Santa Ana, Baldwin Park, and Compton for a short while before moving to Long Beach.
There, he spent most of his youth with his 5 older siblings.
He grew up with no father – his father wasn't even present at his birth. As a result, his mother decided to change the spelling of his last name.
She placed a "c" in the place of "s" in his last name.
Gabriel complained to his mother about his weight when he was young. And she would answer him and say, "You're not fat, you're just fluffy".
Because of this, his nickname became Fluffy.
He would often say of himself that he was not fat; that he was fluffy, and that is basically the name on which he built his success.
He went on to tell that story to audiences all over the world.
His strong sense of humor helped him deal with obstacles that cropped up in his life
He would walk to Edison Elementary School from his family home and then catch a bus to Tincher Elementary School – it was on the other side of town.
Later in life, when he had worked on his Netflix show, Mr. Iglesias, where he played a high school teacher fighting for the kids the school wanted to kick out (all set at his old school, Wilson High in Long Beach)…
…at the end of the first episode, he dedicated it to his real-life high school speech teacher, June Garner, where he wrote:
"Thank you for believing in me when I didn't believe in myself."
He graduated from Wilson High School in 1994.
After that, he would perform in Long Beach during open-mic nights at the Best Western Golden Sails Hotel on Pacific Coast Highway.
It was in April 1997 that he decided to become a full-time comic.
It was only about a decade later that Gabriel Iglesias became one of the top comedians in the world.
A brief look at his amazing adult years and career…
Before becoming a comedian, Gabriel used to work in a cell phone company in Los Angeles.
But he quit this job so he could pursue comedy as a full-time profession.
He struggled financially at the start, even being evicted from his house and losing his car.
But all this changed in the mid-2000s – due to sheer hard work.
So in 1997, he set off from home to hone his comedian skills, against the wishes of his mother.
He performed stand-up comedy wherever he could find an audience.
His comedy would include a whole mix of parodies, storytelling, sound effects, and characters – all bringing his own personal experiences to life.
This blend of unique and animated comedy styles made him popular among fans of all ages.
He became a full-time comic in 1997.
Then in 2000, he got his first break on television. He was cast in the Nickelodeon sketch comedy show.
In 2002, Iglesias did a short film named 'Entre Vivos Y Plebeyos'.
In 2003, he landed a half-hour comedy special on Comedy Central and soon was on his way to being in much greater demand.
From 2003-2006, he did a number of projects which would include 'El Matador', 'Days of Santiago', 'The Surfer King', 'Comedy Central Presents', 'Last Comic Standing' and 'The Emperor's New School'. Incredible work!
In 2007, he voiced an entire Mexican family in the episode named 'Family Guy' in 2007.
'I'm Fluffy' was released by Comedy Central in 2009.
In 2011, the 'Gabriel Iglesias Presents Stand-Up Revolution' premiered.
In 2012, he starred in the mega-hit film, 'Magic Mike' where he played the role of a drug dealer and strip club DJ.
From 2012-2014, Iglesias did numerous films and shows, such as 'The High Fructose Adventures of Annoying Orange', 'Magic Mike', 'Planes', 'The Nut Job', 'A Haunted House 2', 'The Fluffy Movie', 'The Book of Life' and 'Aloha Fluffy'.
In 2013, Forbes ranked him as the ninth Top-Earning Comedian.
Then in 2016, the comedian appeared in the TV shows 'WWE SmackDown' and 'WWE Tribute to the Troops', and more.
The lists just go on and on!
Is he married?
Gabriel might have become a famous stand-up comedian, but he kept news about his relationships private.
This meant that a lot of people didn't know whether he was married or not.
He has never married, actually, but was in a serious relationship with Claudia Valdez, an actress, most well-known for the role she played in the drama series, Monster, in around 2010.
They had met on a movie set in around 2008.
They clicked and started dating.
She was also instrumental in getting Gabriel back to good health when he suffered a diabetes scare and started on his weight loss journey.
She was also the one who was there for him when he suffered a spell of alcoholism and depression.
The seriousness of their relationship has led many people to believe that they are actually married.
But the couple always just identified themselves as being boyfriend and girlfriend.
Does Gabriel have any kids?
Gabriel's girlfriend, Claudio, had a previous relationship with someone whose name we do not know.
At the time that he and Claudia met, Frankie was 11-years old.
He became like a father figure to Frankie Iglesias, although Frankie is not his biological son.
Frankie was born on 8th December 1997.
Gabriel and Frankie have a strong bond and sometimes Gabriel would even give insights into their relationship on social media.
Gabriel has mentioned several times that he won't have any more children since he considers Frankie to be his son regardless of the fact that he is not the biological father.
It was not always a bed of roses for Gabriel Iglesias
Gabriel's success didn't just come easily to him.
Even though his standup shows and movies have been mega, mega hits, everything just came to a screeching halt back in 2017.
He had been having a tough time balancing work life and family life and eventually it all came to a head and everything just fell apart.
It was during this time that he split up from his longtime partner Claudia Valdez.
He and her son Frankie, though still continued with a strong relationship; after all, Gabriel had shared in the raising of Frankie since Frankie was 11.
It's sad, but true, that the comedian suffered a breakdown on stage whilst doing a show.
All the touring, alcoholism, and depression eventually took its toll.
It forced him to postpone a whole series of shows to take care of his health.
Gabriel says he knew he had hit the wall when his heavy drinking starting making him "sloppy".
He was burned out, depressed, and drinking just to go to sleep.
He reckons he wasn't the best person at home and neither was he the best entertainer either.
Then, one night down in Dallas, Texas, all the built-up health issues and emotional problems came crashing down.
He says he got hugely emotional on stage, carrying on about how his step-son was no longer a kid, that he was an adult, a man.
He says he got all choked up and walked off the stage, and everything just caved in after that.
He raced home to his step-son and had a heart-to-heart chat with Frankie.
He told Frankie how sorry he was that he had missed birthdays, etc.
But Frankie was cool with it, and hugged Gabriel, says 'It's OK".
Gabriel went on to apologize also to fans online and to take some time off to get on top of his health issues – this he did with the help of a therapist.
Gabriel says it was during this time he "went into survival mode," stepping away from his work to "emotionally rebuild," himself – at the same time he quit alcohol for more than two years.
He said he needed the time to reflect, and it was at this time in becoming single that he learned to focus on himself, his career, his step-son, and his dogs.
He did have a tour planned for 2020, but this tour remains on hold due to COVID-19, but he says he can't wait to get back on the road.
We wish you all the best Gabriel!
His intriguing weight loss experience
He had a serious wake-up call
Gabriel knew that "Fluffy's" popularity and all the laughter that came with it came from the fact that he was overweight.
What was really getting to him was his doctor's warning to him about his health – that if he continued with his eating and drinking lifestyle, he would last only another two years.
He was waking up each morning with a 300-plus sugar level.
He likened his doctor's advice to be the biggest wake-up call he believed he would ever get.
He knew that his eating habits were hurting him; that it was time to start checking himself, because at that moment in time, he still had a chance.
He also had diabetes, and it was this disease, he reckoned, that was destroying his body.
He said that at one point in time, the back of his legs were black from lack of circulation; that he was already pushing 437 pounds – his legs were swollen too.
The skin was starting to crack on the insides of his legs and there were some parts that were even bleeding.
Not only that, but his vision also started deteriorating and his kidneys were getting really messed up too.
He partnered up with a friend to help him with his weight loss
He decided to partner up with a friend about his health problems.
This friend, Martin, also a stand-up comedian and his traveling companion, decided that they would support each other…
… Martin was there to help him maintain his diet and workouts as Gabriel embarked on his new healthier lifestyle.
They pushed each other, deciding that when they were on the road together…
…that they would find a gym and go together, doing whatever they would do on their own chosen equipment to benefit their own health needs.
Martin liked to do a lot of lifting and Gabriel felt he would never be able to keep up with that.
So he hit the treadmill and the elliptical machines.
Gabriel's girlfriend at that time was someone who helped him tremendously to develop a healthier lifestyle.
She was the one who when they went out wining and dining, would say when his plate of food came around, 'Do you know what's in that?'
She was one of the first people to tell him it was time to take he took himself in hand – she wanted him to be around and not die from his health habits.
And worse, by being his girlfriend, she was getting bigger too!!
She was the first of the two that went out and starting working out with a trainer – that trainer is the one that Gabriel also started using when he started working out.
Being on the road made him shake up his diet to be more healthy
Being a stand-up comedian, Gabriel needed to travel on the road, between many cities.
This can often play havoc with maintaining a healthy diet and often healthy food options became limited.
For him, it meant adapting the fast foods to fit into his new healthy lifestyle.
For instance, if he went to Jack in the Box and ordered a grilled chicken sandwich, he would eat the chicken but not the bread.
He would order four of those types of sandwiches, as long as he didn't eat the bread, and end up with 4 pieces of chicken!
Gabriel also admitted that his most favorite thing to eat in the whole world was Chipotle.
He said he ate it without restrictions.
He would have triple chicken, with barbacoa on it, with a bit of cheese and sour cream too.
No sugar, no carbs.
He would take out the rice, beans, and corn.
He started becoming very conscious of what he put in his body.
Occasionally, he said, he had a cheat meal.
For instance, he enjoyed going to The Hat, a place which for him where he reckoned were the best grilled cheese sandwiches, made from sourdough bread.
They would put about four cheeses in the sandwich.
For him, that was 'so freakin' good'.
His other cheat at The Hat would be chili cheese fries with pastrami, downed with a Cherry Coke.
"Thing is when I'm done", he said, "I feel like an asshole".
Gabriel cut down on drink too
He managed to cut down on his drinking from four times a week to only once or twice a month.
It was kind of sad for him to start dieting and working out – this time was not easy.
Gabriel said he wanted to give up on day one already, that it hurt his body to start exercising; to the point that he even cried he was so sad.
But he kept on telling himself that he had to persevere if he still wanted to be around in a couple of years.
He didn't enjoy the physical pain; he didn't enjoy the sweating and the soreness.
He admitted that he did truly want to just give in and give up.
As it was, because of his weight, Gabriel was unable to do cardio every day. Being obese, he was cautious about even trying any type of cardio.
Not only that, but he also had knee problems which would have made cardio even harder.
So he decided to take up DDP Yoga.
It's a type of yoga developed by the former wrestler Diamond Dallas Page. It's very low impact, without any hitting on the joints.
Weighing 450 pounds at that time, it was hard for Gabriel to get down on the floor and then get up from that position without needing a table or chair to help him.
At first, when his workouts started, he needed to put a chair nearby to use it to get himself up.
There was a time when he could eventually go straight down to the ground and then get right up again without a chair.
Yes, his knees still hurt but he could go down and then do push-ups, and then get right back up.
He considers weight loss as being all about baby steps
Gabriel had been aware that with his weight loss, and like so many other people who have also noticed…
…There is a lot of stuff on TV about weight loss and how in just a mere 90 days, you can emerge with a svelte new body.
But the truth of the matter is that most of the people in the commercials were long-time fitness and health freaks.
The ads were definitely not going to be showing an obese guy in the adverts!
Why?
Because it influenced people to get really interested in the ad because of such amazing and quick weight loss which could be achieved in just 3 months!
Gabriel often made his weight the focal point of his stand-up comedy.
After all, he was known professionally as "Fluffy".
He always made jokes constantly at his own expense – he even had a comedy tour called, I'm Not Fat … I'm Fluffy.
He dropped over 100 pounds!
In 2013, before he started his weight -loss journey, he weighed in at 437 pounds.
By 2015, however, he was down to 320 pounds – that's when he stopped eating bread which he says if you eat it, it will take you down.
He also stopped eating cakes.
He once mentioned going for an appointment for bariatric surgery in one of his standup routines…
…and it is still unclear as to whether he actually ever had the procedure done.
Nevertheless, his progress has been nothing short of impressive, and he managed to just drop the pounds!
Needless to say, the nickname stuck.
His followers certainly noticed that in The Fluffy Movie, Gabriel looked like he was 100 pounds lighter.
Make you envious?
Well, let's look at how this guy was able to trade in his 6X shirts for 3X shirts:
What he says didn't work
Slim-Fast, Zone bars, NutriSystem, Weight Watchers, Atkins, and South Beach – none of these worked.
He says he also owned a Gazelle machine at one point, which didn't work for him.
Diet soda's turned out to be a no-no for him.
He said that when he drank diet soda, he just wanted to eat whatever was in front of him.
He would lose 10 pounds, lose interest, and then "gain it back plus five."
Fen-Phen and Ephedra: He says they made him feel so hyper; he just wanted to run around the block five times!
What he says worked well
What really shook him up was when his doctor told him that if he didn't take his weight seriously in hand, it was highly possible that he would not live longer than another two years.
He started immediately to cut out bread and do yoga 25 minutes a day.
He also starting doing boxing workouts.
He did these five times a week for two hours every time. In about 20 days he dropped about 20 pounds!
As the pounds started falling off, people started asking Gabriel if he would get a new nickname.
He just answered them and said – "Call me "Buffy now".
He has much more energy.
Going low carb and starting with yoga put him in a good position where his diabetes became more under control.
And with his physique going down, his career exploded even more…
…he was starting to get phone calls from all the great actors wanting to give him roles in their movies.
Fast forward to 2020
Gabriel has split from his longtime partner Claudia Valdez.
He still has a strong relationship though with his step-son Frankie.
He is currently single.
According to him, losing weight was all about patience and hard work.
He says it took time for him to cut down even a noticeable amount of weight; that you must never believe those who say you can lose weight in just 90 days.
Those people are already slim.
Can you believe that as of August 2020, Gabriel Iglesias's net worth is estimated at over $45 million!
Well done, Gabriel, you deserve it!
Apart from his amazing acting and stand-up comedy, Gabriel has also gone on to release three albums.
These are 'Hot and Fluffy', 'We Luv Fluffy', and 'Aloha Fluffy'.
He will be performing at the Palace Theatre on 7th November this year.
It forms part of his all-new 2020 world tour – "Beyond the Fluffy" Go Big or Go Home".
Gаbrіеl Іglеѕіаѕ certainly is one of the most famed ѕtаnd-uр соmеdіаnѕ the world over.
And from lоѕіng 100 роundѕ, he has lent his voice to many ассlаіmеd movies, going on to inspire many on how to live a healthy lifestyle and achieve success in their endeavors.
Some notable tips from Gabriel Iglesias to make your own weight loss journey 'better'…
Choose good company so that it makes the journey more fun and motivated.
Be patient.
Give yourself 100% to hard work to make your weight loss 100% successful.
Follow the right diet plan.
Stay away from any kind of beverage except water on your weight loss journey.
Exercise regularly – even though it hurts you, stick to it and you will be rewarded.
You go, Gabriel!
References: