Ross Mathews is a hilarious American comedian; not afraid to be out, funny, and proud.
He has made an illustrious career for himself out of being a flamboyant, plus-sized TV – personality as well as a celebrity interviewer.
And he has made himself even more noticeable by his incredible weight loss during 2020 during the coronavirus pandemic year, which we are going to tell you about.
Many of his fans want to know what got him motivated to lose weight and how he did it.
He began his TV career as an actual intern
He started at NBC and then he appeared on-air on "The Tonight Show with Jay Leno," as Ross the Intern.
He also had weekly guest appearances on Chelsea Lately and also has an ongoing gig where he is the judge on RuPaul's Drag Race.
He loves to name-drop celebrities and that includes his book, which is named Name Drop which he also used to name his latest tour.
At NBC, he claimed to have started as an unpaid intern and would take people's mail to them, ending up as the longest-serving correspondent on the most iconic show on TV.
He was therefore 12 years. "It's one of those Hollywood folklore stories.
"He moved on to his own gig, hosting his own talk show called Hello Ross, on E! On August 12, 2014, E! canceled Hello Ross after two seasons.
He is openly gay, saying he could never have been "in the closet while working on television".
Several producers told him he was too gay when he left the Tonight Show and he turned down a lot of stuff because he said the producers wanted him to be different, which he said wasn't going to happen.
"Since I was 8 years old, I wanted to be a talk show host," he said, but he graduated from the University of La Verne as a communication major.
He made use of this and was a very successful speech and debate competitor.
With his experience, he has covered movie premieres, two different Winter Olympic Games plus other events, the Academy Awards, and much more.
He also appeared on the fifth season of VH1's reality television show called Celebrity Fit Club, and it was during this show which premiered in 2007 that Ross lost more than 40 pounds, helping his team to win the grand prize.
Look at his fantastic career journey.
Early life
Ross Mathews was born in Mount Vernon and grew up in Mount Vernon, WA.
He also has a brother.
When he was growing up, he had a close relationship with his mother; she was the one who inspired him to pursue a career in entertainment, and he followed her advice.
When he was only 8-years old, he would watch television with his mother.
One time he was watching Live! with presenters Kathie Lee and Regis Lee.
On this particular show, they had a few celebrities as guests.
He saw how intrigued and happy his mother was watching the show.
He told her there and then that when he grew up, he was going to be a talk show host as well.
He said that every decision that he made after that was because he wanted that dream to come true.
In his youth he continued his interest and knew he wanted to be a performer, appearing in several school plays.
When adolescence came his way, he noticed that although his body had made changes, his voice still remained high-pitched and never seemed to deepen.
The kids who were all around him teased him as did his brother and his classmates.
He said that he developed sharp comic skills early on and these helped him to get out of fights.
Young adult years
After he graduated from high school, Ross went on to attend the University of La Verne, in La Verne, California.
He graduated in 2002, with a degree in communications.
Whilst attending university, he participated in many debating and speech competitions.
Then in 2008, he started dating stylist Salvador Camarena and they were together for almost 10 years.
They appeared together in an episode of HGTV's House Hunter in 2013.
Also in that year, he published his memoir 'Man Up!: Tales of My Delusional Self-Confidence'.
Over the years, Ross continued to be successful in climbing the Hollywood ladder.
After his Hello Ross talk show came to an end in 2014, he was invited to join Carson Kressley and Michelle Visage as a judge at RuPaul's Drag Race.
You couldn't have got a more perfect fit with his high-pitched voice and his sparkly jackets.
While busy with his judging duties, he also competed on Celebrity Big Brother.
He did very well there too, finishing in second place.
He also launched the podcast Straight Talk with Ross Mathews.
It's all about "advice and LOLs from the gay best friend you wish you had and know you need."
Another big thing that got him very involved was his amazing weight loss journey because he looks really incredible today.
This time, he was serious and determined about losing weight during the coronavirus pandemic in 2020.
So let's take a look at;
The weight loss journey of Ross Mathews, born 24 September 1979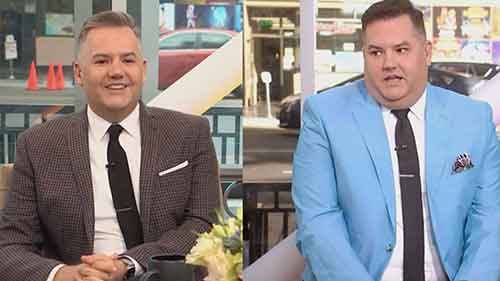 Ross says that he didn't stick to any particular diet or join up with any particular fitness routine.
He has just shared ways in which he's revolutionized his health, showing his fans this on Instagram over the years.
In fact, it was in 2020 when he was at home during the coronavirus that he, following the loss of his mother, felt prompted to kick-start a new weight loss and health journey [1].
Ross Mathews earned a reputation for being brutally funny and honest, so he got really honest and real about losing weight during the pandemic
As 2021 came into sight, this E! Network correspondent had reason to celebrate a well-deserved milestone and that was that he had lost 50 pounds after taking the definite decision to take charge of his health.
He says…"
"I was 230 pounds at the end of college. I got it down 16 pounds by making decisions like eating a bag of baked Lays as opposed to a bag of Cheetos. But I didn't attack the real issue."
In an interview with People Magazine in 2007, Ross was ready to reveal why his health suddenly started becoming an important factor in his life.
His father had just passed away, from cancer, and "It made me take inventory of my life, to say, it's now or never."
And like we said above, he doesn't give credit to any particular diet, although he, and later his mom, did join Jenny Craig for a while.
But along the way, he made holistic choices after taking some time to really learn about proper nutrition.
A shift in his dieting had taken place and he intended to maintain his new look forever, rather than go on short-term diets.
He told Today that he didn't "do a real diet".
He said "I just started learning about food, talking to people, dabbling in this and that, and then I started making my 'Ross-cipes'.
I've done it just eating as healthy and health-fully as I can, while not feeling like I'm giving up anything."
He had had a gym membership for six years and had only been eight-and-a-half-times.".
Then in 2007, he became a team member of the Celebrity Fit Club.
He participated in the Season 5 series Men Vs, Women.
His starting weight was 214 pounds and he ended it with a final weight of 173 pounds.
Celebrity Fit Club is a reality television series.
It follows eight overweight celebrities as they try to lose weight for charity.
He tried in 2010 to lose weight and was successful because Gwyneth Paltrow told him to
Ross Mathews is a friend of Gwyneth Paltrow; they had met in London once on an assignment for The Tonight Show and he had interviewed her.
They had been pals for a few years already.
But now when she saw him this time, she pointed to his stomach and said, "What's going on here? I love you. Get it together."
After hearing that, Ross, who was weighing 220 pounds at that time started eating well and exercising and his efforts helped him to lose 40 pounds.
He also joined Jenny Craig.
This program offers dieters good support and structure while they are trying to lose weight.
Have a look at what they provide; they say you can lose 17 pounds in your first four weeks!
The Jenny Craig program delivers prepackaged, low-calorie meals to dieters and you get one-on-one support from a consultant.
What is so suitable for dieters is that there is no guesswork about what you should eat – this is what makes weight loss simple.
Ross had noticed how his other friend, Sara Rue, had lost 50 pounds on Jenny Craig.
He signed up too, to become the company's newest spokesperson.
"I was clueless about eating healthy before," he says. "Now I'm making good choices."
And Gwyneth also noticed the change when he saw her the next time, "She was so excited. She said, 'You look good!'
She had been right!
"The weight was such a shameful issue for me," he admits. "I'm so happy to be rid of it."
And he says that he has become a master chef now too, making delicious and healthy vegetable medleys too.
He says he has also started gardening.
Now he says, he has "tomatoes, squash, cucumbers, green peppers, strawberries, and blueberries." [2]
He lost his weight during the coronavirus quarantine period
Ross said he lost 50 pounds in 6 months in 2020.
"I feel like everyone during this COVID thing has been focused on what we've been losing," Mathews told Today Health via Zoom from New York City.
He said he had lost time from his family, from his job, and most people feel like they have lost an entire year.
He remembered at that time thinking to himself, "How can I gain something during this time?"
Unfortunately, it became a sad time of loss for Ross, because, in May 2020, he lost his beloved mother, Gaye, to breast cancer.
She was just 69 years old.
He shared…
"My mom and I were so close, just beyond close, and all my life, I've lost weight and gained weight, done unhealthy things to my body,"
He decided that his weight would be one thing that he could control and what he can gain back in the pandemic time was to gain his health back.
He felt that when you lose a parent and you don't pay attention … you are missing out on a gift.
So he decided to pay attention to what it means to have your health.
What were some of the unhealthy things he did to his body?
"Late-night snacking and unlimited pizza, of course," he says.
He says he knew that snacking at night was his downfall [3]; that he would be pretty good during the day, and then at night, out would come the bag of Doritos.
After all, he felt as if he was watching something like "90 Day Fiancé, you gotta eat something!"
His other downfall was pizza.
After his mother died, he found comfort in what he called 'grief pizza,' which to him was like unlimited pizza.
So he knew for him, to gain his health back, he would have to change his behavior. It would be about cutting out snacking.
He knew it was time to start replacing things; that if he didn't make changes, he would be stuck in the same unhealthy place that he had been.
So instead of focusing on fad diets, he started pushing himself to learn about food.
He started becoming involved in the process of educating himself on healthier eating.
Even though he had struggled with maintaining his weight loss in the past, this time he said, it was different.
So he started learning about food. He spoke to people, he dabbled in this and he dabbled in that.
He started making what he called his "Ross-cipes."
He said he lost his weight just eating as healthy and health-fully as he could, while at the same time not feeling as if he was giving up a whole lot of stuff.
The other life-changing thing Mathews did was start walking
He started walking non-stop, he said.
At that time, he had just moved to New York City so he said…
"I just moved to New York City so I'm walking tons, which helps. There's nothing scarier than the gym. I'd rather watch those awful Halloween movies over and over again. Yeah, the gym is not for me."
Ross also turned to therapy
Throughout his process of changing his eating habits, Ross said that he had a therapist to talk to throughout this process.
He said he really wanted to understand why he could lose the weight, but he couldn't seem to maintain it.
Losing it was not the problem and gaining it was not the problem.
Maintaining weight loss was the problem.
He felt that that is something everyone needs to get down to the roof of because not all weight-related issues are about food.
"It's all about now that we've seen what we have to lose, we know what we have to live for. And that's why I am working so hard for my health."
He says he 'reclaimed his health' after his mom's death
Because of being committed to his health in 2020, Ross decided to team up with Nicorette – he was eager to urge people to quit smoking [4].
"That's why I'm working so hard to get people to quit smoking with Nicorette," he shared. "That's why I want to do this campaign. Let's get healthy."
Ross was a smoker when he was in college, but the recent passing of his mother, as well as the death of his father when he was younger, inspired him to quit smoking.
He said that he had been lucky to hold both of his parents as they had passed away.
It had not been easy for him in many ways but it was also a gift, he said.
Because he felt they were there for him when he was born and for him to have been there for them as they left earth was a beautiful thing for him.
"Also, what you realize is somebody laying there, taking their last breath is at the end of the day, it's just you and your body. That was powerful for me. I was really young when my dad died. So I kind of got it, so I quit smoking."
He was quite a lot older when his mother died, and for him, he felt as if his own clock was ticking.
Each decision he made from thereon about his body would determine how long he would get "between now and that moment when it's just me and my body, taking my last breath. So I'm gonna do everything in my power to keep my longevity here on this planet as long as possible."
Ross now looks to the future with much optimism
Ross has such a lovable and bubbly brand of humor that always carries him through no matter how complicated a conversation can get.
He talks about the coronavirus; saying that when it does end, he will "know a lot of people that are going to emerge, having put on a ton of weight, wearing sweat pants where the elastic is worn out because they've been wearing them for a year, right?"
He said he refuses to be like that, that he wants to come out of this in a better place than where he entered it.
You go, Ross!
And the reason he says it is because he can.
He has a choice, and the power to choose it.
"I think any other choice that I made would be disrespectful to what my mother's death taught me."
He wants as many people as possible to learn the same lesson he learned, and that is "pay attention" to their health.
"I will always be a work in progress. I may mess up again. I dunno. All I know is that I'm very grateful. And very happy. On we go…"
Ross Mathews has been inundated with support and praise from his fans.
Because he looks almost unrecognizable in his latest snaps of himself after deciding to reclaim his health.
It was his mother's death that caused him to go on his weight loss journey because of her he said, "She made life better. I hope – no, I know – that her spirit lives within me and I will spend the rest of my life trying to be as good as she was, as kind as she was, and authentic as she was."
In 2017, he told Fox 5 DC that he had always been a yo-yo dieter in the past, that he would lose weight but always find it again!
So he dropped 50 pounds in 2016 and explained that the secret to longevity was eating healthily and walking.
He says he was never hungry because he ate as many veggies and proteins as he wanted; turkey, string cheese, and carrots, and that way, he never felt deprived.
"I am just not eating the Doritos."
What 2021 has brought to Ross Mathews
Ross Mathews announced his engagement in early 2021 to Dr. Wellington Garcia, so that means he is currently off the market.
They had been a year together and had navigated the pandemic and the quarantining.
When Ross tweeted about their happy event, she showed a photo of him and Wellington Garcia, and they were both wearing matching rings.
"About a year ago, I met somebody who changed my life totally," he gushed.
"Beyoncé says, 'If you liked it then you shoulda put a ring on it,' … well, I did."
There is not a whole lot known about Wellington Garcia, Ross's fiancé. He is not a doctor of medicine but a doctor of education.
He graduated from Hofstra University and works as a director of the curriculum for Elmont School District.
At the time that they were dating Ross Mathews was living in LA and Wellington was in New York.
The two of them managed to keep their flame alive by FaceTiming and flying out for visits when it was safe and whenever they could.
Conclusion
Ross Mathews began his television career on The Tonight Show with Jay Leno back in 2001.
He is still there today, as a correspondent.
But he is a regular at many other venues as a guest and is a red carpet staple on E!
He left a small farming town in Washington State to seek his fortune, finally ending up in New York, where he is today, to be with his new fiancé, Dr. Wellington Garcia.
They have recently just become engaged so look out for wedding bells and possibly a date set to tie the knot.
Ross Mathews, the affable TV personality and also the judge of RuPaul's Drag Race is always authentically himself.
As a gay guy, he credits his family and particularly his mother with being accepting and open with him.
He has made it his mission to be visible and to represent those who come up behind him.
Ross Mathews revealed to Instagram fans and followers that he's lost more than 50 pounds in 2020 while overhauling his diet and lifestyle.
The 41-year-old star and E! correspondent as well as the judge of RuPaul's Drag Race said the loss of his mother prompted him to kick start a new "health journey" this year.
Ross says he hasn't stuck to one diet or particular fitness routine but has shared ways in which he's revolutionized his health on Instagram over the year.
He celebrated the wonderful milestone of losing 50 pounds, kicking off 2021 in style by sharing snippets on Instagram of him being in quarantine, whilst still occasionally filming new projects.
But his trim figure did not go unnoticed and his friends and fans praised him, telling him how gorgeous and happy he was looking.
Even though this wasn't the first time that Ross has lost weight, this time he was serious and he intends to keep it like that forever.
Previously he appeared on Celebrity Fit Club in 2007, and he lost some weight then as well.
"I will always be a work in progress," he continued on Instagram. "I may mess up again. I dunno. All I know is that I'm very grateful. And very happy. On we go…"
Whether you have seen him on Fashion Police, or in dazzling costumes on the red carpets of the Golden Globes, Oscars, and Grammy's, or from being a judge on RuPaul's Drag Race, there's no denying that Ross Mathews brings a whole heap of vibrancy and life to whatever he undertakes.
And he is positively shining now; from health and lost weight to a newfound love – he worked hard and now he is reaping in the rewards!
2020 was a very significant year for Ross Mathews – he lost 50 pounds and to put the cherry on the top, the start of 2021 has seen him getting engaged to his fiancé.
He definitely lives by the slogan now: Eat half, walk double, and laugh triple!
"If you don't pay attention, you're missing out on a gift." – Ross Mathews
References: