Rick Ross is a celebrated rapper and a label boss from Mississippi; a receiver of Grammy nominations for his contributions.
Unfortunately, though, he also had his background come into question at times and has had his fair share of a few legal tussles.
Nevertheless, he still is a prolific artist, both as a guest performer and solo performer.
His record label, Maybach Music Group in 2009 put out albums by artists that include Wale, French Montana, Meek Mill, and Teedra Moses.
He was named the 'Hottest MC in The Game' by MTV in 2012.
He might be a controversial figure, but he is held in esteem by the music industry.
Ross nabbed the headlines when he was arrested on marijuana and gun charges in 2008.
Then he had another arrest for possession of marijuana in 2011.
In 2015, he and his bodyguard were arrested for kidnapping and assault charges.
But apart from his fantastic career, he lost a whole heap of weight through determination and effort, choosing carefully what he ate, dropping alcohol, and working out.
In addition to countless hits and founding his own label, this record executive and one-time Forbes Hip-Hop Cash King also owns 24 Wingstop franchises across the South.
Did you know that Rick Ross was born:
William Leonard Roberts II, Born 28 January 1976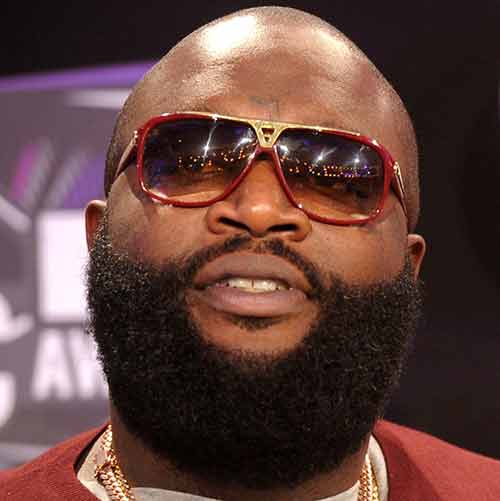 Early years
Rick Ross was born in Mississippi and raised in Carol City, Florida.
It was an impoverished area north of Miami. But Rick was pulled like a magnet to the music off the streets from rappers such as Notorious B.I.G, Luther Campbell, Ice Cube, and Tupac Shakur.
He also attended Georgia's Albany State University on a football scholarship for a year.
As a child, Ross saw plenty of drug dealing going on and he wrote rap lyrics that romanticized this.
He even took his performing name, Rick Ross, from a drug trafficker named "Freeway" Rick Ross.
Young adult years
It is ironic that he went on to work as a corrections officer in Florida for about 2 years, and many people mocked him about this.
But the lure of hip-hop music and the plush lavish world of the drug dealers that he saw from childhood to his youth led him on in the direction of music.
Before he took on his Rick Ross persona though, he had already made his debut on the former EPMD member Erick Sermon's 2000 compilation Def Squad Presents Erick Sermon.
But his first proper hit was Hustlin', produced by himself and The Runners.
It became such a smash hit, eventually being certified gold, and ending up with Rick Ross signing a multi-million dollar deal with Def Jam Recordings.
This song is what skyrocketed Ross to instant worldwide fame – very impressive for a new recording artist. From there his fame and talent just kept growing.
We are showing you here his amazing career for yourself because this article is about his amazing weight loss!
Personal life and some trivia about Rick Ross
He is the father of four children. At the moment he is not married but he has had many girlfriends.
Some Trivia
When he turned 37, he and his girlfriend at the time were targets of a drive-by shooting in Fort Lauderdale, Florida.
Ross was arrested in Shreveport for possession of marijuana in 2011.
Ross started a dispute with rapper 50 Cent. This was as a result, according to him, of 50 Cent looking at him the wrong way at the BET Awards in 2009.
Did you know there is a book out about him? After 10 studio albums, he also became an author. His book was released in September 2019 called Hurricanes: A Memoir. It's Rick Ross's autobiography, delving into his upbringing and careers, on both sides of the law. It also tells of the seizures he had in 2011 which nearly killed him plus the attempt on his life in a drive-by shooting in 2013.
Rick Ross's health and his incredible weight loss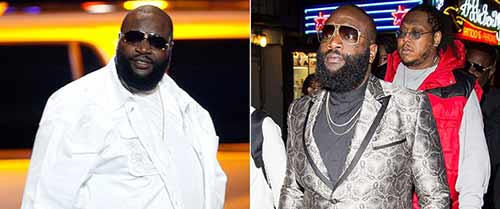 A nasty health scare changed his life
It was a shocking health scare that Rick Ross experienced.
In just one day, he suffered from two seizures [1].
That sent him off to the hospital where he was even on life support.
At that time, he was already weighing 300 pounds and he was determined to shed 100 pounds by eating healthier foods and enlisting in a high-intensity workout plan.
Then in 2018 he suffered another seizure and required hospitalization for four days.
He even refused medical attention until he started coughing up blood – that's when he went to the hospital.
How did he start losing weight?
The first thing he did was to stop drinking sodas – unless it was a diet soda.
And one of his tips is that if you are going to eat a heavy meal, it must be eaten in the earlier part of the day.
If you do it like that, you burn the calories faster.
He says, "I used to eat big meals at 2 a.m. and base it on my schedule," he said. "But I don't do that no more."
He also says anybody who wants to follow his diet of dieting and exercise plan should drink plenty of water during the day.
He was introduced to CrossFit that helped a lot
Apart from his portion-controlled diet, Rick also got involved in CrossFit workouts.
Since 2013, he has been doing CrossFit and his fans have watched as he flaunted his physique in Instagram photos.
"I eat pears now and s–t like that," he said. "I still eat the way I want to eat. I just go to the gym."
CrossFit combines high-intensity interval training, plyometrics, and interval training.
He says he calls his CrossFit "RossFit" now!
And to think he was once a former couch potato! But now he thoroughly enjoys his "RossFit."
"It's a different type of workout," he said. "I feel good."
Ross is no stranger to tough workouts because he used to play in the 'offensive line' at the Albany State University in Georgia.
What food did Ross cut out?
Ross started cutting out 'bad' foods such as bread, fish fillets, and white rice.
He also started slowing down on the alcohol. But there is some food that he still finds very difficult to give up.
That's his favorite, and it's his lemon-pepper wings made by any one of the nine Wingstop franchises that he owns around the country.
He said that he stops by these restaurants at least twice a week when he's in town.
Because he knows he indulges in lemon-pepper wings, he tries to bring balance into his diet by eating foods like pears and Branzino.
"I'm not under no stress of what I'm eating," he said.
"There are no restrictions. I'm not trying to make a particular weight. I'm just working out and doing what's best for Rozay."
2006
This was the year he really started making a name for himself in music.
2008
Right through his career he would be on stage and his stomach would be showing and hanging out; that was how it was supposed to be for him and he was proud of it, even though it was not as toned as Chris Brown's or Drakes, for instance!
2010
In 2010 he did one interview with DR Jays where they touched on nasty comments that had been thrown at him in his past. He mentioned one being "The fat black dude with the cheap shoes on."
2011
He suffered seizure attacks which sent him to the hospital – that's when he knew he had to start working on his health and weight.
2012
He was still performing topless at this stage, letting his body all hang out.
In March 2018 he was hospitalized
He was on life support at this time and it was at this time that his weight changed dramatically.
Some fans were so shocked at his huge weight loss after hospitalization that they suggested he had been 'cloned' by the US government!!
Rick Ross after hospitalization
Rick Ross today is one of the biggest rappers in the music industry, and he is always hustling. He doesn't only perfect his craft in the recording studios anymore.
These days, since his big hospital scare where he suffered two seizures in one day, he has also been winning the battle of the bulge and working on his health.
He took Men's Health on a tour of his gym at home
Rick showed them his fridge which was full of healthy foods and drinks – stuff that was keeping him in shape.
When he opened the fridge there was Pellegrino, Aquafina, CTRL protein shakes, and Perrier.
He would start his day with a glass of rosé wine with an egg omelet with sausage.
"I think what truly inspired my weight loss was me suffering my first seizure," he says.
"After I did that, I began to spend some more time looking at myself, taking care of myself, investing in myself. I realized I had to change my diet and my sleeping habits. [2] Here we are."
His transformation saw him cutting out what he loved and that was steaks and his lemon-pepper wings.
Now he was using them as his personal rewards.
Ross also found out that the best way he could stay on a weight loss journey was to meal-prep the day before he ate his food, particularly if he was performing on the road.
That would prevent him from not having ready food available and then wanting to snack and buy takeouts.
"If you invest a little time into it, it won't be as difficult versus you getting up, flying out, landing, and wondering what to eat," he explained.
That was his new philosophy.
"You're always going to come up short, straight up."
After eating his breakfast
He told Men's Health that after breakfast, he would move over to his gym at his massive home in Miami at the time.
He calls his gym 'RossFit'.
He tried to put in a workout every day and felt satisfied if he put in at least 3-4 days of the week.
He said that what drove him to set goals and keep them was his family.
His goal for them is to stay alive and be healthy so he can watch his kids growing up, he said. "Other than that, I'm already a sex symbol."
Ross knows that working out is also about looking good for his fans
There are other benefits to working out for Ross.
He notes that working out helps supply him with stamina in the middle of performances as well.
For him, traveling is exercise, being on stage is exercise, and for that, he has to stay in shape and deliver what is in his heart.
That's how he came to lose 75 pounds, in order to save his life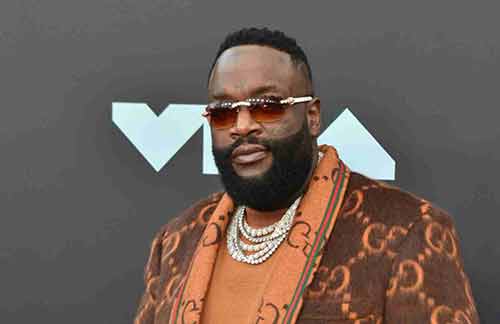 His doctor told him that if he wanted to save his life, he would have to lose weight.
That was when he was weighing 350 pounds and sleeping only for 3 hours every night.
He would wake up around 4 a.m. and eat 24-oz steaks.
He thought he was living life to the fullest and he was.
But he didn't bargain that two seizures within only 6 hours of each other would grip his body.
It required his private jet to make an emergency landing and it required Ross to urgently re-evaluate his life and health.
His doctor urged Rick to change his exercise and diet and Ross heeded the advice and lost 75 pounds.
"I'm happy," he told Men's Health in an issue. "I'm still losing weight, and now I'm starting to build hard muscle in places."
It was key for Ross's health to take things slowly rather than trying quick and dramatic type fixes that wouldn't have stuck.
He feels if he had just quit all the things he loved all at the same time and all at once, it wouldn't have been long before he would have gone back to his old ways.
But instead, he allowed himself to have fast foods that he loved but only between 12h00 and 5 p.m. in the day and only 2 to 3 days a week.
For the rest of his meals, Ross worked along with a chef who came up with some healthy recipes that he looked forward to and wanted to eat.
He and his friends started working out together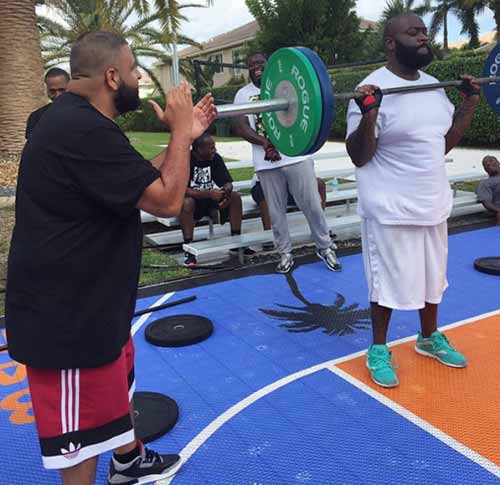 His friends provided him with all the motivation he needed, and they eventually came up with their own version of CrossFit called RossFit.
For four days a week, Ross would go for a warm-up jog, and then he would set up five exercise stations where he would do moves like pushups, deadlifts, and other things, working through them all for about 30 minutes.
For Ross, finding workouts and foods that he actually would enjoy was key to him sticking to the diet and exercise plan.
he says…"My advice for anyone looking to lose weight is to not make it feel like a job,"
5 Great Weight Loss Tips Ross wants to pass on to you
There are some essential weight loss tips of Rick's that anyone can apply to their own life.
If you feel that you are in the same boat that Rick was before he lost weight, and you are overweight right now, you probably know you need to do something.
It is important for your own health not to wait for a doctor to tell you that you have high blood pressure [3] or high cholesterol for a terrible seizure to grip your body in fear and wake you up.
Ross reckoned what would be the value of a private jet, money, chef-made meals, etc. if you are having a seizure?
Not much.
You don't have to be wealthy to use these tips from Rick Ross either.
Whether you are 10 pounds or 100 pounds overweight, these are pearls of wisdom from the man who knows, because it happened to him.
1) Start today
It doesn't require a seizure to happen to you to get yourself sorted out to be healthy and fit.
If you are battling obesity now, don't wait.
Start now, before the seizures or other medical problems happen.
The fact of the matter is that 70% of American adults are now overweight, so this advice should be nothing new to many.
The point is to get started, and becoming determined and focused.
2) Be willing to change
You don't have to be a rock star or with heaps of money to transform your body from fat to thin.
Here are some simple elements from the Fit Apprentice plan that gives you similar results to what Rick Ross achieved.
Plus:
Then watch and see, says Rick.
These are his tips and advice for would-be dieters and those who want to get their health in order.
You can also lose 75 pounds too if you follow Rick's tips and advice and you won't be the first one who did and you won't be the last!
Rick says it's up to you to take action.
This means if you make no changes and keep your foods the same, and then try and do a few workouts sitting on your couch – go figure that one out – if you don't put in an effort, you're gonna get nothing out, right?
And Rick knows because he has been there, he knows he was putting bad stuff into his body and it took its toll on his health, a huge wake-up call.
3) Gradual fat loss is better than fast fat loss
It is better to lose weight slowly; it's the best path to follow.
Gradual weight loss for Rick Ross was a vital element of his diet.
It is not necessary to starve yourself trying to lose weight – it leaves you feeling demoralized, demotivated, and easy just to give up.
It is important to eat real food, food that is healthy, creating a moderate caloric deficit.
Start exercising with simple walking every day – you will see success doing it slowly and consistently.
4) Plan your meals and your workouts
If you have a personal chef to cook up healthy meals for you, how awesome is that.
But otherwise, if you don't, you need to come up with a whole bunch of meals that you like and are good for you and that you can prepare yourself.
With regards to choosing your food, think natural, straightforward healthy food.
A good example is egg omelet, rice, orange – potatoes, salmon, and spinach are also good. Other good things are whole-grain turkey or tofu sandwiches.
Always remember to cut out the heavily processed stuff.
Try and record the meals you eat for at least a week, and what you are fueling your body with.
5) Have fun
Find the workouts and foods that you enjoy.
Rick Ross discovered these; the incredible benefits of deadlifts and push-ups.
So you too, need to enjoy your journey and have fun, particularly if you accept the idea of gradual weight loss, then it can be fun.
The goal here is to get fit and lose weight in an easy, comfortable way.
It's a good idea to add weight training like Rick Ross
Just watch Rick Ross working out, doing pushups and deadlifts in this video.
You might not be able to transform your physique like Rick was able to without adding in some strength training.
Rick Ross did barbell training to achieve his amazing transformation.
Barbell training is a practical way for overweight people to get into, who are unable to do bodyweight exercises.
The deadlift is ideal because it works with all the muscles of your body.
Once you see how all your muscles are getting fit and worked, you will just want to do deadlifting, because all your muscles are covered, right?
If you are going to choose one, choose the deadlift.
Check this beginner deadlift workout – it will get you off to great resistance training.
Don't hurt yourself though – use the essential proper form deadlift checklist.
For Rick Ross, real food, doing push-ups, squats, and deadlifts, as well as walking, was enough for him to drop 75 pounds.
Conclusion
This guy has done a complete turnaround, once at death's door suffering from seizures which had left him fighting for his life in hospital – and overweight.
Hip-hop and rap musician, William Leonard Roberts II, known among his fans as Rick Ross, quickly became a world-famous superstar after the release of his first single.
This set him on a life-changing weight-loss journey to lose 75 pounds.
He started an exercise workout program that is absolutely inspirational and motivating.
Today, his fans not only admire him for his talent as a musician, but they have been in awe of his amazing weight-loss turnaround.
Even with all his fame, he had his struggles, and one of them was battling to get rid of excessive weight.
But after his hospitalization, he has been seen out and about looking much healthier, slimmer, and happy.
Rick said to himself that he had to lose weight because his health had deteriorated so in the last couple of years – he realized he had to do something.
He appeared at the award ceremonies after his weight loss as a completely different person, and fans could not believe this man used to be proud of his big size.
Although the legendary rapper does still record music and plays at concerts, he admitted that he pays much more time to his health; now it's his top priority.
After his seizures, he realized that change was urgently needed.
It has turned him into a happy guy with the body he now has…
His willpower was so strong to change his entire lifestyle and he has been gaining muscle as well.
Rick says there is no need to torture yourself with heavy-going restrictions and diets.
Instead what you do is take things slow and not be so harsh on yourself.
He himself says he never gave up some of his favorite food, but he did restrict himself on the quantities.
Following a few of his beneficial principles helped Rick to regain his health.
Rick's weight loss journey might be just what you could use right now – see his tips above and start today.
In closing, some Rick Ross advice
Rick Ross advises everyone not to make losing weight feel like a job or stressful chore.
He advises everyone further not to constantly compare their weight with others.
Once you get hold of a plan and process it, everything will come naturally, and you will see results.
Also, if it seems like you do not have time to exercise, you should remember that famous people like Rick Ross and other artists, who have extremely busy schedules too, have still found the time to take care of their health.
Self-care is the most important thing for any person.
You can never replace the health that is lost.
Get inspired today by some famous people with very busy lives who have made their health a top priority and also their determination to drop excess weight.
If they can, you can too!
So Rick lost 75 pounds and some people say it has been 100 pounds! It is very possible that it could be 100 pounds.
But Rick says it best, "When I started out, I weighed myself. I was around 340," he says.
"And after I got under 290, I stopped weighing myself, because it wasn't about the number anymore."
No, it's about the Instagram photos that tell it all, and you, Rick Ross, are looking i n c r e d i b l e now!
Well done!
I just take everything one at a time and make sure everything I do is the best…Rick Ross
References