How many of us absolutely adored watching the antics, sayings, and cute things that Honey Boo Boo got up to when she was a little girl, starring on Toddlers & Tiaras; a pageant show for small kids.
Alana was just 5-years old then, keeping thousands glued to their seats to see what she would say and do next!
From there she starred in her own show, Here Comes Honey Boo Boo where she rose to fame.
10 years later, she is now a teenager, at 15-years old.
She became well-known for her mom's famous shows and incredible weight loss
Her mom had a show too, called Mama June: From Not to Hot in which Honey Boo Boo also featured. June, her mom, lost a huge amount of weight on this show, something like 300-pounds.
From Mama June: From Not to Hot turned into Mama June: Family in Crisis.
Alana features in this series as well, but it is more about her mother's drug issues which tore the family apart, causing the family to spiral out of control in 2019.
The four girls have had to lean on each other for support and strength, hoping that June will return from possibly a jail term, healthy and clean.
When the Mama June series did start back in 2017, it was for the purpose of watching her incredible weight loss journey where she lost 300 pounds!
Her daughter now, at 15, is hoping too, to shed weight that she has been steadily putting on over the years.
So amidst all her drama and troubles, we still want to be very happy with Alana that she too, has made an effort to get her weight and fitness under control.
We will see how her life story has been directed towards that end over the years.
Let's look at the life of the young –
Alana "Honey Boo Boo" Frances Thompson (born 28 August 2005)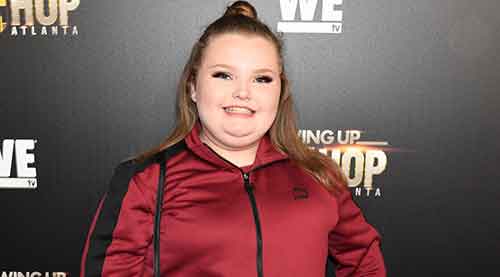 Her childhood years
Alana Frances "Honey Boo Boo" Thompson was born in 2005 to June and Mike "Sugar Bear" Thompson.
Her three eldest sisters are Anna, Jessica, and Lauren; all with different fathers.
But it was Alana who began competing in beauty pageants at a very young age, and it earned her screen time on the very popular TV series, Toddlers & Tiaras.
This show gave viewers a glimpse into the behind-the-scenes look at the pageantry world.
She spent 2 amazing years on her show Here Comes Honey Boo Boo that aired on TLC.
It featured Honey Boo Boo and her sisters growing up, premiering in August 2012 and ending exactly two years later.
2014 – Alana at 9-years old
Alana's mother had her own overweight problems.
She knew that if Alana didn't start getting in early with good eating habits and exercising, she would end up in the same position as herself.
Her parents tried to put her on an oil-free diet which led her to lose several pounds; at least 5 pounds and Alana started putting in a good effort to try and live a healthier life.
Fortunately Honey Boo Boss was still very young, but it was still an excellent time then to stop the trend of overeating.
The world knows that she and her mom have been body-shamed several times on social media.
Everything was actually going well for Honey Boo Boo, but when her mom's own program started airing called Mama June: From Not to Hot, her own fans started commenting a lot on her own weight.
She decided herself at that time to lose weight.
After all, already at this stage, she was weighing in at 125 pounds at the age of only 9 years.
Alana's uncle, "Uncle Poodle", put a lot of the blame for Alana's weight on her mother, June
In an interview, "Uncle Poodle" blamed Alana's mother, June Shannon, for Alana's shocking weight gain, as well as her eating habits.
Uncle poodle said, "It's June's fault."
She is the parent; she should control what her daughter eats."
He added that he had seen June cook before, claiming "I have never seen June cooking something healthy for her daughter."
Apparently, at that time in their lives, Alana's mother was allowing her to eat whatever she wanted to eat and whenever she wanted to as well.
Honey Boo Boo would eat plenty of fast food and once, she was even seen eating 20-pieces of chicken McNugget!
Eating a lot of fast foods, as we know is simply adding on excess calories, and can lead to obesity [1].
It doesn't stop there.
From there, obesity increases your risk of developing respiratory problems, and this can include asthma and shortness of breath.
All the extra weight adds pressure on the heart and lungs, and symptoms will show up even when someone uses little exertion.
Dr. Travis Stork from The Doctors interviewed the 9-year old Alana and her mother
The famous medical series, The Doctors, covers many exciting and beneficial health topics, and they invited Alana and her mom on to the series when they would be discussing nutrition, weight loss, and general health.
The 'sketti' days would hopefully be a thing of the past.
Dr. Travis was already concerned about Alana's weight at that time as she was at risk for diabetes as well as other health problems if she continued to eat the wrong foods and continue to put on weight.
The Doctors team determined that Alana needed to lose around 65 pounds if she were to be healthy.
Dr. Travis told June from a previous visit to the family home that "When I looked in your fridge, June, I'm sorry but I didn't see anything in that fridge that's either going to improve Alana's weight or decrease inflammation in her body." [2]
The Doctors demonstrated to Alana and her mom that eating healthy doesn't mean boring, bland, tasteless food
The Doctors prepared a healthier version of the food Alana loves so much; fried chicken.
Their version of chicken was rolled in wheat flour, oats, and it was baked instead of fried.
After the show, when Alana went home, she would be eating a diet as set out in Dr. Travis Stork's book, The Doctor's Diet, and she would also be monitored by a nearby nutritionist.
The Doctor's team also warned Mama June that it was necessary to make healthy lifestyle changes to Alana's diet to avoid her being at risk of developing life-threatening diseases.
Already they had put Alana in the 'obese' range and said that her diet of salty, fried, and sugary foods was already contributing to her health problems which included asthma. [3]
Dr. Ashton, another doctor on the show, said "I will tell you, because I have a daughter, the No. 1 most important role model for a daughter is her mother."
After The Doctors show, Alana had an appointment to see a pediatric immunologist, Dr. Danica Schulte.
She was going to evaluate Alana's asthma.
She found that Alana's asthma was actually out of control and needed to be better managed.
"You start with her asthma out of control, she's not going to be the kid that's out running a mile at school, so then she goes outside to play, it triggers her asthma," Dr. Schulte says. "It's a vicious cycle.
Then, she just gets heavier, and it's harder to go outside, and it's harder to control her asthma."
Healthier food choices would improve Alana's asthma more than inhalers and steroids could do
Further tests done by Dr. Schulte proved that Alana had high cholesterol with evidence that it could be affecting her liver.
The Doctors further explained that Alana was at risk for heart disease, diabetes, stroke, cancer, and arthritis – all of which could lead to a shorter lifespan.
June told the doctors that the steroids Alana had been prescribed contributed to her being overweight.
But the doctors said, no, the meds were not to blame.
"It's not her steroids that are causing her to be obese," Dr. Travis said.
"It's the foods she's eating."
Dr. Travis also challenged Alana and her mom to a comfort food taste test.
He revealed some of the secret ingredients that were used to make some of Alana's favorite foods highly tasty, but just healthier.
At that time, The Doctors arranged for a pediatric nutritionist to meet with Alana and her mom at their home and also for a personal chef to teach them how to cook healthier foods.
Look at some of these healthy, delicious recipes here.
Dr. Travis invited Mama June and Alana to return to the show later to give them all an update on their progress.
Almost 40% of adult Americans are obese
Can you believe that 18.5% of American children are facing obesity today? [4]
Scary figures, sure, but it is unhealthy lifestyle choices that are responsible for excess weight gain in people.
Being fit and healthy is a choice only we can make.
Some people don't want to embark on a weight loss journey because they find it too challenging.
Alana's mother, June, topped the scales, weighing in at 460-pounds at one stage and it sure was a health challenge for her to get thin again.
A healthy diet, some gastric bypass surgery, and June managed to transform herself; losing almost 300- pounds.
Since her amazing weight loss, Alana has vowed that she wouldn't let her own children fall prey to obesity.
Alana, at 15, has woken up to the reality of being overweight and she and her mom decided that for Alana, it was time to cut out the greasy foods from her diet.
Because when it comes to diet, her mother says "Small things do matter".
Most of us realize just how big an effort losing weight costs
It is so easy to put the weight on, but stubborn fat just seems to refuse to come off. So you can understand that it is not a casual decision to make to lose some weight.
If you are going to go on a serious attempt at losing weight, it is going to require making a few lifestyle changes.
Some people like to get serious and committed to losing weight fast whilst others like to make small changes to see some differences and then move forward again.
And Honey Boo Boo's weight loss journey is an inspiring story for many of her fans and shows that it can be achieved if you are prepared to make the changes.
2017 – Alana at 12-years old
Alana reportedly considered having her own weight loss show – this was following the success of her mother, Mama June's reality show in which her own mother lost a huge amount of weight.
Alana, at 12-years old, and her sister, Lauryn "Pumpkin" Shannon were being pursued to do their own reality show based on a similar theme to their mothers, Mama June: From Hot to Not.
A source back then told OK! Magazine "The girls are up for it, because the show will be all about them, and they'll have their own big paydays."
But the thing is; it would not be an easy task to get Honey Boo Boo to get away from her usual diet, not at that age; as she even said around that time, "I'm not jumping on any bandwagon unless it has cheeseburgers and stuff."
Fact is, Alana is a young girl still, who loves indulging in junk foods
Even though her mother encouraged her daughters to also lose weight and get healthy, Alana did adopt a healthier lifestyle.
But at that time, she did not fully understand fully why she should be dieting and for whom.
"I'm not jumping on any bandwagon unless it has cheeseburgers and stuff," she told The Doctors when they recommended she steer clear from fatty foodstuff.
2018 – Alana at 13-years old
When Mama June shed 300-pounds on her show, she wanted her kids to do the same; she thought her own weight loss journey would inspire her kids to want to get slim and trim too.
Alana and her mom admitted that Alana was going through weight problems.
After all, it was four years later that Alana had visited The Doctors' she had been a little girl then and maybe the seriousness of being overweight and eating well did not sink in fully at that stage.
And maybe not for June either.
But little girls grow up and now, in 2018, Alana has become a teenager
This is the time when girls become young teenagers, that they enter high school and start getting noticed by the opposite sex as well.
They are becoming aware of their bodies; their skin, their weight; their hair; the clothes they wear, etc.
Alana had been trying to make an effort when she was willing to cut out oily foods in her diet, and just cutting out trans-fat in her diet had already helped her to eliminate the possibility of strokes and high blood pressure.
So Honey Boo did follow quite a bit in her mom's footsteps.
After her visit to The Doctors show, she had also started including more fruit and vegetables in her oil-free diet.
For that, she was praised by her fans.
But at this moment in time, Honey Boo Boo still wasn't showing a whole lot of interest in losing weight.
She said, "Mama's on this diet, but I'm not boo-boo. I like my curves."
June said...
"She's lost about five pounds, so that's a huge accomplishment for somebody. It was for me. You can put on the weight very easily but it's not that easy to come off. I promise you." June says of her kids, "I am worried about their health because I don't want them to go through what I went through."
Dancing with the Stars
Alana this year was cast in the reality show 'Dancing With The Stars Juniors.'
This is an American dance competition where celebrity kids are paired with junior professional ballroom dance partners – this under the supervision of adult dancers.
They have to practice and then perform beautifully choreographed dance routines in front of the judges.
Alana teamed up with Tristan Laniero; they were under the mentorship of Artem Chigvintsev.
It was a fantastic opportunity for Alana and she and Tristan rocked the stage.
She was superb and completed various dance forms such as salsa, hip hop, freestyle, cha-cha, and others. She was the 5th one to be eliminated from the show.
2019 – Alana is 14-years old
It was also around this time that June was having drug addiction problems and also domestic problems with her boyfriend Geno.
That meant that Alana was having a harder time keeping her healthy habits she had learned.
And then finally, June got arrested for crack cocaine possession, and poor Alana had no choice but to move into her older sister Lauryn's house; for safety's sake.
Lauryn now has legal guardianship of Alana.
2020 – Alana is 15-years old
Honey Boo Boo, still at her sister Lauryn's house, is putting in much effort into eating healthier.
That's why she now at her sister Lauryn's house, has once again started putting in a lot of effort into eating a healthier diet.
So much so that she started a Fab Fit Fun subscription box this year.
Now that she is 15 and teenagers are so critical of their body and looks, there are going to now be the shamers and they will continue their relentless attack on celebrities and their body shapes and lifestyles.
Alana has said of them, "You will always get body-shamers that will find everything wrong with your body even if you are the thinnest."
You have to be strong in this world – studies show that body-shaming can have destructive effects on whoever the victims are.
Fortunately, Alana has always been confident about herself in the past
She is drawing from her strength and confidence to fight off comments such as "You are just as round as the ball."
Alana also has some loyal fans that defend her on her weight loss journey.
Alana is not sitting idle, she and her sister/s have been seen working out and walking near in their home in George with their older sister, Jessica.
Alana's sister Jessica herself, recently had a tummy tuck as well as liposuction, shifting down from 243 pounds to 189 pounds.
One source told The Sun that...
"Pumpkin and Alana have been inspired by Jessica and Anna's transformation. So they've joined together with them and they've been going walking every night trying to lose weight and get healthy."
All this comes after Alana revealed how she has struggled after the drug arrest of her mom.
Many people who are desperate to lose weight will go the gastric bypass weight loss surgery route
The gastric bypass weight loss surgery route is a very popular way to help overweight people to lose weight. But it is completely different in the case of Honey Boo Boo.
She is only 15 years old so having surgery for weight loss will be quite an ordeal for her.
Also, it is usually only recommended for patients who are over 18-years old.
Maybe Honey Boo Boo will try it later; her own mother, June, had weight loss surgery, losing over 300 pounds!
Right now, Alana is just following a healthy diet; she rides a bike and works out with her sister.
At this moment in time, she hasn't yet shed copious amounts of weight, but she has started clearly to eat better and to include exercise in her diet.
We can see clearly that she is starting to look more attractive and thin as she starts her weight loss journey, which means her body shape has also improved.
2021
The good news is that June and her boyfriend Geno have been 'clean' for a year now from their drug abuse convictions.
They have now made Florida their new home.
Maybe we will hear that Alana is back with her mom, but only time will tell what Alana will decide to do with her future.
In the meantime Lauryn, her husband Josh, and their 2-year old daughter, Ella Grace, have done a superb job of being the sister-parents to Alana and Lauryn is having the pleasure of watching her younger sister start to pursue her dreams again and grow into the "wonderful person" that she is becoming.
And now her fans are watching her shed the unwanted pounds and getting fit.
Her fans are also loving and supporting Alana on how she has managed to stay so positive and smiling throughout the last couple of years since she had to uproot her home and move in with her sister.
In one Instagram pic, she was seen looking pretty in a pink t-shirt, captioning her post with "I don't know, [if] I'd wife me."
Don't worry Alana, you've made a pretty good start now and there are plenty of fans who certainly would.
Conclusion
We know that weight loss takes plenty of dedication and willpower in order to really get rid of excess weight.
And when you start really making it your goal to lose weight and to get fit, you will discover that it takes a lot of your time, energy, and hard work – but what do you get in reward?
A toned, fit, and healthy body with probably a few extra years added to your life!
Even though Alana has encountered many ups and downs in her short life, her fans keep rooting for that feisty toddler of some ten years back – they fell in love with her then and they are rooting for her in her teenage years too.
Alana "Honey Boo Boo" is someone that still keeps us watching her in fascination because she is so real – we want to see what Honey Boo Boo will do next!
She says, "I may not be perfect but at least I'm not fake."
Sure, we got to know Alana as the gorgeous, highly entertaining Honey Boo Boo from TLC.
But now she's a teenager in the real world, with her fair share of ups and downs.
A lot of criticism is starting to come her way now because she is growing up and people are watching what this young lady is going to do with her weight and fitness which she has battled with from a very young age already.
Alana Thompson is up to a whole lot more these days than beauty pageants. Now she has moved on to a lot of other pursuits.
She wants to get good grades at school, and she is being the best aunt she can for little Ella Grace.
She is also still sorting out the family drama with her mother and her father, and still running her own business.
But watch this space because Alana Thompson is probably going to surprise us with her amazing weight loss journey.
She entertained us no end when she was little and we are no doubt going to see much more of her in the future because HERE COMES HONEY BOO BOO!
Frequently Asked Questions about Honey Boo Boo (FAQs)
What is Honey Boo Boo's net worth?
Despite only being 11, Honey Boo Boo is reportedly worth around $800,000. Not bad for a teenager! It is believed that her family received around $50,000 per episode for the show.
This figure excludes the many endorsements.
Is there anything to learn from Honey Boo Boo's eating habits over the years?
It might be easy to gawk at the "sketti" that Alana used to love, but there are positive to take away from Alana's previous eating habits: 'Sketti' for the family was spaghetti, boiled up, and sauced with melted margarine and ketchup heated up in the microwave.
There was plenty of heavy, fried food eaten at their table with veggies being completely absent.
Not only that, June would pump Alana full of "go-go juice."
This was a mixture of Mountain Dew and Red Bull. This would give her plenty of energy for her pageants.
Despite all the nutritional blunders of the family meals, there still remains something admirable about their food habits, and that is we got to see a rich and engaging domesticated atmosphere.
Here are a couple of positives that can be learned from the family mealtimes:
She fed seven mouths on a budget of eighty dollars a week.
They got some protein in the form of roadkill if wild boars or deer were hit by a train.
They sat down each evening and enjoyed a meal together; the entire family. It was usually a home-cooked meal. They all ate together without the TV on.
Does Honey Boo Boo spend any of the money she has made over the years?
To begin with, she is waiting to get her driver's license because the legal age in Georgia, USA, is 15 years!
Can you believe that little tot that made herself famous in Here Comes Honey Boo Boo is now getting ready to start driving?
She says she wants to get a Honda, but let's see what she finally chooses, this incredible star!
Is Alana's money protected?
The family has been very worried that Mama June might at one stage want to get hold of Alana's money to spend on her gambling habits and also her drug habits; it was essential that Alana's money be kept safe.
Finally, though, Lauryn has been given access to the funds but only to use the money for Alana's needs and benefit.
There are safeguards in place.
And even Lauryn, who is Alana's legal 'guardian' at this stage needs to provide proof as well as receipts of where Alana's money is going if she needs to access the account.
If she is not on TV what is she doing?
When Alana Thompson isn't filming for reality TV shows, she sells all her own merch on her website, and she is on Facebook.
Check it out. She's got her own Cameo account too, which apparently pulls in some serious cash. She sells shirts and other clothing items, dog bandanas, mugs, face masks, and other stuff which she markets on social media.
She often posts selfies rocking her own clothes.
She gets plenty of requests on her Cameo account.
She's frankly busy building her empire! And she might only be a teenager still, but she's got the attitude to be a bigger success one day.
References