Al (Albert) Roker is a famous American journalist, weather broadcaster, actor, television personality, and author.
He is the co-host of NBC's Today, a job he has held since 1996.
Unfortunately, Al also learned fairly recently that he had prostate cancer just after having a medical check-up.
He had his prostate removed towards the end of 2020.
He said he wanted to share this news publically to highlight how common prostate cancer is, saying he believes that one in every seven African-American men receive this diagnosis in their lifetime.
He is happy to say that for him, they caught it early; as prostate cancer is the most prevalent cancer to be found in men.
That's what the American Cancer Society says.
"If you detect it early, this is a really treatable disease, and it's why I wanted to take you along my journey so we can all learn together how to educate and protect the men in our lives," [1]
Viewers, watching Al Roker's weather reports and his amicable bantering since 1996, regard the famous weatherman like a friend, they have "shared" a lot of his life with him including other medical treatments he has had in the past.
Some were surgeries to his right shoulder; he had surgery to his left hip and to his right knee.
During the height of the coronavirus pandemic, Al Roker and his wife, Deborah Roberts converted their home into a makeshift TV studio
Each of them broadcast live from their Manhattan brownstone or their house in upstate New York.
"We are very fortunate we are able to work at home because we acknowledge that there are a lot of people who have lost jobs and don't have the opportunities that we do."
[/su_box]
Al Roker has won 13 Emmy awards for his work on Today and he has also picked up gigs all over television such as Who Wants to Be a Millionaire, Celebrity Family Feud, and Wheel of Fortune.
The life and incredible weight loss of Albert Lincoln Roker Jr. born in August 1954
Early years
Al Roker was born to Isabel, a homemaker, of Jamaican descent, and Albert Lincoln Roker Sr., a bus driver.
When very young, Roker wanted to be a cartoonist.
There were 6 kids all together in the family so that meant the family diet was filled with carbs to feed all the mouths, using his father's bus driving salary to manage.
There would be pancakes for dinner and grilled cheese-and-tomato sandwiches, macaroni and cheese, pot roast and potatoes, and Jamaican blacked-eyed peas with rice.
"All middle-income families use carbs to stretch meals, across any ethnic group," Al told Parade.
Al said both his parents came from families that loved eating and he said he himself was a "portly kid from Queens, New York."
Al loved food, but did not really enjoy sports and being active. Every year meant he would become chubbier.
Coming from a blue-collar background, Al's parents were hard-working and stressed education and achievement to their kids.
For the most part, his friends and classmates didn't tease him about his weight, but that all changed when he got to high school.
He would watch Bill Cosby's Hey, Hey, Hey, It's Fat Albert cartoons, but in a few seconds he realized that "I was Fat Albert. Oh, God. I was black, fat, and named … gulp . . . Albert! My life was over."
Al tried to skip school, but his mother wouldn't have any of that nonsense and packed him off to school.
By the time he arrived at school, huffing and puffing, he would be relieved if no one was calling him yet by that awful name.
"Much to my surprise, no one said a word at first. Well, maybe nobody saw the show. But within five seconds of that wishful thinking, I heard eight or ten guys shout out, 'Hey, hey, hey!' I could feel my heart hit my toes as I lowered my head in shame."
His young adult years
Al graduated from Xavier High School in Manhattan and attended the State University of New York.
He got a B.A. degree in communications in 1976.
Even when young, Al Roker battled with his weight, and there was a time when he decided enough was enough, embarking on an amazing weight loss journey.
Let's find out more about this guy, who through his weight loss; hardly looks like the other half that he lost.
Let's look at why and how he embarked on his weight loss journey.
Because even though he always had a hearty smile for his viewers, he was aware of his body.
As a young adult, he felt the pressure to be thin
He married Alice Bell, a WNBC producer in 1984, but 10 years later they were divorced.
He then went on to marry a journalist by the name of Deborah Roberts a year after his divorce.
To date, they have been together for 23 years.
But he felt a bit of pressure because he says theirs was a "mixed-weight marriage."
He admitted to Today that often unhealthy habits and overweight partners can take a toll on a relationship.
"My wife is a size 4; she runs, she works out and it became a problem in our marriage … On a Saturday she'd get up, get dressed to run and I'd be sitting on the couch or making breakfast for the kids … She was upset, frustrated, and angry about it.
She said, "Why don't you care enough about yourself and why don't you care about me and our relationship enough to change?"
And I said, "Look, it's not about you. It's about me."
He said for him, his weight was actually like a third person in the marriage.
His wife would urge him to get fit and this would cause constant conflict between the two of them.
He knew that if they were both overweight, it might have been fine, but when one is slim and does workouts; "mixed-weight" as he calls it, become a big deal, a real problem.
Al was at his very heaviest, tipping the scales at 340
That's a whopper!
He said the huge weight he was carrying was a combination of a few things, of "not feeling worthy" and being worried he "wasn't as good as he thought he was," and that he just "really liked the food."
But around 2011, his attitude started changing and he promised his dying father that he would lose weight.
His father made him "swear to God" that he would do it, and he did.
"I don't know if you've ever had to make a deathbed promise to someone you love, but if you have, you know the kind of guilt and massive responsibility I felt in that moment."
We are going to follow Al's weight loss journey from 2002; because that was the year that he decided to undergo gastric bypass surgery.
But first, before he went on his gastric bypass surgery, he went on an epic binge!
First, the binge
Look there are plenty of us who won't want to admit that we relate very well to what Al did, but there are also plenty of us who will admit that we have done exactly the same as what Al did!
We know we are starting a major diet, or having gastric bypass surgery, and then we go out and enjoy our "last supper" so to speak, a wild fling of eating our favorite stuff.
Just the thought of macaroni and cheese, honeyed chicken wings, fried potatoes, pizza, ice cream, you name it and then washing it down with whatever our favorite drinks are – sweet, milky milkshake, sodas, beers, or plenty of alcohol.
In his book, Never Goin' Back, Al gives details of his "happy meal" before he underwent the medical procedure that would hopefully change his life.
So it was about a week before his surgery that Al attended the 2002 Salt Lake City Winter Olympics.
It was there that he decided to indulge in his dream of eating whatever he set his eyes on during the two weeks of the Olympics.
He says it was a total smorgasbord of indulgence and decadence.
There was no doubt that the weight piled on.
He ate with wild abandon because he said he felt like a condemned man going under the knife, with such a short amount of time left.
He ate "anything and everything that wasn't nailed down," leaving nothing off the menu.
He said that he had a hotel suite with its own kitchen.
He stocked this with Häagen-Dazs ice cream.
He made thick, gooey grilled bacon-and-cheese sandwiches.
He wolfed down steak and onion rings ordered up from room service.
There was one word, no two, which described what Al went through – sheer enjoyment!
He weighed in at 320 pounds on his arrival at Salt Lake.
By the time the Olympics was over, two weeks later, he was on his way home weighing his all-time high of 340 pounds!
He was thankful for his surgery and doesn't regret having it for a moment…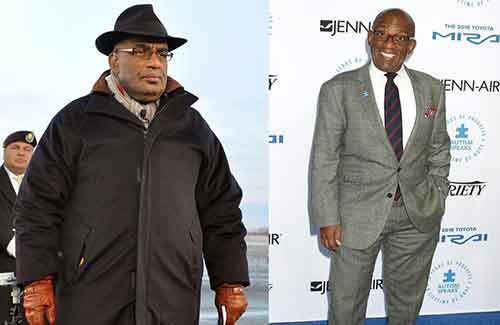 Sometimes you hear horror stories when a celebrity and other folk have negative surgery that affects their lives – and often the ones around gastric bypass surgery can mess with your digestion.
But for Al Roker, it turned out to be a positive experience and one he has no regrets about having; it took him eventually to a place where he could say that he was no longer the fat guy.
Being fat had become so part of who he was that it took a long time to separate how he thought the world saw him and how he saw himself.
"I appreciate the happiness and freedom my newfound health has brought to my life. I now have the ability to see a pint of ice cream, have a single spoonful, and walk away."
2002
Al Roker had gastric bypass surgery.
In 2002, he was reluctant to talk about his surgery, calling it…
"The ultimate admission of failure. In this country, if you have an alcohol problem or a drug problem, you can get treatment. If you have a weight problem, it's a lack of willpower. Society puts you in a box. It's [being overweight] the last acceptable group to make fun of. Throughout media, the heavy guy is the funny guy, the easy laugh … [and] when you're overweight, you see that as your role."
2010
In an interview with Runner's World Al told them he had begun running in March 2010.
From there he went on to run a half marathon in Chicago.
He also ran the New York City Marathon in 2010.
He told U.S. News… "I know I need to exercise. For some people, exercise is like breathing; for others, like me, it takes effort. Exercising is what I need for my metabolism and for a better sense of well-being."
[/su_box]
2011
His mother was hospitalized this year, and this caused Al to slip back into his old habits of eating.
At this time, he had actually gained 40 pounds by the time his mother passed away.
He had been traveling backward and forward between visiting his ill mother and home.
At the same time, he was feeling guilty that he wasn't spending enough time with his wife and kids.
He easily consoled himself with food, getting blindsided.
2012
Since childhood, Al has loved food and eating, and it had become difficult to stop himself.
In his 2012 book, Never Goin' Back, the Today Show star said he remembered how it was when his weight started to bother him – it was when Bill Cosby's Fat Albert animated series surfaced on TV.
In his book, he describes how he went on a 28-day detox, cutting out caffeine, alcohol, sugar, dairy, and gluten.
He went on to change his diet permanently.
He would eat "only whole, unprocessed foods that are high in protein and low in carbs."
The Al Roker Diet described in the book Never Goin' Back is an entertaining, inspiring, and enjoyable read which describes Al's personal struggle with obesity.
This book might not have detailed diet plans in it, but it does offer readers plenty of tips, suggestions, and advice to assist them in following the guidelines Al Roker used on his weight journey.
2013
"I weigh myself in the morning and at night so that I know where that number is," Al said on a Today interview in 2013.
Apart from eating better and also doing strength training, Al says he has worked hard to get rid of bad habits where boredom could lead so easily to bingeing.
"Unless there is breaking news, we don't allow TV watching at home while we're eating. I also try not to read and eat, and interestingly, since I stopped that habit, my comprehension is even better."
He told Today that "I'm thrilled about where I am. Life is terrific; I wouldn't trade it for a moment. But you always wonder where you would be if 'x' hadn't happened."
2016
Al told Today that back in 2016 he "hated" that he "went back" to his old ways, and he says he now knows what he had to do to keep that from ever happening again.
His routine now
The weatherman said that in Never Goin' Back, maintaining his weight of around 190 pounds is "a killer."
But he says he did find a way to keep himself in check and look at him now; he is the picture of health and fitness.
Since his gastric bypass surgery in 2002, he has lost over 100 pounds.
But in this instance, he wasn't able to have his cake and eat it too!
He has made it clear many times that losing weight and keeping it off is a daily struggle.
Roker was helped further by the Keto Diet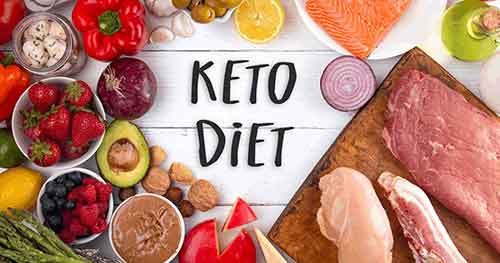 Al Roker, because he knows that keeping weight off is a daily struggle, also followed the ketogenic diet.
He said that this way of eating had been a positive experience for him.
When he was on it, he lost around 40 pounds. [2] He proclaimed, at the same time keeping his cholesterol numbers healthy.
"My cholesterol – just had them checked a couple of weeks ago. Everything's good."
You will eat food that is high in fat on the keto diet.
You will stay clear from just about all types of carbs.
This would be in order to achieve a 4:1 ratio of fat to carbs and a protein ratio of 4:1.
The aim of the Keto diet is to lose weight by burning fat for energy instead of carbohydrates.
By limiting carbs, your body enters ketosis or a fat-burning state.
This helps people lose weight.
When others have criticized the diet, Roker has defended it, saying…
"My point is, what works for you, works for you. There's science on both sides that says it's not a great idea and science that says it is a great idea. I think it's up to people, with their doctor, with their medical professional (to make their own decision)."
He knows that in the past he wasn't taking care of himself
Not only did he want to overhaul his health for his wife, Deborah Roberts, but he was determined to do it for his beloved father as well.
His father, on his deathbed, pleaded with Al to look after his health and his weight.
Those days were very tough for Al, but fortunately, with his family and friends' support, he did honor his father's dying wish and he got back on track again.
Now he can honestly say he lives a healthy lifestyle and maintains his much thinner frame with good food, exercise, and his wife who has stood by and supported him over the years.
No more binges for Al!
He also wants to introduce to you the maintenance diet that he goes to in time of need
It's called the Al Roker Diet with just a few simple rules to help him and you too, to rebound weight and control binge eating.
He claims now that the scale is his best friend, and he even weighs himself twice a day, morning and night.
When he goes on his diet, he likes to jumpstart it with a detox cleanse.
At the beginning of his weight loss journey, he would do a 28-day raw detox.
These days, he would eliminate alcohol, caffeine, dairy, sugar, and gluten.
During that time he would lose a pound a day.
Now when he has been on a holiday or other events where he feels he has over-indulged, then he does a detox; perhaps shorter ones.
But the main part of his diet now is consuming whole foods and avoiding stuff that is unnatural and processed.
His diet consists of high protein and low carbs.
He now makes the most of salads, fresh meat, smoothies, legumes, and plenty of veggies, keeping an eye out for portion size [3] and keeping things simple.
No longer does Al count calories

Al says it is just simply not part of his busy lifestyle.
He believes that everyone who wants to lose weight should know what their weaknesses are and their diet pitfalls and then deal with them successfully.
This is vital, he says if you want to continue to be successful long-term.
Al loves cooking so he follows a lot of food preparation from these healthy recipes.
What about exercise for Al?
Exercise is a huge component of Al Roker's diet.
Al believes that by building muscle mass, you burn off fat.
This means he works out 3 days a week.
He uses the Slow Method.
Heard of that? It was made popular by a personal trainer, Melissa Li.
The book, The Slow Burn Fitness Revolution, is where Melissa developed her training form.
What are the basics of the Slow Method?
It consists of all strength-training exercises, with each rep taking just 20 seconds to complete.
The muscles reach exhaustion under 2 minutes.
The Slow Method is highly concentrated and safe using proper form and use of the muscles.
That's why it is particularly useful for the elderly and for those with disabilities.
This strength-training plan creates a more lean body mass which in turn burns more calories.
Al Roker also uses a treadmill desk when he works at the NBC offices.
In his book Never Goin' Back, Al discusses his exercise regime there that more or less fits into what his daily schedule is:
He wakes every morning at 4.30 a.m. to bicycle two miles to the office.
For breakfast and lunch, he drinks protein shakes with almond milk and berries.
When he gets to the office, he uses a treadmill desk.
During the day, he follows a diet of whole, unprocessed foods that are high in protein and low in carbs.
Conclusion
I'm never going back to fat again
At his heaviest, Al Roker, the famed and loved weatherman on NBC's Today, weighed 340 pounds.
Now when you watch him on the show he is a cool 190 pounds!
He never actually did get a degree in meteorology so he is not a meteorologist like some people call him.
However, his interest in science grew while he was busy studying.
While he was still a sophomore in college, he managed to land himself a part-time job forecasting the weekend weather at WTVH-TV in Syracuse.
When he got his bachelor's degree in 1976, he was the weekday weather caster at the station. Actually, his background contained more science than a lot of his colleagues.
He has become known for writing his own forecasts and using NBC's radar—rather than the National Weather Service—to keep him up-to-date on local and national weather.
He has been the recipient of two Emmy Awards for weather forecasting.
Also, two times has he been named Best Weatherman by New York magazine, and he also is the holder of the American Meteorological Society's Seal of Approval.
But you could say he got a 'degree' for his weight loss endeavors!
He was always a yo-yo dieter, but way back in 2002, Roker made headlines when he underwent gastric bypass surgery.
He managed to slim down to 190 pounds from his weight of 340 pounds.
But he battled to keep the weight off and his old habits returned.
Then when his mother got hospitalized, he started eating a lot of junk food for solace and even put on more weight, proving as he said, that it is possible to "eat through a bypass," he said.
But fortunately, he realized that he had to do something and he told the chief medical editor of Today, Dr. Nancy Snyderman, that he eventually was able to put the brakes on and start a real weight loss journey through the diet, detoxing, and exercise.
He started a 28-day detox and after four weeks he had lost 28 pounds.
After that, he altered his diet permanently.
Today Al Roker eats only whole and unprocessed foods that are high in protein and low in carbs.
He also embarked on a "slow method" workout regime.
This involves three 30-minute exercise sessions each week.
Today, he says, he feels good and enjoys a special relationship with the scale, living by that number, weighing himself morning and evening.
Over New Year he noticed that he had gained three pounds and he set about straight away to get that off again.
He will not allow the number to go up ever again.
We can see he has achieved that, keeping his body in tip-top shape.
For a guy of 66, he has got the health, stamina, and slimness that some guys half his age have not achieved.
So well done Al Roker – you are an inspiration to many aspiring fans.
He also had his prostate removed, a "life-changing" diagnosis, with no evidence of cancer anymore, and his doctor will monitor him over the coming years There has really been an outpouring of support and love that this stalwart has received.
He was just last month on the Kelly Clarkson Show.
He told her he had decided to go public with his diagnosis to demonstrate the importance of prostate cancer screenings.
Way to go Al; you have conquered two huge health battles, and we wish you all the very best in the future!
"If I was having a bad day, eating was like self-medicating. But if you abuse food, you still have to use that substance that you abuse every day. You have to learn to use it responsibly."
References:
[1]
https://www.cancer.net/cancer-types/prostate-cancer/latest-research
[2]
https://www.hsph.harvard.edu/nutritionsource/healthy-weight/diet-reviews/ketogenic-diet/
[3]
https://academic.oup.com/advances/article/5/6/829/4558127
[4]
https://news.wttw.com/2019/04/22/new-research-downplays-importance-counting-calories-weight-loss