Who is Jonah Hill?
Some people call him 'Johan', 'Jona', and I once called him 'Johan Hills'.
But whichever way you call him, that doesn't change the fact that he is still one of the most successful Hollywood stars of all time.
Can you remember the comedy movies like 'Superbad,' 'Moneyball' and 'The Wolf of Wall Street'?
Well, these are all comedies that Jonah Hill acted in.
He is also an American actor, producer, director, comedian, and screenwriter.
He studied drama at The New School in New York and was given his first film role in I Heart Huckabees.
Better movies followed, and then he landed a role in Superbad in 2007 – that one that more or less rocketed him to fame.
He also landed himself an Oscar nomination for his performance in Moneyball in 2011, as well as for The Wolf of Wall Street in 2012, and a Golden Globe nomination for War Dogs in 2016.
So you can see, he hasn't done too badly in his 37 years!
Two movies that made him well-known were comedies such as The 40-Year-Old Virgin and Knocked Up.
Both these movies relied on Jonah's weight to deliver the hilarious comedy he was so good at delivering.
Nevertheless, he battled to get where he did because, as a kid, he was ridiculed for his weight, leaving him with self-doubt and low self-esteem.
But he was determined to get rid of his weight, and that's what he did.
We will tell you all about the admirable weight loss journey of…
Jonah Hill Feldstein – Born December 20, 1983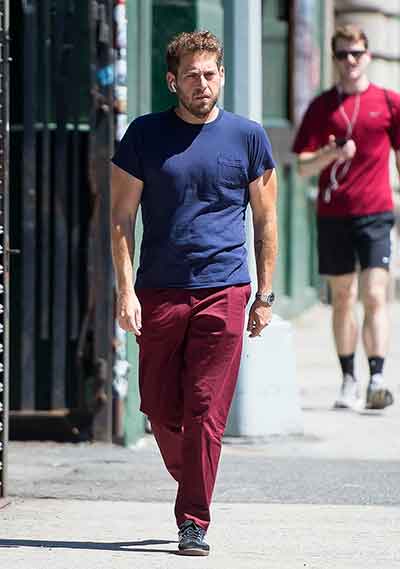 His early years
Jonah was born in Los Angeles. His father was Richard Feldstein, a tour accountant for Guns N' Roses.
His mother is Sharon Lyn, a fashion stylist and costume designer.
His parents were originally from Long Island, New York.
Johna Hill grew up in the wealthy Cheviot Hills area of Los Angeles.
He had a brother Jordan, who passed away at age 40 from a pulmonary embolism. He used to manage the band, Maroon 5.
His sister is Beanie Feldstein; she is an actress.
He was already overweight in his early years:
"For me, it's definitely being like this 14-year-old kid, being overweight, wanting to fit in with these skaters and hip-hop kids, and just feeling lonely and maybe not understanding my own worth."
He says it wasn't easy to be accepted, particularly when there were so many cliques and particularly skateboarding ones, you needed to fit into.
He stood out amongst these cliques as a well-off Jewish kid who could hardly even skate.
He says, "I would walk in there at 11 and get made fun of for being Jewish – it's insane."
So he used humor to get by, and he learned to use jokes as his tool, even if the joke was calling himself Jonah the Jew.
"Skating definitely broke me out of a religious bubble," he says, "a socioeconomic bubble, a racial bubble."
His young adult years
Jonah dreamed of becoming a writer one day and wanted to be on the writing teams for The Simpsons and Saturday Night Live.
He attended Brentwood School and graduated from a preparatory school in Santa Monica called Crossroads.
After graduating from high school, he went to The New School University, a private research university, and the University of Colorado Boulder.
He wanted to study drama. Unfortunately, he never earned a degree. Glamour says that he got kicked out because he never attended his classes.
Nevertheless, he wasn't exactly idle in his college days.
He wrote plays and even performed in the.
His plays captured some people's attention, and it was then that he realized he wanted to go into acting.
He was introduced to Dustin Hoffman during this time, leading to his first film audition.
The roles poured in after that – he was ranked on the list of Highest Paid Actors in Forbes magazine.
In 2019 he got engaged to his girlfriend, Gianna Santos
Jonah and his fiancée dated for about a year before getting engaged.
Unfortunately, they broke it off because they apparently had lost "the spark" in their relationship.
It was an amicable breakup, but the couple hasn't spoken publicly about their breakup.
Some interesting trivia about Jonah Hill
He is friends with Dustin Hoffman's children – Rebecca Hoffman and Jake Hoffman, which is how he got the role of I Heart Huckabees in 2004.
In 2008, he was ranked number 21 on Entertainment Weekly's '30-Under- 30′ actors' list.
He enjoys Woody Allen movies.
He has a tattoo on his left forearm that reads "Nancy Rules". This is in remembrance of his grandmother.
He replaced Demetri Martin in the movie, Moneyball in 2011, receiving an Oscar nomination for Best Actor in a Supporting Role for his role.
He officiated between his childhood friend Adam Levine and Behati Prinsloo at the wedding.
He is very sensitive about his weight. He hates being asked about his weight in interviews. So in 2011, he lost 40 pounds, mainly by eating sushi.
Even though Jonah says he is not a huge drinker, he does admit on a few occasions to have woken up wearing a dress shirt and tie, dress socks and shoes, but no pants. He calls these times his "business casual Donald Ducking" look.
Before deciding to become an actor, Jonah wanted to produce hip-hop music.
He says "Martin Scorsese is my favorite filmmaker of all time. I would paint his house if he asked me to."
He became very serious about losing weight in 2017, and he was successful!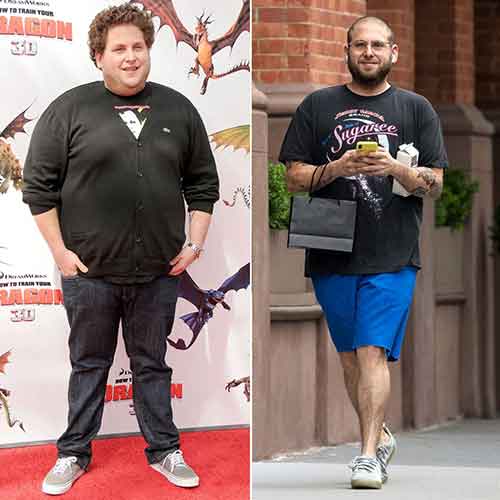 Jonah was eager to compete in more dramatic roles, so he decided to lose some weight.
But it's not easy, and like many dieters, his weight fluctuated.
Sometimes his roles in movies had his weight fluctuating as well.
For 21 Jump Street, he had to slim down, while, in War Dogs, he needed to be fatter.
But that all changed for him in 2017; that was the start of a new body, a healthy and fit Jonah Hill.
There is one guy that Hill sought advice from when it comes to being healthy and strong, lean and mean
That guy's name was Channing Tatum.
Channing starred with Jonah in 21 Jump Street.
Channing has a ripped physique that has been featured on the covers of many magazines.
Channing's workouts, too, have been repeated and altered for his masses of followers online.
Channing gave Jonah some diet advice that changed Jonah's weight loss life.
On The Tonight Show with Jimmy Fallon, Hill told him that if he wanted to slim down, he would need to obviously eat less and exercise with a trainer – that would help him a lot.
So to get hold of his food cravings and to create a dieting plan, Jonah did visit a nutritionist.
The nutritionist suggested to Jonah that he eat more fruit and vegetables, whole grains, lean protein, and low-fat dairy products.
Hill also wrote down everything he ate so he had an accurate record in black and white of what he was eating.
He would share the records with his nutritionist to get feedback on what he was doing right and advice on where he could improve.
So Hill took out of his diet a drink and he added in an exercise
One friend of Hill's told him that if he wanted to be in good shape, he should do 100 push-ups daily. And that's what he did.
He didn't do it all in one shot, he said he worked his way up to doing that, and now he does 100 push-ups every day.
From all the paparazzi shots taken of Hill, it is obvious that he also frequented the gym and that the 100 push-ups were not the only thing that had him looking so toned up.
But the push-ups did do their bit as well!
He has continued to add regular exercise to his exercise regime, but he also decided to cut back on one drink, and that was beer [1]; but not entirely.
"I still drink beer — that's my Achilles' heel," he says.
And…
"It's so annoying because if I don't drink beer, I get really thin, and then when I drink beer, I get a little bigger."
In 2011, he worked with a nutritionist who recommended Japanese food
In 2011, Jonah said, "I went to a nutritionist, and I said, 'I'll lose weight, I'll eat healthier and whatever, but figure out how I can drink beer".
Working with the nutritionist, Hill said he discovered that Japanese food worked well for him.
So he started incorporating a lot more sushi into his diet.
We all know that Sushi is quite a low-calorie food, i.e. the raw fresh sushi and not the fried-up, saucy rolls you can buy.
It also has plenty of omega-3 fatty acids, which contributes greatly towards a healthy metabolism.
Jonah then appeared at ESPN's ESPY awards sporting a 40-pound-less physique.
He had also consulted with a trainer aside from his nutritionist.
He was also training in Brazilian Jiu-Jitsu.
Contrary to what many people believe, there are studies showing that street fights mostly end on the ground.
With Brazilian Jiu-Jitsu, the techniques you learn will get your opponent to the ground and keep him there, enabling you to attack or to get into a more dominant position, giving you the upper hand in real-life defense situations.
Jonah described his experience with it as "humbling".
Even though he did an amazing job of dropping the weight off, it was in 2014 when he again put on weight and had to slim down again for his role in the action-comedy 22 Jump Street.
Being in the spotlight such as at the ESPN ESPY awards, he was vulnerable to criticism about his body
As an adolescent, he struggled with weight and body image.
As a young adult, he had already been told he was "fat and gross and unattractive".
He told Ellen DeGeneres in an interview that being in the spotlight made him open to criticism about his looks and weight.
"I think everybody has a version of themselves ― I call it a snapshot ― at some point in life… [you're] trying to hide from the world."
He said it had been only in the last few years of writing and directing his movies that he started understanding how much of all that was said about him had got into his head and how much it had hurt.
Then he decided it was time to become a "responsible adult"
Jonah realized that throughout his life, when it came to his weight, his weight had always fluctuated a lot over the years.
One month he would lose weight, and a few months later, it would creep on again.
He did have one excellent transformation, and that was at the premiere of his movie Moneyball.
He got an Oscar nomination for Best Supporting Actor – he looked very good then.
At that time, he felt he needed to be "responsible" and start leading a healthier lifestyle.
"….. All my friends were in college, so I was living like a frat guy, like everyone drinking beer and eating pizza."
So he started correcting his unhealthy diet, and he lost weight.
As far as exercise goes, in order to accompany what his nutritionist had advised him to eat, Jonah eased into some running and began doing 10 push-ups a day, eventually doing 100 a day.
It is said that Jonah Hill gained weight once on the no-carb paleo ketogenic diet around 2012
Jonah Hill did have a lot of yo-yo experiences with his dieting, never successfully keeping his weight off until 2017, when he really was serious about losing it and keeping it off.
Apparently, in 2012, he started to put on weight again, so he started on the no-carb ketogenic Atkins-type diet.
But he didn't lose on this diet and started putting on weight again when in 2015, he weighed 300 pounds.
Weight gain from eating no carbs, paleo, or meat-based diets highlights not eating in moderation.
But eating a no-carb diet is good for dieting, surely?
A low-carb diet is good for you, but not a no-carb diet.
People often think carbs are the enemy of weight loss, but it depends on the carbs.
Flour and refined sugar are certainly the villains here, but not carbs in general.
For many people who are dieting, 'carbs' today means bread.
If you are truly gluten intolerant, and there are far fewer than the ones that claim they are, then starch is essential.
Remember long ago; there was a saying that 'bread is the staff of life?'
The carbs in resistant starch and plant starch are the backbone of a good diet, and the problem is that so many of the carbs we eat today are processed and refined, stripped of all their real food value and leaving just bulk.
And what does the bulk do, but just add fat to your body, particularly around the belly (this is something that plagues Jonah Hill with yo-yo weight loss)?
The Paleo, Atkins, and ketogenic diets only will work for dieters who eat lots of vegetables and even high-carb ones like squash and carrots.
The carbs that you need to avoid are pop, sugar, most dairy, baked goods, processed foods, chips, snacks, and alcohol (OK, just a little bit of red wine is good).
Cutting out the real healthy starches, you will be hungry all the time.
That's because your body is missing some very vital nutrients that the starches provide for energy and for weight loss [3].
Are there problems with the paleo and ketogenic diets?
When Jonah Hill ate no healthy carbs, he put on weight.
That's because he probably ate a lot of meat and a few veggies.
Some meat is good in moderation, whether from grass-fed animals.
Lean meat, nuts, fish, and seeds are fantastic sources of high proteins but low calories.
So cutting carbs does not mean cutting out vegetables, grains, and resistant start; even beans, corn, and potatoes are good, in moderation; you just need to choose the healthiest sources.
But by 2016, he had picked up plenty of weight to star in War Dogs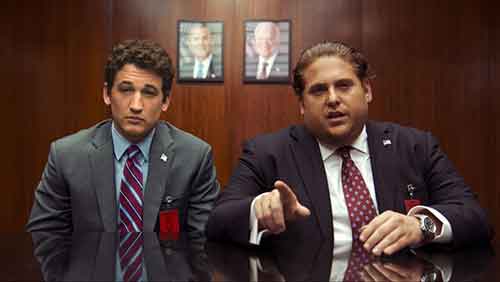 In 2016, he regained the weight he had lost to filming for War Dogs.
He had to pack on the pounds for his role as Efraim Diveroli.
Diveroli was a former arms dealer who was used to supply weapons to the U.S. Department of Defense.
But when the movie was complete, it was then that Jonah asked the guy who had been his co-star in War Dogs, Channing Tatum, how to get rid of the weight.
Even though his weight had fluctuated over the years, for War Dogs, Jonah gained around an extra forty pounds to portray his role of Efraim Diveroli.
In 2017, the actor was seen at a gym in Manhattan
Jonah was seen doing shadow boxing, jabbing, and working with a trainer on good combo moves.
It is not sure which gym he worked out at, but it is possibly the Gotham Gym in New York City's West Village, which attracts a lot of celebrities.
Even though Jonah did a workout routine, he has never been one who speaks a lot about his workouts.
When pressed for specifics on his workouts, he would say it was of "little relevance".
So what does Jonah eat and drink now since his dramatic slimdown in 2016 and 2017
Fans were clamoring to find out how Jonah would get rid of the weight he had accumulated from his role in the movie War Dogs.
And they particularly were interested, because unlike his usual diets in the past where he had lost weight, this time he had gained muscle as well and this attracted much attention.
Because he had lost almost three stone after War Dogs, his fans were inspired by his commitment this time.
He was looking a great deal healthier now.
When asked how he had done it, he said it had been mostly a change in his diet.
Jonah was recommended to eat Japanese food in 2011 when he lost weight and still enjoys sushi.
He loves to visit the Sushi of Gari in New York City, where he gets his sushi the way he loves it.
He says he still drinks beer, even though he has acknowledged that big changes happen to his weight when he stops drinking.
The Sushi Diet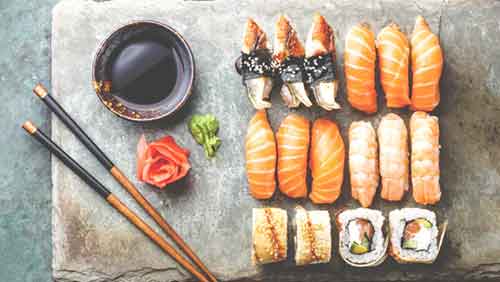 Jamie Geller is an Israeli-American food writer.
She is also a chef, a celebrity, a television producer, and a businesswoman.
She has written several cookbooks and is the founder of the Kosher Media Network.
She says that for many years her husband was telling her to go on a sushi diet because he loves how he feels after he has eaten sushi – never bloated or heavy, and he knows how incredibly healthy fish is.
She says she is unsure if an all-sushi diet is affordable or practical, but incorporating other Japanese foods and sushi in your diet isn't bad.
Sushi is made when you combine carbs in small portions of rice with protein and omega -3 filled fish, often some nutrient-filled seaweed.
Then you drink some healthy green tea with it and have a filling meal with heaps of beneficial ingredients.
Check out her homemade sushi recipes here.
At Jonah's heaviest, he weighed in at almost 18 stone.
But since then, he has lost over three stone.
He told ABC News that "It was just mostly diet."
He also admitted that something as simple as ditching beer had helped him shed the weight faster than he thought.
He was at his lowest weight in 2017, and War Dogs, for which he had to put on such a lot of weight, was filmed in 2016.
So he did a sterling job on his weight!
Many believe Jonah Hill had lap-band surgery [2]
Gastric banding surgery is an obesity treatment.
If you go in for this surgery, it's called bariatric surgery.
This surgery constricts the stomach, making a person feel fuller after eating less food than usual.
Around 300,000 of these surgeries get carried out annually.
Lap-band surgery is minimally invasive and quick and can even be reversed.
It decreases the stomach size so that anybody takes in reduced food.
It is also approved for use as a weight-loss treatment by the FDA (Food and Drug Administration).
Now sources are telling RadarOnline.com that Jonah owes his new 'bod' to lap-band surgery!
One insider said:
"You never see the guy in the gym. He claims to eat sensibly. But NOBODY drops that kind of weight without SOME kind of help."
A weight-loss expert, J.J. Flizanes, who did not treat Jonah, says that…
"The lap- band wraps around the top of the stomach.
It puts a squeeze on the stomach, reducing its size – this limits the amount of food you eat. It's supposedly safer than gastric bypass surgery."
And a nutrition expert, Dr. Stuart Fischer, who also did not treat Jonah, says,
"It can help people lose weight without the complications of gastric bypass surgery." It's anybody's guess!
Conclusion
Jonah Hill says, "I'm an actor, I'm not a comedian, I never was a comedian."
That was after acting in so many comedy movies in the past.
But that was when he was overweight and suited to the roles he played.
But in 2017, he set about shedding the weight because he wanted to become the more serious guy and break into drama – he even said he would be open to piling the pounds on for the right role.
After all, "Gaining 50 pounds would probably be more fun than losing 50 pounds for a part."
He turned down several comedy roles in his efforts to do the more serious stuff but admitted it's a decision that can work both ways for him.
Jonah's weight has been yo-yo-ing for years, and he says that playing the role of a fat guy took its toll on his mental health.
After War Dogs in 2017, he set about losing the weight he had gained, particularly for the movie.
He lost nearly 3-stone in the effort!
He had consulted with a nutritionist who suggested he keep a food journal.
Seeing what he ate every day in black and white showed him where he needed to improve; his nutritionist would also comment and give him plenty of feedback (excuse the pun!).
Today, he follows a healthy diet typical of what many overweight people need to eat to lose weight.
He eats plenty of lean protein, fruit, veggies, low-fat dairy, and whole grains.
His two weaknesses, pizza and beer, he had done his utmost to keep in check.
But fast forward to 2021, and what is Jonah up to?
On February 9, he was hanging loose and surfing the afternoon away on a Malibu beach, showing off all the weight he has lost in his skintight wetsuit.
He was always an avid surfer and is pretty good at it as you can see!
And there's the upcoming Batman movie for 2021 that Jonah is reportedly asking $10 million for to play a character.
He has the offer to play a villain in the movie.
As lockdown continues, Jonah Hill is still busy, still being snapped as he headlines the gym.
After all, he's got a healthy body to keep fit, happy, and healthy, and he put in a lot of work over a few years to achieve it, and the pictures are there to prove it!
-Jonah Hill...
"I just want to be a good man and to make my family proud. And, you know, I want to live a long time."
Frequently Asked Questions about Jonah Hill (FAQs)
Why doesn't Jonah use his other name, Feldstein, that he was born with?
He dropped his last name, deciding to rather use his middle name. Some wonder if he is ashamed of his Jewish roots.
If you read how he battled as a child for being Jewish amongst his skater friends, it might be the reason why he was quick to drop that name when he became a movie director.
Apart from being ridiculed about his weight, he most likely didn't want to "remember" his being taunted by his non-Jewish skateboard friends when he was a child.
Others say it is likely he changed it to distance himself from his father. Nobody but he seems to know the answer to that.
Is Beanie Feldstein Jonah's real sister?
Yes, she is his real sister.
Has Jonah kept his weight down going into 2021?
He has dropped so much weight that he was almost unrecognizable in some photos taken of him in October 2020 – just look at how fantastic his before and after pics are looking here.
Is Jonah dating anyone right now?
No, he is currently single.
What is Jonah's net worth?
It was estimated recently that Jonah Hill's net worth is roughly $50 million.
Where does Jonah Hill live now?
Jonah Hill was for several years living full-time in a posh pad in Manhattan New York.
But recently he bought a magnificent home in his old hometown in Santa Monica. He bought it for $6.77 million from the singer Jesse Jo Stark.