Famous for his acting work…
Jorge Garcia is an American actor and comedian.
He made a big name for himself for his performance as Hector Lopes in the television series, Becker in 1998.
Later, in 2004, he really came to the public's attention when he portrayed Hugo "Hurley" Reyes in another television series Lost.
That popular series ran for about six years. Jorge also performs as a stand-up comedian.
After Lost, he starred as Jerry Ortega on Hawaii Five-0 and became famous for his roles in that.
He has other series and movies behind his name.
And famous for his huge weight loss too
He was 46 when he lost a heap of weight and looked fantastic – it was such a shock to his fans because his weight had actually been like a business card for him.
His fans loved seeing a chubby funny guy on the screens, almost like the two go hand in hand together.
So if Jorge started to lose weight to become healthier, he might not have been called to do certain television work because they loved him and needed him for the obese guy he was.
This caused quite a problem for him and his loved ones; they wanted him to be around for a long time still but were concerned about the harm his weight could cause to his health.
And if you suffer from food addiction like Jorge Garcia admitted, it can be a pretty tough situation to be in.
But he did manage to lose weight and it inspired many people to believe that if he could be so successful doing such marvels for his appearance and his health, then they could do it too.
Let us introduce you to:
Jorge Fernando Garcia, Born 28 April 1973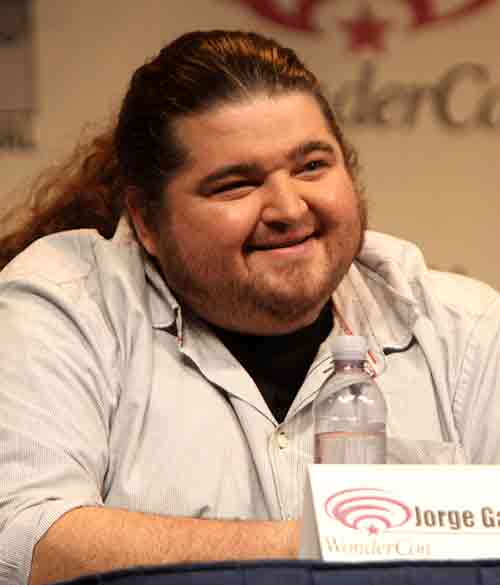 His early life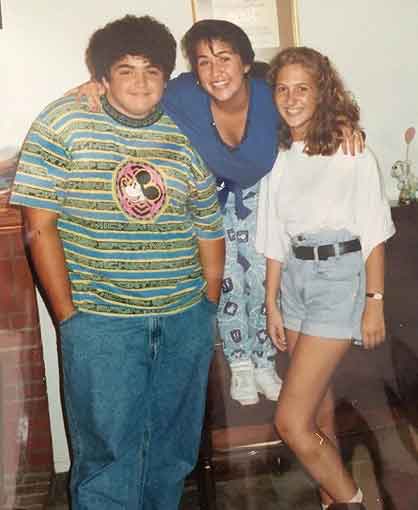 He was born in Omaha, Nebraska, growing up in Southern California.
Jorge's mother was from Cuba.
His father, Humberto Garcia, was a doctor from Chile and his mom, Dora Mesa, was a professor.
He attended the San Clemente High School, receiving the highest award called the 'Triton of the Year' award when he graduated.
When he was in high school, his friends called him the 'baby-faced killer', as he was very fond of wrestling.
After high school, he went to the University of California in Los Angeles to study communication studies.
He graduated there with a degree.
But he had a great love for the stage.
He played Tevye in a school production of Fiddler on the Roof. He also performed as a villain in the seventh-grade musical production at his school; based on Drabble, the comic strip.
After this, he started seriously to think of acting as a career.
He learned most of his acting skills from the Beverley Hills Playhouse Acting School.
This was a theater school that boasted a few celebrities passing through its doors, one of them being the beautiful Michelle Pfeiffer.
Jorge Garcia's relationships and marriage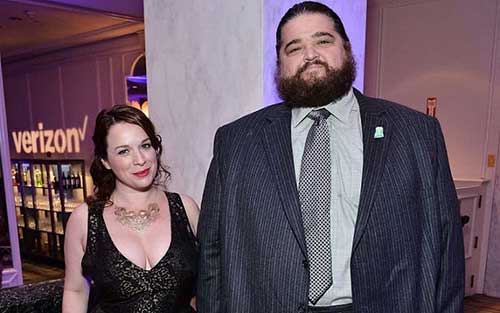 Jorge dated a former sales rep called Malia Hansen from around 2006.
They lived in separate apartments but the apartments were on the same property and they met in this way.
Their relationship lasted for around two years.
He also dated Bethany Leigh Shady who was also an extra on the series Lost that was such a major movie for Jorge.
Their relationship didn't last very long though.
Then in 2019, Jorge married his long-time girlfriend Rebecca Birdsall at Leixlip Manor in Ireland.
They traveled all over Greece for their honeymoon.
He added some humor to the occasion of his wedding by wearing a gorilla mask with matching feet with his three-piece suit (not every bride would enjoy that!).
Rebecca is also an actress but sticks to more small roles here and there.
But it was she who acted as a guest star on Hawaii Five-0 alongside Jorge.
They had already been dating since around 2013.
They lived together since 2015 before tying the knot.
They are very happy together and live with their two pets.
They adore their dogs, Smidge, who is a Chihuahua, and Pip, another Chihuahua.
Rebecca brought her cat called Buddy into the relationship, but he passed on already in 2014.
There has been no mention yet of kids at this time, but they have such a full and busy life – we will have to wait and see!
Jorge Garcia's career
Jorge's career as an actor started in Borders Books and Music.
He worked there for about six years while he searched for auditions in acting around town.
He was in a few commercials as well, first appearing there before getting a role in his first movie called Raven's Ridge in 1997.
Tomorrow by Midnight followed in 1999.
He also did television work, working as a voice actor in The Wild Thornberry's and Spin City. He also appeared in Columbo and Rock Me Baby.
He had a real break in his career with Becker between 2003 and 2003.
This earned him a lot of praise and boosted his career and his finances.
Then he had another huge success in another series called Lost.
A producer had seen Garcia in Curb Your Enthusiasm and he was particularly chosen for the role he would play in Lost.
He was cast as Hugo Reyes; nicknamed Hurley, which aired for six years.
It was all about survivors of a plane crash who were stranded on an island.
Of course, the actor's work didn't just entail television.
He has appeared onscreen too, in very successful movies such as Ridiculous 6, The Wedding Planner, Californication, How I Met Your Mother, BoJack Horseman, iSteve, amongst others.
He certainly has had an illustrious acting career!
How Jorge Garcia started his weight loss plan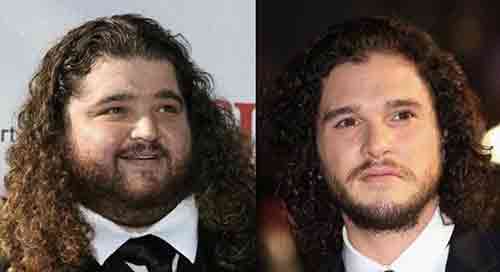 The actor decided firstly to start losing weight by getting rid of all the greasy foods he was eating and replacing them with fruit and vegetables.
Then he started gradually transitioning to eating low carbs and high protein foods.
Another excellent thing he did was to cut out alcohol.
Jorge also started working out
Jorge started working out on a regular basis.
He would do arm circles, push-ups, jogging, and sit-ups apart from exercises that were recommended for him to do.
These are the exercises he did:
Arms circles (clockwise and anticlockwise)
Shoulder rotation (clockwise and anticlockwise)
Wrist rotation (clockwise and anticlockwise)
Neck rotation (clockwise and anticlockwise)
Jogging
Running up the stairs
Sit-ups
Air-cycling
Push-ups
Breathing exercises
Face exercises
He had a diet plan which he wants to share with you because you can follow this too if you like
Rule 1:
The main rule: Drink 8 to 10 glasses of water each day, and work out daily!
Rule 2:
Avoid beef, potatoes, bread, butter, cheese, soda, and milk
Day 1
Eat fruit.
You can eat as much fruit as you want because most fruit contains much fibrous content that helps to burn fat.
Day 2
Eat veggies.
You can eat the veggies raw or boiled.
Day 3
Eat fruit and vegetables with no restrictions.
Day 4
Eat 8 bananas during the day plus 4 glasses of milk.
Day 5
Eat 6 large tomatoes; eat either a piece of fish or a piece of chicken breast.
If you are vegan, replace the meat with brown rice.
Day 6
Eat lean meat again, such as fish or chicken, or you can have a cup of brown rice with some raw or cooked vegetables if you are vegan.
Day 7
Eat a cup of brown rice and veggies.
To avoid on the diet
During this seven-day diet plan, certain foods should be avoided. These are:
Vegetables – sweet potato and normal potato.
Protein – avoid meat like turkey, beef, pork. Only lean meat such as chicken or fish is permitted.
Fats and oil – no lard, safflower oil, margarine, and butter should be eaten.
Carbs – white bread, white rice, and processed foods should not be eaten.
Dairy – full-fat milk, frozen yogurt, ice cream, full-fat yogurt, and cheese
Beverages – avoid alcohol, sweetened drinks, soda, and packaged fruit juices.
He recommends that you should get your doctor's opinion before just trying any diet.
Plus, he wants to share his weight loss tips with everyone, included in this article, because he has been there, done that!
So what is the diet that Jorge Garcia was on?
Let's follow his story through the years
2006
This was the year when Jorge Garcia's started his whole weight loss journey.
This was the year that he starred in the series Lost.
The producer of this series which lasted all of 6 years, actually asked Jorge to lose some weight to fit the role he was going to play in the series.
Naturally, it became a bit of concern for Jorge, being the largest member on the cast of Lost.
It was then that he decided to take on the weight loss challenge.
He straight away began to change his daily habits so he could be healthier and avoid health problems that would inevitably come later.
That's when he did away with the greasy foods he enjoyed eating so much.
He started eating low carbs and a high-protein diet.
He tossed alcohol as well and also started working out. Just that effort already helped him to lose 40 pounds.
But that was for Lost.
He soon became dissatisfied that he had only lost 40 pounds; for him, that was too slow and too little weight to lose.
2007- 2014
Unfortunately, during these years, Jorge went back to his old eating habits.
That really piled on the pounds – can you believe he weighed in at a whopping 400 pounds during these years.
This was a dangerous health condition for him to be in because it could easily allow him to become diabetic and worse, have a heart attack.
2014- 2017
Jorge soon began to realize that he was actually weighing 400 pounds – he felt ashamed of it but just didn't really know what to do about it.
But it was enough to make him realize that he had to make some serious decisions and they were excellent decisions, leading him to lose 100 pounds.
What were his important decisions?
Let's see how he determined to lose weight:
He sought the advice of a nutritionist
He went 100% vegan, completely removing animal-based products from his diet, even dairy products.
He started with the Nooch Diet and started doing exercises
Some of his close friends say Jorge had gastric coronary bypass surgery, but Jorge has never claimed that to be so. But his two years of being on a diet would have made it unnecessary in any case.
He was determined to follow through and he lost 100 pounds!
What is the Nooch Diet?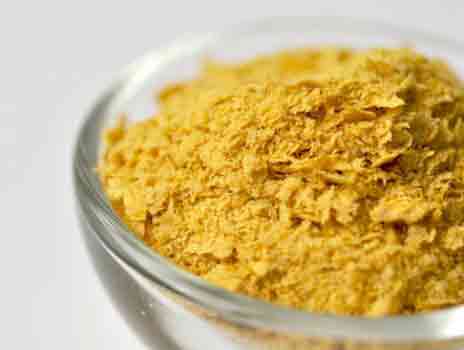 'Nutritional yeast flakes' isn't something that makes you really want to start a diet, right?
Maybe it's the very reason why lots of vegan fans like to call it 'Nooch'.
So nutritional yeast flakes don't sound all that appetizing, but nutritionists say that by simply sprinkling Nooch on your food, you could be aiding in your weight loss.
It's powdered, deactivated yeast – very rich in protein.
It's got a cheesy kind of flavor and has become a big favorite amongst vegans.
They use it as a substitute for Parmesan, sprinkling it on their pasta and soups.
But apart from that, there are a number of other ways that Nooch can be used to aid in weight loss – although it sure does have its health benefits.
Look at what Dr. Axe says about it [1].
One benefit of Nooch is that it is very high in vitamin B-12 which makes it great for vegans too – vitamin B-12 is found naturally in red meat and shellfish.
And vitamin -12 is thought to help with weight loss because it helps the body to break down protein and fats into energy.
Also, high protein foods are ideal for those who want to lose weight because it keeps you feeling full, preventing you from needing to snack and overeat all the time.
For those who also want to try the Nooch Diet like Jorge Garcia did, and particularly for those on a meat-free diet, you will be taking incomplete protein with Nooch, and that means it contains all 9 amino acids.
It's touted as a fantastic substitute for cheese
The cheesy flavoring it has also indirectly helps dieters because a few spoonfuls of Nooch make it a wonderful substitute for parmesan over pastas and soups.
You are effectively lowering your intake of fat and higher cholesterol as well, let alone the calories that are found in cheese!
There are many ways to use yeast [2] and incorporate it into meals, whether you use it in powder form or flake form.
If you are vegan, you can use the flakes for a white sauce with corn flour, almond milk, and a dollop of mustard.
And the flakes also make a great addition to vegetarian Bolognese as well – adding delicious flavors to Quorn mince for instance.
It certainly does seem as if Nooch might help dieters on their way.
So pass the yeast sprinkles, please!
Jorge incorporated nutritional yeast into his diet
By incorporating nutritional yeast in his diet, Jorge also paired it off with working out for 2 to 3 hours each day.
After losing 40 pounds in Lost but then picking it up all over again, by the time 2017 swung around, Jorge was determined to overhaul his lifestyle.
[/su_box]
He said, "I can afford to not live on rum and burritos and take better care of myself."
Apart from the Nooch Diet, Jorge even also included the full plant-based diet [3] into his lifestyle.
Out with the greasy foods and in with the fruits and veggies.
He made sure he also stayed with low carbs.
He even opted to start preparing his own meals rather than eating out at restaurants or ordering takeaways – this gave him control over what he put in his food, ensuring that it was healthy all the time.
Well done, Jorge, for seeing 100 pounds drop off for all your effort.
Whilst he might still be a big guy, now he is at least at less of a risk for getting diseases such as diabetes and heart problems.
Jorge knows that being in the spotlight people are constantly criticizing and commenting on the way he looks
Being in the spotlight always; being criticized and commented on about your body, clothes, and hair, is not always easy.
But Jorge Garcia is a confident guy; he believes in himself no matter what people say.
Whether he loses weight or puts it on, he's a happy guy.
Nevertheless, he knows that his weight will be a point of discussion for thousands of fans and social media viewers.
He also knows that getting more overweight caused a lot of concern from his close friends and loved family members – they worried that it would take its toll on his health.
Jorge said that he has tried to be healthy in the past and that he actually got an eating disorder which led to the pounds piling on.
In the beginning, his weight had never been a reason to worry about his career.
But he knew that for Lost, he was asked to reduce his weight, and it wasn't an easy phase of his journey.
He incorporated exercise too
Daily exercise is necessary to do if you want to reduce excess weight – along with a healthy correct diet.
Jorge realized that too.
Workouts are more important, the older you get, particularly as you go over 35 and if your weight is over 350 pounds.
To lose weight, Jorge said in an interview that he spends around 2-3 hours daily doing some form of exercise, which helped him immensely to lose weight.
Anyone who is serious about slimming down knows that they should invest in exercise. Jorge realized that he had to leave the 'first food' syndrome.
'First food' is the food we eat that can't supply the proper nutrients that the body requires because it tends to be junk food.
Leaving the 'first food' played a huge role in helping Jorge to lose weight.
Cycling played a great role in reducing Jorge's weight
In order for the pounds to drop off, Jorge Garcia started cycling.
He would do this each and every day for about an hour.
Whenever he felt tired of it, he tried to make it a habit so that eventually the weight came off.
He became fitter as his belly fat decreased due to cycling.
He did exercises, too. as routine, combining the exercises or trying variations of the exercises.
The main exercises include;
Arms circles
Wrist rotation
Shoulder rotation
Neck rotation
Jogging or running
Stairs running
Sit-ups
Air cycling
Pushups
And then face and breathing exercises.
Jorge Garcia weight loss tips
Jorge Garcia is a famous celebrity known for being on many TV series.
But he also came under the spotlight when he lost 100 pounds in 2017.
In an interview he had about his weight, Jorge shared these tips about his weight loss journey:
Daily exercise was a big yes
Daily exercise is necessary to reduce excess weight. To lose weight, Jorge said in the interview that he spent at least 2 to 3 hours doing some type of exercise.
He said he also followed the Keto diet
What is the Keto diet?
Unlike heaps of fad diets that come and go, the ketogenic diet (or keto diet) has been practiced by millions of people since way back in the 1920s already.
The keto diet works well for many people because it targets important causes of weight gain.
This includes hormonal imbalances, insulin resistance coupled with high blood sugar levels, and other important factors.
The low-carb keto diet works because it changes the "fuel source" that the body uses to stay super-energized.
When you follow the keto diet, you place the body in the state of "ketosis."
That means your body burns fat rather than sugar.
Basically, the keto diet;
Reduces your carb intake
Increases your consumption of healthy fats making you feel satisfied
Without glucose coursing through the body, the body is forced to burn fat and produce ketones rather. The state of "ketosis" results in quick and consistent weight loss until the body reaches the required weight
In a 4-month study including 21 people on a keto diet, participants were able to discontinue or reduce their diabetes medications [4].
Some interesting facts about this lovable actor, Jorge Garcia
The character he played in Lost was specially created for Jorge.
Jorge was the only main member of the Lost cast to attend the LOST2014 fan gathering in Oahu – exactly 10 years after the Oceanic Flight 815 crashed.
Heard of the band, Weezer? They released an album in 2010. It was called 'Hurley'. They called it Hurley, based on Jorge Garcia's character in Lost, and as a result, his face features on their album cover.
Not only is he a good actor, but Gorge Garcia, in his spare time, loves doing stand-up comedy. He uses his jokes to raise money for charities at benefit concerts.
He has fans who like to send him gifts. One fan bought him some dieting tea and Slim-Fast coupons. Often he gets religious literature sent to him by his fans.
He cried when he read the final script for the Lost
Before he became an actor, he had a few jobs acting in small commercials. Whilst doing that, he held a job at Borders Books and Music.
He is a fan of dogs and has owned and owns Chihuahua's.
One of his hobbies is video games – he is a great fan of Star Wars.
Jorge's sister got married at the same time he was filming Lost, so he couldn't attend the wedding.
Jorge enjoyed playing Poker with the other cast members of Lost. They would use real money when they played.
His friends know he has an enormous record collection.
Frequently Asked Questions about Jorge Garcia (FAQs)
How much is Jorge Garcia worth?
The American actor and comedian Jorge Garcia is worth around $8 million dollars.
Is it a good idea to follow the Jorge Garcia weight loss plan?
Jorge Garcia's weight loss path has been truly inspirational. His success with losing 100 pounds has inspired heaps of others to try to eat well and live a healthier lifestyle.
Just remember that Garcia's diet plan isn't a simple one, in fact, it's quite strict, so not everyone will find it up to their street or be able to endure with it.
If you're interested in losing weight through diet and exercise, it's best to talk to your physician or a licensed nutritionist who can help you choose the plan that's best for your unique situation.
Where is Jorge Garcia now?
Jorge Garcia became famous thanks to the popular TV-series Lost and Hawaii Five-0. He left the latter season in its tenth season.
In 2020, he was to star in a couple of movies, but with the coronavirus pandemic, we will have to wait for further news. He lives in Los Angeles.
Conclusion
The Hawaii Five-O star Jorge Garcia has been praised not only for his acting skills, but he started a weight loss journey in 2017 that resulted in him losing 100 pounds.
What an inspirational story!
He changed his eating habits after being asked to lose some pounds for his role in Lost.
This 47-year-old actor continues to be in constant demand ever since he made his name on television and he has starred in many movies as well.
He became a role model for people wanting to lose weight.
Many of his roles he made popular because of his weight; people wanted to watch the chubby happy actor.
But his close family and friends, as Jorge got older, started becoming worried about his weight, because they could see troubles would loom regarding his health; dangerous health conditions such as heart attacks, diabetes, stroke, prostate cancer, etc., etc. [5]
All these worries and concerns made Jorge consult with a nutritionist and start the Nooch Diet and also do exercises.
He also apparently follows the plant-based diet, and it seems he followed the Keto diet as well.
He worked pretty hard and in three years it all paid off with his 100-pound loss.
Today, the actor continues to follow his diet plans and exercises to remain fit and healthy
For many people who are obese, weight loss can be a real challenge.
A study from the United Kingdom from 2015 found that less than 14% of morbidly obese women and men can achieve a goal of 5% weight loss in a year!
That is why Jorge Garcia tried so hard to beat those odds and followed such a strict eating plan that eliminated greasy takeaway and processed foods.
Jorge Garcia remains one of the darlings of the comedian acting world to be found in Hollywood.
His fans liked to see a funny chubby guy on the screen, and it was difficult for him to realize too that it could be possible for him to get fewer television projects if he were to lose a whole lot of weight, as he has been so popular for who he was.
But he knew that for health's sake, he really needed to start taking his weight in hand. Jorge, although not skinny after his weight loss, his fans all love him just as he is.
Today, he continues to stay healthy and fit and he would like to say that for 2021 if you are interested in losing weight too, to follow his diet guidelines;
Don't overstrain your head and body
Eat small meals
Don't lose weight quickly, and …
…when cooking fish, chicken, or veggies, don't use melted butter.
We'll bear that in mind because it did wonders for Jorge Garcia!
If we apply these rules in 2021, we might have amazing well-toned healthy bodies to face whatever life throws our way.
Thanks, Jorge for your fantastic inspirational example and advice, and good luck!
"I definitely try to mix humor into anything I do, even if it is into a drama." – Jorge Garcia
References