Have you heard of Kevin Smith before?
Not all know Kevin Smith as well as some celebrity singers and actors.
But he's an American guy, not so much as an actor, although he does that too; but he does screenwriting, producing films, and being a movie director.
He became prominent with the comedy Clerks, in 1994 – he also acted in Clerks, as Silent Bob.
He has made many, many movies since 1994.
Besides film work, Smith has also worked on a few television series as well.
When he was young, he was actually one of the hottest young filmmakers around, following up Clerks with Mallrats and Chasing Amy – the audiences loved them.
Chasing Amy, you could say, was what saved Smith's career back then.
These days, though, he has been quieter and this, supposedly happened, according to him, once he started a family.
He's happy with the life he has now with his family, even if his work has quietened down a lot.
These days, he spends his time recording podcasts.
He also still makes live appearances, plus he still does quite a bit of television work – one's like Supergirl and The Flash.
Then he also had his very popular comic book store, called Jay and Silent Bob's Secret Stash. Many people just called it The Stash.
It was filled with all comic-related merchandise and film-related stuff such as apparel, posters, action figures, etc.
It is located at 35 Broad Street in Red Bank, New Jersey.
This store has been used for the settings in Kevin's reality television shows such as Comic Book Men.
Podcasts such as Tell 'Em Steve-Dave! and I Sell Comics were recorded there too, and some episodes of SModcast and Highlands: A Peephole History.
This store attracted people from all over the world.
Apart from his successful career, he also lost a huge amount of weight and we want to tell you how he did it, and why.
So let's introduce you to him first:
Kevin Patrick Smith – Born 2 August 1970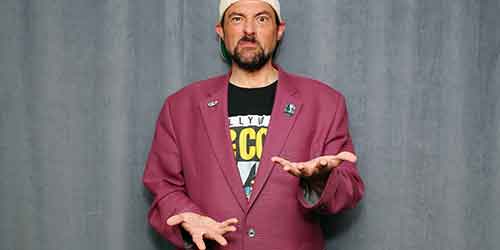 Kevin was born in Red Bank, New Jersey, but he grew up in Highlands, New Jersey in the USA.
He is now 51 years old.
He was the son of Grace Schultz, a homemaker, and Donald Smith, who was a postal worker.
He has an older brother, Donald Smither, Jr. and an older sister, Virginia.
He was raised in an Irish Catholic household and attended the Henry Hudson Regional High School in Highlands.
After graduating from this school, he met Jason Mewes.
Jason Mewes would be a recurring actor in Kevin's films.
His young adult years
He attended The New School for Social Research in New York but left there as the authorities complained about his undisciplined behavior.
Then he started working at a convenience store.
He joined the Vancouver Film School; he met Scott Mosier, who would be his movie producer in every movie that Kevin made.
Kevin majored in film but decided to drop out halfway.
He rather chose to take a partial tuition reimbursement because he wanted to finance his first movie.
The convenience store he worked at as a youth was precisely the store where his debut movie, Clerks, was actually filmed.
He was permitted to do filming only at night after the store had closed.
For Kevin, this movie got him the highest award at the Sundance film festival.
It was such a success that Kevin made another movie called Mallrats just one year later, but it didn't do well at the box office.
It's done very well on the video shelves though!
While he was filming the movie, he met Ben Affleck, Jason Lee, and Joey Adams and she was actually the inspiration for his following movie in 1997, Chasing Amy.
The two were also dating at the time he was writing the script for Chasing Amy, but their relationship didn't last long – they ended it on friendly terms though.
Kevin Smith marries in 1999
Around the time the Spirit awards were coming up, Kevin met who would be his wife later, Jennifer Schwalbach.
They married in April 1999.
They went on to have a baby girl called Harley Quinn, named after the movie, Batman: The Animated Series.
Both his wife and the baby had roles in his movie, Jay and Silent Bob Strike Back.
In 2004, he wrote and directed the movie Jersey Girl and in 2005 he wrote the screenplay for Clerks II.
Then in 2005, he was invited to audition for Susannah Grant's new movie.
After the audition, in fact, it could not have been more than 5 minutes later that his phone rang to let him know he got the role.
Filming started in 2005.
That meant he had to postpone the filming of his Clerks II but he managed to submit it to the Cannes Film festival.
There it got an 8-minute standing ovation for it.
There are too many films to mention to date, so you can look at his work over the years here.
In the meantime, these are a few interesting tidbits about Kevin Smith's life
He owns a comic book store called Jay and Silent Bob's Secret Stash. It's in Red Bank, New Jersey. He sold it though so he could film his movie Clerks, and then after seeing that the movie had been a success, he bought the comic book collection back again.
He graduated from Henry Hudson Regional in Highlands, New Jersey in 1988.
He received an honorary degree (Doctor of Humane Letters) from Illinois Wesleyan University on May 7, 2000.
Kevin maintains that had he not been successful with Clerks(1994), he would still be a clerk at the Quick Stop and RST Video in Leonardo, New Jersey.
He says that when his career is over, he would like to teach creative writing courses at a college and also teach film.
He has a bit of German, Irish, and English ancestry.
When he was in high school, he videotaped his school's sporting events and town meetings for the local cable access station.
When he was little he was a huge fan of Tom Savini's special effects work.
Although Kevin and his siblings were raised Catholic, he says he only goes to mass the day before starting producing a new movie, and then on the day before it premieres.
Before his movie Clerks, he was a staunch non-smoker.
When he was a teenager, his girlfriend's mother wrote "Kevin Smith will never be a famous writer" on a piece of paper. She told him if he ever proved her wrong, she would eat the paper. He's still got the piece of paper but the mother is a close friend of his.
He shares the same birthday with his brother, Donald Smith.
He is a great fan of the Edmonton Oilers ice hockey team.
In 2010, he was so heavy he was escorted off the place because he couldn't fit in one seat
That was when he was at his heaviest.
At 5ft 9in, he weighed in at 150 kg.
The above story made headlines around the world, and you can imagine that the internet trolls were merciless.
For the first time in his life Kevin, who always thought he hid his fat well, suddenly saw it for himself.
'They know I'm fat', he thought.
So he started to quit sugar [1] after that and said it was an experience for him like withdrawing from heroin.
But finally, the craving for desserts and sweetness stopped and 5 stones just melted away from his body.
But that drove him to make a documentary called Too Fat For 40.
Then in 2014, he saw the movie Fed Up which changed his perception
Fed Up was an Oscar-nominated 2014 movie; an anti-sugar documentary that Kevin saw and which completely changed his perception.
That's what he told Men's Health.
He was 44 then, and after seeing that movie, he made some serious changes to his lifestyle.
Two big things he changed
1) He started juicing…
…and stopped drinking drinks with sugar in.
He says when he stopped drinking sodas and juice and stuff, the pounds just flew off him.
He says his mood has changed and his energy levels.
Now even when he goes on stage, he's kind of thinking "Gimme one of those juice-thingies."
2) He also started walking:
He takes his dog out to work on the hill near his house.
He says he's not your "fifty reps" kind of guy, so he just walks every day.
He survived a massive heart attack on February 26th, 2018 which turned his life around and his health
His heart attack turned his life around and that caused him to have a massive weight loss transformation in 2018.
That day; on the 26th of February 2018, Kevin Smith nearly died from that heart attack, and because of it, he was able to get rid of 51 pounds of weight.
This was also because he joined a Weight Watchers program and also became vegan.
So far, he doesn't work out yet, but he's looking well.
He is so grateful that his experience opened his eyes to where he was going with his weight [2] and describes his heart attack as the best thing that ever happened to him – it was a blessing in disguise.
He was just doing his normal routines when the attack happened
He was just in-between shows whilst in California.
Doctors told him that if he hadn't canceled the second show and had been rushed to the hospital, he wouldn't have made it.
And he said he was simply feeling ill; he was feeling nauseous and sweaty, which was something he was not used to.
He felt himself needing to vomit and he knew he was lying on the tile floor.
He was rushed off to the hospital where he was told he was having a massive heart attack.
Doctors told him that the kind of heart attack he suffered is known as a "widowmaker".
This name comes from the low survival rate of those who experience it.
Doctors discovered that Kevin had a 100% blockage in the left anterior descending artery (LAD).
This is one of three arteries that the heart receives its supply of blood from.
Can you believe the medicine today?
He was awake when the doctors inserted a stent in his heart which went through his groin to insert it.
This was to save his life.
He says he was talking to the doctors all through the whole operation; that the doctor who had worked on him said, 'you're very chatty."
But the wonderful thing is that the stent gave Kevin immediate relief when the doctors opened it. He said he felt instantly better.
That would make sense, seeing he had been living for so long with insufficient blood getting to his heart for who knows how long!
That meant he had not been getting sufficient oxygen [3].
After the attack, he tried the potato diet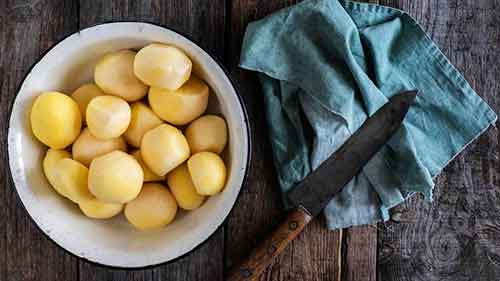 Now he was motivated to get into the best shape of his life at an older age.
And even though on the outside he came across as upbeat, he was trying to make peace on the operating table just shortly after his massive heart attack.
He said, "I was prepared to go".
So instead of going plant-based, he first tried the potato diet.
He revealed on his podcast, Hollywood Babble-On; that he had decided to follow the diet that the illusionist and fellow comedian Penn Jillette had followed, that of the potato-only diet, and Kevin was interested to do the same.
Jillette Has a book out called "Presto! How I Made Over 100 Pounds Disappear."
Apparently on the diet, after dieters have gone through the initial potato phase, they can then start adding other salads and vegetables for a period of three months.
At this stage, fruits and nuts are not part of the plan, because it's all about weight loss.
Kevin had been told by his doctors he needed to lose 50 pounds.
His wake-up call came and along with it Kevin's new potato diet.
After the potato diet, he moved over to the plant-based diet.
These were at least successful in helping him to heed the doctor's advice and to reach his target.
In just 9 days he dropped 17 pounds on the potato diet.
And after all, potatoes are nutritious and have plenty of fiber in them.
They also have zero cholesterol and low calories (that's as long as you don't deep-fry them!).
He has admitted that he didn't follow the vegan diet for ethical reasons; that he knew that his "widowmaker" heart attack was due to his lifestyle and diet choices.
He discovered that he could rectify his poor choices with the vegan diet.
He knew he 'had to' make the choice if he wanted to prolong his life.
"I don't know if I call myself a vegan," he says, "Maybe a non-animal eater."
He says he will never eat the way he used to.
Now today, he says eating animal products is out of the question for him. And after all, veganism is not new in his family.
It was his daughter, Harley Quinn, who is vegan and is very supportive of his new eating habits.
"My kid is thrilled because she's a vegan, 'She's like, 'Welcome home brother," Smith stated.
Let's look at what nutritionists think of the potato diet in case you are thinking of trying it
Dena Champion is a registered dietician. She is based at the Ohio State University Wexner Medical Center.
She says she wouldn't recommend a potato-only diet, certainly not to a recent heart attack victim or anyone actually, who is trying to lose weight.
She says the diet would not be adequate in protein and it also contains no fat.
But apart from that, the diet is also very low in most micronutrients such as calcium, zinc, selenium, and Vitamin A and that's just naming a view.
Eventually, over time, the diet would definitely cause an essential fatty acid deficiency and micro-nutrient deficiency.
It shouldn't really be recommended to anyone for any reason, she says.
A registered nutritionist, Daniel O'Shaughnessy, from the United Kingdom, is also skeptical about Kevin eating the potato diet after his heart attack.
"I don't think it's healthy for anyone, due to the lack of nutrition, variety, and also psychological boredom" – that's what he told MensHealth.com.
Yes, sure it is very low calorie, and that would cause someone to lose weight quickly.
But it's not an ideal diet for long-term sustainability, he says.
Anyone who saw excellent weight loss on the potato diet over a period of two weeks would think this was the ideal diet for them – such as the likes of someone who also went on the potato diet and called it life-changing – Andrew Flinders.
He was on YouTube, going under the name of "Spud Fit."
He claimed to have lost 117 pounds on this diet over the course of a year.
He tried to get over the 'potato boredom' by seasoning his potatoes with dried herbs, spices, and fat-free sweet-chili sauce, and barbeque sauce.
The author of The Fat Loss Prescription book, Spencer Nadolsky, D.O. says that the potato diet "Is very restrictive"
He says a vegan diet is restrictive, and even the ketogenic diet is restrictive.
So image how restrictive a potato diet is!
Daniel O'Shaughnessy (registered nutritionist) recommends that instead of people following the potato diet; who are desperate to lose weight, they should rather try intermittent fasting [4] as a solution.
But anyway, after the all-potato diet, Kevin went on to the broader plant-based diet
In a WIRED interview, Kevin Smith discussed his 2018 "widowmaker" heart attack.
He acknowledged that he used to eat plenty of meat and dairy, and how he came to realize that this contributed to his poor health up to that point.
He also discussed with them how he had gone vegan and the transforming effect it had had on his recovery and physical health.
"The LAD is the artery that goes across the front of your heart, 100 percent blocked by cholesterol," says Kevin.
He said that he used to eat a lot of animal food products, as well as drinking two-gallons of milk a day.
But finally, his daughter, who had become vegan for the past three years or so already, had convinced him to become vegan, and he had.
He explained that even though he disliked eating veggies, still, the combination of fasting and a plant-based diet worked well for him.
He said that if he had the choice between broccoli and kumquats, he would rather not eat.
So he rather skips meals to do his intermittent fasting.
He doesn't eat breakfast, breaking his fast at about 1 or 2 o'clock in the afternoon.
Then from 8 o'clock at night, he doesn't eat.
He found going vegan the easiest way for him to be healthy.
For him, even still, he thinks that vegetables suck compared to what eating a piece of cake or steak is like.
But he looks at it like this now, "I know what that stuff tastes like. And it's not going anywhere."
Having a close brush with death has given Kevin a new perspective on life now
He says for 47 years he ate exactly what he wanted.
Then he said he would try the way he was supposed to eat for just one year and see what happens, and that's when he lost 50 pounds in six months.
Does he workout?
Every day, he and his personal trainer, Shecky, go out for an hour-long walk.
Shecky is a miniature dachshund, and they walk the hill near Kevin's home.
But today, he is still sticking to his vegan and low-sugar diet.
And he says he also practices portion control.
He scans the labels on food now, and for his bad cholesterol and inflammation, he says he takes Lipitor.
A year after his heart attack required adjustments
A year after a massive heart attack, Kevin Smith has changed his life around as far as diet goes.
He has been able to see all that he has gained.
To begin with, he's got a whole lot more energy; he's never tired, always ready to be on the go.
He knew that as life goes on, the demands of his work carry on too; all the directing, hosting, comedy, etc.; these will require travel and take him out of his range of food chain and vegan-restaurants.
That meant that he would have to hunt for vegan places wherever he was working.
Another thing that required adjustments after his heart attack was his sex life but now he and Jennifer his wife, have made the necessary adjustments.
She said to him..
"We have to figure out a new way to do this. Your body's different. You used to have, like, a lot of cushion for the pushing. Now you've gotta go harder."
He says with a laugh "Who knew this was possible?' "So it's been beneficial there as well."
His daily routine (more or less)
Morning
Kevin fasts in the morning and drinks unsweetened iced tea.
Afternoon lunch
Mondo Nachos and Beyond Burger at Veggie Grill.
Afternoon snack
MadeGood Chocolate Banana Granola Minis.
One-hour walk with his dog as his 'working out' to make him accountable to his viewers.
Dinner
Bombay Spice chickpeas.
Guilty pleasure
Daily $35 full-body massage at Pampered Foot.
Now, he says, he feels great
Just two weeks after his heart attack, he had already lost 20 pounds and he had also made it his goal to continue on so like that in order to get to a 50-pound loss.
He claims that he weighed 20 pounds lighter when he had met his wife, and he had "scored big time" then!
Along the way, though, he also followed a plant-based diet which was promoted by the magician, Penn Jillette – he had lost 105 pounds, and Kevin was inspired to follow the diet.
But he struggled quite a bit on an all-vegetable diet, so that's when he decided to join Weight Watchers as an ambassador for their weight-loss program.
An hour before his heart attack, he had been boasting about how much weight he had lost
Just from quitting sugar, Kevin dropped down five underwear sizes from 5XL to XL.
And that night, on stage, just before his heart attack, he had thought he was in pretty decent shape.
Looking back, he didn't realize just how actually unhealthy he was.
But anyway, since his heart attack, he lost another 6 stone by going vegan.
That was at the insistence of his 20-year old daughter at the time, Harley Quinn.
So nowadays he fasts until noon, and then he grabs some vegan nachos from his favorite fast food joint.
Now he's given away all his signature hockey jerseys because he says, "I started looking weird in them".
Frequently Asked Questions about Kevin Smith (FAQs)
How much is Kevin Smith worth?
It is estimated that Kevin Smith's worth is around $25 million. He first made a name for himself when he directed the 1994 comedy Clerks where he also played a character by the name of Silent Bob.
He is also the owner of a comic-book store, Jay and Silent Bob's Secret Stash. It's situated in New Jersey.
What initial dietary changes did Kevin Smith make?
He started to cut out sugar and it made a huge difference. He says that when he stopped drinking juices and sodas and stuff, the pounds just started melting off.
What kind of head-changes happened with Kevin's weight loss?
He says he started out being heavy when he was young, and he got heavier. In the movie business, he says, colleagues, friends, and the people who want to hire you, often won't tell you you're fat – well, not to your face anyway.
"They're, like, "Hey, big guy!" You start thinking even, "I'm not fat. I'm the big guy!" But actually, ""Big guy" is really just a sort of nice way of saying, "You're fat, asshole!"" Ouch!
But now he's done it – Conclusion
Kevin Smith achieved fantastic weight loss with his nasty heart attack in 2018.
But he accredits this to his fantastic amount of weight he has lost.
He has his energy back, a healthier body and he is willing to work and keep on developing.
When he has completed filming the Jay and Silent Bob Reboot, he intends to get more rigorous with his exercise routine.
"I've given up animal food products.
I've given up sugar, mostly," he says. "Weed is vegan.
It's straight out of the earth.
This is the one thing I'm gonna hold on to until some other health scare and some doctor says, 'No.' "
He has had a remarkable transformation and is in the best shape ever these days.
He says that what really motivated him were the encouraging words he received from family, friends, and fans; that he has never underestimated the power of positive feedback.
"An encouraging word can really make a difference in someone's life and your compliments kept me going!
And just look where I went!"
Kevin Smith is very vocal about animal rights (you go, Kevin!), animal welfare, and social justice issues.
What an amazing animal advocate he is, and even appeared in a promotional video for Farm Sanctuary with Harley Quinn, his daughter.
Right now, he's living the dream.
Now, he says, he's playing on borrowed time since his heart attack, and it's fun and people like it.
The moment they don't like it anymore, and they get bored, "We'll just stop."
So 2020 has gone and Kevin says,
"The year 2020 hasn't been funny. So in 2021, we're gonna make fun!"
And whatever it is that Kevin intends to do, you can be sure he is already making plans to make 2021 better for fans.
Sure, laughter isn't a cure for the pandemic, but it can be a whole lot better if fun-loving Kevin has anything to do with it!
Kevin Smith
"Sometimes the path you're on is not as important as the direction you're heading."

References: