Welcome to my comprehensive Optavia diet review…
Meal replacement options can be helpful for weight loss, but how effective are they in the long term?
Optavia is a popular meal replacement program that promises to help you lose up to 2 pounds per week.
It works by partially replacing your regular meals with Optavia branded, specially formulated, pre-packaged high protein, low-calorie meals.
Findings based on some small studies funded by the company have shown promising weight loss results in obese individuals following similar diet plans within 16 weeks.
Interestingly, the test also reported weight regain in most participants who continued with the unique low-calorie diet plan.
Of course, simply adding very low-calorie diets to your current meal plan will not promote long-term weight loss.
So, while Optavia has been demonstrated to be effective for short-term weight reduction, it wouldn't convince anyone of long-term weight loss results.
Optavia taps into the knowledge and experience of a vast community of coaches providing one-on-one support and general guidance for the long-term outlook.
It would be interesting to find out how OPTAVIA program meal plans and the OPTAVIA community of coaches complement each other.
This Optavia review aims to cover everything you need to know about the food replacement program.
We will look at everything from…
What it is
How it works
How to follow it
What foods you'll eat
Benefits to be obtained, and
How effective the plan is
Ultimately, this Optavia review article should be able to help you decide if the plan is the best weight loss program for you.
Our Recommendation
After extensive research, we believe PhenQ Meal Shake is the best meal replacement shake on the market.
Here's why:
PhenQ Meal Shake is 10x More Effective Than most meal replacements
It's 100% plant-based & keto-friendly
Helps shed pounds with science-backed InnoSlim®
A complete meal shake that replaces one full meal and can easily fit into any lifestyle
So make sure to check it out. It might be the best money you'll spend in 2023.
Optavia Review – Does It Really Work?
Optavia is a popular weight management program centered around the idea of partially replacing homemade meals with specially formulated, pre-packaged foods.
The Optavia brand isn't a newcomer in the health and wellness lifestyle industry.
Optavia was operating under the brand name Take Shape for Life (TSFL) until 2017.
TSFL is a subsidiary of a well-known nutrition and weight management company, Medifast, Inc.
Optavia and the parent company, Medifast, offer nutritionally rich, low-calorie meals called "fuelings."
Optavia Fuelings include bars, shakes, cookies, puddings, soups, pasta, and cereals.
These are specially formulated meals and snacks low in carbohydrates and calories but high in protein and probiotics.
Being low in carbs, Optavia fuelings cause the body to burn stored body fat for energy, leading to rapid weight loss.
Being low in calories, Optavia fuelings effectively restrict caloric intake to create a calorie deficit that leads to further weight loss.
Being high in protein, Optavia fuelings can help retain lean muscle mass on the weight loss journey.
Alongside the over 60 nutrient-dense fuelings, the Optavia diet includes suggested homemade entrees called Lean and Green meals.
Optavia Lean & Green meals are meant to supplement the fuelings.
They consist of lean protein options, non-starchy vegetables, and healthy fats.
Optavia recommends serving options to encourage protein, fiber, veggie, and healthy fat intake to help you stay full and nourished through the process.
5-7 ounces of cooked lean protein
Three servings of non-starchy vegetables
0-2 servings of healthy fat
For further guidance and to help clients choose appropriate serving sizes, Optavia sorted Protein options into three categories:
Lean:

5oz. Cooked meat portions that are 85%-94% lean with the option of salmon, lean beef steak, lamb, and ground turkey are suggested. Meatless options include eight oz. Part-skim ricotta cheese and three whole eggs.

Leaner:

6oz. Cooked meat portions that are 95%-97% lean with the option of swordfish, halibut, chicken breast, and pork chop are suggested for meatless options, two whole eggs, four egg whites, 12 oz. 2% cottage cheese, and 12 oz. low-fat plain Greek yogurt.

Leanest:

7oz. Cooked meat portions that are 98%-or-more lean with the option of cod, grouper, tilapia, crab, shrimp, lobster, game meat, and ground turkey are suggested. Meatless options suggested include 14 egg whites, 5 oz. Seitan, 12 oz. 1% cottage cheese, and 12 oz. non-fat (0%) plain Greek yogurt.
Vegetable options are further sorted into three categories based on their level of carb content:
Lower carbohydrate:

Including collards, lettuce, spinach, cucumbers, white mushrooms, sprouts, jalapeño, and bok choy.

Moderate carbohydrate:

Asparagus, cabbage, cauliflower, eggplant, kale, portabella mushrooms, and zucchini.

Higher carbohydrate:

Broccoli, red cabbage, mustard greens, kabocha squash, leeks, okra, straight neck, tomatoes, jicama, and swiss chard.
Healthy fats are served with Lean and Green meals depending on the choice of lean proteins.
Although healthy fats are essential to support the absorption of vitamins into the body, they are strongly discouraged with the lean protein option.
Optavia recommends one serving of healthy fats for the leaner protein option and two servings of healthy fats for the leanest protein options.
Suggested options include avocadoes, olive oil, almonds, peanuts, sesame, chia, flax, pumpkin seeds, butter, margarine, and mayonnaise.
Having familiarized yourself with the items on the menu, it's time we looked at how the menu is scheduled.
Optavia Diet Plans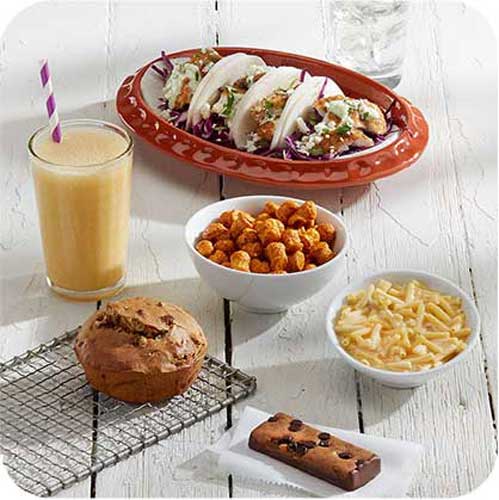 Optavia offers three meal plans to cater to different nutritional needs.
The diet plans are tiered based on fat loss goals to be achieved.
They can be further divided into two weight loss plans and one weight maintenance plan.
The meal plans offered by Optavia include:
1) Optimal Weight 5&1 Plan
This diet version provides five Optavia fuelings and one homemade Lean and Green meal daily.
This is perhaps the most popular program since it is designed to help you lose weight the most.
2) Optimal Weight 4&2&1 Plan
This diet version is the next step to losing weight, preceding the weight maintenance phase.
It includes four Optavia branded fuelings, two lean and green meals, and one daily snack.
There's not much weight to be lost here, but it is an ideal plan if you're looking to get onto a less restrictive diet plan.
Because the plan includes two lean and green meals, so it may provide slightly more calories and flexibility in homemade food options.
3) Optimal Health 3&3 Plan
Optavia offers three Optavia fuelings and suggests three balanced lean and green meals on this plan to help with weight maintenance.
Calories and Nutrition Information
If Optavia diet plans are followed closely, the total percentages of daily caloric intake based on the Optimal Weight 5&1 plan seem perfectly aligned with the United States Department of Agriculture (USDA) guidelines.
Fat (20%),
Carbohydrates (40%), and
Protein (40%)
Most fuelings provide about 100–110 calories, limiting the calorie intake on the same plan to 800 – 1000 calories per day.
The federal government's guidelines recommend consuming 1800 – 2200 calories per day for female adults above 19 years and roughly 2200 – 2800 for male adults in the same age.
Optavia's Optimal weight 4&2&1 is slightly less restrictive, providing 1100-1300 calories per day.
On the other hand, the Optimal Health Plan is even more flexible, providing 1200-2500 calories per day, which appears to fall within what USDA recommends for weight management.
However, the total nutritional content obtained from a day of meals on the Optavia diet will depend on the lean and green meal choices.
Optavia Coaching
While Optavia encourages the consumption of their packaged products to promote weight loss, the company states that achieving "lifelong transformation" goes beyond sticking to their portioned meals and snacks.
The brand tries to help people lose weight by developing healthy habits and reinforcing these healthy behaviors to make weight maintenance more manageable.
More specifically, the Optavia program includes one-on-one coaching, differentiating it from the original Medifast program and other meal replacement weight loss programs.
Optavia describes its coaches and support groups as "the lifeblood" of the program.
Optavia Coaching provides guidance and encouragement for the program's meal plans for forming healthy habits for a healthy lifestyle.
Support from a health coach can be in-person or 100% virtual through video chats, online forums, and even by phone.
Coaching begins when you contact the company to get started with the program.
In the initial steps, the health coach will help determine a suitable Optavia plan to follow, help set realistic weight loss goals, and guide clients through the fat loss journey.
Support may include:
General inspiration,
Working out a complimentary exercise routine,
Meal reminders,
Lessons on preparing Optavia healthy meals.
Note that Optavia coaches are not certified health professionals.
You're unlikely to find a registered dietician for a health coach with Optavia.
Specialized Programs
Optavia provides additional tools and resources for clients across different ages, lifestyles, and health concerns.
These includes:
Optavia diet for people with excess weight or obesity
Optavia plans tailored to teens and older adults,
Specialized Optavia weight loss programs for pregnant women and nursing mothers, and
gout-friendly programs combining the best diets for gout with moderate exercise
plans for people with high blood pressure or diabetes
Alongside the tools to help you lose weight, Optavia programs include community forums, tips, inspirational text messages and weekly support calls, and an innovative app to track and record your journey to losing weight.
Safety & Potential health risks
While there are no immediate safety concerns or direct health risks associated with Optavia, the eating plan relies heavily on processed foods.
With the 5&1 plan, Optavia ships roughly 150 pre-packaged foods to complete a month of serving for one person.
While these premade Fuelings offer much-needed convenience, they can cause concern as most items to contain large amounts of unhealthy additives.
Highly processed foods are often laden with artificial flavors, sugar substitutes, and processed vegetable oils, contributing to gut health issues.
Optavia fuelings are packed with whey protein powder and soy protein isolate, which can cause mild intestinal side effects and affect thyroid function.
The 5&1 plan is also quite low on calories.
Although the 800-1000 calorie diet does not qualify as a very low-calorie diet (VLCD), the levels are way below what is recommended for healthy eating.
Such extremely low levels of calories may present some serious issues in some people, including emotional side effects, hormonal imbalance, slow metabolism, and even obsession with food.
We always advise people with pre-existing health conditions to consult their medical providers.
Also, even if you do not have any existing health issues, it is best to seek professional advice from a registered dietitian before starting any new diet programs.
Pros
Trusted Medifast program
Appealing convenience factor
Easy to follow
It may improve blood pressure
Offers ongoing support
More weight lost per day, less weight regain
weight-maintenance plan available
Supports overall health
Specialized programs address varied health concerns.
Cons
Very low in calories
Some plans may not include fresh fruit
Incompatible with some eating patterns
Not recommended for breastfeeding mothers
Optavia Cost
Prices for the Optavia program vary depending on the choice of the Optavia diet plan.
Generally, however, Optavia plans are moderately affordable.
On average, clients are looking to spend less than $3 per fueling on the 5&1 Optavia diet.
Optavia fuelings will account for five of your daily meals on this plan.
In total, you get about 119 servings of Optavia fuelings on the Optimal Weight 5&1 plan.
In addition to the cost of the five daily fuelings, you will also have to create a shopping list for your lean and green meal items.
While Optavia provides a detailed guide for homemade lean and green meals, they do not include the price of groceries.
Bottom Line
Optavia is undoubtedly one of the best diets for weight loss out there.
Many people find the convenience factor of pre-packaged foods to be quite appealing.
Sticking to the program has shown remarkable promise to help you shed pounds and keep lost weight off.
While there is no actual research on Optavia, studies on a similar weight loss program have shown that reducing calorie and carb intake only works for short-term weight loss.
Optavia offers ongoing support through approved Optavia coaches to help you achieve your goal weight and maintain the results for the long term.