Singer Adele, as most fans know, is a Grammy Award-winning artist.
She sure knows how to roll out international hit songs one after the other, from "Rolling in the Deep," "Hello", and Someone Like You", and many others.
That soulful voice of hers had already caught the attention of the British company, XL Recordings when she sent in her demo songs by the time she was 19.
She was already releasing her debut album, which was also called '19' – the age at which she recorded it.
That was back in 2008. 12 Years later, Adele is a super powerhouse performer, known for her unique voice.
But she is also a very evocative songwriter with other talents as well; that of determination and grit, and she has proved that in these last few years.
She has literally wowed the world with her amazing weight loss that people just want to know how she achieved it!
More about Adele Laurie Blue Adkins – born on 5th May 1988
Adele was born in Tottenham, London.
Her parents divorced when she was only two years old, so that meant that she was mostly raised by her mother.
Adele was the only child of Penny Adkins, an "arty mom" who was just 18 when Adele was born.
Her father was Welsh, Mark Evans, and he left the family when Adele was only four years old.
Adele's early years
Evans, Adele's father, remained in contact with his daughter right up until her teen years.
But then he had problems with alcohol and was becoming increasingly estranged from his daughter.
This caused their relationship to deteriorate.
This made Adele grow closer to her mom, who encouraged her young daughter to explore.
Nothing held Adele back, and at the age of four already, she had developed a huge love of music, which her mother did everything in her power to encourage.
Her mother bought her a toy guitar from a shop to start her singing career.
By the time Adele was nine-years-old, her mom and she relocated to Brighton.
Although Adele loved and listened to a lot of pop music on the radio, she grew to love the songs of Ella Fitzgerald and Etta James which she listened to near her local music shop – that's when everything actually changed for her.
When she listened to them, it was like a new awakening to her music career.
There she was, just 15 years old, being inspired by musicians and their music from the forties.
She felt quite motivated to think of her own music in that light; that in 50 years' time, people might look back at her own music and listen to it.
Adele's youth
Her early school years were spent at a very prestigious British school, The BRIT School for Performing Arts & Technology.
She and her mom had moved back to London when Adele was in her teens.
In auditioning to enter the school, Adele sang Free by Stevie Wonder and also played Tumbledown Blues on the clarinet from James Rae.
It's a really famous school this one, and heaps of aspiring actors, singers, and dancers have become famous who were former pupils at this school.
Amy Winehouse, Leona Lewis, and the Kooks have attended it.
If you are someone wanting to go there to further a music career, you won't be sorry; the school is associated with famous musicians, songwriters, and singers.
Many choose to go there to become music producers or to go into acting works or to work behind the cameras.
Others go there to study dance or go into the world of gaming to learn how to become gaming developers!
Some enter the school to become make-up artists; there are just a plethora of opportunities for young people and it's all very competitive.
It is so competitive that you will need to be interviewed or auditioned.
She was signed up by XL Recordings 4 months after leaving school
While Adele attended this school, she made a three-track demo for her class project.
A friend of hers posted it on MySpace, and it quickly amassed over 10,000 views and plays, catching the attention of XL Recordings.
So Adele was then contacted, and they told her they were interested in giving her a job.
When she went in, they said to her, 'We want to sign you.'
In 2006 only four months after Adele had graduated from the prestigious school, XL Recordings signed her up.
Adele, at 19
Adele became famous for her songwriting as she writes about heartbreak and love; common themes for her songs.
She says that everyone knows what it is like to have their hearts broken.
Even after becoming famous, Adele stayed nervous about being on the stage and singing in front of a crowd.
One time she quickly escaped out of a fire exit and on other times she threw up, she was so nervous.
She didn't like touring and had anxiety attacks as a result.
On releasing her debut album 19, she had an appearance on Saturday Night Live in the US, and that really brought a whole new audience into her life in the States.
Before going on the show, her album was ranked 4 on iTunes but in less than 24 hours, it was the number one album!
Adele was on her way to making a name for herself and becoming a household name.
At this time her professional life was soaring but her personal life was plummeting
It was a tough time for Adele when she found out that her current boyfriend was cheating on her while she was working so hard on her debut album.
In her desolation, when she was walking alone after their breakup; he was a bi-sexual guy whose identity has never been revealed, she kept on saying to herself as she walked along the pavement,
"What is it you're chasing?"
This question was followed by her hit: 'Chasing Pavements'.
This album was released in 2008 and was nominated for a Mercury Prize.
Adele received Best New Artist and Best Female Pop Vocal Performance at the Grammy Awards.
She also wrote Daydreamer about her love for this guy.
Adele says of him that they are still friends – but she ended up with a multiplatinum album, and he still just works at the local phone shop somewhere.
Adele, at 21 a great love, 'Mr. 21'
21 was the name of Adele's second studio album.
It was released on 24 January 2011 throughout Europe, and later in February in North America by Adele's recording artists, XL Recordings as well as Columbia Records.
Once again, this album was named after Adele turned 21, to commemorate her age.
The same soulful folk and Motown influences were there, but American country and southern blues formed art of 21 as well – all the songs were about what she did always sing about; relationships, and here she explored introspection, heartbreak, and forgiveness.
In fact, her second boyfriend was named "Mr. 21" by fans.
She received a Grammy for 21, which was inspired by "the love of my life" and who was finally given a name; that of her photographer, Alex Sturrock.
The paparazzi, fans, and writers all tried to find out who he was but failed.
When she was touring on her tour called an Evening with Adele, Adele and Alex had met, and she even went so far as to cancel the remainder of the tour so she could spend time with him – her critics didn't like that one little bit!
And it was something Adele regretted later.
Nevertheless, the relationship with Adele was the biggest deal in her entire life.
This lover stimulated her interest in world affairs, he also quite a bit older than her, he was successful and he also piqued her interest in many other things such as literature and film, food and wine.
She and Alex dated between 2008 and 2009.
They had met through mutual friends and really hit it off, spending all their time together.
When not together, they would call each other all the time.
The breakup around 18 months later was devastating to Adele and she actually turned to alcohol.
She was left bitter, lonely, and angry, telling everyone that it would take her years and years to recover.
She had an interview with Out Magazine, telling them she would have even given up her career, her friendships, and her hobbies so she could just have been with Alex.
She thought of him as her soul mate.
It was this blow to her personal life that fueled the composition of 21.
It gave her the outlet for her depression and anger where she was able to be honest about her own flaws.
It was another sad time for Adele, who said;
"We just fell out of love with one another. I had to deal with the devastation of feeling like a failure because I couldn't make things work."
And to crown it all, just a couple of months after their breakup, she discovered that he was already engaged to someone else, which inspired the song Someone Like You.
Added to her collection was, "Rumor Has It" because Adele also had to put up with rumors that her own friends were spreading about her and her love life and her breakup with "Mr. 21".
She was really taken with Mr. 21; a guy who inspired her to write these songs about him:
She lost her voice and had surgery at 21
But anyway, right at the start of her world tour of 21, Adele actually lost her voice – it's no wonder so many singers are so protective of their vocal cords and insure them for millions!
Adele said she has had an odd cold here and there, but on this one particular day, while she was on stage in Paris during a radio show, her voice just closed down and disappeared.
Of course, she had to have it seen too, and so she flew off to London where her doctor diagnosed her with acute laryngitis, but as time went on, the problem just seemed to get worse.
Eventually, Adele was forced to undergo surgery.
A polyp was actually discovered on one of her vocal cords.
Fortunately, the surgery turned out to be successful and Adele recovered well.
Her third album, 25
It wasn't long after her 21-album that Adele released her third one – this one was called 25.
On 25 she sang the beautiful ballad 'Hello'.
Can you believe it held the number one spot in 36 countries!
That included the UK as well.
This song won her three Grammy Awards and a Brit Award for Song of the Year – this was the biggest hit on her album.
25 is also the only album to reach a million copies sold in the United States in 10 days.
She meets Simon Konecki and has a child, Angelo
Then in 2011, Adele met up with a former partner of hers, Simon Konecki.
He was 13 years older than her and was the founder of Life Water and the charity Drop4Drop.
In June 2012, Adele let everyone know on her website that she was expecting the couple's first child, telling People Magazine that "I really want to be a mum. I better start getting on with it!"
Little Angelo arrived on 19th October 2012.
Then in 2017, people noted that she was wearing a wedding band, so rumors starting flying around that she would be getting married.
She did confirm her marriage in March whilst at a concert in Brisbane Australia.
At her January 2017 Grammy acceptance speech, Adele confirmed the rumors by calling Konecki her husband.
Unfortunately, by April 2019, she and Konekci had split up.
Today, she retains a good relationship with her ex-husband for the sake of Angelo.
In fact, Simon Konecki reportedly lives across the street from Adele, so he can be as supportive to their son as possible, and Adele does her best because her son is her world.
The coronavirus pandemic is forcing many people to stay at home and Adele is taking full advantage of the opportunity to spend more time with her son, helping him with schoolwork and enjoying cooking meals for him.
Adele's incredulous weight loss journey starts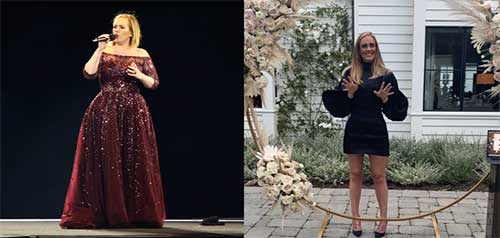 But Adele wanted to change and it was her 7-year-old son who inspired her to lose weight as she wanted to be healthy for him
Fans were truly incredulous when Adele took on a whole new look and started showing off a fabulous slim figure at her friend's, Canadian rapper, Drake's party.
Fans wanted to know how come Adele had lost so much weight but one insider told People magazine that Adele's new look was all about being a healthy mom for her 7-year-old son, Angelo.
The insider said Adele had got to the point where she just didn't feel great anymore and she knew she had to change a few things around.
Just recently divorced from Simon Konecki, Adele had recently announced that she was happy and excited about the future.
The insider said that for Adele, it was more about getting healthier and less about losing weight…
…that a lot of the weight that had come off was because she had cut down on her drinking and was eating more real food.
So fast forward to 2020 and Adele had a holiday at Anguilla with Harry Styles and James Corden and while she was sitting at a Caribbean island restaurant, she told a fan that she had lost 100 pounds!!
What does Adele's former personal trainer have to say about her weight-loss?
Adele's personal trainer was Camila Goodis, and she said at the time that Adele lost so much weight that it had everything to do with her diet…
…that Adele had literally changed her lifestyle.
She had also been working out more, but she said that at least 90% of Adele's incredible weight loss had been thanks to her diet.
What diet did Adele follow?
She followed and is following the Sirtfood Diet.
OK, it's quite intense in the beginning.
In the first weeks, it's all about drinking green juice and eating only 1000 calories a day.
Her trainer said it left Adele looking nothing short of AMAZING!
What is the Sirtfood Diet?
The Sirtfood Diet focuses on eating foods that are high in sirtuin activators.
Hold on right there – What on earth are sirtuin activators?
Well, back in 2015 was when we were already introduced to sirtfoods – they could help us lose weight – we needed to eat more foods that are known as 'sirtuin activators'.
They would improve our health overall and knock back the weight.
Sirtuins are a group of proteins in the body that are important for regulating the biological pathways that can affect our weight and health.
We could take all day explaining what sirtfoods and sirtuins are, so here is a quick breakdown for you to understand it all.
Studies show that sirtuin activators move your stored fat and generate enough energy in your body to burn the fat; they possibly have anti-aging benefits too [1].
It's a bit too early in the day to know whether sirtuins could be called a wonder food yet, but as you can see Adele benefited big time.
Could we just say that basically, sirtuin activators are healthy, natural plant-based foods?
For example, foods that contain sirtuin activators would be;
Green tea
Onions
Kale
Turmeric
Miso soup
Parsley
Tofu, as well as other soy products
Extra virgin olive oil
Olives
Capers
Black currants
Dates
Cocoa and
Walnuts
Demand rose for Adele's rumored weight-loss plan, the sirtfood diet
Why shouldn't there be a demand for this diet when it involves eating foods that are all about strawberries, blueberries, turmeric, green tea, onions, walnuts, dark chocolate, and even red wine?
And why shouldn't there be a demand for it when it has proved to be so effective for a famous star, Adele?
And there is plenty of evidence that these are all very healthy foods, possibly leading to a longer life.
Why so?
Well, they all have anti-inflammatory compounds in them called polyphenols.
In saying that, we have to say that the diet also restricts people to eating between 1000-1500 calories a day.
Nutritionists think this is quite risky and not really sustainable in the long term.
The whole concept of the Sirtfood Diet was made popular back in 2016 – there was a book called The Sirtfood Diet, written by a pharmacist, Aidan Goggins, and a nutritionist, Glen Matten.
It is all about eating foods that activate a protein called sirtuin, as well as cutting calories.
Sure, the foods in the diet are considered healthy but some say there could be drawbacks because it restricts the amount you can eat.
This makes it a bit tricky about following it in the long-term.
There is also some research that claims that foods that boost sirtuins balance out the metabolism and add years to your life [2].
But still, more data is needed.
Experts say that even though each of the foods is individually healthy, there is insufficient evidence to show that if you ate only sirtfoods, it would be good for you.
And also, that there are a lot of foods and nutrients that don't form part of the sirtfood list such as protein sources, from chicken and beans.
Nor are there any healthy fats listed, and nor are whole grains listed.
Harvard Health says that if you eat fewer than 1500-1200 calories you put yourself at risk for malnutrition [3].
So sure, while it is certainly fine to include some more green tea in your diet, along with some delicious berries and even some wine now and then, it really would be best if you consulted with a nutrition expert like a registered dietician, before getting caught up in the latest and greatest fad diets.
But back to Adele and her weight loss!
Now Adele has revealed the three big changes she made to slim down.
1) She cut out cigarettes and caffeine
Adele used to often drink 10 cups of tea a day, plus alcohol and cigarettes were all part of her daily agenda.
She loved to also eat all "spicy, citrusy, and tangy" foods but realized there had to be ditched if she wanted to drop off the pounds.
Another thing that spurred Adele on to eat more healthily was the fact that she had had a polyp removed from her vocal cords back in 2011.
She said she was always scared that it could come back and she didn't want to damage her voice.
Also, all the touring that she had to do, she found, took its toll on her body and one of the reasons she lost weight as well as so she could keep up her stamina.
2) She started the Sirtfood Diet
Of course, we have described her starting on the Sirtfood Diet as well in 2017.
She might have chosen this diet because the sirtuin activators are also known to protect cells in the body from suffering under stress.
This in turn switches off the inflammation, metabolism, and aging buttons.
3) She started working out
There are not many people who have lost weight only by their diets.
It is possible, no doubt, but Adele knew that her weight loss journey wouldn't be complete if she didn't put in an exercise regime as well.
So she hired the best, Camila Goodis.
Camila is known as the Brazilian body wizard.
Camila said that Adele had never really been a fan of working out.
Let's see what her workout plan was all about, maybe it's just what you need to tone up
People went berserk when Adele turned 32 in 2020 and showed what she looks like after losing 100 pounds.
But they were even more gob-smacked so see how toned and sleek she looked with a healthy strong looking body – this has been an incredible weight loss journey for Adele, and people want to know how she got to look like this.
We told you she following the Sirtfood Diet but fans wanted to know also how she had managed to tone her body to look so sleek and sexy.
Because frankly, losing weight is one thing, but when you've got lean and toned muscles to show with it, there's something being done right; everything has worked together here!
And Adele, we have to say put in some hard work and sweat to achieve that and she deserves a Grammy for that!
Even she said, "I used to cry but now I sweat."
Of course, her success also lies in all the work put in for her by her personal trainer and her Pilates instructor.
Want to become lean, toned, and gorgeous like Adele? – Here are her top tips
So we want to show you and share with you exactly what you can do, too, to tone yourself up. And the best thing is you can do these exercises at home.
These are the top tips here:
You need the motivation to do it for YOU:
Pete Geracimo who was a former personal trainer of Adele said that getting skinny was never the goal with Adele.
He revealed to Access Hollywood that Adele's amazing body transformation was not to wow and shock or to get attention for press purposes and sales – it was simply to do it for herself and her son, Angelo.
The thing is with weight loss, it can be very, very empowering and a very personal thing.
Geracimo said it was always rewarding for him to see people he had trained blossoming and that's how it was for Adele too.
And the best motivation for dieting is always what comes from within – Adele faced hardships after her divorce, and she wanted her son, Angelo, to have a mom who was healthy and had the energy.
Adele proved to be committed to her fitness routine and sweating it out to achieve her health goals.
Adele's moves – she's a winner!
And the best thing is you don't have to spend your life in a gym.
Pilates is what Adele chose as the workout of her choice.
As mentioned above, we said her Pilates instructor was Camila Goodis.
Camila got the shock of her life when Adele had lost so much weight on her diet – Adele was hardly recognizable.
But now she was ready to tone up after losing so much weight and had decided to join a small group to work out with.
Look at Adele below, in this short clip, exercising and working out;
Fast forward 2 minutes and 9 seconds to skip the talking if you want, and see her putting in her reps.
Pilates is great for toning the legs and abs and is an all-around strengthener.
The low-impact exercises are very effective for toning you up as you lose weight.
Pilates is excellent if you are looking to build lean muscle and to improve your posture by targeting core strength—you will see soon how your clothes fit you better.

Adele became a huge fan of Pilates and needed it just a few times each week to get the impressive results she got.
That's Pilates, but Adele also hit the weights
Part of Adele's physical exercise program was to incorporate weight training with her personal trainer, using dumbbells.
This type of weight training helps to stimulate muscle growth, burn more calories, and increase metabolism.
There doesn't seem to be any evidence that Adele did much in the way of cardio exercises, but strength training did help to burn her fat.
This can continue even after you stop working out, according to exercise research.
This is because the metabolism might stay elevated for longer after exercising with weights than doing cardio.
So the question people ask is – what is better, cardio or weight lifting for weight loss? [4].
Another thing that we can learn from Adele with her exercises is that you don't need to pick up huge heavy stuff to burn the fat.
As long as you are working the muscles so that they feel exhausted you can get toned using small handheld dumbbells.
If you need to work from home and don't have access to weight training machines, you can just do it Adele's way – she certainly is an inspiration!
You don't have to be a world-famous superstar to transform your body to reach your personal wellbeing goals.
Adele's workout regime consisted of personal training sessions with Pete Germacio, which you can also do on IG Live thanks to his daily classes.
And as for the Pilates classes, you can try these at home too.
Here Goodis herself shows you some fantastic floor moves to provide you with core strength and toning.
Happy 32nd Birthday, Adele!
On her 32nd birthday, Adele celebrated with a stunning picture of herself, posing in a beautiful little black number mini dress, thanking 'essential workers' for their work during the coronavirus pandemic – as well as thanking everyone for her birthday well wishes.
She deserves this incredible new look because she worked hard for it, and it didn't just happen overnight either.
Since 2010, she has undergone an image transformation – and her new look is on the other end of the scale from when she first entered the music scene – that's how hard she has worked.
Adele Doesn't Like Talking About Her Weight
She doesn't like to talk about her weight or answer questions about it because some people have been so critical (or envious?), they won't let her be.
Adele's dramatic weight loss was certainly the talk of the town.
It caused her such a lot of embarrassment that now she will not talk about it.
Fans were so shocked and in awe when she posted pics about her stunning body on Instagram, they would not stop with the questions!
This prompted her former trainer as well as her doctor to reveal the details of Adele's fantastic weight loss and silence some of the outrageous criticism.
Adele's doctor, Dr. Dominique Fradin-Read said that losing all the weight wasn't only about exercise and diet.
She always starts by telling her patients that diet and exercise are not enough.
To make your weight loss successful and sustainable you have to look at the entire person, concentrating on three variables:
Metabolic function
Thyroid and cortisol levels
Habits
When all of the above elements are addressed, a personalized diet can commence.
As far as her exercise routine went, Adele's former trainer, Pete Geracimo said that Adele never wanted to become "super-skinny" and that it is disheartening for people to read negative stuff about the genuineness of amazing weight loss, such as in the case of Adele.
For Adele, it was always about getting healthy, particularly after her surgery and also after her pregnancy.
Adele has had to put up with relentless criticism, and dissecting someone's worth based on their weight can be damaging, and many people have experienced this.
Some women who battle to lose weight don't like that they no longer have a role model in Adele – they feel insecure about their own weight.
Don't blame Adele; she is still the singer with a beautiful voice and now she is extra happy and carefree with her beautiful body as well.
Now she is doubly happy with herself because she is happy and healthy!
Into the future with Adele
There are plans for the fourth album since Adele's massive 25-album back in 2015.
It was rumored that this would be in September 2020.
But it was already confirmed that the coronavirus pandemic had somewhat delayed the album.
In an interview in October 2020, Adele made a TV comeback on Saturday Night Live where she revealed that the album was not ready and we would probably have to wait for it somewhere in 2021.
It is likely to be called 'Adele'.
Conclusion
Despite Adele's tremendous weight loss, we love it that she loves happiness for herself and Angelo and that she wanted to be a healthy mom for him.
Naturally, now that she has lost so much weight and toned up, you can't blame her for feeling empowered, sexy, and glamorous, and of course happy as can be.
She has always said, "I think no matter what you look like, the key is to, first of all, be happy with yourself."
And she credited her amazing weight loss change also to Glennon Doyle who wrote the book Untamed.
She said of the book;
"I am so ready for myself after reading this book! It's as if I just flew into my body for the very first time.
Whew!
Anyone who has any kind of capacity to truly let go and give into yourself with any kind of desire to hold on for dear life – Do it. Read it. Live it. Practice it."
Many people know they've put on a whole heap of extra weight during the lockdown of the Covid-19 pandemic, so to see what Adele achieved by her 32nd birthday could have been very jarring for many.
Others took it as the time to get their summer bodies ready.
Adele deserves our admiration; as a woman in the spotlight, whose weight has always been focused on in the spotlight – all we can say now is, Adele, you have surely done the best you can with what you had!
She's 'still changing and that's OK'
Adele says that no matter how long we are here, life is complicated and constant.
She says that she has changed drastically in the last couple of years – that she is still changing and that's OK.
Give us some advice, Adele!
"Be kind to yourself people we're only human, go slow, put your phone down and laugh out loud at every opportunity.
Learning to really, truly love yourself is it, and I've only just realized that is more than enough."
Well, we've seen in the last year or so evidence that Adele, with her incredible weight loss, is more confident and happier than she has ever been, with a body that she no longer hides under baggy clothes.
Despite all the hysteria about her weight loss, the most transformative thing about her wasn't the high cheekbones or the hourglass curves; it has been her smile!
"I know I look really, really different since you last saw me but actually, because of all the Covid restrictions and the travel bans, I had to travel light and only bring half of me – and this is the half I chose."
You're simply the best, Adele – we applaud you and we are sure Angelo, your son, is bursting with pride at what you have achieved!
Frequently Asked Questions about Adele (FAQs)
Did Adele lose a lot of weight?
Yes, she really did. One medical expert told US Weekly that she guessed that if she had to estimate, it would appear as if Adele actually lost about around 150 pounds in total.
What diet did Adele lose her weight on?
The Beet published the diet that Adele followed. It's called the Sirtfood Diet. Following this diet, Adele reportedly shed 100 pounds and some records say it could be as much as 150 pounds.
Does Adele write her own songs?
Yes, she does, but other times she with write them with other songwriters like Bruno Mars or Ryan Tedder for instance. But she always co-writes her songs, and that is what makes them so emotional and personal for her.
References