What happened to Susan Boyle?
What does Susan Boyle look like now?
How did she lose weight?
Does Susan Boyle have downs syndrome?
You're gonna get answers to those questions and more in this comprehensive weight loss story…
So let's get started…
Remember Susan Boyle; that famous audition on Britain's Got Talent – with none other than Mr. Nasty, Simon Cowell.
No one ever imagined that Susan Boyle would be the one to capture the world with her voice.
And what about her video on YouTube; well, it has brought in millions of views over the years.
Susan Boyle, the new talent.
We also know, those of us who watch and love Britain's Got Talent and America's got talent, that the legendary TV judges and record producers literally have the power to make or break long dreamed of singing careers right there on the spot on the show.
Susan Boyle didn't escape Simon Cowell, Piers Morgan, and Amanda Holden the day she auditioned on the show.
She had to endure the snickers from the audience and the rolling of the eyes from Simon Cowell at the start of her audition.
But to cut a long famous story short, Simon Cowell's heart melted with us all as we watched at home.
How he had misjudged the middle-aged Scottish woman who wandered onto the stage; viewing her as just another impossible wannabe with her impossible dreams.
Within seconds he was literally dumbfounded, because when she opened her mouth to sing – well, it was Who She Was Born to Be!
Susan Boyle's chart success has become well documented
Susan even beat the likes of Taylor Swift with the sales made from her debut album.
Her sophomore record, The Gift, reached the top spot in the UK and the US – just like her debut song did – this made Susan Boyle the first woman ever to do that!
Of course, Simon gushed later, "She is my superwoman."
The life of Susan Magdalene Boyle (Born 1 April 1961)
Her childhood years
Susan Boyle grew up in a small industrial town in Scotland called Blackburn.
She was the youngest of nine kids, born to her mother when she was already 45 years of age.
Her father was a world war two veteran and a miner while her mom was a shorthand typist.
Not only that, there were complications with her birth and for a short while, she was deprived of oxygen.
That left her with some mild brain damage and she was bullied plenty at school as she also had learning disabilities, for which she was frequently teased and bullied.
In 2013, the 'brain damage' was correctly diagnosed as being Asperger syndrome.
A little bit about Asperger Syndrome that Susan Boyle was diagnosed with
Asperger syndrome is a neurobiological disorder.
It has similar characteristics to that of autism.
Susan Boyle announced that she had been living with Asperger's Syndrome.
It affects mainly communication skills and social interactions with others.
When she was a child, she had been diagnosed as actually being brain-damaged, an incorrect diagnosis.
The children at school cruelly dubbed her "Susan Simple".
She said that she even had epilepsy growing up.
She would faint a lot at school.
All through her childhood, she was told that epilepsy had to do with mental functioning and it wasn't easy as a child coming up against all those barriers.
Asperger syndrome has named after the Austrian physician Hans Asperger.
He first described the symptoms in 1944 – calling it autistic psychopathy.
In the case of Susan Boyle, it was a Scottish specialist who finally informed her that she had Asperger's Syndrome — and no brain damage.
Later, when she had an IQ test, she scored above average.
Susan adored music as a child
Susan was so drawn to music that when she was 12, she was already taking part in musical productions at school.
Her teachers quickly picked up that she has amazing talent and they encouraged her to never give up.
After graduating from high school
Susan briefly worked as a trainee-cook at West Lothian College.
This was just prior to starting to study at the Edinburgh Acting School, even though she continued with her love of singing.
She sang in the church choir as well and also at karaoke bars and at the Edinburgh Festival Fringe.
She auditioned in 1995 on a British TV talent show called My Kind of People but was unsuccessful.
Four years later, she sang "Cry Me a River," and got some great reviews.
She then decided to record a professional demo tape, mailing it off to some record companies, and some TV and radio networks and talent competitions, but everything got put on hold because her sister died in 2000.
She started up with her professional singing lessons in 2002, but only gained some fame locally.
She withdrew from singing for 2 years due to the death of her beloved mother
She was totally devastated by her mother's death in 2007.
But then, in late 2008, however, she applied to audition for Britain's Got Talent in honor of her mother.
So in April 2009, Boyle appeared on an episode of the show, singing her rendition of "I Dreamed a Dream" from the musical Les Misérables.
For that, she got a standing ovation!
In fact, videos of Susan's debut on the show were viewed by around 100-million people across the world, and in the finals, she came second!
That debut album was number one on the Billboard charts in November 2009.
It was also the second best-selling album of 2009, selling over 3.1 million copies!
Some interesting and amazing facts about Susan Boyle that led up to her incredible weight-loss
1) Instant fame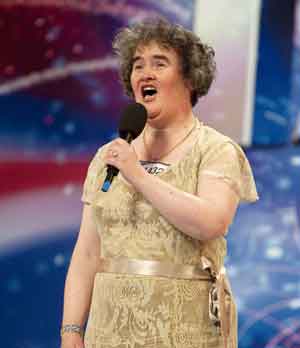 Her biggest change she says in her life was the instant fame, from being someone whom nobody knew; just a lady with a cat in Scotland – to be noticed and recognized everywhere. She says that took some time to get used to.
2) Singing lessons with Fred O'Neil
Being interested in music, she went to singing lessons with Fred O'Neil as her vocal coach.
She was into acting big time as well, enrolling at the Edinburgh Acting School.
She even managed to go on a pilgrimage with her parish to the Knock Shrine, singing at the Marian Basilica.
3) Her first boyfriend
Can you believe that Susan was 53 when she had her first boyfriend?
And we all know that it's never too late to find love, right?
That was very true for Susan Boyle.
At 53, she had a real romantic relationship, according to The Daily Mail.
She did briefly have a boyfriend way back when in her 20s, but that relationship didn't go anywhere pretty fast.
It seemed as if her dad didn't think she was ready for romance then, so he was quick to end it.
Susan was quite cut up about it at the time, but she isn't bitter about those days at all, believing that her dad just didn't think she was mature enough to have a relationship.
And she thinks she wasn't either.
4) Met a Connecticut doctor
So in 2014, she met a Connecticut doctor at a hotel in Clearwater Florida, and they hit it off.
Many thought that he would move across to the seas to be with Boyle but that didn't happen.
She really loved the time they spent together, but since that intriguing dalliance, she didn't go on any more dates after that.
But she liked her doctor! – "Let's just say he rubbed me up the right way."
5) She is no stranger to loss
In 1999 her father passed away; then her sister Kathleen passed away the following year in 2000.
But one of her greatest losses of all time was the death of her mother whom Susan had cared for and adored. "I felt a part of me had died with her".
That's what she told the Guardian.
Then in 2015 her older sister, Birdie, succumbed to cancer and it was a low point in Susan's life.
She also had a nasty argument with her brother in 2016, over money and they didn't talk for 2 years.
But good things often come out of bad things, and Susan had a meltdown at the Heathrow airport.
Officers were dispatched there to help this "woman in distress".
Her outburst was due to her Asperger's syndrome, but whilst having her meltdown, she left a distressed voicemail to her brother Gerry.
He frantically called her back and they were reunited and reconciled where she was able to meet his baby grandson too.
6) Large Family
Susan came from a large family, nine of them!
But sadly, she can't have kids. She wants to give a youngster what she didn't have as a child she says.
7) She lives in her family home today
Today, she still lives in her family home even with all her wealth.
In 2014 she bought the property next door, wanting to combine the two plots together to create a dream home for herself.
Some of her friends say that she did own a $400,000 villa, but that was just for a while as she much preferred her childhood home!
8) Susan Boyle is highly successful…
…she doesn't actually need to work.
Altogether, her net worth is estimated to be in the area of $33 million.
Well done, Susan, when you consider she was unemployed when she went on that life-changing audition.
Even despite her overwhelming success, Susan has never forgotten where she came from — and how difficult it was.
She came from a dark place, unable to pay the bills after her mother died. In an interview with The Sunday Post, she said, "My biggest fear is going back to that."
Who wouldn't understand that! In fact, it's the memories of those days that have inspired her to spend her money modestly and still live a relatively humble lifestyle.
She says her goals are simple – just to have her good friends and family around her.
She wants to enjoy some of her money and never have to worry about paying for electricity and gas again.
9) Released her album 'TEN in 2019
It marked the 10th anniversary of her debut album, I Dreamed a Dream.
10) Faith!
Her faith has helped her reach success, crediting her faith to the success she has reached in her career.
Her faith is incredibly important to her on all levels, getting her through the moments of self-doubt.
It has also allowed her to understand that the gift of her career at a later stage in her life has certainly come from a Higher Power.
Susan still continues to regularly go to church. "I find that my religion gives me a direction in life and brings great happiness."
Thousands wanted to know how Susan lost so much weight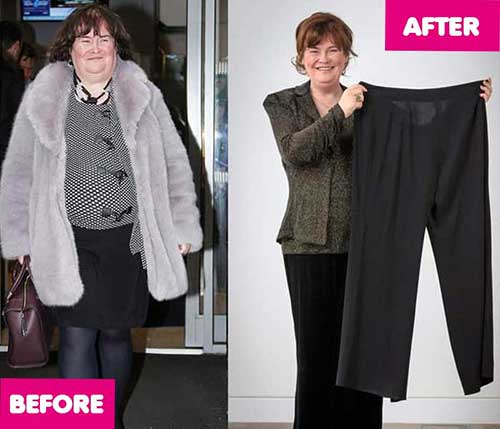 Susan lost weight because she wanted to be healthy, period.
Her doctor told her she needed to lose weight too.
Even in her childhood, she had always struggled with her health and weight.
Back in 2014, her doctors gave her a diagnosis which meant she actually had to concentrate on becoming slimmer.
The diagnosis was type 2 diabetes.
She needed to get serious about being well and healthy with that diagnosis.
She had to quit the cakes and her favorite sweet, considering going on a serious diet as recommended by her doctor as "the bane of my life."
But anyway, she didn't escape from her problem, she faced it head-on.
She listened to what her doctors suggested for her and then got down to hard work so that her prognosis would improve.
Her efforts paid off and she lost nearly 30 pounds!
She looked so good she thought about sending a pic of herself to her American doctor friend "if he's a good boy."
She made headlines with her stunning weight loss transformation
Susan looks slimmer and healthier than ever.
It was truly her type 2 diabetes scare in 2012 that set her on the path to improving her health, and it did pay off.
Diabetes is a disease that prevents the cells from using the glucose in our bodies to convert it to usable energy.
This can happen when our cells become resistant to insulin. Insulin is the hormone that promotes the cells to use glucose from the bloodstream.
When this happens, we get a spike in our blood glucose levels.
This makes the body more resistant to insulin than ever.
Those who have diabetes will tell you how they feel hungry a lot of the time.
It's because the cells can't detect sugar to produce energy.
People that have diabetes are often lethargic, have high blood pressure, and suffer from depression.
That's what Susan Boyle was like.
She had to immediately take steps to control the disease and this is what she succeeded in doing, especially if she was going to need plenty of energy and feelings of wellbeing as she traveled the world showcasing her magnificent voice!
She set out straight away doing three things: removing sugar from her diet, working out, and she also started taking Garcinia Cambogia supplements.
We'll tell you more about the benefits of Garcinia Cambogia if you also want to lose weight the way Susan Boyle did.
1) She removed sugar from her diet
As soon as she was diagnosed with type 2 diabetes, the doctors suggested to Susan that she should straight away start eliminating sugar from her diet [1].
She started avoiding all sugary beverages like milkshakes and fruit juices and energy drinks and sodas.
She cut out processed foods and refined or artificial sweeteners.
Breakfast cereals were tossed out, as well as alcohol, cakes, ice cream, candies, and pastries.
Also tossed were store-bought ketchup, sauces, and salad dressings.
She started putting into her grocery trolley real natural fruits and fruit juices, and healthy, natural veggies.
These went a long way in bettering her digestion and flushing out toxins from the body.
She started using cane sugar or dark brown sugar which is less processed and healthier than refined stuff.
She also started eating much more protein and healthy fats like nuts and seeds.
You can follow Susan Boyle's fantastic example of dealing with her type-2 diabetes, by doing just what she did, but we have also included a good diet for you to follow if you yourself suffer from type-2 diabetes.
2) She started working out
We have all been told at times in our lives that exercise is essential for good health and losing weight.
Susan Boyle was determined to conquer her diabetes and knew that she needed to start exercising if she wanted to shed the flab.
So she started walking 2 miles every day [2].
Walking is a superb low-impact exercise and it's easy on the joints.
Walking is also able to reduce blood sugar levels.
That means the effects of diabetes on the body are lowered.
Walking is highly recommended if you are an older person as well.
Take Susan as an example – she was around 50-years old at the time she started slimming down and it was important that she not overuse her knees and hurt them when working out.
Walking was the perfect solution for her.
As you can see it was very successful in helping her burn the fat.
3) She started taking Garcinia Cambogia supplements
The pulp from this tropical fruit from Southeast Asia gets dried and used in foods to give it a tangy flavor.
But people have discovered that it makes an excellent weight-loss supplement because it is able to suppress your appetite and burn up fat.
It also improves the metabolism and boosts the mood.
That's what Susan did; she had to start taking care of her health due to her diabetic 2 scare.
That meant weeding out the bad lifestyle habits that soon had her glowing with health.
Her journey to being a singing star and her weight loss has been nothing short of inspirational for thousands of women all over the world – just start taking care of yourself and see what happens.
What is Garcinia Cambogia as far as weight loss goes
It has been used as a weight-loss aid over the years [3].
Technically it's not really called Garcinia Cambogia anymore, so don't get confused if you try and look it up.
The real name is Garcinia gummi-gutta.
It's got other names too; Malabar tamarind, red mango, pot tamarind, gamboge, brindal berry, and kokum butter oil tree.
According to the Food and Agriculture Organization of the United Nations, the seeds contain 30% of fat; in fact, they are sometimes even used as a substitute for ghee.
Ghee is clarified butter, commonly found in Indian food.
Apart from it being used as a weight-loss supplement, it treats other conditions such as cancer, diabetes, diarrhea, ulcers, and constipation.
But its biggest claim to fame is that it is a weight reducer as it reduces appetite and boosts exercise endurance.
It contains a compound called hydroxycitric acid (HCA) that can inhibit an enzyme that stores body fat, helping the fat to be burned as calories.
It's also known to have the neurotransmitter, serotonin in it, which is responsible for making you feel good – makes sense if it can help you reduce eating from stress!
In 2012, famed television doctor Mehmet Oz announced that Garcinia Cambogia was a revolutionary fat buster.
It is available in tablets, capsules, powders, and liquids.
You take the capsules on an empty stomach about an hour before you have a meal.
It is important that if you buy it, you buy a reputable brand, making sure that the supplement contains at least 50% of HCA (hydroxycitric acid).
Side Effects
Side effects can cause nausea, headaches, dry mouth, and dizziness.
Those who are pregnant; have diabetes, Alzheimer's disease, or dementia, or on other medications shouldn't consider taking Garcinia Cambogia.
People should realize that like all other nutritional supplements, Garcinia Cambogia isn't monitored by the FDA for effectiveness and safety.
How you can also lose weight as Susan Boyle did
Just like Susan Boyle did, you can do the three things she did to effortlessly lose weight:
1) First, you have to avoid the addictive foods
This is where you have to draw the line if you want to keep the weight off.
If you have been addicted to certain foods or eat foods that make you put on weight easily, you have to avoid the urge to even have a little.
You might say to yourself you have lost weight, and to treat yourself or celebrate your victory, you will just have a small taste of what you once loved.
But just that little taste will get you wanting more.
Addictive foods create strong cravings and it will require huge self-control not to fall for those foods again.
If you truly want to maintain healthy eating habits, you have to avoid addictive foods.
Susan had to quit cakes and sweets.
2) Hold your horses with the alcohol intake
Alcoholic drinks are not good to down when you are on a weight loss program or you have ended a diet successfully and are trying to eat better.
Alcoholic drinks have the ability to lower people's inhibitions and self-consciousness.
The more you lose control, the more you might keep on saying this will be the last one – in the end, you have lost all self-control.
If you want to be the one to be in control, you have to drink less alcohol with your meals as well.
Set your limits for the quantity of alcohol you will drink when you go out.
It will be good if you can be in the company of some good friends who will be supportive of your efforts because they will help you to stay on track.
Susan Boyle never drank alcohol or smoked, but she had to deal with getting rid of what she loved so much; sweets and chocolates.
3) That will mean spending your time with the right people
You will see; the success of your weight loss maintenance plans will depend a lot on the people you spend your time with.
If you are on a weight loss program, or on a program to cut back on alcoholic drinks, etc. it is always better to surround yourself with the people who will support you [4].
Don't have toxic people around you; that doesn't mean just cutting out every single toxic friend you have; that won't be done easily, but it will depend on the situation.
So for instance it might be to your benefit to join groups of people who are enthusiastic as you are about losing weight or giving up on alcohol or who want to get fit and healthy like Susan Boyle did (even though Susan was never a smoker or a drinker).

That way you will achieve the dream body you have always wanted.
Frequently Asked Questions about Susan Boyle (FAQs)
Did Susan Boyle sing before she auditioned for Britain's Got Talent?
Yes, she was always a singer. As she was raised a Roman Catholic, she sang in the church choir and at many other religious functions in her youth.
She made her first professional appearance when she sang on British television My Kind of People, singing "I Don't Know How to Love Him".
That was in 1995, from Jesus Christ, Superstar.
It was really her beloved mother who 'made her famous'. She was the one who egged Susan on to try out for Britain's Got Talent.
What is it about Susan Boyle that has made her so beloved?
Well, she was literally an unexpected overnight success, never imagining on that momentous occasion in April 2009, that her life would never be the same again.
She didn't look like the typical pop star though, not wearing makeup, wearing plain clothes, being a bit overweight even, and also older than a lot of the contestants.
But she absolutely WOWED Simon Cowell and the crowds when she started singing the very first notes – the crowd went wild!
She got a standing ovation for that rendition. What a voice and what a song! She sang the beautiful song, "I Dreamed a Dream" from the musical, Les Misérables.
Even one of the judges said that Susan's audition was "the biggest wake-up call ever" because it was saying don't judge a book by its cover or look into the heart!
After her debut album I Dreamed a Dream topped the charts around the world and became the UK's best-selling debut album of all time, Susan has gone on to release eight more albums.
What nationality is Susan Boyle?
She is British and Scottish.
When did she release her latest album?
Her latest compilation is called 'Ten'. It was released in May 2019. It's got songs on like A Million Dreams, Stand by Me, and Climb Every Mountain. And it landed in the top five of the UK's album charts.
What is Susan Boyle doing now?
Susan Boyle is keeping quite a low profile nearly 11 years after shooting to fame, and she certainly hasn't let it go to her head.
She is nearly 60 years of age and is still enjoying the spotlight. She released her eighth studio album in 2019.
Now she is setting her sights on making it into the big screen and acting.
Unfortunately, due to the coronavirus pandemic, these plans have been put on the back burner, so now she spends time catching up with friends in the West End.
Where is Susan Boyle now?
To date, Susan Boyle is still an active recording artist.
She is still signed to Simon Cowell's label, Syco Entertainment. In the past 11 years, she has released 8 albums, continuing to perform.
But unfortunately, with the coronavirus, many things all over the world have been put on hold. But it isn't possible to put an angelic voice like Susan Boyle's on hold, so all we can say is WATCH THIS SPACE!
Is Susan Boyle a businesswoman?
Yes, this Britain's Got Talent star has banked huge amounts from her four companies.
But there will be even more money flooding in because there is a film about her life on the go that is in the wings waiting to get off the ground.
There is no doubt that from her successes and earnings, Susan Boyle is Britain's Got Talent most successful contestant, ever.
You go, Susan!
Conclusion
Susan Boyle's beautiful and soaring vocals have been showcased to the world during amazing, unforgettable live appearances in the past 11 years.
With her amazing weight loss efforts, looking even more sparkling and healthy, she has garnered even more love and admiration for her strong desire to defeat her diabetes type-2 prognosis.
She has sung for Pope Benedict XVI when he visited Glasgow's Bellahouston Park in 2010.
She also kicked off the Commonwealth Games when the Queen arrived at Glasgow's Celtic Park in 2014.
Then there is still her autobiography, The Woman I Was Born to Be, which was released in 2010, and a new film company picked up the rights to it!
Boyle's rise to fame has included much globe-trotting, and she enjoys being on the road, performing live.
she says
"I like the audience interaction, I like that whole atmosphere. It's very electric"
The fact of the matter is, Susan Boyle has experienced a truly life-changing journey that not only involved her, but she has changed the lives of many others as well.
She has always been a force for her philanthropic endeavors and has performed at many charity events, raising funds for certain education programs that help eradicate illiteracy, as well as supporting several children's charities.
Susan Boyle is keeping going, making albums and making people very happy and as long as her audiences are happy, she says, she "Doesn't see any reason why I should give up" and we don't either!
Susan Boyle
"There are enough people in the world who are going to write you off. You don't need to do that to yourself"
References