How did Zach Galifianakis lose weight?
Did Zach Galifianakis stopped drinking beer and lost weight?
How much weight will I lose if I quit drinking beer?
What's the Zach Galifianakis weight loss diet?
Will I lose weight if I give up alcohol like Zach?
Oh boy! I get these questions so many times, especially when I first published this article back in 2017.
So I decided to back to the drawing board and come up with a detailed article about Zach Galifianakis's weight loss and to let you in on his diet program plus other juicy details you wouldn't want to miss.
What springs to mind when Zach's name is mentioned?
The fact that he's a little bit chubby?
His infamous bushy beard?
Zach Galifianakis is an American actor, a stand-up comedian, and a writer.
He really started making headlines with his Comedy Central Presents special in 2001…
…then he also presented his own show which was called Late World with Zach on VH1 the following year.
He has starred in quite a few movies too, but one of his greatest claims to fame, too, has been his incredible weight loss journey – did you know that he lost over 50 lbs.!
You can do it too – let's follow his journey.
An introduction to Zachary Knight Galifianakis
Early days
Zach Galifianakis was born on the 1st October 1969 in Wilkesboro, North Carolina, in the Appalachian foothills, famous for its NASCAR track.
His mother was Mary Frances.
She is a community arts center owner.
His dad, Harry, is a salesman in a heating oil business, as well as being an ex-college football player.
Even though his mom had Scottish ancestry, his paternal grandparents were immigrants from Crete, Greece – Zach was baptized in his father's Greek Orthodox Church.
Zach's dad says "Zachy was a great little baby".
He further adds that he never cried a lot and only a few times did he ever get into trouble.
One time he said something inappropriate at school which made him end up in the principal's office.
All in all, Zach had an incredibly happy childhood.
He was also quiet and emotional – he was sensitive and things affected him.
He would one day want to be an architect and the next day he wanted to be a famous Wimbledon champ.
He has one younger sister, called Merritt, and an older brother called Greg.
He is the nephew of former U.S. Congressman Nick Galifianakis, who ran for the U.S. Senate against Jesse Helms in 1972.
Failing his final class at 'varsity changed his life…
His dad knew though, that Galifianakis would be an actor because at age four he pointed at the TV set and said "How do I get in there?"
Zach attended the Wilkes Central High School.
He just wanted to move straight to New York when he finished high school, days, but his parents persuaded him to try out 'varsity first.
He says he did end up going to university; the North Carolina State University, but it was a lonely time as he didn't have many friends.
He majored in communications. But he did not graduate from there.
He failed his final class by just one point and moved to New York to start taking acting classes.
Adult years…
In the late 90s, before his career got started, Zach went on a road trip with two friends to California from New York.
He still has the same car after 20 years.
Then in 1992, he moved to New York because he wanted to pursue standup comedy and perform in Times Square hamburger joints.
He probably got paid in hamburgers!
He went touring the country and performed at universities and in coffee shops.
His dreams started coming true because he began television acting work; he guest-starred in Boston Common.
He also tried to be a writer on Saturday Night Live, but unfortunately, that only lasted for 2 weeks.
He went on to co-star in the movie Out Cold, and got some small roles in Corky Romano, Below, Heartbreakers, Bubble Boy, Into the Wild, Little Fish Strange Pond, Super High Me, and Largo.
Not bad!
Then in September 2001, he appeared in one episode of Comedy Central Presents.
It included some stand-up routines and some other stuff and during this time, he made jokes.
In 2002, he hosted his own VH1 talk show – this was called Late World with Zach.
It featured a lot of his friends and regular performers from the LA comedy and music venue Largo.
He also appeared many times on Jimmy Kimmel Live! He also played Frisbee in a few episodes of Reno 911!
His big break was a movie
His real rise to fame though came 13 years later in the movie The Hangover.
He played a guy called Alan – an agent provocateur whose stag-night drink-spiking experiments set the movie's off-kilter plot in motion.
Galifianakis related well to his character's fish-out-of-water status which was a solitary geek among alpha males.
At that time, The Hangover was the highest-grossing R-rated comedy in US movie history.
Since his breakthrough performance in The Hangover, he got plenty of invitations for wedding parties.
There was always one request, though; that he comes dressed up as his 'Hangover' character, Alan.
His real love is stand-up comedy
Even though it's been the movies that have made Zach Galifianakis's name, it is ramshackle stand-up comedy that brings out the best in him.
He drifts from tightly written one-liners to more out-there digressions, with equal amounts of comedy and melancholy in them.
In early 2008, he started hosting his Emmy Award-winning talk show, Between Two Ferns.
On this show, he features celebrity guests and actually loves being rude to them – insults and barbs get traded here!
According to his official site, Zach says he enjoys red wine and tractors.
He spends much of his free off-time at his 70-acre home in North Carolina, near the Blue Ridge Parkway.
They grow blueberries, pumpkins, and grapes.
There, there is no cell service and no TV and their closest neighbor is a dairy farmer who calls Zach "Hollywood" and gives him manure.
It's this one place in the world where Zach can hang out and relax, and just pretend that nothing has changed.
He is married…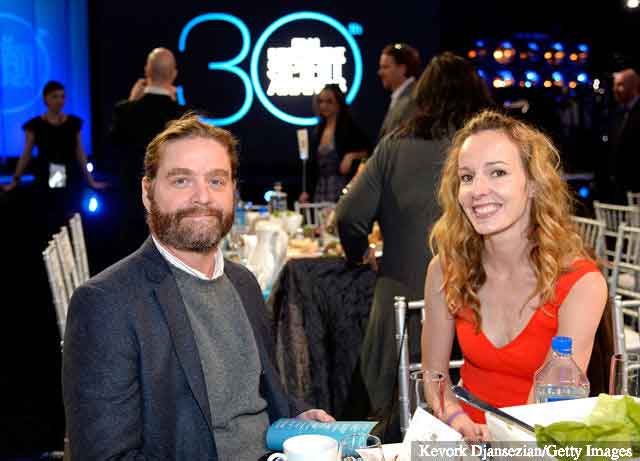 In August 2012, Galifianakis married Quinn Lundberg in a secret ceremony.
She is the co-founder of the Growing Voices charity.
They married at the UBC Farm in Vancouver, British Columbia.
Then on September 7th, 2013, he and his wife had their first child, a boy. Galifianakis missed the premiere of his film 'Are You Here to attend the birth' due to the birth of his son.
Since then, he has become a dad again, and he and his wife welcomed their second son together, a baby boy named Rufus Emmanuel Lundberg.
Just like his mom, he didn't take on the Galifiankis surname.
Apparently the name of Zach's older son, who was born in 2013, remains a secret.
Amazing generosity and friendship
Once, Galifianakis befriended an old octogenarian homeless woman.
She was living in a Santa Monica laundromat for around 18 years.
Zach Galifianakis was just a struggling actor in those days in Los Angeles, and at the laundromat…
…he met and made an unlikely friend in the old woman, now 87-year old Elizabeth "Mimi".
She survived off tips that customers would give her in those 18 years.
Galifianakis was also a customer there and after his huge success of "The Hangover"…
…he actually stopped visiting the laundromat, but continued to check in on his old friend "Mimi".
Later, when he heard that she had become homeless, he got her a one-bedroom apartment in Santa Monica and started paying for her utilities and rent.
Renee Zellweger, who is a friend of Galifianakis, helped Mimi decorate the apartment.
She also takes groceries to the old woman to make sure she has food.
Zach hasn't stopped there.
Apart from footing Mimi's bills, he will often take her to his film premieres.
He was seen escorting his old friend down the red carpet at the premiere of The Hangover III.
Mimi says she "dresses up nice and a friend helps me with my makeup.
It's fun, not something I've ever dreamed I'd experience. The limo takes me home afterward."
It has gone further too because Mimi has become very popular and the filmmaker…
…Yaniv Rokah is raising funds to make a documentary about this former laundromat tenant.
Zach Galifianakis lost over 50 pounds since his big break at the movies
At the Emmys, when Zach Galifianakis hit the red carpet, he was sporting a slim face.
Gone was the funny-fat-guy persona, and the ongoing transformation has been evident.
He says casually that the started walking a whole bunch and also gave up booze.
Since his weight loss, he says he can go up two flights of steps now and only needs his inhaler once!
Of course, fans absolutely adore his transformation.
Lots of people are asking is he still so funny after losing all the weight and the answer is yes. He has kept his humor as well as his signature beard!
Cosmopolitan Mag points out that Galifiankis was already dropping weight back in 2013.
A friend of his, Conan O'Brien, asked Zach to reveal the magic secret he had used to lose so much weight in an interview on Conan's show.
Zach revealed that cutting out the booze played a huge part in his weight loss.
He admitted that he had been drinking a lot of vodkas and drinking it down with sausage.
Yes, it was delicious he said, but it's bad for you.
Lots of other celebrities agree with this secret weight loss tip of dropping alcohol and other celebrities like Jonah Hill and Ed Sheeran share his sentiments.
Is dropping alcohol really that simple a secret recipe to weight loss?
Of course, it can help, there's no doubt about that!
After all, booze is loaded with plenty of empty calories—did you know that an average 12-ounce can pack in roughly 150 calories.
For instance, if you were to drink two beers a day, which is the recommended limit for men, that is going to be an extra 300 calories a day, or 2,100 calories a week— it's hard to believe that the equivalent of that is nearly a whole extra days' worth of eating!
Further, a lot of guys don't usually stick to the above limit either.
In reality, about 23% of adult men actually report that they binge-drink at least five times a month, and that's downing about eight drinks per binge!
That's according to the Centers for Disease Control and Prevention.
What about how booze affects your body beyond the calories?
Usually, where there is booze, there can often be a lot of junk food.
Sometimes you're at sports games, or out with buddies in a pub, which means you can be packing in even more from the junk food you're eating than what you are downing beer.
Research also suggests that booze can screw up your sleeping patterns as well, and this can be really bad news for your waistline.
Those people who only get around 3-5 hours of sleep a night can often eat an extra 385 calories the next day compared with those who put in around 7-12 hours of sleep.
That's not all. When you go heavy on the drink, it can play havoc with your metabolism.
That's because the body treats alcohol like a toxin.
It will work extra hard to get those toxins out of your system.
Then your body stops burning the stored carbs and devotes its resources to burning off the alcohol instead.
Naturally, if you only drink a couple of beers on special occasions…
…then cutting out alcohol won't have the same effect it would if you drank more often.
By limiting the amount of alcohol you drink is certainly an effective way to drop the pounds, particularly if you are starting a diet…
…it is a really simple way of stripping unnecessary calories.
And even if you don't want to cut out booze entirely, just whittling it down to one to two drinks per day max won't derail your progress completely, particularly if you are trying to make healthy eating choices.
Unfortunately, that won't always be the 100% way of sustaining your weight loss on its own, particularly if you hit a weight loss plateau.
Galifianakis admitted booze wasn't the only thing he eliminated from his diet
Galifianakis said that he tended not to eat food that was advertised on television.
He realized that fast food was something he shouldn't be doing if he wanted to lose weight.
He realized that he had to eat whole grains and healthy organic type foods.
And he realized to he had to cut out whipped cream pizzas!
Zach paired his diet changes with an intense workout program
Zach Galifianakis, the famous fat, funny man from The Hangover movie lost weight to the point that he was almost unrecognizable.
Apart from some diet and lifestyle changes, Zach also worked out.
First of all, he started out just by living a healthier life and cutting down on alcohol; eating healthier food to what he was traditionally used to doing…
…the thing is, he was getting literally sick and tired of always feeling sluggish and tired and having no energy.
He started off by consuming foods that would increase his energy levels and general health.
Naturally, it meant saying goodbye to pizzas and desserts, swapping them out for chicken, fresh fish, egg whites, veggies, and fruit.
Because Zach is always busy with traveling and his acting projects, he needed a workout plan that would help him quickly, something high-intensity so that he could see and achieve results while on the road.
Zach's workout plan
This is the workout schedule which saw Zach dropping over 50 pounds in just six months:
Monday:
Walk for 30 minutes on an incline treadmill at 3.0mph and a 10% incline and a moderate intensity. This machine, the elliptical machine, involved Zach's entire body and Zach would even watch TV or listen to audiobooks to keep his mind occupied at the same time.
Circuit – performing 4 sets 30 secs. each exercise. Then 60 secs. rest after doing the full circuit.
Kettlebell Goblet Squats
TRX Chest Press
TRX Rows
Barbell Military Press
Walking lunges
Tuesday:
Tuesdays would be another 30-minute cardio workout for Zach, and he would also perform a low-intensity incline treadmill workout as well.
Here, he would put the treadmill at an incline between 10.0-15.0 and then walk at a pace of about 4 mph.
It is an amazing fat-burning workout – the incline of the treadmill forces you to work the muscles in your legs that don't typically get trained during standard cardio sessions.
Wednesday:
Wednesdays, Zach would get caught up on work and focus on his acting projects so usually he would take the entire day off.
On this day, he would ensure that he ate very healthily, keeping his carbs as low as possible.
Thursday:
Thursdays were Zach's favorite workout day of the week.
He would often ride his bike outside if the weather permitted.
He said that riding his bike was his favorite form of cardio during his weight loss transformation, just because it reminded him of his childhood!
Cardio exercises can really be fun so it's a good idea to find activities you really enjoy doing than to torture yourself with doing stuff you don't enjoy.
It helps you to stay on track.
Friday:
On Fridays, Zach incorporated more cardio into his routine.
He would go for a 20-minute jog outside, plus he would also do 15-minute abdominal workouts.
He reckoned that if he worked on his abs before the weekend he would be less likely to indulge in cheesecake and beer!
Weekends:
On weekends, Zach didn't follow any workout plan.
Instead, he would make sure that he spent time outside, being active as much as possible.
He would ride his bike or just get out and enjoy nature – sometimes he would play tennis outside with friends.
He loves tennis!
He said of tennis that the biggest bit of advice he can give to anyone trying to lose weight is to do the sports and exercises that you really enjoy doing.
He advised that you shouldn't read articles about all the latest science, fads, and fancies and what will burn away your fat – rather just stay active doing the things you love doing!
Sterling advice, Zach!
Zach's biggest piece of advice
It is no secret that Zach has never been a workout junkie.
So stepping up his workout routine in an effort to speed up weight loss was initially a struggle for Zach Galifianakis.
You need to be consistent if you want to see results.
Exercise and the gym don't need to be painful – just find some types of exercise that you like and focus on eating healthy and staying active to achieve results.
A healthy lifestyle change must be incorporated permanently into your life rather than binging on exercise for short periods of time…
…only to go back to the same mistakes you made before and which made you put on weight in the first place.
Apart from his workouts and his diet, check out other things Zach did to speed up his weight loss
1) Good Foods
He ensured he ate better foods to increase his energy levels and overall health.
It meant he had to cut out all his favorite junk foods, swapping them fresh fish, egg whites, delicious fruits and veggies, and lots of green tea!
2) Garcinia Cambogia
He consumed a big fat blaster and natural metabolism supplement called Garcinia Cambogia every day after breakfast.
This gave him the energy he needed to do his workouts at maximum intensity.
3) He Sought Help
He got help from a top Hollywood trainer who worked out a workout strategy for Zach which would be conducive to Zach's lifestyle.
Zach didn't have a whole lot of experience with fitness and weight training.
So it was this trainer who came up with an excellent workout plan that would allow Zach to lose the maximum amount of weight without exhausting or injuring him…
….so that he wouldn't be able to focus on his acting work as well as something that would serve him whilst travel.
If dieters lose weight by restricting their calories, they're going to have a tough time keeping the weight off – that is unless they restrict or eliminate foods that cause leptin resistance.
To get rid of fat for good, follow these excellent and important tips.
1) Curb the carbs
That's because carbs cause blood triglycerides, which is fat, to increase.
Carbs that you eat which aren't needed for energy get stored in the fat cells. Low carb diets encourage fat loss.
They are high in protein and fat and therefore reduce hunger.
Ditch all the carb-rich pasta, muffins, bagels, and bread and rather get your energy from fiber-rich veggies, oats, quinoa, and tubers like sweet potatoes and yams.
2) Feed on more fish
Fish and seafood are very rich in ultra-healthy omega-3 fats and excellent at dealing with inflammation in the body.
3) Push away processed food
Processed foods usually have added sugar, salt, fat, and flavoring – specifically designed by manufacturers to give you irresistible flavors.
Cheap corn and soybean oils are used plentiful in processed foods and fast foods, and they are rich in omega-6 fats and low in omega-3s fats.
That's what promotes inflammation in the body.
4) Say no to sugar
Life might seem total not worth living if there is not some sweetness in it, but you probably don't even know just how much sugar is in everything.
You might be astounded.
Sugar triggers the pleasure centers of the brain; making it like a drug where it can become addictive.
You might be asking what about the sweet fructose in fruit?
Fruits are rich in vitamins, minerals, and antioxidants, but they do contain sugars that could slow down your fat-loss efforts.
Some fruits are 'better' than others when you are trying to lose weight so drop starchy bananas and the sweet tropical fruits and choose citrus and berries.
5) Way less wheat
Basically, if your gut functions well, you can expect good health.
And gluten irritates the gut lining, causing holes and tears and resulting in leaky gut syndrome.
You might think you handle wheat well, but try eliminating it from your diet for a few weeks and see how you feel.
6) Move away from milk
Milk doesn't raise our blood sugar that much…
…but it can raise your insulin levels higher than most carbs and that's why it's very popular as a post-workout recovery drink.
If you want to put on mass, milk might work, but not if you want to lose fat.
7) Soak up some sun
Vitamin D plays an important role in the immune system.
When you don't spend sufficient enough time outdoors or eating foods with plenty of Vitamin-D in them, you negatively affect your body's ability to fight inflammation.
8) Play and be Physical
Exercise is a very effective way to prevent weight gain because it maintains leptin sensitivity.
When you are inactive, you increase your body fat ratio over time.
It is true that losing weight is much more than simply just eating less and exercising more.
The metabolic response to your overall eating pattern will also greatly determine your efforts to lose weight.
When you maintain a healthy gut, you prevent inflammation from building up in your body.
Getting plenty of sun is also important in maintaining leptin sensitivity.
Some fans were a bit disappointed Zach lost so much weight cos now he was no longer the fat funny guy
Even though fans do love Zach either fat or thin…
…Galifianakis hinted that the hard-partying lifestyle that had led to his big weight gain in the first place was certainly not a healthy lifestyle.
And he dropped his 50-60 pounds very fast!
This sudden and dramatic weight loss caused many to wonder if he might not have had secret bariatric weight loss surgery.
When he was asked about this on Conan in 2016, Galifianakis joked that he had actually had "a lot of plastic surgery."
Was the comedian just making another joke, or was he serious?
It is possible that Zach Galifianakis did have weight loss surgery.
However, he does credit his first major weight loss as drastically cutting down his alcohol intake.
In quite a few interviews, he often hinted that drinking had become problematic to him, not only health-wise but also as far as his personal life was concerned.
It might just have been that the comedian was turning over a healthy, new leaf before the birth of his first child.
"You know you have a drinking problem when the bartender knows your name — and you've never been to that bar before"
With or without the help of weight loss surgery, or just giving up booze, Zach Galifianakis's simple weight loss plan has been an inspiration to many hoping to lose some weight and drop a few pounds.
Just with the simple method of cutting down on alcohol and exercising more, Galifianakis not only lost weight but started a whole new lifestyle approach.
These days he doesn't say "I'm Greek. My body produces feta cheese" anymore.
Now he says "You know you're getting fat when your socks don't fit".
References: