As you probably know, there are many pre-workout supplements on the market; however, not all pre-workouts are the same.
There are those that are said to be a cut above the rest and one of those brands is the Cellucor C4 Pre-Workout.
In fact, it is all the rave right now.
If you do a quick google search, we're pretty sure you will find quite a few written and audio-visual reviews on this pre-workout, claiming it to be one of the best pre-workout supplements available today.
So, in this post, we will take a deep dive into the world of the C4 Pre-Workout supplement to better understand its value and help you determine if it's worth the hype.
Our Recommendation
After extensive research, we believe Crazy Nutrition INTENSIVE Pre-Train is the best pre-workout on the market.
Here's why:
INTENSIVE Pre-Train is 10x More Effective than other pre-workouts
Gives you explosive energy without stomach upsets or jitters
Trusted & approved by professional athletes worldwide
60-day money-back guarantee if you don't like it
So make sure to check it out. It might just be the best money you'll spend in 2022.
C4 Pre-Workout Powder: All You Need to Know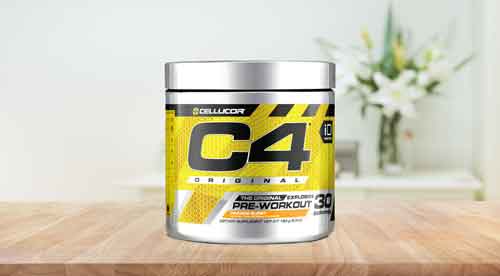 What is the Cellucor C4 Pre-Workout Powder?
The Cellucor C4 Pre-workout supplement is a powder energy-boosting formulation that is purposefully designed to enhance your physical performance so that you are more likely to meet those personal or professional exercises, training, and fitness goals.
Further, this pre-workout is meant to be had within a half an hour window before you begin your workout regimen and it can be mixed into your drinks.
The Cellucor C4 Pre-workout supplement is manufactured by Nutribolt, a nutritional science company in the U.S.
The company's aim is to supply a pre-workout supplement that is formulated with a super creatine compound to support strength and performance.
Whether you are just starting your fitness journey or you are striving for a new goal, C4 is meant to help unlock your full potential by helping you develop lean muscle mass through increased strength and endurance.
Additionally, the C4 Pre-workout for women and men is formulated to assist with increasing your rep count, as it is made with CarnoSyn Beta-Alanine, which is a premium clinically-studied beta-alanine.
The company details that this particular component has been proven to support muscular endurance and fight fatigue and may cause a harmless tingling sensation.
Who is not Recommended to Use Cellucor C4 Pre-workout Supplement?
The Cellucor C4 Pre-workout supplement may be quite beneficial; however, as is the case with many products, there are certain people who should not consume the pre-workout and it could be for a number of reasons.
Here is a list of persons who ought to avoid using the Cellucor C4 Pre-workout, unless otherwise directed by their medical doctor:
anyone under 18 years old
anyone taking nitrates for chest pain
anyone taking any other supplement or prescription drug
this product is meant for healthy adults, so anyone with an underlying medical condition, especially the ones that affect the heart should avoid it
anyone taking other caffeine stimulants
anyone with caffeine intolerance
pregnant and breastfeeding women
stop using this pre-workout if you have surgery scheduled for the next two weeks
Read the label carefully for other possible usage warnings before purchasing or using the product.
The Cons of Cellucor C4 Pre-workout
As expected, this product is also not without a few flaws.
While looking around from our experience, there are a few things that stood out to us as possible dealbreakers.
1) Taste
We can't say that all the C4 pre-workout flavors taste great, as some of them have an acquired taste and as we have seen from some reviews on Amazon, customers often wonder if the flavors have changed and what is different about their tastes.
2) Artificial sweetener
The company uses Sucralose in the formulation of its pre-workout supplement.
Sucralose is an artificial sweetener, and as such detracts from the product's health value.
3) Product hardening
There are a few complaints being made that this pre-workout brand tends to get clumpy but this typically occurs with a lot of products, as they attract moisture from the air and container at room temperature.
The issue is that when it gets hard, it is quite difficult to use the product, as it is near impossible to get an accurate measurement for the chunks that some manage to dig out.
4) Proprietary blend
This product contains a proprietary blend (explosive energy blend), which means that though the company lists the ingredients that are found in the pre-workout, components like velvet bean seed extract, theacrine, and N-Acetyl- L-Tyrosine, their quantities are not specified.
5) Jittery feeling
After using this pre-workout, you may experience a jittery feeling, which can be attributed to the beta-alanine in the product.
We can't really single the company out for this though, as all the pre-workouts with beta-alanine can induce this adverse reaction.
6) Artificial flavors
This is not something we really like, as it again reduces the health value of the product and can add certain elements to your diet that you need to avoid.
Cellucor C4 Pre-workout Reviews from Customers
My workout performance was significantly improved…

There are over six thousand reviews on Amazon for this product and 90 percent of these reviews seem to express this same sentiment as John.
Though starting the product may need some amount of adjustment to its effects, and for some; its taste, if you stick it out, you most definitely will reap sweet rewards, such as improved blood flow, reduced muscle fatigue, and other positive results.
Like John, if you begin to use C4, try cycling on and off every couple of weeks to prevent caffeine dependency while you still get help to increase endurance and put you in the best shape.
The C4 lasts the entire duration of my workout…

As you can see, one of the recurring topics is the tingling sensation associated with using the product; however, it is harmless and will dissipate with the other effects of the pre-workout.
Plus, the beta-alanine is just working to reduce the effects that result from lactic acid buildup.
We also saw where many people like Nicki were struggling to keep up with their workout schedules and dues to the product's proprietary blends, they made a massive improvement.
This can be linked to the fact that its caffeine delivers explosive energy to help build lean muscle mass by promoting protein synthesis and providing your energy production with a great boost.
This is a great pre-workout!

Options, options, options, and the customers love that.
The Cellucor C4 Pre-workout comes in eight flavors. That means, like Angels1031, you can try as many as you want until you find the one you like.
Additionally, if you are new to the fitness world, this seems to be a good product to start your fitness journey with, as it is easy to adapt to.
Pros of Cellucor C4 Pre-workout
There is just so much to love about this product, but here we will highlight the features that stood out the most to us.
1) Taste
While some may complain about the taste, there are others who believe that Cellucor C4 Pre-workout tastes great.
With its wide range of flavors, we can understand why there is such variation in opinions.
2) Multiple Flavors
There are eight Cellucor C4 original Pre-workout sugar-free flavors to choose from, including Cherry Limeade, Fruit Punch, Icy Blue Razz, Orange Burst, Strawberry Margarita, Juicy Candy Burst, Watermelon, and Pink Lemonade.
3) High nutritive value
Cellucor C4 Pre-workout is fortified with vitamin C; an essential vitamin, folic acid, B vitamins, amino acid, creatine nitrate, and beta-alanine, and 1 gram of arginine alpha-ketoglutarate. Arginine alpha-ketoglutarate increases nitric oxide production.
Nitric acid is linked to improved blood flow and muscle pumps.
5) Increases performance energy
The C4 Original Pre-workout contains 150mg of caffeine, which delivers explosive energy that is ideal for mild to intermediate stimulant levels and is fueled by classic energy, endurance, pumps, and performance.
6) Industry veteran
This company and product are well-known and trusted and the supplement is backed by 20 years of sports nutrition expertise and an innovative selection of supplements.
7) Zero calories and sugar
This C4 pre-workout is made with zero sugar and calories as well, and as such, is a much healthier option compared to many other pre-workout supplements.
8) Multiple sizes
Cellucor C4 Pre-workout is available in two sizes; one has 30 servings and the other has 60 servings.
What we love about this is that for someone who is starting out and wants to get a feel of what pre-workouts are all about, they can try the smaller quantity while those who know what they want, can purchase the larger size.
How To Use Cellucor C4 Pre-workout
To use this supplement correctly, add one scoop of the powder, which is 6.5g to 150-200ml (4-6 fl. oz.) of water.
It is best to take this supplement at least thirty minutes before your workout.
For persons who have been using the product for some time, the company states that once tolerance has been assessed and they are looking for an additional boost of energy, take 1 additional serving (1 scoop) with the serving taken before training.
However, at no point should you exceed 2 scoops per day.
Do not exceed the recommended daily dose, as this can cause you to consume an excess amount of beta-alanine, caffeine anhydrous, and the other contents of the explosive energy blend, such as velvet bean and creatine nitrate.
Overconsumption can lead to unwanted effects like prolonged tingling
What to Watch out For
The best place to buy this supplement is from the company's Amazon store because you can get great customer support, discounts, and coupons.
Also, Amazon will deliver products right to your door, so no need to worry about shipping.
Remember that it is important to consider your medical or health status before using Cellucor C4 Pre-workout.
It is essential that you continue to eat a healthy diet, as this supplement is not meant to replace your meals.
You will still need to get vital nutrients from various food groups.
Immediately discontinue use if you begin having serious side effects or feel as though you are developing a dependency on the product.
Conclusion
Cellucor C4 Pre-workout is dubbed as one of the best pre-workout supplements on the market with much scientific evidence supporting the benefits of its ingredients.
The brand offers eight flavors, so you certainly have plenty of choices and it is great for fat loss and muscle gain, especially with the proper portion size use.
After looking over the thousands of reviews, we understand why there is such a rave about the product.
Our final verdict is that Cellucor C4 Pre-workout is a great product that can work efficiently to help you with your fitness goals.
However, you must follow the usage guidelines and speak with a health care professional before using this supplement.
If you are a professional, a newcomer, or an expert fitness fanatic, we believe Cellucor C4 Pre-workout may be ideal for you.
Frequently Asked Questions (FAQs)
Why do I feel jittery after using the pre-workout?
This is due to the beta-alanine in the product and will resolve with the other effects.
Can the clumps dissolve?
Yes, the clumps can be mixed out.
Is C4 Pre-workout legal?
Yes, Cellucor C4 Pre-workout is legal. To be sure, you can contact your relevant regulations office.
Can you take 2 scoops instead of 1?
This is not recommended for those just starting the product. Once tolerance has been assessed & you are looking for an additional boost of energy, take 1 additional serving (1 scoop) with the serving taken before training.
Is this pre-workout kosher?
No, the C4 Original Pre-Workout Powder is not kosher.
Can I give this to my footballer son?
C4 Pre-Workout is not recommended for anyone under 18 years old. So, do not give it to him without speaking to his pediatrician.
Does the company ship overseas?
Unfortunately, they do not ship overseas from their US facility.