Being physically fit and healthy is something many people try to achieve.
Maybe you want to feel better about yourself and b confident with your physique.
The reason can also be for your health to remove the risk of acquiring lifestyle diseases as you age, whereas others work out because it is their profession.
Athletes, fitness instructors, and bodybuilders need all the support to optimize their workout performance and goals.
There are numerous workout supplements you can find on the market, but what if a brand exists that promises to provide support for everyone?
However, the best workout supplements should be formulated with natural ingredients and have high bioavailability and efficacy.
Crazy Nutrition claims that its products cater to people trying to be fit or athletes and bodybuilders who want to enhance muscle growth naturally.
The Crazy Nutrition brand has four best-selling products for all your training and workout sessions. Each supplement is formulated for your specific needs.
This review will look into the ingredients and benefits of Crazy Nutrition supplements if this brand's products are worth it or not.
What is Crazy Nutrition?
Crazy Nutrition is a nutritional supplement company that creates products that support athletes and bodybuilders reach their fitness goals.
Workout supplements are designed to provide you with nutrition to promote muscle growth and increase energy levels during strenuous exercise.
Crazy nutrition products are made for varying purposes. It manufactures nutritional supplements that serve ordinary individuals and athletes.
They claim that whatever your fitness goals, their products can help you achieve them.
Crazy Nutrition benefits are:
Weight management
Promote muscle growth
Improve focus
Increase energy levels
All-natural ingredients
Low carbohydrate formula
Crazy Nutrition aims to target all your fitness dilemmas.
With their Tri-Protein formula, you can feel satiated and energized. It is a natural fat-burner with proper nutrition for your metabolism.
Their creatine and pre-workout formulas are created to boost energy levels, focus, drive, and workout performance.
Crazy Nutrition focuses on providing for everyone's needs.
Whether you're trying to lose excess weight or improve muscle growth, a Crazy Nutrition supplement is crafted for you.
Wolfson Brands UK limited is the parent company of Crazy Nutrition supplements.
Their goal is to provide natural ingredients with optimal efficacy and dosage for muscle building.
This nutritional supplement brand and Wolfson Brands UK limited are based in Glasgow.
Their brand focuses on four quality formulas with clear goals and purposes.
Crazy Nutrition's supplements are designed for all types of athletes.
If you do extensive workouts at the gym, resistance training, outdoor sports, or even CrossFit, Crazy Nutrition can support your muscles and optimize your activities.
4 Best Selling Crazy Nutrition Supplements
1) Intensive Pre-Train
It is a pre-workout supplement that promises to:
Boosts energy levels without the crash
Enhance focus
Support muscle strength
Improve workout performance
Promote drive
Have fast absorption
One tub of intensive pre-train powder contains 20 servings. With its vegetarian formula, this pre-workout formula has 19 natural ingredients.
The main ingredients in Intensive Pre-Train are made for athletes to reach their peak performance without digestive issues.
Crazy Nutrition's Intensive Pre-Train can be found in three flavors: blue raspberry flavor, green apple (caffeine-free), and fruit punch.
Intensive Pre-Train is taken daily with one scoop of the powder in 16 oz of water.
You can take pre-workout supplements thirty minutes before your session or when you need the energy and drive.
Pre-workout supplements are best for athletes who require hours of intensive training.
Crazy Nutrition improves endurance and performance levels while only containing natural and legal compounds.
The ingredients found in Intensive Pre-Train include:
Citrulline malate
Beta-alanine
Betaine anhydrous
En-Xtra
Bioperine (black pepper extract)
Ashwagandha
Other amino acids
A multi-ingredient pre-workout dietary supplement such as Intensive Pre-Train has gained popularity in the past years.
They are taken before exercise to elicit a synergistic effect on your physical performance during a workout or training session.
Therefore, Intensive Pre-Train ensures that its ingredients are all legal and can be used by athletes for their benefit.
2) 100% Tri-Protein
It is a protein powder with optimal absorption and protein synthesis. Your body can absorb this formula in three phases.
The way 100% Tri Protein supplements are made ensures better muscle growth and satiation than other ordinary protein powders.
100% Tri-Protein powder is a combination of six types of proteins to maximize absorption at different intervals.
This protein powder helps you build muscle, feel satiated, burn fat, and increase energy levels without the side effects.
Its natural formula provides you to reach your fitness goals without stomach cramps, starvation, and crash.
100% Tri-Protein ingredients are:
Whey protein isolate
Whey Protein concentrate
Micellar casein
Milk protein concentrate
Whey protein hydrolysate
Calcium caseinate
DigeZyme (Digestive enzymes)
Moreover, Crazy Nutrition uses sucralose as a sweetener for its protein powder. Crazy Nutrition protein powder uses a milk-based protein source.
Whey protein provides complete essential amino acids that are needed for building muscle. It is also used for controlling weight when combined with exercise.
The different types of absorption rates of 100% Tri-Protein ingredients have been investigated to prolong muscle protein synthesis response compared to one type of protein source.
Different whey protein fractions have also been studied in response to insulin for diabetic patients.
3) Ultimate CRN-5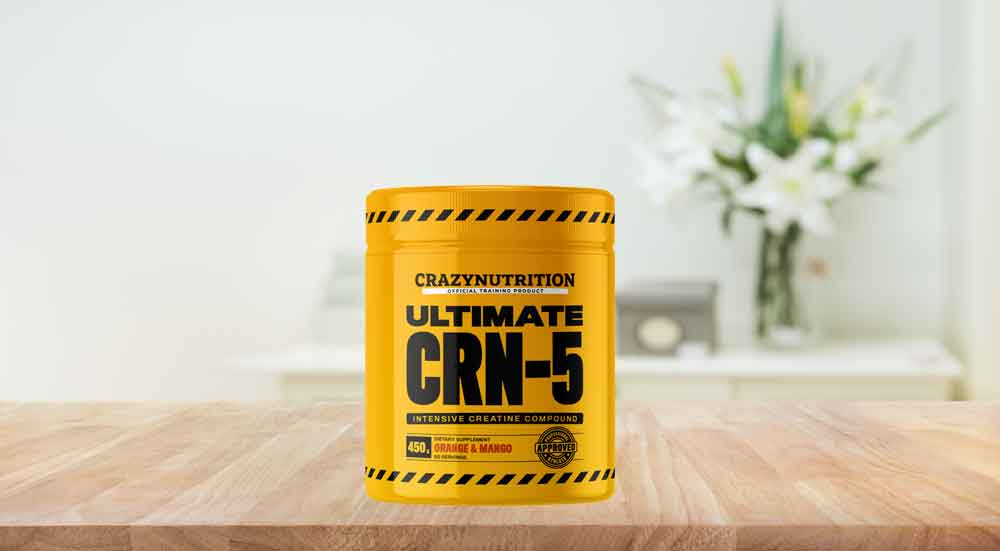 Ultimate CRN-5 is created with five types of creatine.
Unlike your usual creatine supplement, Crazy Nutrition's supplement optimizes the absorption of ingredients by providing proper dosages or different sources for its main ingredient.
Ultimate CRN 5 can improve absorption and muscle recovery better than a regular creatine monohydrate supplement.
All the benefits this creatine supplement includes are:
Boost energy
Improve physical performance
Promote muscle recovery and growth
Maintain hydration
Fast absorption of creatine
Ultimate CRN-5 is caffeine-free, vegetarian-friendly, and contains electrolytes.
The five types of creatine found in this Crazy Nutrition product include:
Creatine monohydrate
Creatine hydrochloride
Creatine ethyl ester
Tri-creatine malate
Creatine citrate pyruvate
The electrolytes added in Ultimate CRN-5 are sodium, potassium, magnesium, and calcium.
Creatine has been long researched for its benefits in sports nutrition and supplement. It increases strength, fat-free mass, and muscle growth when accompanied by heavy resistance training.
4) Mass Gainer
This supplement is their latest release which focuses on muscle building. It helps you increase your absorption of carbohydrates without causing a spike in your blood sugar.
Mass Gainer fuels your body without the crash. It is a bulking supplement with a ratio of 2:1 carbohydrate to protein.
Crazy Nutrition benefits for Mass Gainer include:
Pack on muscle
Promote muscle growth
Boost energy levels
Support muscle recovery
Meal replacement
The carbohydrates found in this Crazy Nutrition product are low in glycemic index. This type of carbohydrate has a lower risk of causing blood sugar spikes, gas or bloating.
It contains 100 grams of carbohydrates and 50 grams of protein powder.
The ingredients in this supplement are:
Carb10
Astragin
Senactin
DigeZyme enzyme complex
Creatine monohydrate
Flaxseed powder
Sweet potato flour
Whey protein blend
Gluten-free oat flour
Crazy Nutrition describes it to be crafted with clean carbs and natural nutrition without the fillers.
It provides you with the benefits you need to gain lean muscle mass without the side effects.
Who Crazy Nutrition Is Not For
1) Anyone under 18 years old
Muscle-building supplements are not appropriate for children or anyone younger than 18.
Crazy Nutrition's supplements are created for adults who need high nutrients to fuel their intensive workouts.
They are not tested for children and may cause problems such as digestive issues.
2) People with preexisting conditions
Anyone with a compromised immune system or health should not be doing strenuous activities that may worsen their condition.
If you have an existing medical condition or taking prescription medicines, inform your doctor before taking any Crazy Nutrition supplements.
Before you decide to lose weight or build muscle, notify your doctor and ask if you can tolerate the strain it can impact on your body.
3) Unrealistic Expectations
Like with any supplements, it takes some commitment and patience accompanied by a healthy lifestyle for you to see significant changes.
You will not experience increased physical performance, weight loss, or muscle growth in just a few days, especially without a workout routine.
Crazy Nutrition encourages its consumers to work out more than once a week.
Their brand promotes their products as nutritional supplements that will support your workout goals.
It is mainly targeted at athletes who have an active lifestyle.
The Cons
1) The flavors of the supplements may not be pleasant for some
Some reviews did not like the flavors they chose.
However, Crazy Nutrition provides multiple flavors for most of its supplements.
You can try other flavors or mix your supplement with other shakes or beverages that could mask its taste.
Since taste is dependent on each individual's preference, you will only find out if you like its taste or can tolerate it once you receive your order.
However, you can get a refund on your purchase if you're not satisfied with its taste.
2) Efficacy is highly dependent on the individual
Without a proper workout routine and healthy diet, you won't experience the benefits of Crazy Nutrition supplements.
The company recommends that its consumers work out more than once a week.
The effects of Crazy Nutrition, such as boosting energy levels, focus, drive, and stamina, can be quickly experienced when you take them before or after your workout.
However, long-term goals such as weight loss and muscle growth are dependent on your habits, lifestyle, genes, and how your body reacts to the supplement.
Crazy Nutrition Reviews from Customers
You will find reviews on Crazy Nutrition supplements on their official website from athletes and regular people trying to stay fit.
Crazy Nutrition Reviews from its official website
"I've tried a lot of pre-workouts and so many of them taste like chemicals with this chalk mudslide at the end. Crazy Nutrition's pre-train mixes great and tastes like blue raspberry candy. Gives smooth energy without the crash. I'll even drink it to stay awake at work if I need to."
I'm 50 and this protein formula works "If you can't get your protein from food, Crazy Nutrition's TRI-PROTEIN shake is the perfect protein supplement. I'm 50 years old and I normally can't do dairy. But this formula has the digestive enzyme that stops me from bloating. I drink this for lunch and it keeps me going until dinner."
I use this to recover "I'm bending over and lifting heavy boxes all day. I was using creatine to help with the fatigue and help me recover from muscle soreness. I wanted something stronger that lasted longer than the cheap creatine formulas you find at the store. Found this CRN-5 online on a list of the best new creatine formulas to try and I started a subscription. This is my new favorite. It does way more than just a normal creatine. I feel stronger while at work and I feel like my soreness is way down."
Many Crazy Nutrition reviews praised the ingredients of the supplements. A lot of consumers experienced the benefits the products claimed.
Every formulation is manufactured with optimal dosages and professionally combined ingredients.
The price of Crazy Nutrition supplements is fair and gives the consumers their money's worth.
Nevertheless, there are still Crazy Nutrition reviews that criticize some of the flavors of the company's supplements.
Overall, what is crucial is its efficacy. A majority of the reviews say that Crazy Nutrition is worth trying.
The Pros
1) High-quality Ingredients and formulation
Every formulation of Crazy Nutrition is made with multiple sources of its main ingredients to deliver optimal effect and absorption.
Tri-Protein is made with six different types of protein sources. Other protein powders contain only one kind of protein source.
Some people purchase several protein powders, but with Crazy Nutrition 100% Tri-Protein, you get all the benefits of 6 different protein sources.
Similarly, Ultimate CRN-5 contains five different types of creatine.
Crazy Nutrition also adds ingredients that support the absorption of their formulation. Bioperine or black pepper extract enhances the absorption of a supplement.
Electrolytes and clean sources of ingredients are chosen to avoid digestive issues and other side effects.
2) The frequency of orders depends on your workout sessions
Crazy Nutrition will determine the amount and frequency of your orders depending on how many times a week you workout.
The company does not exploit consumers to buy too much of what they need.
Instead, they encourage people to work out more than once a week before selecting a subscription to Crazy Nutrition products.
The bran
3) 60-day 100% money-back guarantee
Crazy Nutrition features a 60-day money-back guarantee for consumers who are unsatisfied with their purchase.
You can try Crazy Nutrition risk-free with a full refund, excluding shipping charges.
4) Fair price point
Crazy Nutrition provides you with your money's worth compared to many supplements.
Each supplement contains high dosages of the main ingredients.
5) Free magazine subscription
You will receive a free lifetime subscription to Muscle & Health magazine for any purchase you make at Crazy Nutrition.
The magazine includes interviews with celebrities about their secrets to staying fit and healthy.
Every issue will give you tips and information relating to health and exercise.
Insider Info
Crazy Nutrition products are specifically made for people with an active lifestyle.
The company targets athletes, bodybuilders, and gym buffs.
If you are incapable of working out more than once a week or live a sedentary lifestyle, you may not find the benefits that Crazy Nutrition features in their products.
Buying Guide
Crazy Nutrition supplements are only available on their official website. You can choose a one-time purchase or subscribe for regular delivery.
They will determine the frequency of delivery for your chosen Crazy Nutrition product which is based on your workout routine.
You can choose between two, three, four, five, six or every day.
If you order Crazy Nutrition products above $50, you get free shipping for your orders with a subscription.
Moreover, if you subscribe to Crazy Nutrition, you get 20% savings.
Crazy Nutrition offers a 60-day money-back guarantee for any of your purchases.
Hence, if you are not satisfied with the effects of the Crazy Nutrition product you chose, you can get a full refund without questions.
The Verdict
Crazy Nutrition is a nutritional supplement that supports your fitness goals. Its four best-selling products cater to many individuals.
Intensive Pre-Train, 100% Tri-Protein, Ultimate CRN-5, and Mass Gainer are well formulated with high-quality ingredients and dosages.
Crazy Nutrition mainly targets active individuals and athletes who need support in their intensive training and workouts.
The amount of each supplement you take will depend on your physical exertion.
Therefore you should commit to your fitness journey to achieve your set goals.
Every nutritional supplement is only made to assist you on your chosen path. Without determination and ambition, there is no outstanding outcome.
Crazy Nutrition promotes an active lifestyle for people who want to lose excess weight and build muscle.
Frequently Asked Questions Crazy Nutrition (FAQs)
How should I take Crazy Nutrition supplements?
Add one scoop of your Crazy Nutrition supplement to 16 oz of water and mix well. You can also combine the powder with other beverages or shakes.
Which of Crazy Nutrition's supplements should I get for lean muscle mass?
Ultimate CRN-5 help with building lean muscle mass, and its electrolytes hydrate your body. Similarly, 100% Tri-Protein powder promotes lean muscle mass growth and building. Lastly, Mass Gainer by Crazy Nutrition is focused on bulking up muscle fast without the crash.
Does 100% Tri-Protein contain whey protein?
100% Tri-Protein powder is sourced from whey protein and is milk-based. Crazy Nutrition Tri-Protein provides you with complete essential amino acids.
What flavors are available for Crazy Nutrition's supplements?
For Intensive Pre-Train, the flavors available are blue raspberry, green apple, and fruit punch. Tri-Protein is also available in three flavors: chocolate, vanilla, and salted caramel. Ultimate CRN-5 currently features orange mango flavor, while Mass Gainer is available in vanilla and chocolate flavor.
Which supplement should I take before a workout?
Crazy Nutrition recommends taking Intensive Pre-Train as your pre-workout supplement. It helps you boost energy, stamina, and drive to complete your workout session with optimal output.
How long does it take before I experience its effects?
Effects such as boosting energy, stamina, drive, and satiation can be noticed when taking the supplement. However, other benefits associated with your body goals will vary for every person. Depending on your lifestyle, workout sessions, and genes, it may take one to two months before you notice any changes in your form.
What are the types of proteins in 100% Tri-Protein?
It contains six different types of proteins, including:
Whey protein isolate
Whey protein concentrate
Micellar Casein
Milk protein concentrate
Calcium caseinate
Whey protein hydrolysate
What are the types of creatine in Ultimate CRN-5?
It contains five types of creatine, including:
Creatine monohydrate
Creatine hydrochloride
Creatine ethyl ester
Creatine pyruvate
Tri-creatine malate