Wellness Warriors in general had a number of collective "wins" we can celebrate.
Here are just some of the many victories:
1. We Banned Microbeads
You may have missed this one during this holiday season, but on December 28 President Obama signed the historic Microbead-Free Waters Act (H.R. 1321) banning all plastic microbeads from personal care products.
This is a big victory for environmental and human health, because not only do these tiny beads pollute our waterways, they also make their way into our bloodstream through contaminated seafood.
The bill encountered very little opposition in Congress according to John Schwartz of the NY Times.
Blake Kopcho, the oceans campaigner with the Center for Biological Diversity, shared their positive take on the act
Our oceans are inundated with microplastics that threaten seabirds, turtles and other marine wildlife. Now we can stop adding to the trillions of pieces already out there. This will eliminate a pointless and harmful source of plastic pollution before it ever has a chance to reach the oceans."
PHOTO: Tiny plastic microbeads can absorb harmful chemicals like PCBs and DDT, which then make their way into the food web.
Photo courtesy Alliance for the Great Lakes.
---
2. We Stalled the DARK ACT
The resurgence of a GMO-friendly bill disguised as a GMO labeling bill (H.R. 1599, known as the Deny Americans the Right to Know, or DARK Act, by opponents) gained our attention a few times this year, especially when it passed in the House and looked like it could charge through the Senate.
According to Willy Blackmore of Take Part, the DARK Act did not make it on as a rider to the omnibus spending bill recently passed in Congress. Though the bill is not dead yet, it seems like its legs are shaky.
PHOTO: Environmental groups fear that the new GM wheat could damage eco-systems and might affect humans. Originally published on DailyMall.co.uk
---
3. We Heroically Halted a Harmful Herbicide
Last year, Wellness Warrior joined many other watchdog organizations in helping rally support to stop the EPA approval of Enlist Duo, a toxic herbicide created by Dow Chemical.
A combination of glyphosate and 2,4-D, two known carcinogens, this herbicide may threaten public health and the environment and would usher in a new line of GMO crops that perpetuate the "superweed" phenomenon already challenging farmers across our country.
Luckily, the EPA recently reversed its approval of Enlist Duo and extended the review period for determining its harmfulness. Public comment helped inform the EPA's decision.
Read more about it in our recent article "A Wonderful (but perhaps temporary) Win for Safer, Healthier Farming."
PHOTO: GMO soybeans via Flickr
---
4. Wellness Bills in Congress
Some exciting wellness-oriented bills hit the floor of the Senate and House this year.
Here're five of our favorites.
Farm to School Act
Food Waste Act
ENRICH Act
Wellness Warrior launched letter-writing campaigns in 2015 to support both the ENRICH Act and the SWEET Act.
They're still active.
Click the links above to write your House Reps and urge them to support these important bills.
PHOTO: Rep. Tim Ryan, Mark Hyman, M.D., Jim Hagberg, Ph.D., and Lisel Loy, J.D. ENRICH Briefing via Physicians Committee for Responsibility www.pcrm.org
---
5. Local Wellness Legislation
While national legislation makes for great news, there are perhaps even bigger strides being made at the local and regional levels.
This year we found two nice examples of what can be achieved by large cities when hard-working people work to pass public health legislation that increases consumer education and awareness:
Soda Warning Labels:
In June, San Francisco passed a law that will require warning labels on advertisements for sugary beverages.
Given the millions of dollars that the beverage industry spends on advertising every year, this is a significant victory, hopefully setting a precedent for other cities and states.
Salt Levels In Foods:
New York City passed a landmark ruling requiring sodium counts to be listed on some menu items in the city.
In many cases, the extremely high levels of salt in these foods will be enough to make people think twice.
IMAGE: Wellness Warrior
---
6. GMO Labeling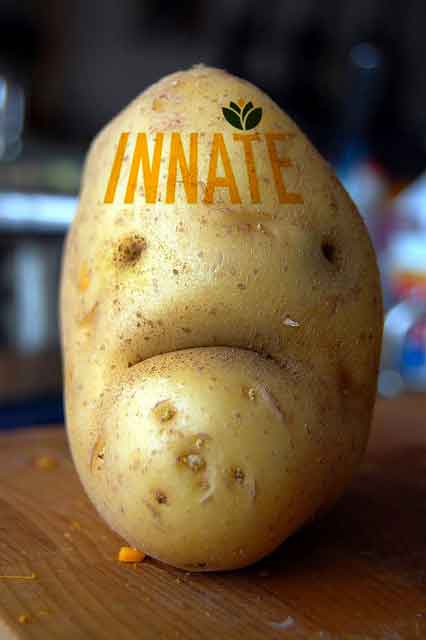 Despite this year's USDA Approval of the Innate Potato and the Arctic Apple, the agency has been listening to consumer and researcher concerns regarding GMOs.
Though the debate still rages about GMO safety, it is abundantly clear that many consumers want products containing GMO ingredients to be labeled as such.
The USDA announced late this spring that it would develop a "GMO-Free" label guideline.
While the label's clarity may get adulterated by lobbyists and special interests, the USDA's action is generally seen as a step in the right direction.
---
7. Big Food wised up about antibiotics and other dangerous ingredients
As the threat of "superbugs" caused by the overuse of antibiotics in animal agriculture continued to rise, a number of "big food" corporations—among them McDonald's, Costco, and Tyson— developed policies to rid their supply chains of food producers who don't follow careful medical practices.
Similarly, Chipotle declared that it would get rid of GMOs, and Panera declared it would rid its menu of potentially dangerous additives.
Given the purchasing power of these food giants, we're celebrating this as a precedent for the continued improvement of food corporations.
It's also an inspiration to become resolute conscious consumers when it comes to buying food. Read more on Big Food from Wellness Warrior; "Why Our Voices DO Matter — And Big Food Has To Listen" and "Is Fast Food Really Slowing Down?"
IMAGE: Wellness Warrior
---
8. FDA's new rules for menus' calorie labeling
You may have noticed numbers behind some menu items in restaurants—after all, Americans eat and drink about one-third of their calories away from home.
The FDA's new requirements for calorie labeling on menus do not apply to every restaurant (only chains, establishments, and vending machine operators with 20 or more locations), but according to an FDA overview, it will be a big step toward helping Americans better understand what they are consuming.
---
Every five years the DGAC provides up-to-date research-based recommendations to the USDA, which ultimately help shape national nutrition policy (for military, education, and SNAP) and public health programs.
For the first time ever, the DGAC recommended that we reduce our consumption of beef, not only because of its link to disease but also because of its climate impacts.
In a similarly defiant and bold move, it also recommended a numerical limit on sugar consumption.
Unfortunately, in the end, Big Food pushed back and USDA Secretary Tom Vilsack vowed to take the climate language out of the guidelines.
It's a lackluster end to what could have been exciting breakthroughs, but we're hopeful that the USDA and the public will be more receptive to DGAC guidelines at the next five-year review.
Read more from Wellness Warrior in 2020; "Dietary Guidelines for the Planet," "What You Should Eat—Do You Want The Government To Tell You?" and "Oh Where Oh Where Can We Turn For The Best Advice On Nutrition?"
IMAGE: Wellness Warrior
---
10. Big wins for small farmers
Small sustainable farmers are the backbone of a healthy food system.
The good folks at the National Sustainable Agriculture Coalition have compiled a set of 15 achievements in sustainable agriculture for of 2015, and two things worth immediate highlighting are the new Whole-Farm Revenue Protection (WFRP) crop insurance program and the advancements in the Conservation Stewardship Program (CSP).
WFRP will allow small, diversified farmers to insure their crops much as big monoculture grain farmers do, thus making federal funds available to them for risk management.
Experts expect that WFRP will continue to grow the small sustainable farming movement.
CSP advancements will allow further payments to farmers for conserving land.
Available to all farmers, but typically adopted by those with large acreage, this long-running program continues to help conserve soil, biodiversity, and ecosystem health.