If you are looking for alternatives to DMAA when it comes to your working out, you probably know what DMAA is in any case.
You probably know what it does or did for your body.
Maybe for those reasons, and for the fact that it is off the market, you are searching for some good alternatives.
For those who don't know, we will just briefly explain what DMAA is [1].
DMAA is short for 'Dimethylamylamine'
People who wanted to build their muscles used to go with the best DMAA pre-workouts.
DMAA supplements were also commonly recommended to use before workouts to aid weight loss.
If you bought workout supplements those days you might have noticed DMAA in the list of ingredients.
But there have been concerns around DMAA pre-workouts and cardiovascular problems.
That is because it was thought to narrow the blood vessels.
This could cause your blood pressure to go up, shortness of breath or tightness in your chest.
To cut a long story short, because of these problems, DMAA was withdrawn as an approved drug already back in the 1970s.
There were claims that it damaged people's health. It was considered particularly dangerous when used with caffeine [2].
If that is the case, what are the alternatives to DMAA?
There was a time when DMAA ruled the stage as far as pre-workouts went.
But like we said, this all came to a dramatic halt when the FDA (Food and Drug Administration) said it was unsafe.
They banned it from the market.
But even despite the fact that the FDA banned DMAA from the market, it is still available online, here and there and people still buy dmaa pre workout.
Here we have 9 other alternatives that can do the same job for you, if not better!
At a Glance
DMAA Pre Workouts: Top 9 Alternatives…
1) Black Wolf Pre-Workout Formular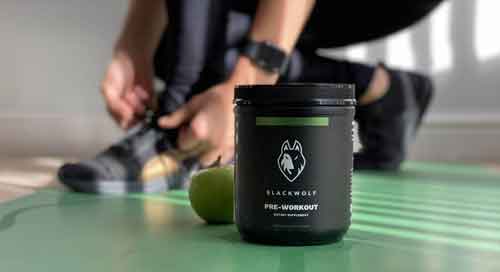 The makers of BlackWolf say it will take your workouts to the next level.
You will get to looking the best shape of your life!
Black Wolf pre-workout is in powder form. All you do is mix it up with water about 15 minutes before your workout.
If you check out the ingredients, you will see they are all proven ingredients.
They will allow you to boost your focus, energy, and performance without any nasty side effects.
This is a formula backed by scientific studies.
Even elite athletes use it such as Olympic swimmer Ekaterina Avramova and pro-boxer and Ekow, 'The Engine' Essuman.
Some benefits to using Black Wolf are:
Boosts your focus and energy
Improves your athletic performance
It's a great pre-workout ingredient that improves your energy levels and the intensity of your workouts
Maximizes your endurance
Reduces fatigue and speeds up recovery time
Positive changes noticed in your physique and athleticism
Ingredients
L-Citrulline Malate [4]
Beta-Alanine
2-[Carbamimidoyl(methyl)amino]acetic acid
Betaine Anhydrous
L-Arginine Alpha-Ketoglutarate
Caffeine Anhydrous
Taurine
L-Tyrosine
Dynamine
Coconut Water Powder
Bioperine
DMAE and Huperzine
Pros
Black Wolf is one of the dietary supplements that use carefully proven ingredients at doses that work
It has tasty flavors and is easy to mix
The company has guaranteed its quality
Good value and discount for buying in bulk
Cons
A couple of the ingredients feel like they are just fillers
Bottom line
No wonder it is gaining such popularity online.
And it comes in three flavors: blue raspberry, green apple, and fruit punch.
The powder mixes very easily with water. And it's a consistent powder; you will get the same incredible effects every time you use it.
You'll discover you don't get headaches, jitters, and fatigue that are so common with other pre-workout formulas.
2) Pre-Lab Pro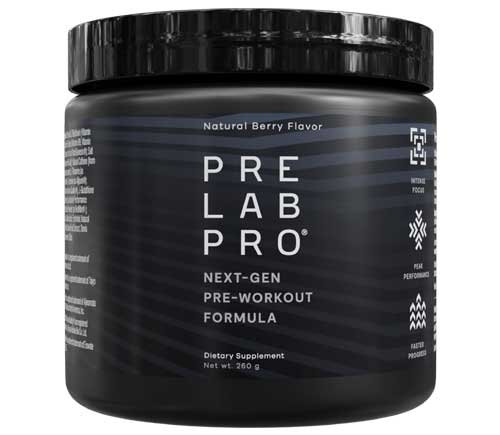 Today, healthy food is becoming like the new fast foods of yesterday.
Supplements are being thoroughly researched. Nobody will tell you, not even personal trainers, that there are shortcuts to healthy, beautiful bodies.
There is nothing that can substitute a healthy diet that's packed with macronutrients.
Benefits
Pre-Lab Pro is made entirely from cutting-edge organic stuff.
It doesn't rely on sugar and caffeine to boost the body into burning up fat pre-workout.
You don't need to eat before you train and yet you won't get burned down.
There aren't any added preservatives or other artificial ingredients in this product.
Pre-Lab Pro makes it easier for people who want to lose weight, to lose weight, and to also build up without having to eat large amounts of food.
It is highly recommended for fitness enthusiasts.
You need to do consistent workouts though, and then you will see fantastic results.
Pre-Lab Pro pre-workout ingredient
Red Beetroot Powder [7]
Setria – a combo of L-Citrulline and L-Glutathione
Natural Caffeine: Robusta coffee beans
Suntheanine which is L –Theanine
Ajipure, which is L-Tyrosine
Nutrigenesis – which is Vitamins and Minerals
Vitamin D3
B-group vitamins
Potassium
Iron
Himalayan Pink Salt 500mg
Pros
There is a good blend of vitamins and minerals
There is a sensible dose of Caffeine
Vegan friendly
Tried to make it totally allergy-free
Cons
There are only 20 servings per tub
You have to get it from the official website only
Bottom line
Opti-Nutra really took the time to design an optimal pre-workout supplement.
They thought of what everyone wants in a pre-workout supplement – muscle recovery, cell regeneration, homeotic balance, side-effects reduction, and more.
Get Pre Lab Pro if you want a strong, slim, shaped body!
3) Huge Nutrition Wrecked Pre-workout
Huge Nutrition is another top-performing DMAA pre-workout alternative that is hugely popular on the market.
And it's got 18 clinically proven ingredients in it to give you an extremely intense performance.
Once you have your first dose, you will start to figure out just why this isn't just your average pre-workout supplement.
So what will huge nutrition do for you?
Benefits
Vasodilation for clean veins
Plenty of extra endurance
Strength enhancement and increased muscle size
Sharper concentration and focus
Longer lasting energy
Thermogenic fat burning ingredients for extreme weight loss
Fantastic ingredients
Citrulline Malate
Beta-Alanine [6]
Betaine Anhydrous
Agmatine Sulfate
L-Tyrosine
Lion's Mane
VasoDrive-AP
Caffeine Anhydrous
Inositol Hexanicotinate
Di-Caffeine Malate
Hordenine HCl
S7
N-Methyltyramine
Higenamine
Theobromine
N-Isopropylnorsynephrine
Alpha Yohimbine
They come in delicious flavors too, such as raspberry mojito, rainbow burst, and peach rings.
All you do is take your scoop with water.
Pros
It improves stamina
It helps to pump the muscles up
Has high caffeine content so the effects last long
Delicious variety of flavors
It starts working within 20 minutes of consumption
Cons
Available only in a limited edition
Expensive
Bottom line
Their new flavors have come out, making this brand even more popular.
This is one of the best pre-workouts particularly formulated to give energy in abundance and pumps that last longer.
The effects will last for hours.
You will note that the clinical doses enhance cognitive function and performance.
4) JNX Sports The Curse
JNX Sports – The Curse is very well known as a DMAA pre-workout alternative supplement.
Basically, it is going to help you focus better, lose weight, last longer as you work out, and get an excellent muscle pump.
And it's got top-quality ingredients in it as well. All the ingredients are visible on the label.
It's vegan-friendly and gluten-free and it has delicious flavors that will be hard to resist.
It is considered safe and effective. It's also got a good reputation as you can see from its award nominations.
Inside JNX Sports -The Curse, there are three exclusive blends.
They are The Amplifier Blend, the Energizing Muscle Fuel Blend, and the Mind Control Matrix Blend.
For those who need motivation with their pre-workouts as well as strength to achieve their goals, these natural blends are strong.
They will push the body to new levels, revealing your strength and endurance potential like never before.
This workout formula also has more servings per container than other pre-workout formulas, so you save money too.
Ingredients
2-[Carbamimidoyl(methyl)amino]acetic acid
Beta-Alanine
L-Citrulline
Citric acid
L-arginine alpha-ketoglutarate
Caffeine AnhydrousOlive Leaf Extract [3]
Pros
It has many proven ingredients
A decent caffeine dose
Cons
A few ingredients are under-dosed
Contains proprietary blends
Bottom Line
JNX Sports – The Curse appears to have all you need in a pre-workout formula.
It increases the intensity and provides huge muscle pumps.
Plus it enhances mental focus.
With all its natural components, The Curse pre-workout has taken the market – get sucked into The Curse!
5) Insane Labz Psychotic
Psychotic is said to be one of the strongest workout supplements. But what you can really expect from it is quite a rush of intense energy.
Just one scoop and Psychotic will show you what it means to hit the weights.
If you are a fan of getting a balance of pumps, energy, and focus, then you can count on a fantastic workout.
Sometimes products focus too much on boosting energy and that is because there are just too many stimulants in them.
That's when you sometimes can experience a "crash" when they start to wear off.
Psychotic's blend of ingredients
Vitamin C
Sodium (as Sodium Chloride)
Potassium (as Potassium Chloride)
Creatine Monohydrate
Beta-Alanine
L-Taurine [5]
Caffeine Citrate
Caffeine Anhydrous
Betaine Anhydrous
Dimethylethanolamine
AMPiberry (Juniperus Communis)(Berry)
Rauwolfia Vomitoria Extract
Pros
Contains great proven ingredients such as beta-alanine, and caffeine
It can give you a good mood elevation
Cons
Contains a proprietary blend – it doesn't reveal the exact ingredient composition
Bottom line
If you want to hit peak levels with your performance every day; you want to amp up your performance, focus, and results, you will find Psychotic is packed with the right combos of scientifically proven ingredients.
Psychotic ensures you go up and beyond.
6) HYDE Nitrox
You might also have heard of their other pre-workout supplement called Dr. Jekyll.
ProSupps says that Nitrox is the leader in focus, pumps, and energy.
That's because it has scientifically researched ingredients.
The ingredients are broken down into three categories, Intensity, caffeine (for energy), and strength.
Here are the ingredients:
Beta-alanine
Creatine HCL
Arginine
L-Citrulline Aspartate
Caffeine Anhydrous [8]
Di-Caffeine
Caffeine Citric Acid
Choline
Theanine
N-Acetyl Tyrosine
Theacrine
GABA
Yohimbe Bark Extract
Pros
Proven to be effective
Great value for money
Cons
Could have side effects
Missing key ingredients in other supplements
It has unwanted side effects as DMAA products
Bottom line
There is no doubt that Mr. Hyde Nitrox is going to give you an energy buzz.
But there does seem to be a bit of a problem – it does seem to have some unwanted side effects.
But all in all, the formula is aimed toward improving workout performance massively.
7) Redcon1 Total War Pre-workout Powder
Who hasn't heard of the Total War Pre Workout by Redcon1?
It's definitely the most popular DMAA pre-workout alternative on the market.
Total War has been reformulated a few times and it is aimed at providing a good increase in energy.
Here are the Ingredients
Citrulline malate
Agmatine sulfate
Taurine
Caffeine anhydrous
Juniper extract [9]
Di-caffeine malate
Theobromine
Green tea extract
Naringin
Bioperine
Pros
The ingredients definitely provide benefits
Good price for the number of scoops
A primary pro of this product is the taste, a really pleasant taste
Cons
Doesn't contain creatine
If you are not used to the product, you might feel a bit of a crash after taking it
Bottom line
Total War is an award-winning formula, professional-grade pre-workout formula with top-rated ingredients that are packed with green tea, caffeine, Juniper, and beta-alanine.
It is capable of providing you with unstoppable power to dominate even the most challenging workouts!
8) Beyond Raw Lit
Beyond Raw LIT aims at helping those who have been away from the gym for some time and are making a comeback.
This formula helps to motivate the gym person with a burst of increased energy.
Also, they will receive improved mental alertness.
GNC claims that Beyond Raw LIT's ingredients are all clinically-dosed.
It combines non-traditional and traditional ingredients, aimed at giving you an excellent pre-workout experience – so that you can take it to the next level.
Benefits
Helps to build lean muscles for a muscular body
Boosts blood circulation throughout the body
Provides more energy
Increases your metabolic rate, converting the fats into energy
Consistent full and dense pumps
The main ingredients are beta-alanine, creatine [10], and caffeine.
Beta-alanine is a supplement with much interest because it helps to increase muscle carnosine content.
It also enhances high-intensity exercise performance.
Creatine is a very popular ergogenic supplement in sports nutrition and powerful pre-workout supplement.
Creatine
Caffeine
Coffee Bean
ElevATP
L-Citrulline
Arginine
For the best pre-workout prep, drink the supplement 5 to 10 minutes before arriving at the gym.
Pros
Cons
It costs quite a bit considering there are only just 7 ingredients compared to other alternative DMAA pre-workout supplements.
It is one of the strongest pre-workout supplements but the caffeine content is not natural. It contains caffeine Anhydrous, a synthetic form of stimulant.
Bottom Line
Is this the DMAA pre-workout alternative you've been waiting for?
There is research supporting the effectiveness of Beyond Raw LIT ingredients.
It also costs less than some comparable hardcore pre-workout products.
9) Bucked Up Woke AF

The main premise behind Bucked Up–Woke is the fact that they use Deer Antler Velvet [11] in their formulas.
This is an ingredient used for a long time in Traditional Chinese medicine.
It hasn't yet made a lot of headway into the more technical sports nutrition arena – that was until DAS Labs introduced it.
But the other potential also comes from other ingredients such as AstraGin and Senactiv.
This potent combination of ingredients is thought to add a serious amount of added endurance to the workout.
Let's look at all the other Bucked Up ingredients.
Bucked Up–Woke pre-workout ingredients
Citrulline Malate
Beta-Alanine
Caffeine Anhydrous
Taurine
Himalayan Rock Salt — with Trace Minerals –
Deer Antler Velvet Extract
AstraGin (Astragalus, Panax Notoginseng)
Senactiv (formerly named ActiGin) (Panax Notoginseng, Rosa Roxburghii)
The flavors available are many. Examples of some flavors are Blood Raz, Caramel Apple, Mango, Pineapple Jalapeno, Red Raz, and more!
Pros
Stimulants will increase energy
Long-lasting pumps, laser focus, and performance
Cons
The stimulant levels could cause some nasty side effects
If you are sensitive to caffeine or other stimulants, this product is not for you
Bottom line
There's a reason why Bucked Up–Woke is so effective as a pre-workout ingredient for advanced users.
It was developed with the sole purpose of taking you to the next level with your workouts – apart from being the best pre-workout on the market.
That means this product is loaded with ingredients that are scientifically backed with each effective dose.
Want to change your game?
Take Bucked Up–Woke if you are a serious bodybuilder or athlete, or if you just want to get good pumps, energy, focus, and growth.
Conclusion
Remember, DMAA is a banned substance.
We've shown you all there is about products that are a super alternative to DMAA pre-workout supplements.
Yes, you can still find pre-workout supplements containing DMAA 1,3 dimethylamylamine floating around on the market, but that is probably only online – and note that the powerful stimulant is banned by the FDA.
Effectively, making it unsafe as a dietary supplement for your pre-workouts.
But you don't have to worry – have you seen the quality products that we have shown you above?
All of them promise to give you significant amounts of pumps, energy boosts, and a whole lot more.
Remember that DMAA was taken off the market several years back now – that means it's a banned compound.
You can be assured that no manufacturers such as the ones listed above are going to produce any supplements that contain prohibited substances.
So what are DMHA products about?
A lot of users are starting to look at DMHA products now. It's a pre-workout supplement as well; that's got DMHA in it.
DMHA is also known as 2-aminoisoheptane. It has also become extremely popular on the market because users are saying it delivers the same results and effects as DMAA used to.
It is not as effective as an early DMAA pre-workout review might have claimed, but it still gives the user a relevant workout experience.
Its effects kick in around anywhere from 15 minutes to an hour after consuming it.
It has potent fat-burner effects too. It increases energy, reduces appetite, heightens mental focus, and raises feelings of well-being.
DMHA is legal in many countries, and that includes the USA and the UK – it has quite a few significant differences from DMAA in its results and structure [12].
The negative of DMAA was that it would get you highly energized for a while.
Unfortunately, when the effects of DMAA wore off, severe fatigue would set in.
But people still continued to take it because the temporary effects were so good to them that they didn't care about the fatigue that came over them once the workout was over.
So straight away, for anybody who is wondering if they should take a pre-workout containing DMAA or other exotic stimulants, there is one answer; two words – emphatically no.
Remember if you find them on the market today and you are tempted to take it, don't risk it – they are probably made in uncertified, sketchy places and facilities that could just turn into huge problems for you and your health.
Naturally, you are much better off buying the above potent DMAA alternatives that we have shown you – all nine of them
The nine above-mentioned pre-workout supplements that we have shown you are the closest you will get to the once-popular DMAA pre-workout.
All of them combine high-quality ingredients and also potent stimulants.
All of the above are excellent options for you if you are still chasing after the experiences you had with DMAA.
But the ones we have shown you above are all above board – legal – available – effective.
And the best news is that you are not going to feel horrible or experience adverse effects from taking them – you will find that you remain productive for the rest of the day – sharp, focused, and still on top of your game – and that's imperative.
References