There must have been millions of parents who have wondered whether it was a good choice or not to supplement their kid's diet with protein powder.
Even those kids that participate in a lot in sports and other extra-mural activities – do they need protein powders as well, as adults take them?
In actual fact, most of the time, children do get enough protein from a balanced diet.
But when children consume less than the recommended dietary allowance because they are ill or have a metabolic condition, it may be possibly dangerous.
And so if they suffer from food intolerances and allergies, then protein supplementation might help.
But too much protein or high protein intake can have negative effects as well whether it is from high protein foods or organic food supplements.
There may be too much work on the child's kidneys and threats of obesity from gaining weight too.
Is Protein Powder Good For Kids? Risks and Alternatives
Limited evidence suggests that protein powders are beneficial for children
One report from 2015 [1] said that many studies on this topic were too small – they don't involve enough participants.
In the report, the researchers analyzed existing evidence of the effects of protein supplementation in children with chronic illnesses.
These illnesses were pediatric cancer and cystic fibrosis.
Often these types of illnesses prevent children from getting enough nutrition because their appetites aren't good.
They don't have the ability to absorb any nutrients.
The researchers discovered that the participants who took the protein powders didn't lead to any significant improvement in the children's weight or nutritional status.
Of course, the research wasn't carried out on healthy children, where the outcome might have been different.
Protein deficiency in kids is uncommon In the USA
Overall, healthy kids do not need protein supplementation.
The researchers from the above review did recommend using protein powders with caution with kids.
Better, more high-quality research would be required.
So How Much Protein Do Kids Actually Need?
That also depends on the child. Things like their age, size, activity levels, and gender will play a role.
The Department of Agriculture has recommended that babies, children, and teens get the following amounts of protein on a daily basis:
Age of child – Protein needed each day
1 to 3 years: 13 grams
4 to 8 years: 19 grams
9 to 13 years: 34 grams
14 to 18 years (male): 52 grams
14–18 years (female): 46 grams
Then there's the American Academy of Pediatrics [2]. They say that active children might need more calories than less active children.
So that would mean slightly more protein as well.
Let's see what clinical nutritionists say about protein powder for kids
There's a lot of conflicting information out there about protein powder for kids.
There are some that are definitely not for kids and there are some that should be avoided entirely.
But then, there are also beautifully manufactured protein powders that would be very suitable for children. They are highly nutritious and beneficial.
Kids and protein deficiencies
These days, it's not very common to see severe effects of protein deficiency in kids.
A nutritionist might notice the subclinical symptoms and will probably recognize these signs of protein nutrition:
Unable to concentrate
Slowed Growth And Development – seems unable to thrive
Sores or bruises that heal over a long period of time
Unstable moods
Trouble with learning
Interrupted sleep
A depressed immune system – they get sick easily or have trouble recovering
Muscle weakness, aches, and pains
Loss of appetite or no appetite
Fingernail or skin anomalies
Should You Let Your Kids Have Protein Supplements?
The above factors might influence a parent's decision to invest in protein supplements or powders for their children.
Some parents, who see their kids are fussy eaters, want to ensure their child gains weight as they develop and grow.
There are many children who will only accept one protein, such as milk.
Some reject even milk and want to eat and enjoy simple, high-energy carbohydrate foods.
Sometimes parents get so anxious about nutrition in their kids that they get happy to see that any food is better than no food.
Most parents want their kids to have nutritionally balanced meals throughout the day.
When a family is very busy and active, then smoothies turn out ideal in times like this. Protein powers that are served with fruit, veggies, or nut butter are very healthy and so easy to whip up.
It is not recommended, though, that protein powder is a substitute for formula milk or breast milk.
Only once a baby has become completed weaned and able to eat solids, can protein powders be introduced slowly into their diet.
What would be the best protein powder to choose for my kids?
The best protein powder for kids would be one that is as natural as possible [3].
Ensure that the protein powder you choose is not heavily processed.
It also should not contain artificial sweeteners, sugar, or what they called "natural" flavors or fillers.
Things you need to look out for if you are planning on feeding your kids protein powder
Choose organic ingredients where possible
Ensure they contain whole foods with no natural flavorings
If you select whey, make sure it is a grass-fed protein that is of the highest quality
Top things to avoid when thinking of buying your child protein powder
Vegetable oils
A long ingredients list with names you don't even know
Synthetic fillers
Soy protein powder
Artificial flavorings
Stay away from protein drinks or powders that say 'gainer' or 'weight loss'
Synthetic amino acids
Should I buy whey protein powder or plant-based protein powders for children?
You should take into consideration the digestibility, bioavailability, and anabolic potential of both types of protein sources.
This will help you to figure out which one is the best for your child to help you decide.
It is important to note, though, that protein powders are not regulated by the Food and Drug Administration (FDA) [4].
They can contain a whole range of additional ingredients in them.
Some of them might be nutritional, such as having minerals and vitamins in them, and some of them might not be as healthy, with added sugars.
Researchers haven't studied fully the risks that most protein powders could have on children.
One review [5] concluded that protein powder can have some adverse effects such as these –
When it replaces a child's regular food
When it prevents your child from developing his or her healthy eating habits and behaviors
When there are physical side effects like diarrhea and bloating
When the excess protein causes problems in the child with absorbing other nutrients
What are other healthy sources of protein for your child?
Meat: lean meats contain iron, vitamin B12, and zinc.
Oily fish: Oily fish is packed with healthy omega-3 fatty acids.
Eggs: They contain choline and vitamin D.
Some dairy products: They contain plenty of calcium such as organic milk, yogurt, and cheese.
Legumes, such as peas, beans, and lentils: They are high in fiber.
Nut butter: Contains vitamin E.
Some veggies: For example, broccoli.
When picking protein powder for kids, ensure that you inspect the label for their components and pay careful attention to serving sizes
Even though protein powders should not be a replacement for protein requirements, nor a quick fix, it has their place in a child's nutrition.
It is ideal for children who need a little bit of extra assistance.
We have listed below;
The Best Protein Powder for Kids That are Available on The Market
1) Transparent Labs Grass-Fed Whey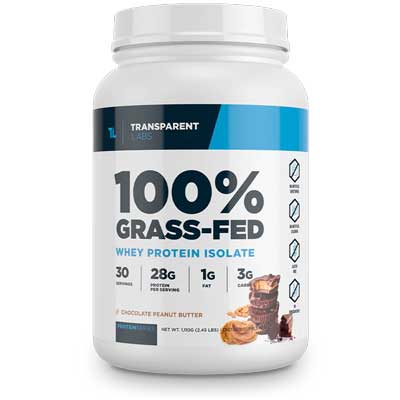 [penci_button link="https://www.wellnesswarrior.org/recommends/transparent-labs-whey-grass/" icon="fa fa-arrow-circle-right" icon_position="left" radius="10px" align="center" size="large" text_color="#fff" background="#d43e06″ text_hover_color="#ccc" hover_bgcolor="#d43e06″ target="_blank" nofollow="1″ margin_bottom="20px"]
CLICK FOR BEST PRICE
[/penci_button]
Protein per Serving: 28 g
This is a great, clean protein to get for your kids – it comes recommended.
There are no preservatives in this product, no artificial colorings, or gluten.
This is ideal for your children as this powder is considered one of the cleanest proteins out there. It has 289 g of protein and 120 calories per serving.
Everything is natural from the hormone-free cow whey; to containing no fat and containing only 1 gram of carbs. It's almost pure protein.
Pros
You get 28g of pure premium whey protein isolates in a scoop
Its 100% grass-fed whey (fantastic)
The kids will love the chocolate, French vanilla, strawberry, and salted caramel flavors
No artificial sweeteners or colorings or flavorings and no artificial ingredients
Cons
2) Ladder Whey Protein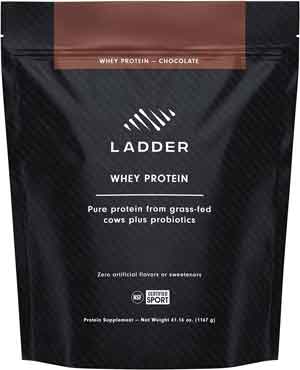 [penci_button link="https://www.amazon.com/LADDER-Sport-Whey-Protein-Powder/dp/B08668MKHQ/?tag=wellwarrior09-20″ icon="fa fa-arrow-circle-right" icon_position="left" radius="10px" align="center" size="large" text_color="#fff" background="#d43e06″ text_hover_color="#ccc" hover_bgcolor="#d43e06″ target="_blank" nofollow="1″ margin_bottom="20px"]
CLICK FOR BEST PRICE
[/penci_button]
Protein per Serving: 26 g
Ladder whey protein comes in two flavors for the kids – chocolate and vanilla.
And there are all-natural ingredients in this powder, such as vanilla bean, cocoa, salt, and a bit of sweetener to bring out the natural, delicious flavor, even if you drink it with water.
It's got the optimal amount of branch-chain amino acids and essential amino acids for body repair. Almost like you having dessert!
Pros
It's CFS Certified
Has probiotics in it
All-natural ingredients
Cons
3) Ora Organic So Lean & So Clean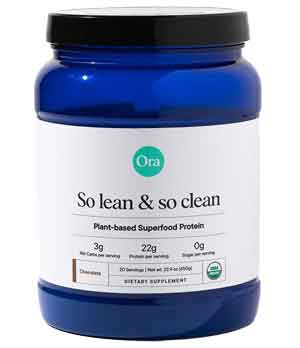 [penci_button link="https://shop.ora.organic/products/organic-protein-powder" icon="fa fa-arrow-circle-right" icon_position="left" radius="10px" align="center" size="large" text_color="#fff" background="#d43e06″ text_hover_color="#ccc" hover_bgcolor="#d43e06″ target="_blank" nofollow="1″ margin_bottom="20px"]
CLICK FOR BEST PRICE
[/penci_button]
Protein per Serving: 22 g
Lots of kids just battle to eat their greens, and yet it's so important to get in these important nutrients in their bodies.
Thank goodness for Ora Organic Vegan Protein Powder. It is made with organic superfoods and has plenty of greens in it. It has 120 calories per scoop.
It's a fantastic way for the kids to get in their essential nutrients.
Pros
21 g of organic protein
It mixes well with milk, water, and food
Just 1 g of sugar – no fillers
Have digestive enzymes for healthy tummies
Cons
It might be a taste that your child needs to get used to.
4) BPI Sports ISO HD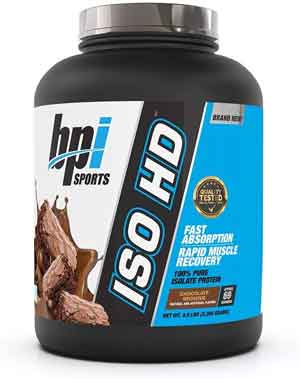 [penci_button link="https://www.amazon.com/BPI-Sports-Protein-Hydrolysate-Chocolate/dp/B06XW7D5BJ/?tag=wellwarrior09-20″ icon="fa fa-arrow-circle-right" icon_position="left" radius="10px" align="center" size="large" text_color="#fff" background="#d43e06″ text_hover_color="#ccc" hover_bgcolor="#d43e06″ target="_blank" nofollow="1″ margin_bottom="20px"]
CLICK FOR BEST PRICE
[/penci_button]
Protein per Serving: 25 g
This one is an excellent blend of hydrolysates and whey isolates.
It helps the protein to be easily absorbed into your kids' bodies, enabling them to get the nutrients they need. It's got muscle-building properties.
It's ideal for children who are prone to nutrient deficiencies and after engaging in physical activities.
Pros
It has 25g of 100% premium whey protein isolates
It only has 2 g of sugar – no fillers
Has fast-absorbing protein
Delicious flavors children won't be able to resist
Great for assisting in muscle recovery
Cons
Your kids might want to binge on this delicious drink more than is required.
5) Paradise Herbs Orac Energy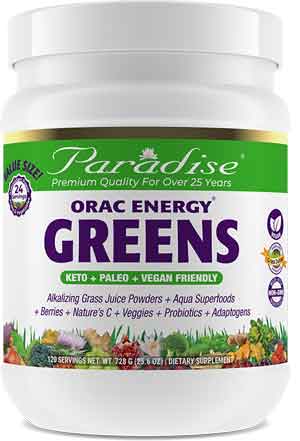 [penci_button link="https://paradiseherbs.com/products/orac-energy-greens/" icon="fa fa-arrow-circle-right" icon_position="left" radius="10px" align="center" size="large" text_color="#fff" background="#d43e06″ text_hover_color="#ccc" hover_bgcolor="#d43e06″ target="_blank" nofollow="1″ margin_bottom="20px"]
CLICK FOR BEST PRICE
[/penci_button]
Protein per Serving: 20g
Paradise Herbs Orac Energy has no artificial ingredients in it.
It has beneficial probiotics, with all ingredients being gleaned from certified organic sources.
This protein powder has not been designed specifically for kids but it is so natural and pure, that is safe and effective protein children to love and enjoy consuming.
It helps kids recover faster from when they have pushed themselves physically.
Pros
No animal products are included in hits product and no artificial fillers
Has no artificial sweeteners
Does not cause gas or bloating
Cons
Doesn't have calcium included
6) Optimum Nutrition Gold Standard
Protein per Serving: 24g
For your toddler, you will find Optimum Nutrition 100% Gold Standard Whey protein powder excellent for muscle growth.
This product contains plenty of BCAAs. Remember, though, that your child's muscles are constantly developing and growing.
With all the energy that toddlers, children, and teens have, they put a lot of stress on their muscles than they will do in later life and that is why protein is so imperative for their health.
This whey protein has been proven to support your child's immune system, burn fat and also promote the production of antioxidants.
Pros
Very effective powder for your kids
It has high concentrations of glutamine and protein
It has important branched-chain amino acids
Cons
7) Pro JYM
Protein per Serving: 24g
Pro JYM is another excellent protein supplement for kids. It's got slow, fast, and moderate digesting proteins in it.
These help to promote healthy muscles and long-term synthesis.
This product parents will love because there are no ingredients that will "spike" energy and protein levels that aren't entirely natural.
Pros
This powder mixes well with shakes or other food
Has no spiking ingredients such as creatine
Cons
A bit pricey.
It's got non-dairy creamer in it. Usually, non-dairy creamer is trans-fat, which is an unhealthy type of fat. This powder has 1.5 grams in a tablespoon.
Final Words on Your Kids and Protein Powders
So how much protein is enough for your child?
The Food and Nutrition Board, the Institute of Medicine, and the National Academy of Sciences say that 10-30% of your calorie intake should come from protein [6].
When it comes to younger children, their protein requirements are different from older children.
Children from 4 years to 9 years need 19 grams of protein each day, but those between 9 and 13 need 34 grams of protein a day.
When the kids reach their teen years like from 14 to 18, boys need 52 grams and girls need 46 grams.
Children should be getting enough protein for their basic needs if they are getting in two servings of lean protein a day of whole foods.
These foods are poultry, pork, beef, fish, Greek yogurt, seafood, nuts and seeds, and eggs.
If kids are having any additional protein, they might be exceeding their daily needs which makes protein powders may be unnecessary.
If you have a child athlete in the family, the focus on a healthy diet should be more on whole foods as opposed to supplementing with supplements and protein powders.
Yes, sporting kids will probably have higher protein needs and you can see more on this on dietary reference intakes.
But it's really only the elite athletes that need to be considering adding protein supplements to their diet.
That should only be necessary once they are over the age of 18. If in doubt, see dietary guidelines recommendations.
Adding extra protein from supplements to your child's diet when they are getting sufficient protein-rich foods might not help.
It might cause long-term health problems such as excess calories causing weight gain, organ damage to the kidneys and liver, with dehydration [7].
And important to remember is that protein supplements aren't regulated by the FDA.
Lots of products don't include all their ingredients on the labels.
So you never really know fully what your child is consuming.
Some contain substances or stimulants that can take a toll on a child's digestive system.
Yes, there are cases where a child will need additional dietary protein from a protein shake maybe.
But your best option would first be to discuss your child's needs with a pediatrician.
It's best to remember, in any case, that more protein-rich foods and not protein supplements are always the first choice for growing bodies, particularly after working out hard.
Naturally, teens and teen athletes are drawn to protein supplements after a workout.
But children need a combination of carbs and proteins to rebuild muscle that has broken down during a workout and therefore it's always best for them to eat a wholesome meal.
Conclusion
As mentioned above, supplements for children are not designed to take the place of a well-balanced diet that contains all the necessary nutrients in it.
What protein powders do is allow you as the parent to help your child if there are any shortfalls in your child's diet from certain factors.
For instance, she could be allergic to certain foods, or when she is ill, or even if she is a picky eater – anything.
Protein shakes will be one that meets all the above criteria for picky eaters.
The top protein powders we have mentioned above can certainly be a favorable addition to your child's diet.
If your child is not getting the nutrients needed to build healthy muscles and bones, protein powders are a truly excellent addition to help them along the path of growing into adults.
If you believe your child is not getting the protein they need, then it might be time to consider protein powder supplements.
Because the right one can improve their protein intake quickly and then it might well be the case of 'A Protein Shake A Day Might Keep The Doctor Away.'
References